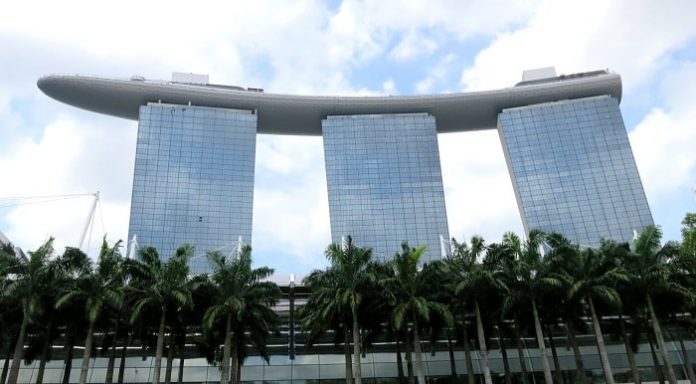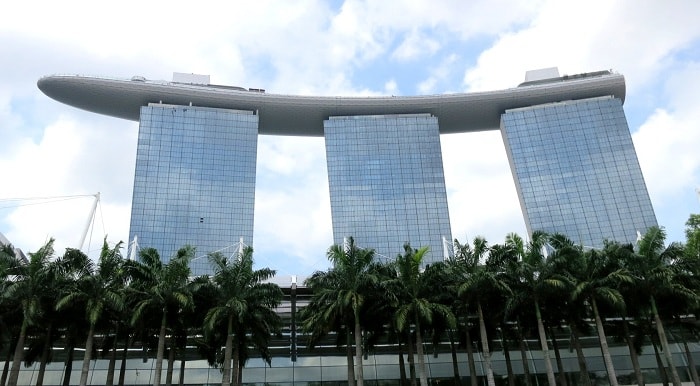 Singapore has a reputation as one of the most expensive holiday destinations in Southeast Asia, especially when it comes to accommodation, but there are cheap Singapore hotels around the city. Standards of hotel accommodation are generally much higher in Singapore than in many other countries in the region, and even though room rates are higher than in most cities in the area, you also get more for your money.
The best way to find a cheap Singapore hotel is to head to Chinatown, the Bugis area, Little India or the Geylang Road area in the Malay Village. All three neighborhoods are good places to find cheap Singapore hotel deals. There are many budget hotels and even cheap backpacker guesthouses in these areas. In Singapore "cheap" generally means room rates starting from around US $50.00, although if you are on a rock-bottom budget, dormitory beds in backpacker guesthouses often cost less.
The Hotel 81 chain is one of the most famous chains of affordable hotels in Singapore and has establishments in several locations around the city, including Chinatown, Little India, Bugis, Geylang and several others. Hotel rates vary depending on the location and other factors, and it is always a good idea to book in advance especially during busy holiday seasons.
Chinatown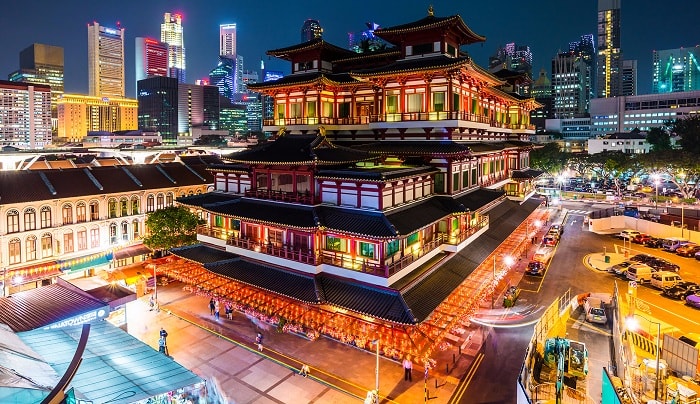 Chinatown is an attractive and interesting neighborhood in Singapore and a popular tourist attraction. The area is filled with street markets, stores that sell clothes, arts and crafts, Chinese medical centers and excellent restaurants. Food is one of the best parts of any vacation in Singapore and the city is famous for its affordable but high quality street food. Chinatown is one of the best places to sample Singapore's street food in the many hawker centers and food courts that are dotted around the area. A hawker centre is essentially a collection of stalls that serve a wide variety of tasty but cheap food from Chinese to Indonesian, Malaysian, Indian and Western. The food is perfectly hygienic and safe to eat.
Chinatown is also home to many of Singapore's budget hotels. The 81 hotel chain can be found here in the corner of New Bridge Road and Upper Cross Street, and there are many other affordable hotels and guesthouses in this area. Chinatown is also a very convenient area to stay in, as many of Singapore's main tourist attractions are located either in the area or within a short distance from Chinatown. The area itself is fascinating to explore and good restaurants and nightlife can be found almost on your doorstep.
Little India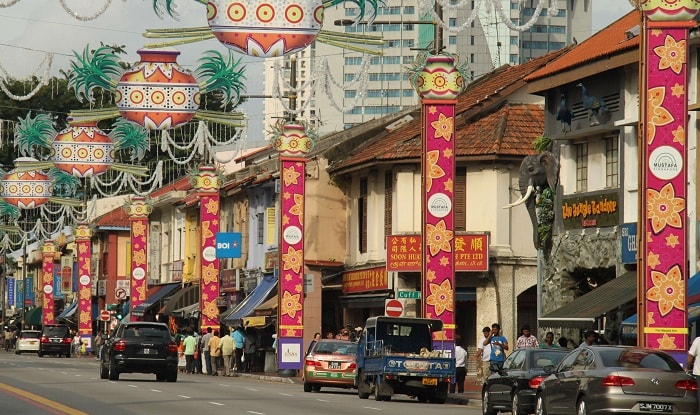 Little India is the focal point for Singapore's Indian community and has a large cluster of Indian restaurants, shops, markets and also some Hindu temples. This colorful and interesting area is also where many of the cheapest backpacker guesthouses can be found in Singapore. The word "backpacker" does not necessarily mean poor standards in Singapore and many of the budget guesthouses here are very clean and comfortable. Many budget travelers stay in this area because of the affordable restaurants and bars that are located here, and because it has good travel connections to the city centre with the Mass Rapid Transportation system or MRT.
Bugis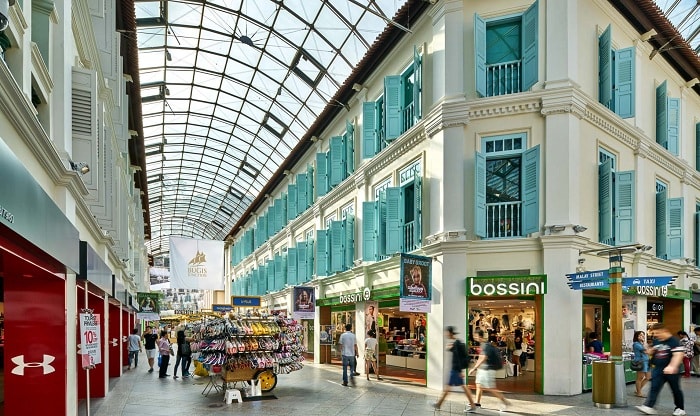 Bugis is another area known for affordable and budget hotels. There are cheap but comfortable hotel rooms, bed and breakfasts and some very affordable backpacker guesthouses in Bugis. You can also find affordable mid-range accommodation options in this area, including Beach Hotel Singapore on 95 Beach Road and Ibis Singapore on 170 Bencoolen Street.
The area is also known for great street markets where you can make some good deals on cheap clothes, shoes, bags and souvenirs, and there are also good shopping malls here with all the main high-street fashion chains. There are several interesting temples and other tourist attractions in the neighborhood and of course some very good restaurants and street food.
Malay Village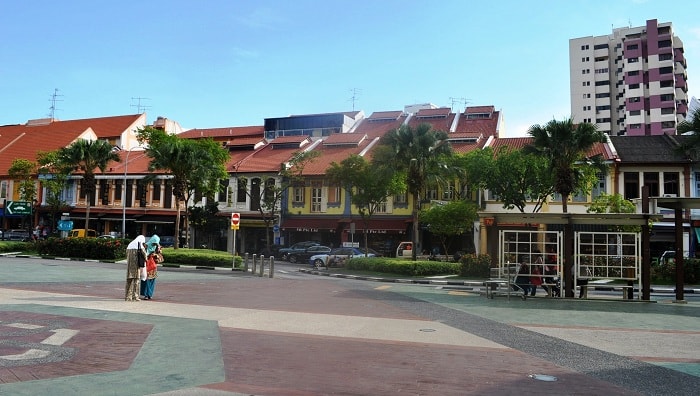 The Malay Village has a wide variety of budget accommodation, especially along the Geylang Road. Since this road is also known as one of Singapore's red light districts, some of the hotels here may not be appropriate places to stay for lone women travelers or for families. There are, however, some good deals to be made in hotel rooms in this area.
Cheap Hotels Singapore Airport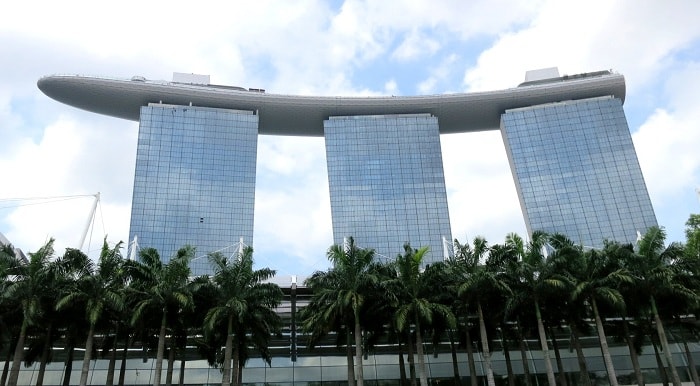 Airport hotels in Singapore are usually fairly expensive and there are few budget hotels around the airport. If you are looking for cheap hotels near Singapore airport, the best option is to get away from the airport itself and head to the Malay Village or the East Coast area. The Hotel 81 chain has several places in the Geylang area and in other locations just a short taxi ride from the airport.
Wherever you decide to stay, one of the best ways to find cheap Singapore hotels is to book well in advance. Most hotels offer discounts for advance booking online.