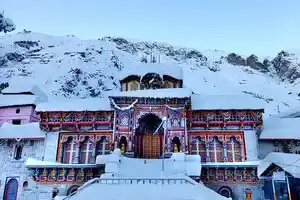 Settled comfortably at an elevation of 3,300 metres above sea level, the vibrantly colored dham of Badrinath is not only an important Chota char dham destination of Uttarakhand but it is also included in the iconic all India char dham yatra where the other sites include Dwarkadheesh, Jagannath Mandir and Ramanathaswamy Temple. With the majestic and snowcapped Nar and Narayan mountain peaks forming a glorious backdrop for the temple Badrinath is visited by lakhs of tourists and pilgrims each year. Sitting next to the holy River Alaknanda the temple is dedicated to Lord Vishnu and is a must visit for Vaishnavites. This is one of the most easily reachable temples in the char dham yatra circuit along with being the most picturesque.
Legend:
There are numerous legends and myths regarding the establishment of the temple some of which are:
It is said that once when Lord Vishnu was performing a rigorous penance for atonement, the weather changed dramatically, about which the lord was unaware. In order to protect him from the worsening conditions his wife Goddess Lakshmi took the form of a badri tree and spread out on top of him. Seeing this Lord Vishnu was pleased by her deep devotion and named this region after her.
Another myth declares that once when Lord Shiva and Goddess Parvati were doing their Tapasya in Badrinath, Lord Vishnu decided to meet them in the form of a small boy. The boy started crying loudly and goddess Parvati asked him the reason behind his sadness to which he said that he wished to meditate in Badrinath. Later on the child's real identity was unveiled by both Shiv and Parvati and found out that it was Lord Narayan in disguise, who later on left Badrinath Dham and transferred to Kedarnath.
It is also believed that once two brothers, who were sons of Dharma, Nar and Narayan wanted to set up their Hermitage in order to expand their spiritual base among the peaceful Himalayas. While they were searching for this ideal location they chanced upon the Panch Badri which finally led them to Badrinath which was sitting behind the holy river Ganga. They were extremely elated about the place and named it Badri Vishal.
Origin of River Alaknanda:
The holy River Ganga had granted Bhagirathi's request to relieve the people of the earthly realm from all its sufferings and sins. However, it is believed that had the river Ganga descended from heaven as one, the entire earth would succumb and be destroyed under its weight. In order to avoid this Lord Shiva decided to contain the river inside his matted hair and divided the river in two while acting as a medium to direct the river into the earthly realm. Finally the massive river was divided into twelve holy parts, one of them being Alaknanda that currently flows by the Badrinath dham.
Architecture:
Sitting majestically amidst the lush greenery of the Garhwal Himalayan region of Chamoli district this iconic temple is located at an elevation of 3,133 metres above sea level. With a glorious backdrop of the mighty Nar and Narayan Parbat, the temple structure is of a traditional Indian fashion, consisting of a Garbhagriha which is almost 49 metres tall and brightly colored along with a small cupola on top of it and complete with a golden Gilded Roof. The entire structure is built out of strong mountain stones and consists of arched windows. The main entrance which is in the form of a tall and arched gateway is reached via a broad, platform – like stair. The moment you step inside you will be entering the mandap area which is a pillared and large hall leading up to the sanctum or also known as the main shrine of the temple. The entire walls of the temple are covered in intricate and fragile engravings and carvings from inside out.
Inside The Temple:
The main shrine inside the temple houses a 1 metre / 3.3 feet tall black stone or a Shaligram which is worshipped as Lord Badrinarayan. This structure is enshrined inside a golden canopy that replicates a badri tree. Also present inside the temple is an impressive idol for Badrinarayan which is seen holding a conch and a chakra in his arms in a lifted manner, while his other two remaining hands are resting in a yoga mudra (yoga) posture. The main sanctum also houses images of various lords like Kuber, Sage Narada, Uddhav along with Nar and Narayan. There are 15 other images of different lords including goddess Lakshmi, Garuda and Navadurga (a manifestation of goddess Durga in nine other forms). The temple also consists of shrines dedicated to Adi Shankaracharya, Lakshmi Narasimhar, Vedanta Desika, Ramanujacharya and others. All these idols are created out of black stones.