IRCTC is known for coming up with impressive ideas for their passengers to make their journey comfortable and convenient. Their sole purpose is to give the passengers a memorable time no matter where they are off to or what their final destination is. The latest development in creating a viable option for their passengers, the railways has come up with a smart move for their religious passengers, which is the IRCTC 12 jyotirlingas yatra tour package which will take you on a journey through some of the most highly revered and extremely sacred sites in India.
[Click Here to Enquiry For 12 Jyotirlinga Yatra]
Jyotirlingas are those sites where Lord Shiva is said to have appeared as a powerful and fierce beam of light. These shrines and sites are scattered all around the subcontinent and is an important pilgrimage site among devout Hindus. Each of these jyotirlingas is different manifestations of the Lord himself and carries its own significance. People from across the nation take up this pilgrimage yatra with an aim of pleasing the Lord and the divine force. Not just in India pilgrims and devotees from across the globe take up this journey to be a part of this soul-enriching, pious and extremely spiritual journey. With the present services and offers by IRCTC, pilgrims and devotees can now easily take up this spiritual journey. If you are not looking for a complete and extensive visit to all the 12 jyotirlingas, then IRCTC also have viable options for you like the 7 / 5 and 3 jyotirlinga yatra package which are made with equal dedication and keeping your convenience as priority.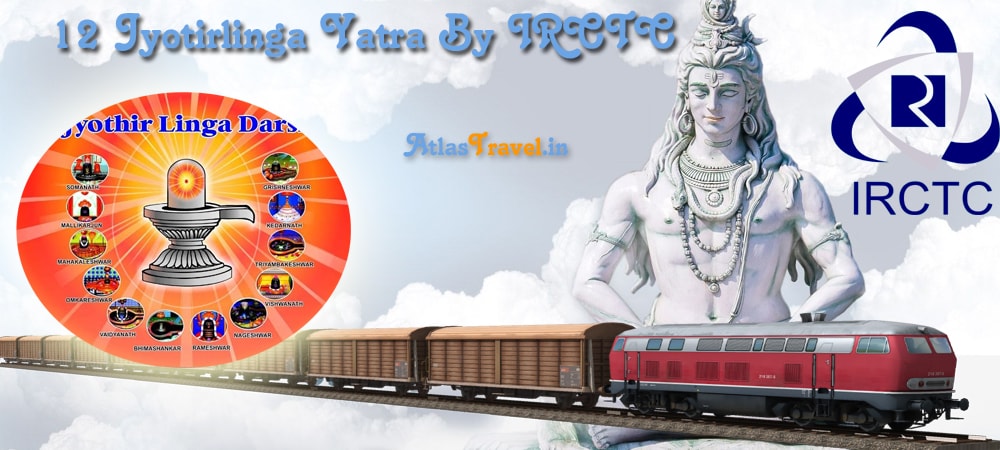 This special tour package is of 34 days long and covers all the major jyotirlinga sites, from Nepal to Vaishno Devi. Due to the limited availability of the seats in this package, people are advised by the officials to make their bookings quickly. The entire tour package comes with comprehensive and detailed preparations. Apart from taking the passengers from one destination to the other, the package also constitutes of snacks, lunch, dinner, local sight-seeing tours in buses and Dharamshala stays. It truly is a complete package with the right resources to make your journey a success. The passengers will be taken through the holy jyotirlinga sites of Omkareshwar, Mahakaleshwar, Nageshwar, Somnath, Bhimashankar, Trayambakeshwar and Grishneshwar. One of the main highlights of the package remains a visit to one of the most devotional location of Pashupatinath temple in Nepal via Gorakhpur. People opting for this tour package through IRCTC can board their respective trains from the stations at Lucknow, Kanpur, Delhi, Moradabad, Bareilly and Shahjahanpur. The journey commences, as for now, from the said locations but will soon be made available from other locations as well.
Some major attraction and points to keep in mind before booking your IRCTC 12 jyotirlinga package are the fact that all the accommodation options provided by IRCTC will be non-air conditioned even the on-road journeys will be covered in non-AC buses. The food items served will be completely and purely vegetarian. Along with the meals you will also be served packaged drinking water and soft drinks as well. There will be tour escorts available to accompany you throughout your journey or yatra, who will take care of your needs and requirement as per the journey. You won't be needed to worry about your safety since, there will be an on board security available inside the train that will ensure that you are safe and secure throughout the holy journey. Although all the inclusions made in the package are all paid for and the passengers won't need to make any additional payments, some other costs that may incur will be covered by you on your own. For example, some temples and other monuments require entrance fee that is not included in the IRCTC 12 jyotirlinga tour package. Other than that, your personal expenditures, like costs incurred during shopping, eating meals that are not included in the package and medicines etc are not a part of the package deal. The said expenditures will not be taken up by IRCTC officials. They have also clarified the fact that there are Dharamshala stays at the destinations where bedrolls will be provided, however, if a passenger chooses to opt for a hotel and choose to stay away from the accommodation provided by IRCTC then the guests will be responsible to pay for themselves and not expect IRCTC to cover the charges.
During the entire duration of the journey, your appointed escort will be your information center, through whom you may inquire or talk about any of your requirement. This IRCTC offer is among one of the several attempts made by the railway department to make your religious journey comfortable, convenient and memorable. Book your package now and drench yourself in the divinity of the lord.
12 Jyotirlinga Yatra Route Map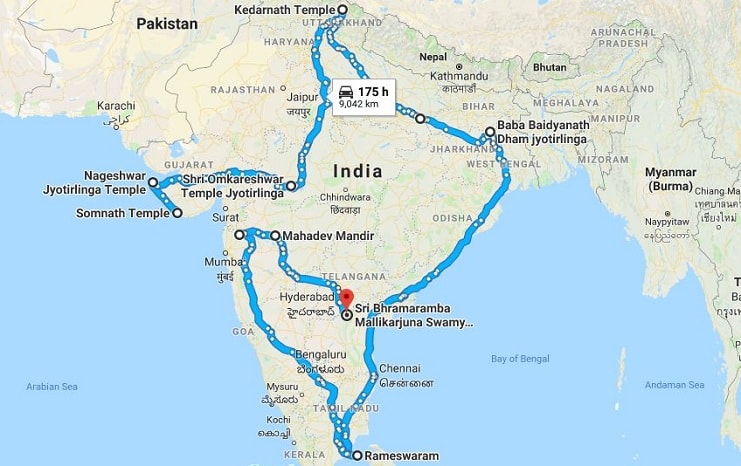 Considered as one of the routes pilgrimage route for Lord Shiva's devotees, the 12 jyotirlingas hold immense significance in the hearts of people following Shaivism. It is believed that these jyotirlingas were formed when Lord Shiva had taken the form of a fierce column of lightening. There are 64 Jyotirlingas in India overall, whereas only 12 out of these jyotirlingas are considered to be extremely auspicious and sacred. According to Hindu mythology, anyone taking up this journey will have their sins waded off and their soul will become clean. These 12 jyotirlingas yatra route map include locations in the states of, Gujarat, Maharashtra, Tamil Nadu, Andhra Pradesh, Madhya Pradesh, Jharkhand, Uttarakhand and Uttar Pradesh.
Anyone thinking about taking up this pilgrimage journey should know beforehand that this is a long-term journey which can pan up to a month. You can start off your journey from Delhi which will take you through Gwalior and Shivpuri to Ujjain. From Ujjain you can choose to go till Aurangabad via Omkareshwar, Khandwa and Burhanpur. After Aurangabad, via Grishneshwar you will be taken to Aundha Nagnath. From here you can choose to proceed towards Bhimashankar, en route Parbhani, Gangakhed, Shirdi and Shani Shingnapur. From Bhimashankar you have the option of proceeding towards Udaipur, via Mumbai, Nashik, Trimbakeshwar and Sangamner. Head on to Delhi, covering Udaipur, Surat, Vadodara, Jaipur and Ahmedabad. All the mentioned places are well connected with roadways and railways. Airports are still not available in several of the cities but the road transport system makes up for it.
Best Time to Visit 12 Jyotirlinga
Somnath Jyotirlinga (Gujarat): The winter months of November to February is considered to be the ideal time for the pilgrims to visit since the temperatures drop to 10 to 32 degree Celsius and the overall climate is pleasantly cool.
Nageshwar Jyotirlinga (Gujarat): The temple can be visited throughout the year and the best time to visit falls on the auspicious occasion of Maha Shivratri when the temperature stays pleasant.
Mallikarjun Jyotirlinga (Andhra Pradesh): The ideal time to visit this jyotirlinga is during the months of November to February when the temperature stays between 15 to 20 degrees Celsius. Even monsoon months of July and August are also considered to be ideal for a visit.
Mahakaleshwar Jyotirlinga (Madhya Pradesh): Being situated in the plains of the Indian subcontinent, winter months of October to March is considered to be the ideal time to visit this jyotirlinga since the temperature remains between 3 to 20 degrees Celsius.
Omkareshwar Jyotirlinga (Madhya Pradesh): The pleasant winter months of October to March are considered to be the best time to visit this temple. If you want to experience the real beauty of this place then do pay a visit to this illuminated town during the eve of Dussehra.
Vaidyanath Jyotirlinga (Jharkhand): October to March are considered to be the most ideal time to visit this holy place since the summers here are extremely hot and unbearably humid.
Bhimashankar Jyotirlinga (Maharashtra): The time ranging from November to February are considered to be the best months to visit this holy site. However if you also want to go on a trekking expedition then the monsoon months of June to September are also considered to be an ideal choice.
Rameshwar Jyotirlinga (Tamil Nadu): The winter months which lasts from October till March are the ideal months to visit when the temperature falls as low as 20 degrees Celsius and the maximum touching till 30 degrees Celsius. Apart from the main temple shrine you will be able to witness some of the other prime centres of tourist attractions here.
Kashi Vishwanath (Varanasi): The months of October to March witnesses the most pleasant time of the year when the temperature falls between 5 to 27 degree Celsius making a visit here extremely comfortable and pleasant.
Trimbakeshwar Jyotirlinga (Nasik): The weather conditions here always falls on extremities. Pilgrims prefers visiting this place during the months of October to March when the climate is cool and pleasant.
Kedarnath Jyotirlinga (Uttarakhand): The entire region remains extremely cold for a majority part of the year. However, during the months from May to June and September to October, are considered to be the most appropriate and preferred months to visit Kedarnath dham.
Ghrishneshwar Jyotirlinga (Aurangabad): The best time to visit the temple falls between the months of January and March and October and November. During these months the climate remains extremely cool and pleasant.
Things to Carry
This holy pilgrimage lasts for a number of days so it is extremely vital for you to carry your daily medication.
Also be sure to carry a first aid kit in case of emergencies which holds bandages, Bandaids, Paracetamol, Crocin, pain killers and other medication which you feel may be of use in an unexpected situation.
Carry all sorts of appropriate clothing items since you will be covering a wide variety of landscapes ranging from the plains to the high altitudes. So for the plains it would be advisable for you to carry light cotton clothes to make movement easier and for higher altitudes you should pack some heavy woolen clothes and accessories like mufflers and gloves.
It is essential for you to carry the appropriate type of shoes and footwear which will make your pilgrimage even more comfortable. The right type of shoes is an extremely important factor in making your journey a success. For higher altitude treks you should opt for mountain or trekking boots and for plains you should go for light sneakers.
Be sure to securely carry all you important photo identification papers due to security reasons.
Make sure your luggage is not bulky and heavy it is advisable for you to carry luggage pieces which are easy to carry on your back and make sure not to stuff your bags with unnecessary clothes or other items. Do not include anything you won't absolutely need.
Get your full body check-up done in order to be sure about making your whole 12 jyotirlinga tour, since this journey takes you across a wide ranging landscape which can be physically and mentally testing.
In case of Kedarnath dham, the shrine remains closed for a limited duration and hence it is advisable for you to plan your trip accordingly by keeping in mind the temple opening and closing dates.
Historical Significance
In general terms a Jyotirlingam is a representation of our supreme Lord Shiva. Literally translating into Light image (Jyoti – light; lingam – image or sign), this word also means 'radiant sign of the almighty Shiva'. There are 12 holy shrines dedicated to being the jyotirlinga of the almighty lord. The creation of these holy sites goes back to centuries and Yugs back during Sat Yug when the Gods used to reside on earth. According to Shiva Mahapurana an argument ensued between Brahma and Vishnu who were claiming supremacy over the creation of the world. in order to settle the debate the supreme Lord Shiva decided to pierce through the three worlds in the form of a brilliantly bright and huge pillar of light which was the first creation of jyotirlingas and which had later cooled on to form the Annamalai ranges. Both Brahma and Vishnu were then asked to find the end point of these beams of lights by going upwards as well as downwards. Brahma lied to Lord Shiva by saying that he had found the end before Vishnu, while Vishnu had accepted his defeat since he had not reached the end point. This lie by Brahma greatly angered Shiva who then cursed him that nobody in the entire universe will ever worship him. Later on shrines were made on the regions where Shiva had appeared in the form of a fiery column of light.
Locations
Somnath Temple in Gir Somnath, Gujarat
Nageshwara Temple in Dwarka, Gujarat
Mallikarjuna Temple in Srisailam, Andhra Pradesh
Mahakaleshwar Temple in Ujjain, Madhya Pradesh
Omkareshwar Temple in Khandwa, Madhya Pradesh
Kedarnath Temple in Rudraprayag, Uttarakhand
Vishwanath Temple in Varanasi, Uttar Pradesh
Baijnath Temple in Deogarh, Jharkhand
Ramanathaswamy Temple in Rameshwaram, Tamil Nadu
Grishneshwar Temple in Aurangabad, Maharashtra
Trimbakeshwar Temple in Nasik, Maharashtra