The holy town of Rishikesh has to be, undoubtedly, one of the top tourist destinations for adventure activities in India. The holy place by the lifeline of river Ganga has a very contrasting second side which comprises of a number of thrilling experiences which sets it apart from the rest of India. People from all over the world make it a point to visit this place and spend some unique time here amidst the perfect combination of spirituality and heart racing adventure in the Garhwal Himalayas. Be it facing the rapids or bungee jumping off a cliff to sleeping under the stars and taking a look at the thriving wildlife of the surrounding nature this place is the hub spot for having an adventure holiday with your friends and family on the hills.
If you have planned or are planning to visit this amazing destination filled with adventure activities then here are some options you can look at:
White River Rafting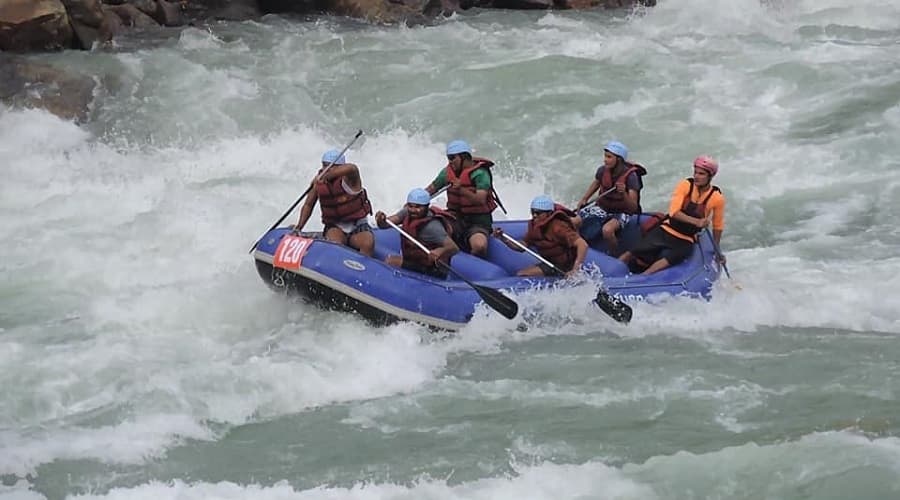 This has to be probably one of the most availed water sports activities in Rishikesh without experiencing this visit here remains incomplete. The best part is that this activity can be done by anybody including kids over a certain age. The rafting experiences varies from grade 1 i.e. small and easy waves without obstacles to grade 5 where the people will experience extreme waves, rapids and violent situations that require very precise manoeuvring. Slicing your way through the water amidst the tall and towering mountain sides will be one of the most exhilarating things you do in a lifetime. Some popular places around Rishikesh that offer this adventurous activity are Shivpuri, Brahmpuri and Kaudiyala. There are a lot of operators available offering this service and be sure to listen intently to all the instructions.
Cliff Jumping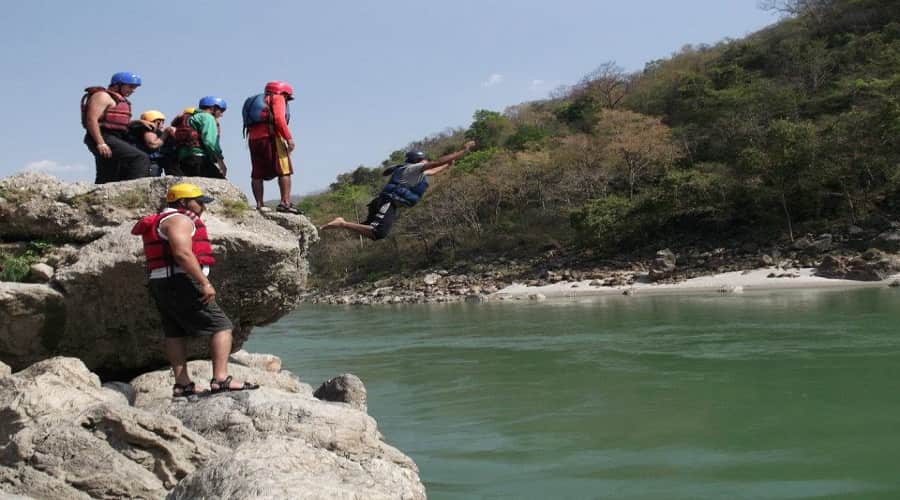 Cliff jumping is an activity which is mostly incorporated into white river rafting activity. You can either choose to do it or not, however this is one of those rare experiences that you must try at least once. One of the most popular cliff jumping sites in and around Rishikesh is located on the side of the lower part of Brahmpuri stretch which is just 2 km before the Laxman Jhula. This has to be one of the most enjoyable things to not miss out on during a visit to Rishikesh. Even if you don't know how to swim it can be done since you will be wearing a very durable life jacket. The basic and adrenaline pumping jumping or free falling off a cliff allows you to jump from a height of almost 25 to 30 feet. This will definitely get rid of all your unconventional fears regarding height and water. Remember not to venture out on your own to do this activity since these are very controlled activities and people offering this service know the depth of the water.
Also Read
 Camping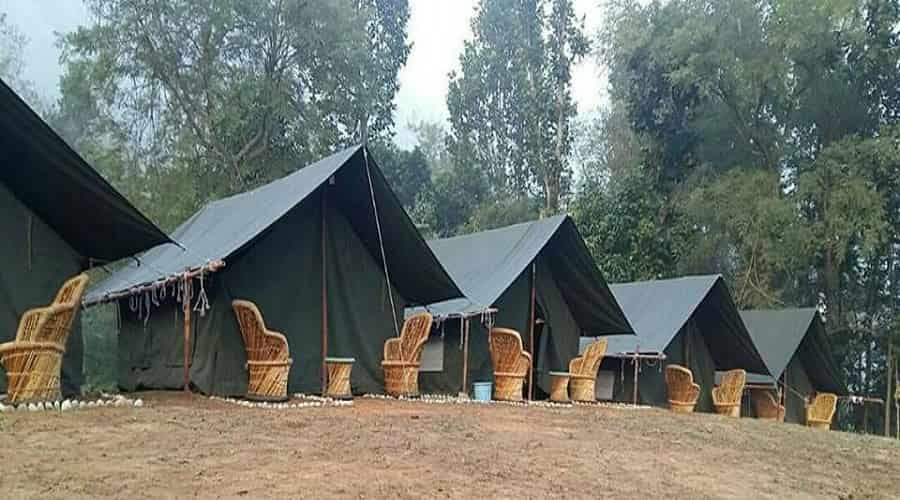 What better way of spending your days on the hills than by sleeping under the stars, amidst peaceful serenity and the beauty of surrounding nature. There are several camping sites available to suit your requirement and budget plans. This option is mostly availed by people looking for a fun getaway amongst the hills making it an idyllic camping location in India. The overwhelming prettiness here and the panoramic surrounding vistas by the holy river of Ganga. Facilities in these tented accommodations consists of comfortable bedding, bonfire nights, good quality of food services etc makes staying here extremely worth it. The best time for you to go camping is during the time of either late September to mid-November and from early march to the 1st week of may avoiding the devastating monsoon season when this service shuts down for a brief period. Other than this camping activities are not only one of the most availed but also one of the most easily and budget friendly stay options.
Bungee Jumping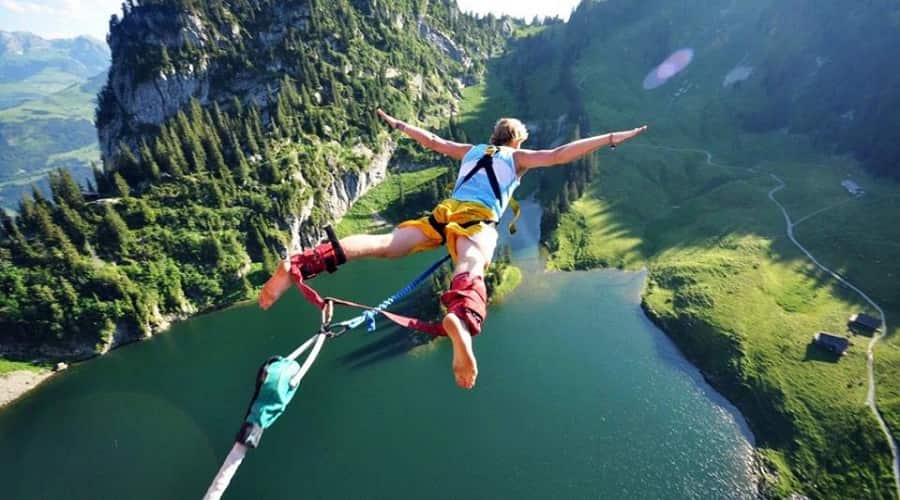 Feel the thrill of pure adrenaline rushing all over your body by free falling from a good height and then pulling gently back and being suspended in mid-air. Mohan chatti, which is one of the oldest places for indulging in this activity allows you to plunge from a height of almost 83 metres above sea level. This is undoubtedly one of the most fun filled activity and is the perfect opportunity to feel the adrenaline pumping through veins. People not possessing any serious health related issues or a fear of heights should not try this activity since this is an extreme adventure sport. If you are an adventure junky and are confident about it then go ahead, one of the most memorable experiences of your life awaits in Rishikesh. Atlas Travel Company is one of the most well-known and popular companies offering services of bungee and other adventure sports activities. Taking a jump off the platform on the edge of a cliff followed by a free fall of around 3 to 4 seconds makes it one of the things that you must do in Rishikesh.
Giant Swing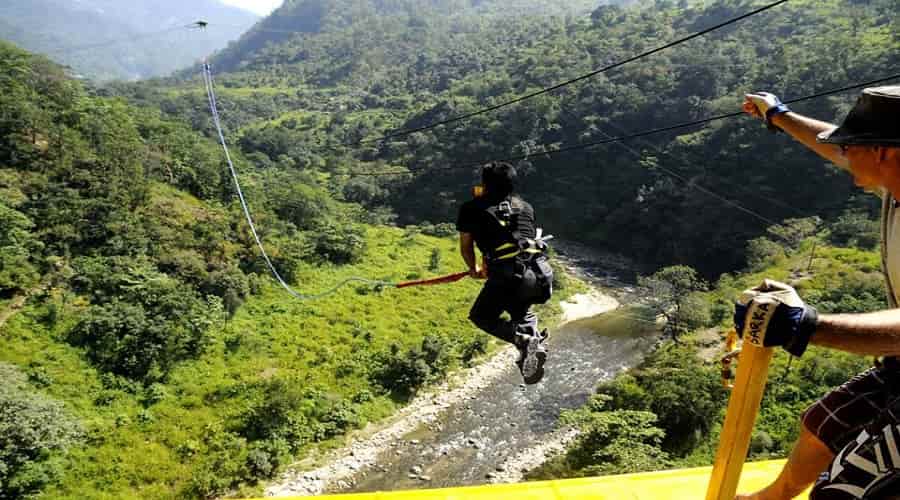 Finally, another interesting adventure sports activity is quickly gaining popularity in Rishikesh. This experience can be easily confused with bungee jumping however it is very different from it in its own way. Unlike in bungee jumping where the harness is attached to your feet here the ropes and harness are attached to your chest which goes up to an overhead contraption. After free falling you will you will swing like a pendulum at one point above the river and in between the lofty mountains which will be an experience in itself. You can visit this place throughout the year and make the most of your tour in Rishikesh. The place is very easily accessible and can be visited by anyone with no fear of heights and are adventure junkies at heart. Remember to wear comfortable clothing to make the most of your holiday. You will also be awarded a certificate and you may even choose to get a video made of yourself at a price of this memorable thing to do.
Kayaking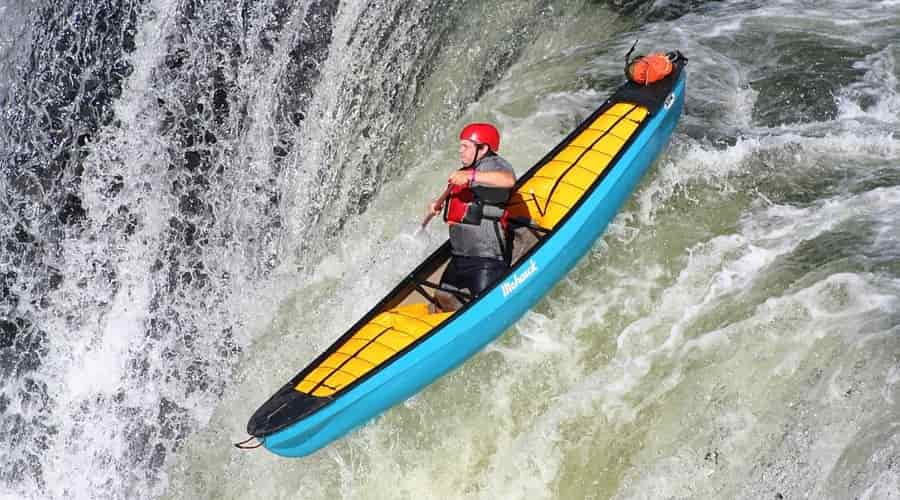 There are many more activities in Rishikesh which remain unexplored or escape the limelight and commercialisation phases. Kayaking on the holy river Ganga is one such activities which is solely done by expert professionals. You will be able to navigate easy rapids as well designed primarily for beginners. Making your way through the undulating landscape of this wonderful waterbody will be one of the most adrenaline pumping and thrilling adventures you will ever experience in a lifetime. Also referred to as canoeing this activity guarantees to rejuvenate your senses and feel closer to nature. If you are thinking of attempting this feat then make sure to prepare yourself prior to your visit to make it safer and easier for you and also allow you to have more peaceful time. You will encounter kayakers on your rafting routes paddling away and having the time of their lives.
Rappelling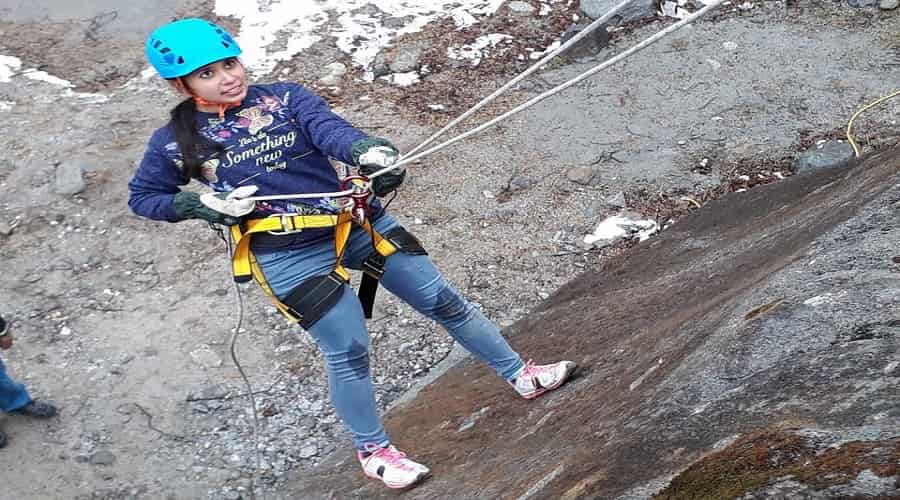 Ever thought about climbing up a mountain side? The option of rappelling in Rishikesh will fulfil your wishes. Nothing is more adrenaline pumping then climbing up and walking down the side of a mountain face dangling by a rope. Rishikesh will enable you to climb and amazingly descend down the Shivalik Himalayan regions. What is more exhilarating than climbing up the mountain located amongst the blessed and lush greenery and steep valleys. This adventure activity is among one of the most popular and sought-after things people do in Rishikesh. Feel the adrenaline pumping through your veins when you slowly make your way up the hills and savour the beauty of the hills from top. The waterfall rappelling adventure activity is another added thrill to your experiences. Although challenging in nature the Neer Garh Waterfall offers some of the most breath-taking views of the surroundings. No matter which rappelling option you choose you will be filled with a memorable sense of adventure.
Trekking
This has to be another one of the most adventure and surprises packed things to do in and around Rishikesh. Take a day out and go exploring the wilderness of Rishikesh and amazing lush landscape surrounding this amazing holy centre of spirituality. You can choose from a number of trekking trails that run across this place. You can set up a base camp and head out into nature and allow yourself to indulge in some varied amounts of trekking ranging from easy to moderate and difficult depending on your fitness levels and experience in this field. Some of the most interesting treks take you through various waterfalls, Garud and Phool Chatti, Kunjapuri Temple Trek and some other nearby trekking expeditions include treks to Kuari Pass, Chandrashila Trek, Valley of Flowers visit, Surkanda Devi Temple Trek among others. These experiences will not only leave you with a lifetime of memories but will also refresh you from within making it the perfect option to go for during a weekend trip with your family and friends.
Valley Crossing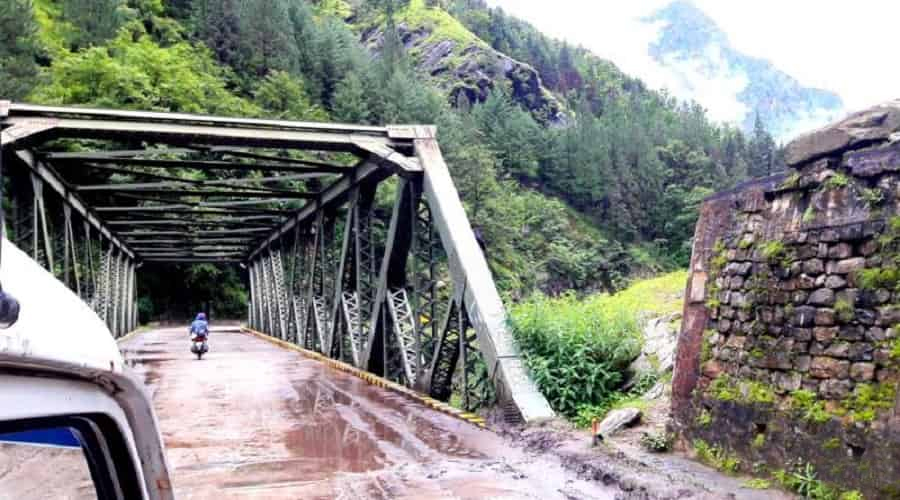 This adventure allows you to go smoothly across the many various valleys that cuts through and around Rishikesh. The entire city of Rishikesh is blessed with innumerable such landscapes and is blessed with some of the most enchantingly lush valleys. This has to be one of the most desirable ways of slowly and peacefully making your way through the panoramic beauty of the Garhwal Himalayas. The best part is that this activity can be done by people of any age group making it even more fun. If you are an adventure lover and are looking to feel the rush of adrenaline in your veins then this should definitely be included in you adventure activity plans in Rishikesh.  Admire nature as you simultaneously savour some of the most grand and picturesque sites that surrounds you while gliding across the pleasant air from one valley to the next. Definitely something you must definitely experience during your visit to Rishikesh.
Rock Climbing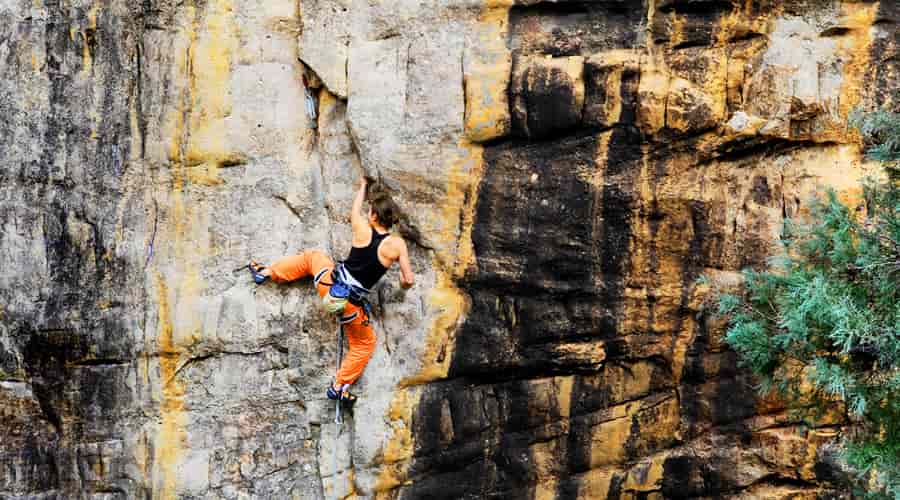 Taste the thrill of climbing high up the Shivalik Mountains and testing the limits of your patience, intelligence and endurance through rock climbing. Here you will be able to climb up this amazing rock structure by fixing your foot and palms within the groves of the mountains. With every step you take up you shall definitely feel the adrenaline pumping through your veins. Generally, this activity takes place early in the morning so by the time you reach the top you get a stunning view of a painting like scenery unfolding in front of you. This is not only one of the most offbeat experiences in Rishikesh but it is also very pocket friendly. Even if you are a beginner this activity will definitely leave you spell bound. However this requires some levels of skills and precision which can only be attained if you practice well enough before you come here for this activity.
Also Read