Uttarakhand has managed to attract a huge throng of tourists due to its importance in the field of spiritual tourism. However due to its terrain adventure enthusiasts have developed it as one of the most thrilling adventure tourist destinations in India. If you are looking to explore the adventurous side then you must check out these top 10 adventure sports in Uttarakhand:
01. Paragliding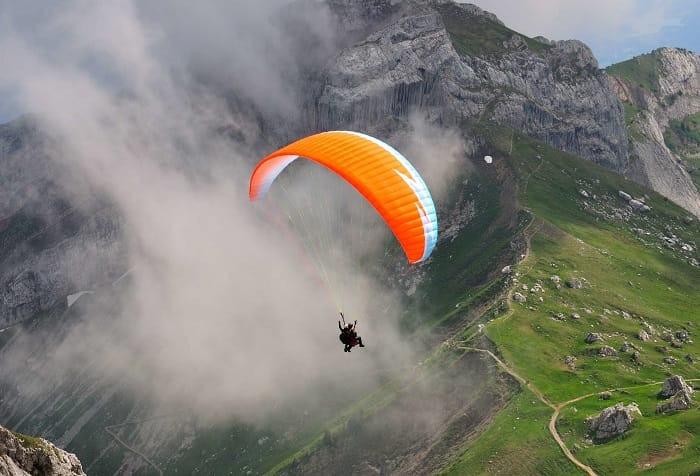 This activity comes first o mind when somebody mentions adventure. Sail through the magnificent and refreshing Himalayan air while gliding above the forest and valleys. This truly is one of a kind experience that can be availed at several places in Uttarakhand like Mukteshwar, Ranikhet and Bhimtal etc. Be surrounded by the lush greenery of the high mountain peaks while getting a bird's eye view from high above the ground. Accompanied by a trained professional you will be getting a taste of the world from above.
02. Skiing
Uttarakhand is home to one of the finest unique destinations in India – Auli. The lush green meadows here are converted into skiing grounds during the snowfall season. For a better experience you can go for classes offered by the GMVN here that lasts for 7 to 14 days. Gliding across the snow covered hills with the cool Himalayan air passing through your face will definitely be one of the thrilling adventures you indulge in. popular as the winter skiing destination of India this place also offers some of the most scenic sights of the surrounding mountains.
03. Camping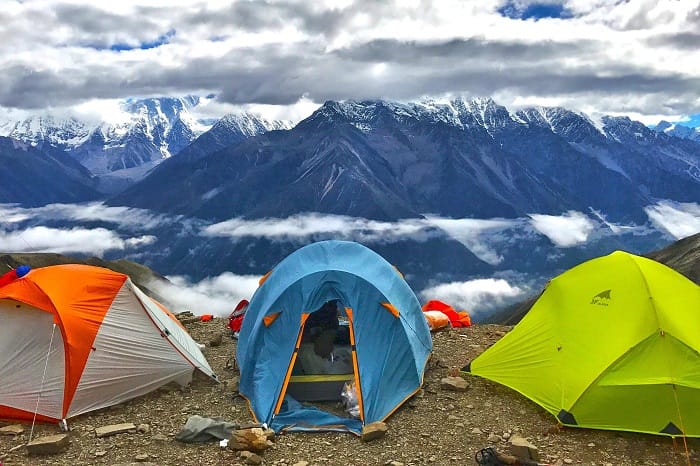 What better way to have a taste of the adventurous side than camping under the starlit skies and open grounds. Uttarakhand has always been of camping interest for travelers since a long time and it truly has earned its place. Away from the city madness you can pitch a camp on one of the several green Bugyals or meadows situated here and have one of the most amazing experiences. It doesn't matter if you are a beginner there are options available for every type of camper. You can camp in Chopta, Dhanaulti, Rishikesh, Chaukori, Sattal, Pangot etc. the list goes on and on.
04. Bungee Jumping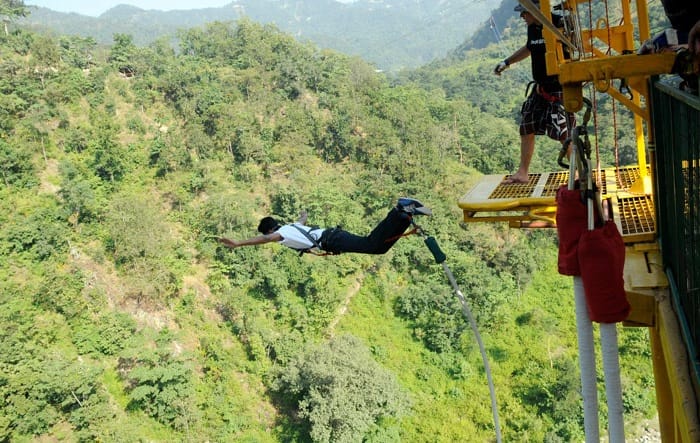 Feel the adrenaline rush pumping through your veins while free falling from the edge of a mountain. Bungee jumping in Rishikesh is probably one of the most sought after adventure thrill sport that people come to experience herein Uttarakhand. If you want to experience the real thrill of adventure then you must not miss out on bungee jumping. One of the popular spots includes Mohan Chatti which is situated near Rishikesh.
05. Kayaking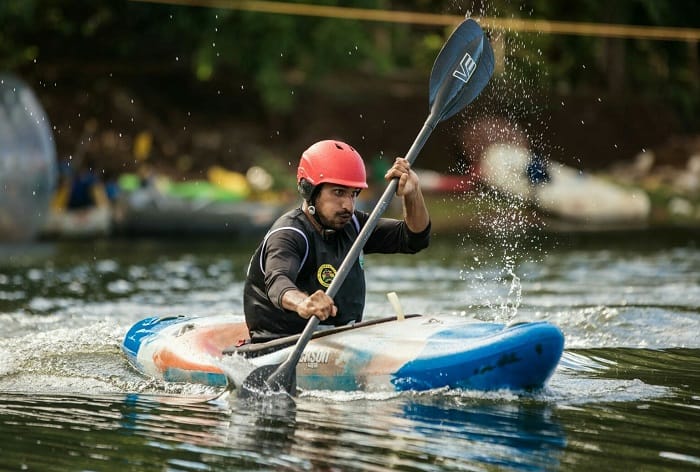 If you have a love for boating and would love explore the beautiful blessed surroundings by paddling through the quiet channels of water then kayaking and canoeing would be the thing for you. However one thing is that you have to be experienced in this field since this activity is not taken up by beginners and new Joinees. Mandatory lessons should be taken before undertaking this adrenaline pumping expedition.
06. Trekking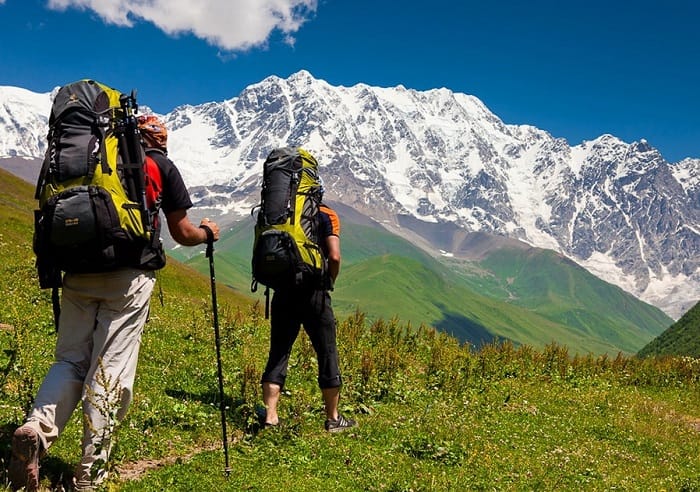 There are innumerable trekking trails that line the entire region of Uttaranchal. This is probably one of the best ways of exploring the stunning surroundings, humble village life and some peaceful serenity. Away from the bustling engines of cars and bikes, you will be hearing the song of the birds and the animals communicating against the gushing of a river at a distance. Make your way through the lush green forests and the peaceful ambience in places like Roopkund, Valley Of Flowers, Pindari Glacier, Chopta Chandrashila Trek, Dodital Trek, Kalindi Pass Trek and a whole bunch more.
07. Zip Lining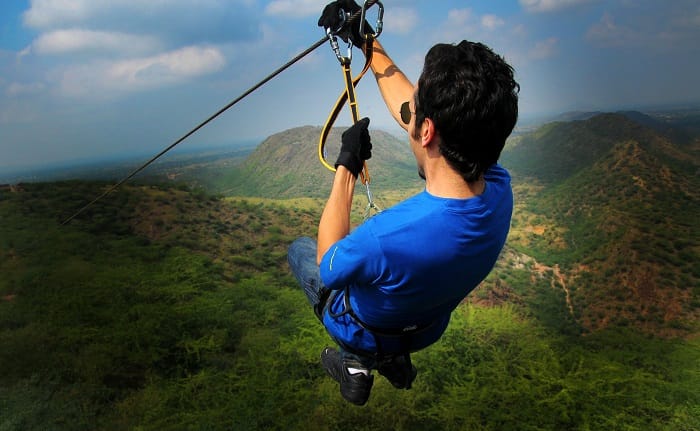 This activity has garnered a lot of attention from people seeking a sense of thrill in sports. You must try this experience once and witness the glorious natural beauty from above. Glide through the air at a speed of up to 160 km/hr and feel the wind brushing through your hair and face while being suspended from a safety buckle. You will be able to enjoy some of the most panoramic views of the streams and the rich greenery below. After doing this once I am sure you would want to go for a round 2. You must try this once.
08. Rappelling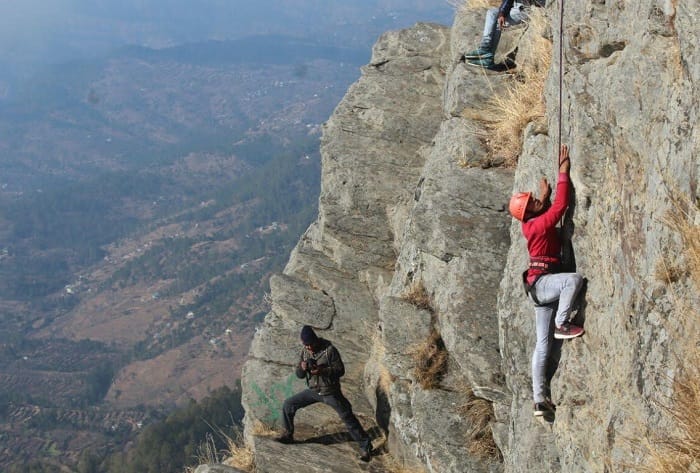 This is one of the most thrilling experiences one could have while on the hills. Due to the presence of a diverse range of hilly Himalayan terrain consisting of jagged features, rappelling has gathered a lot of attention from adventure seekers. Walking down the face of the mountain is a great way of experiencing nature with a whole new perspective. Going down the mountain side with the gushing river water running below this can be a unique and one of a kind experience especially in the Himalayas.
09. Mountaineering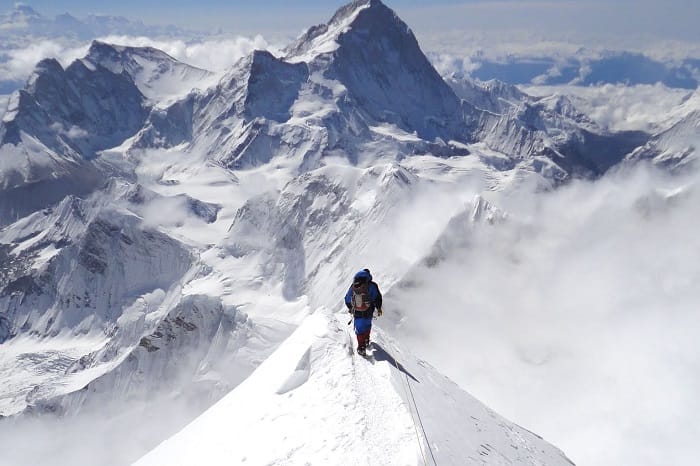 Uttarakhand is every mountaineer's delight consisting of some of the highest peaks in the world. People from the earliest times have been attempting on summiting some of these mountains located here like Nanda Devi, Trishul, Panchachuli, Bandarpunch etc. among a plethora of others. Even till present date people looking to explore the vast stretches of snowy peaks and lands make their way to Uttarakhand the home of the mountains. This activity will also complete another aim of making you come in contact with the culture and diversity here. Pithoragarh is now developing recently as one of the most incredible site for indulging in mountaineering activities.
10. Rock Climbing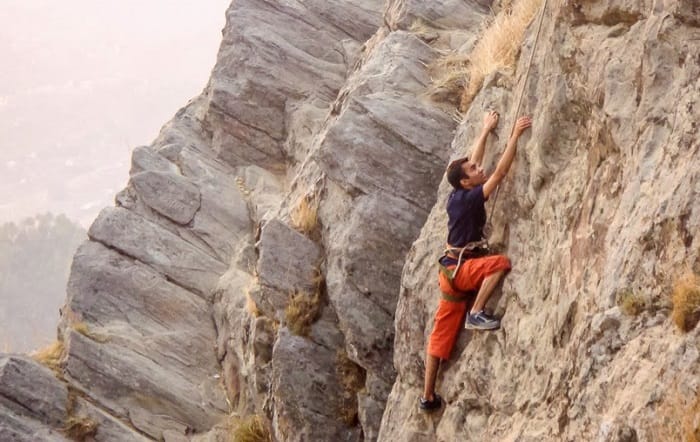 Uttarakhand boasts of a wonderful collection of rock climbing destinations which can be enjoyed to the hilt by an enthusiastic traveler. Some of the destinations for this purpose include places like Mukteshwar, Ramnagar, New Tehri and Dhanaulti. The rough surface of the state has been utilized fully by the rock climbing enthusiasts here. You can also learn his activity professionally by taking a course on it in national institute and Nanda Devi Institute. Other interesting places for this fun packed activity are Nainital, Mussoorie, Pithoragarh and many more. Although a relatively newer add on this has quickly become and adventure enthusiast's favorite.