Bali is an enchanting place. Teeming with tradition and culture, and stunning places to witness, you wouldn't seem to get enough of this beautiful island. There are tons of marvelous beaches, crystal waves, green fields, ethnic detailed establishments, scrumptious delicacies, and a whole lot more. There is enough to convince you how ravishing this paradise is. What's more enthralling is that Bali is so easy to access wherever you are in the planet, plus the cost of living is way cheaper than anywhere else. On top of that, Balinese peeps are too amicable and congenial that you would feel you just found home. Once you've witnessed the island, its beauty will haunt you that would make you come back for more.
As a travelling backpacker in thirst for thrilling adventures, a week of visit may be less satiating but could be enough to give you a taste of the paradise. You would be able to get the most of at least three areas of Bali that would expose you to a remarkable lifetime experience. Jump from one district to another via cab or rented motorbikes for just around 300,000 Rupiah. Consider these top Bali places that a backpacker might want to explore in a week of roaming:
Ubud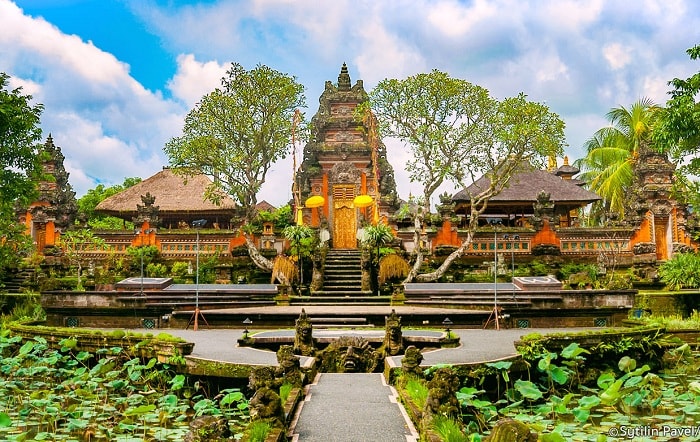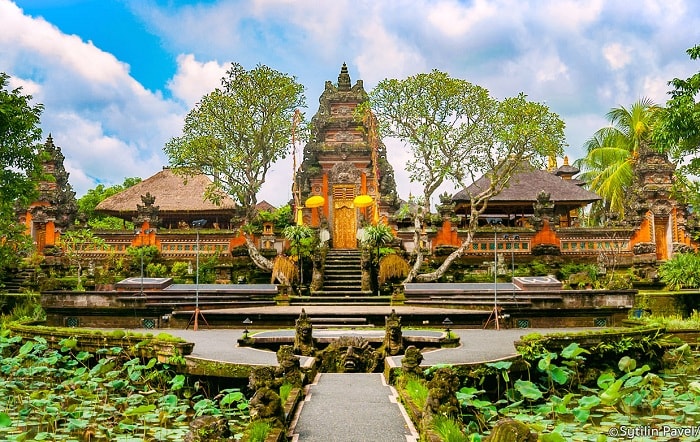 The district of Ubud is located in the heart of Bali. It is a hilly haven of artsy creations, with left and right mystifying temple ceremonies, and vast spiritual vibe. Ubud is a place that would submerge a stranger to a unique cultural experience. I could say that this district is the portion of Bali that offers utmost relaxation. The whole place is dotted with sanctuaries and various purchasable goods. One could stroll along its roads of never-ending crafts to see, high-end restaurants, and lovely Warung's (a small yet modest authentic local food stalls). There are also numerous spa retreats and traditional healing options. Gobs of Yogists huddle everywhere, and there is this particular relaxing scent from marketed natural oils and incense that dissipates the atmosphere. Foodies will definitely relish on Ubud's fresh, thirst-quenching juices. Balinese street foods are also surprisingly good; be sure to not forget to try their satay (grilled meats), and Bakso Ayam (meatball soup), as these delicacies reflect the authenticity of the Balinese taste. Take a peek of the Ubud market where you will see thousands of stunning souvenirs, crafts, paintings, and many more. Hone your bargaining skills beforehand, expect a lot of haggling experience as the prices of goods can be lowered to half. A day in Ubud is definitely a notable trip. If by chance that you have more time to explore this district, you might also want to delve into its hills and deeper forests.
Canggu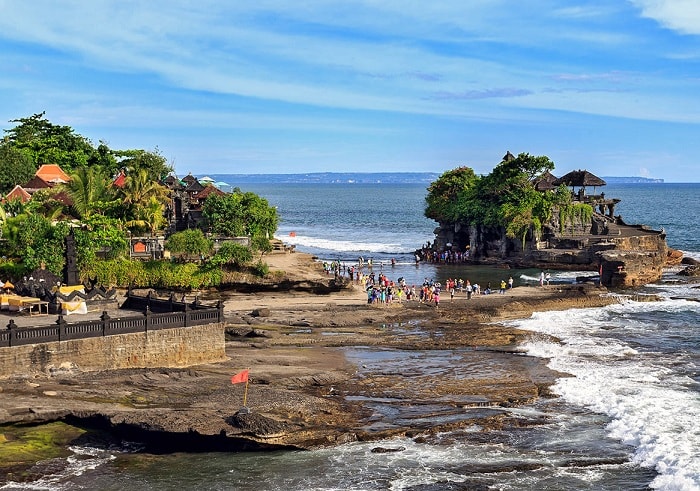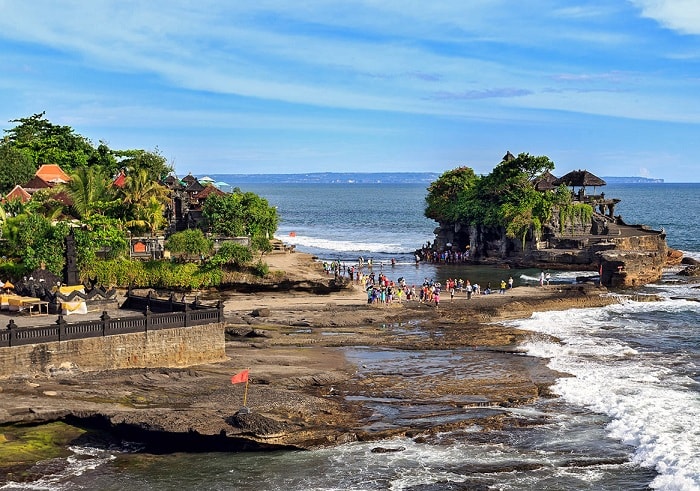 If you are an experienced surfer looking for a less crowded spot, Canggu should be a part of your adventure. Canggu is a quiet and an insular part of Bali where surfers from different parts of the world meet and make friends. It has lesser commercial buildings, and it bears idle roads. Most of the visitors of Canggu are composed of the sporty types. Cool dudes and babes savor the suburb just to enjoy the sun, waves and the refreshing breeze. Its beach is not ideal for swimming due to its strong waves and rocky reef. However, if you long for tranquillity, Canggu would not be a disappointment. One could rent a bike for a very affordable rate in able to explore the district. Visit the Deus Ex Machina Branch in Canggu, which is one of the only few in Asia, located just a few miles away from Batu Bolong to see their marvelous bikes and other merchandise. You might also want to take a quick skate at Deus Ex Machina's vert skate ramp, and then gulp on their freshest juices or cold Bintang (local beer) afterwards. When the dusk bites, though Canggu is known for its serenity, some places turn into wild partying hang-out spots where booze overflows. The most popular revel corner is the Old Man's bar that is open until the wee hours of eve. Assume to face a thick horde of friendly tourists there; however they might have already consumed too much beer.
Kuta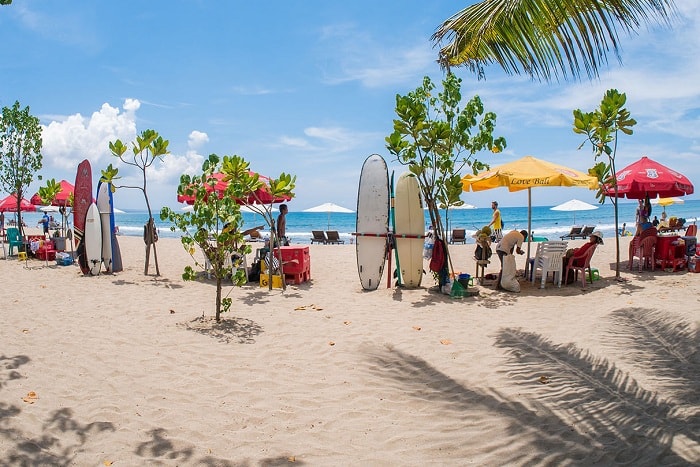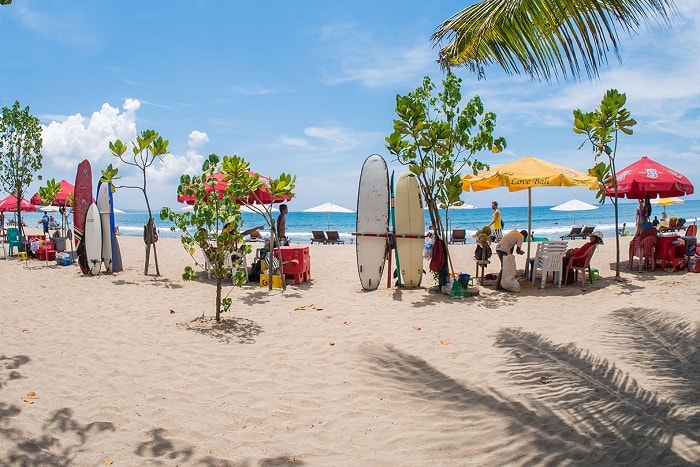 As Bali's main tourist destination, you will find lots of things to see and do in Kuta. This part of Bali consists of a long stretch of surf spot that suits beginners and intermediate surfers. It also has various restaurants, merchandise stores, clubs, and the cheapest and grandest hotels that you could find in the island. Kuta's beauty is definitely astonishing, too. The sun sets off on a colorful sky of blue, orange and pink, while sunrays illuminate at the ocean painting its hues on the glittering sea. However, Kuta isn't where you would want to be if you desire for serenity. It could be the busiest place in Bali especially during the peak season. It is teeming with bars and different kinds of establishments for entertainment. Beyond the beach are various stores selling goods of different kinds. From surfing merchandise, to souvenirs, crafts, artworks, music instruments, Kuta's market has it all. All types of cuisines are also available in the district due to different nationalities that visit the area. From foreign-themed restaurants and clubs, to local bars and Warungs, you can literally find everything there. Explore the alleyways of the district and you might find hole in the wall gems of either cheap yet cozy hang-out abodes or local stores serving the best authentic Balinese delicacies. Another good thing about Kuta is it's just beside the airport. It's literally only 5 minutes away via cab, meaning you could still engage in the wildest parties the night before your flight without worrying that you might miss your plane.