To experience two of the most magical and mystical places on earth, visit the Indonesian provinces of Bali and West Borneo. While each has its own unique blend of peoples and cultures, both are rich in tradition, and both have unique, yet equally wonderful cuisines. The travel from the U.S. to Indonesia is long and arduous, but the reward of these two provinces makes one forget the rigors of their travel and the jet lag easy to forget!!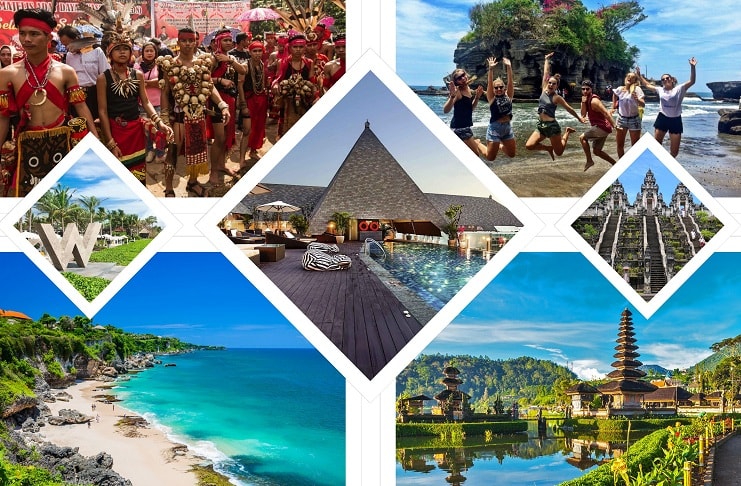 Five important tips for traveling in Bali, West Borneo, Indonesia, and Southeast Asia in general!!
Pay attention to these travel tips, and you will have a much more enjoyable, stress-free vacation!!
1) a) When changing your money to local currency at the airport or anywhere, remember that there will be several money changers there, and that they are not under government regulation, so shop around for the best rate!! (They will post their rates, so checking them is easy.)
b) Keep in mind that these money changers place a premium on U.S. bills that are either A or B series, and that are not wrinkled or used looking in any way!!
Go to your local bank before you leave the US, and get all A or B series bills, that are brand new.
There is around a 30% devaluation of your money if it does not meet both of the criteria previously mentioned.!!
My wife and I generally bring around $5,000 cash to exchange, and if the bills do not meet the criteria previously mentioned, they have a devaluation by the money changers to approx.$3,500. (A significant devaluation!!)
2) Remember that jet lag can take up to a week for your body to recover from, so take it easy for the first few days of your vacation!!
3) Hire a car and driver to take you to points of interest, and to transport you around in general. (A car with driver will usually cost around $50 per day, plus gas, lunch money and tip. (Most drivers will not dine with you, preferring to take the lunch money home to their families!!)
Hire a car and driver well before you arrive, if possible, as it will save you considerable headaches in the long run!!
4) Always carry several bottles of water per person per day, as this region of the world is very close to the equator, and very warm and humid. (Only buy sealed bottled water!!)
5) Bring some sandals that are quick and easy to put on and take off, because when visiting private homes, it is the custom to remove your shoes before entering!!
The Mystical West Borneo
After visiting this mysterious and enchanting land for the 2nd time, I felt that I need to try and bring the beauty and mystery of the place to those who had never been lucky enough to visit. I only wish that I could also bring the sounds and smells to you, but for that, you'll have to visit for yourselves!!
Bali and West Borneo Indonesia
Exotic, mystical, mysterious only begin to describe these two beautiful Indonesian provinces!!
Looking for a special vacation that is part luxury and part adventure?
Try the Indonesian provinces of Bali and West Borneo!!
You'll have the option of staying in 4 star accommodations, or taking advantage of less luxurious, yet very comfortable accommodations!!
Elegant seafood dinners, served beachside can be had for less than $7, and street vendors are always around the corner, with delicious meals for less than $1!!
Go for hikes in the tropical jungle, or rent a car with a driver to explore larger areas, where the driver is critical to finding interesting places to visit!!
Whatever you choose to do, you are guaranteed a once in a lifetime vacation at a surprisingly affordable price!!
If exotic art and architecture and gentle spiritual people are what you're looking for, go to Bali!!
Of all the places on earth that could be labeled spiritual, Bali is the place!!
Hundered of Hindu temples and hundreds of thousands of Hindu personal shrines cover this small Indonesian island!!
Street vendors selling delicious local favorites, outrageous seafood on the beach, 4 star hotels for $50 per night!!
If mysterious jungle locations and pineapples growing wild intrigue you, this is the place!!
To visit West Borneo, Indonesia is to start an adventure!!
Steamy heat in this equatorial province, traffic that is more insane than anything you have ever dreamed of, and marvelous cuisine make it a superb place to go if you dare!!
Explore the bustling city of 800,000 people, Pontianak, and then hire a car and driver to show you places that only the locals would know about!!
Sample delicious and unique indigenous fruits like Red Dragon fruit, Jack fruit and the infamous Durian with its seductive taste of very sweet onions, and its room filling aroma!!
West Borneo, Indonesia, you owe it to yourself to have an adventure there!!