In September 2006 I visited the two Malaysian states, Sarawak and Sabah. To use the old cliche it really was the holiday of a lifetime (although I do try to have at least one holiday of a lifetime every year) I am a keen wildlife photographer and after having done various safaris and other wildlife watching adventures a primate expedition seemed like a good next trip. Primate watching in Africa is far more expensive and politically potentially dangerous, and at short notice proved to be difficult to get appropriate permits, so we chose to do Borneo first, then Africa at a later stage. This was probably wise given the rate at which Borneo is disappearing.
Getting there
Normally the entry point for northern Borneo is known for being Kota Kinabalu, the capital of Sabah which has modern almost western-style hotels and an airport with flights from Kuala Lumpur. Many people stay in Kota Kinabalu (usually, annoyingly called KK by tourists. I insisted on using its proper name and was regularly corrected by other knowledgeable tourists who thought they were a couple of pages ahead of me in the guidebook) KK (oops, I mean Kota Kinabalu) is a fantastic location on the coast next to the Kinabalu mountain, with wonderful beaches and clear water. It is possible to do day-trips to bits of rainforest and other attractions and still enjoy the beach resorts and the comfort of a US-style hotel with a golf course. I however think that unless you stay in the jungle you are cheating.
I arranged the holiday using the services of Audley travel (www.audleytravel.co.uk) who prepared a custom itinerary for me and my other half, including flights into Kota Kinabalu, Accommodation and all transport, boats and cars, around the island. They did a very good job, and although I could have put it all together for far less on the internet it was worth paying the extra in this case.
Accommodation in Kota Kinabalu
Once we arrived we were picked up from the airport and assisted to the Shangri La Rasa Ria Resort where we had a "Delux Sea-view" room. This is a big modern hotel with a choice of beach-side restaurants and bars. I won't do a full review of each hotel here, but it proved a relaxing and enjoyable place to stay after the long flight if not entirely Malaysian in character. Probably great if you like beach resorts with plenty of variety and shopping opportunities. I however was keen to get into the jungle.
Excursions from Kota Kinabalu
Just two hours from the hotel, along the Crocker Ranges by car and you are in the Kinabalu Park, which would have been quite feasible as a day trip from a beach hotel, but we used this as the first leg of our journey into the jungle. Nature walks, orchids a botanical garden and two rather low-standard museums (both apparently the same). Lunch was available at the rather rustic Wildlife mountain lodge, which is also where we stayed the night and had dinner and a couple of beers sitting outside… in the car park. After-all we were there to see wildlife, not to stay in posh hotels.
There is also a canopy walkway. A scary series of long-suspended narrow bridges hanging between trees at about 40 metres which allows you to view wildlife in the canopy (unless, like me, you are so scared that you can't look over the edge) The butterfly farm was quite amusing in that it only had 3 living butterflies in it, and yet we could see hundreds of huge butterflies just outside in the jungle, through the netting.
Heading east for about 4 hours takes you to Sandakan via some wonderful scenery and the Gomantong caves, which is where edible birds nests are harvested. These are worth a visit. Damp and smelly and full of cockroaches, bats and huge mounds of bat poo, but you can see the harvesting taking place, and the amusing pig-tailed macaques outside. We were lucky enough to witness a baby Orangutan with his mother in the trees just outside the caves. We got a little too close and were rewarded with a sprinkling which is the standard monkey number one defense (we didn't hang around for number two)
Sukau River Lodge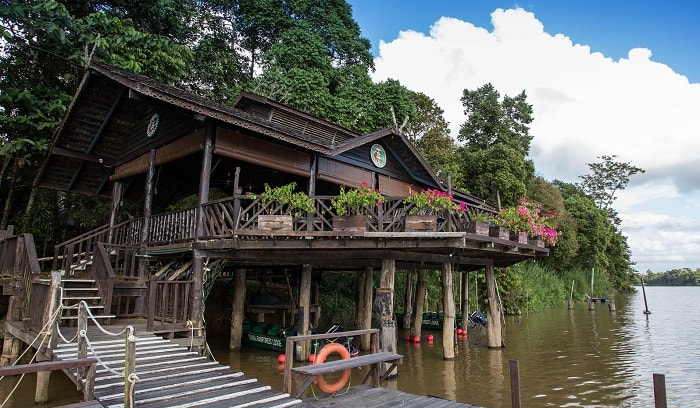 We stayed at the Sukau River Lodge from which it is possible to take boat trips to the ox-bow lakes and trek in the riverine rainforests where there is plenty of wildlife to see, and of course wonderful scenery, although most of the wildlife was hiding with the exception of the leaches In fact on arrival at the jetty of our riverside lodge there was one waiting for us, sniffing the air. During the rainforest treks you have to wear long trousers tucked into leach socks and short sleeves, because they definitely will drop onto you, then head straight for your warm bits with good blood-flow (e.g. arm-pits) so the best way to deal with them is have your arms visible so people can alert you as they progress up your arms (rather than let them do it undercover inside a shirt) It is best to pull them off before they start drinking. They are relatively easy to pull off however and are quite cute once you get to know them. It is best to shower immediately after a jungle trip and check to see if you have missed any.
Talking of showers, the rooms at the Sukau River Lodge are very rustic huts surrounded by jungle. The water in the showers was a little on the yellow side for my girlfriend, presumably rainwater and filtered river water. I however thought it was a fantastic place to stay with a fantastic bar jutting out into the water and surrounded by mist from the jungle. No TV but an optional wildlife lecture and slide-show (My other half was not happy and wanted to watch CNN instead)
We also took boat trips to look for the wonderful proboscis monkeys. They mostly sit high in the trees so they are difficult to photograph, but are a fantastic site, with the large fat dominant male sitting still with his huge nose and attentive females, while the younger males and females with their smaller noses leap around. I could watch them for hours. In fact I did. Absolutely wonderful, and you won't see this anywhere else in the world.
Turtle Island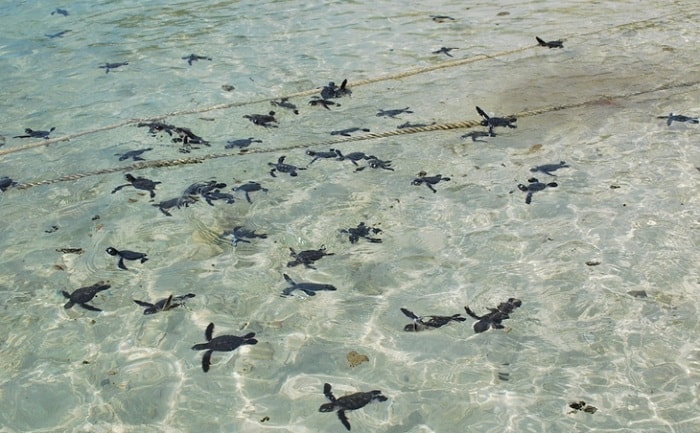 Next stop was Sandakan from which we took a boat to Libaran Island, then Selingan Island (or Turtle Island) off the coast of Borneo. This is the location of the most important turtle breeding marine park. To see the turtles arriving and laying eggs you need to stay on the island overnight, but primitive accommodation is available (basic chalet with shared showers etc.) Earlier in the evening it was possible for us to watch baby turtles hatching by the hatchery and fighting to the surface through the sand, then being collected. A few were handed out to the small group of tourists to hold: surprisingly powerful rubbery things just a few inches long trying to swim to safety. We sat in the bar for hours waiting, then a spotter from the beach ran in to alert everyone of the arrival of a giant turtle and we quietly went out to the beach to watch the eggs being laid. We also were allowed to set the babies free into the water. Quite a surreal evenings entertainment, especially as I had a fever and a bacterial jungle infection and was starting to hallucinate. On the way back from the island we visited mangrove swamps and the family of our driver for lunch and saw lots more proboscis monkeys and long-tail macaques. We stayed at the Libaran Island Lodge, which is rather more upmarket than the previous night's accommodation, although I was becoming quite ill by then.
The next morning I was "rushed" very slowly by boat and four-wheel-drive to hospital on the mainland (a private hospital where I was seen within just a few minutes of arriving and pumped full of antibiotics. I hate to say, rather better than the British National Health Service. I paid a few pounds for the drugs and the consultation)
Sepilok Orangutan Rehabilitation Centre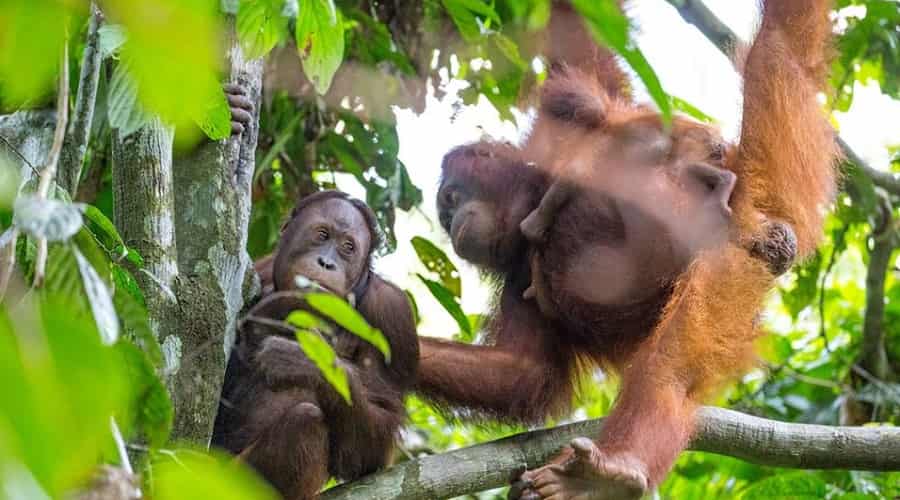 Our next stop was the Sepilok Orangutan Rehabilitation Centre, which helps train previously captive orangutans ready for a life in the wild. This is certainly worth a visit. Fantastic to see these wonderful intelligent creatures up close.
Danum Valley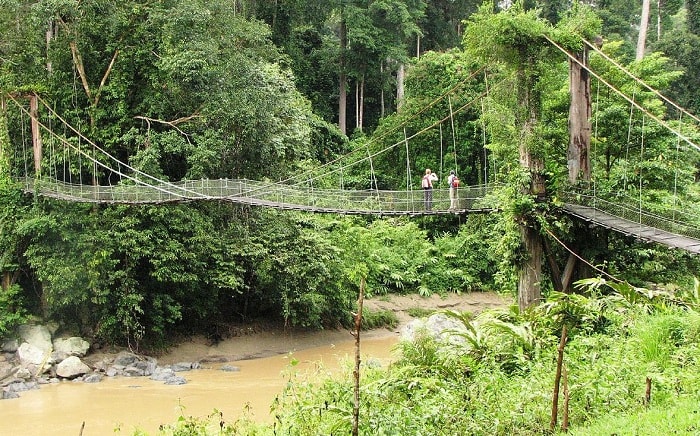 We finished the trip in the Danum Valley, staying at the Borneo Rainforest Lodge, after a one night stay at The Executive hotel, a boring, but comfortable Borneo business hotel, while recovering from my illness. The Lodge however was the best of the lot. The rustic charm of stilted huts with balconies looking into the jungle raised walkways between the huts and a fantastic bar and restaurant with more views. Wild orangutans were swinging around nearby high up in the trees and huge butterflies fluttered past as we sat in the bar. Regular treks and drives into the jungle were organized and more canopy walkways to negotiate. A splendid place to stay.
Conclusion
Borneo is one of the most fascinating places I have been to and well worth the effort, but go soon before the rainforests are destroyed completely.
Author:
AndyPo: Hi, I am Andy. I live in the U.K. but have worked and travelled all over the world. I am a semi-professional wildlife and travel photographer.