Char Dham Yatra, one of the most sought and the cherished dreams of each Hindu devotee is flocked by millions of devotee's year. However, there are many pilgrims who have been postponing their plan because they of several thoughts and queries running in their mind. if you are also the one who is doing the same or you are not happy with your last Char Dham trip then check out these lesser known facts to make it a hassle free journey. Check out the below mentioned questions that are frequently asked by the travelers and put a full-stop to your thought.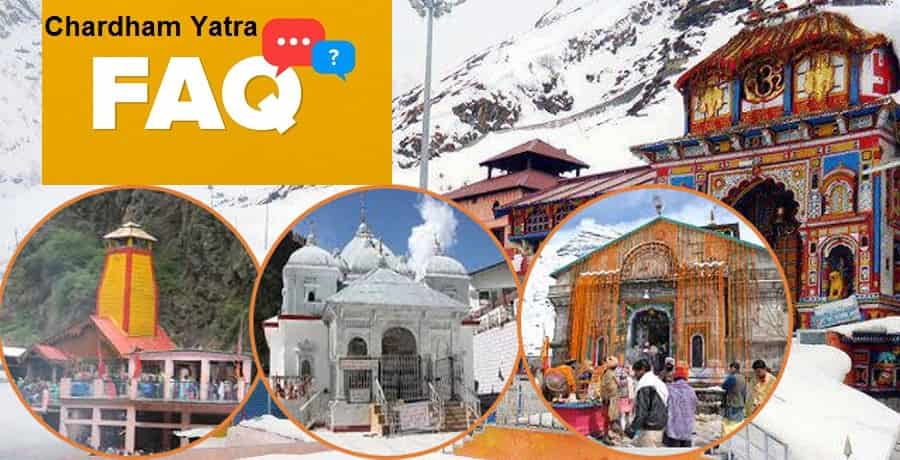 1- When does Char Dham Yatra commence and end?
Ans: This annual Yatra commences with the onset of the summer season when the snow starts melting from the mountains and the routes take you to the Dhams. The holy pedestals of this circuit open in the last week of April and get closed by the first week of November (with the commencement of winter season). After the completion of Diwali, the shrines get closed for the next 6 months due to abundant snowfall and the immense cold weather.
2- What makes Char Dham Yatra so significant?
Ans: Char Dham in Uttarakhand is one of the most venerated spiritual journeys of Hindus where pilgrims from different corners of the world flock to seek the blessings from the deities and to attain liberation and salvation from the cycle of birth and death. Here, you get to take a holy dip into two holiest rivers of India- the Ganges and River Yamuna and this make one free from all their committed sins and this makes Char Dham Yatra a significant pilgrimage.
3- What is special there in the new token system at Badrinath? Does it cost something?
Ans: There are three token counters established near Badrinath taxi stand and you can collect tokens from any of these counters. There is Darshan timing mentioned on the tokens and the devotees are advised to reach the main entrance of the shrine at least 15-20 minutes before the token time starts. One who visits the shrine during the peak season gets less than a minute time to seek the blessings of Lord Badri. It is believed that this token system started first in the year 2012 on a trial basis and it worked very nicely so since then it had become mandatory to collect the tokens for visiting the shrine.
4- What is the best and the safest time to embark on this holy Yatra?
Ans: The Yatra continues for 6 months but the shrines being located on insane locations are not safe to travel throughout this 6 months span like, during the monsoon months (July and August), the regions receive rainfall in extreme amount and this makes the mountain slippery and inaccessible for the tourists. So, there are two peak seasons to embark on this holy Yatra i.e. April to June and then September and October. As far as we discuss the safest way to complete this journey then go for helicopter services as this makes the journey safest and most convenient.
5- What are some of the issues we can face on the journey and what are some of the helpful tips?
Ans: If you are traveling to a new place so inarguably you will be facing some issues but there is a saying in medical terms "precaution is better than cure". So, if you want to keep yourself away from these issues then check out some of the below-mentioned tips.
Carry ample cash with you as you won't find ATMs everywhere so it is better to be with enough cash to utilize in case of an emergency.
No matter which month are you selecting for your Char Dham Darshan, you are always advised to carry woolens with you as there is no consistency in the climatic condition especially night becomes cold.
You are not going to find medical stores everywhere in the state so do carry your medical kit to avoid any serious trouble.
6- Why one should opt for helicopter services to cover this holy Yatra?
Ans: There are many benefits if you complete this religious tour with helicopter services like it transforms this immensely challenging journey into a simpler and faster one. Also, this saves your time by offering you VIP Darshan Pass for all the four holy Dhams and this time can be utilized in exploring the wonders of the destinations.
7- What is the documentation needed for this pilgrimage? What are the other essentials that one must carry on the trip?
Ans: You must be carrying a valid ID proof like Aadhar Card, Driving License, Passport (mandatory for foreigners), etc.
Other things that you need to carry along with you are medical kit containing that particular medicine if you have any prolonging illness, if you are covering the trekking trails then you must be equipped with trekking gears like a proper pair of shoes, comfortable dresses, etc.
8- Is the journey safe for senior citizens?
Ans: Yes, it is safe for every aged person, however, it will be very difficult for the old-aged people to cover the trekking distance on foot so either one can go for pony or palanquin rides or can opt for helicopter services.
9- Is it mandatory to register ourselves for this sacred tour? How to do the registration means is it available online?
Ans: Yes, the registration for Char Dham Yatra is mandatory as the government wants to keep a record of every devotee. This registration procedure has become compulsory after that flood incident in 2013. Also, both online and offline mode of registration is available that one can select as per their wish.
10- Is there any issue in finding accommodation at such heights?
Ans: No, there are enough hotels established in the state and the regions where you will be making your halt on the way to the pilgrimages. But, if you are visiting the sites in the peak season then you need to be pro-active in booking your hotels in advance or else you won't find a good place to stay.