Founded in 1296 this city is located in the hilly terrain regions of Northern Thailand. The entire region of Chiang Mai is adorned and decorated with a number of pilgrimage spots and holy sites of spirituality. Literally meaning 'the new city', this place has a lot to offer to every type of traveler. If you are planning on visiting this wonderful city then we present you with a comprehensive travel guide to Chiang Mai which will definitely be worth it.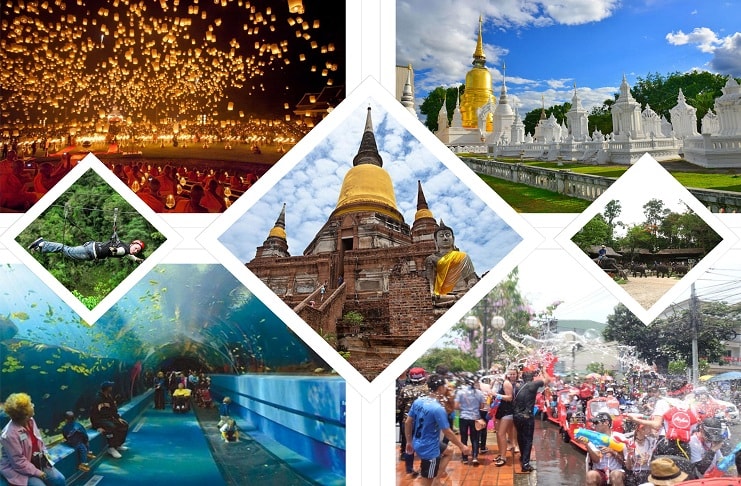 Cultural Events and Festivals
Flower Festival: takes place on 5 – 7 February each year, the Flower Festival is a pageant of beauty unique to Chiang Mai. It is a time where stunning tropical flora is showcased: lovingly decorated floral processions parade through the Old City, each carriage bearing a Thai lady chosen to present and represent the fresh, carefully selected flowers.
Songkran: the Water Festival or the Thai New Year, Songkran occurs every year in the middle of April. In nowhere else is it celebrated so fiercely and enthusiastically as in Chiang Mai; while the Songkran period technically spans 13 – 15 April of each year, in Chiang Mai celebrations begin by the 11th and doesn't stop until the 16th. The primary tradition of Songkran involves throwing water at each other to ease the heat of summer and makes for a unique holiday as well as an excellent, new experience for families and couples to enjoy together.
Loy Krathong: also known as the Lantern Festival or Yi Peng, this cultural festival occurs in November and is a time of celebration and spiritual cleansing. Lanterns are released off into the sky, and miniature rafts (Krathong) are floated down the river in symbolic acknowledgment that the sins of the past year are let go so that each individual may start with a clean slate. The two combine into a grand spectacle that fills both the sky and river with lights.
Sightseeing Places
Chiang Mai Zoo and Aquarium: an extensive mountain complex offering a huge variety of wildlife including pandas kept in large, humane habitats maintained by certified zoologists. Includes short elephant rides and an aquarium where over 250 species of fresh- and saltwater aquatic life is exhibited in a beautiful, living museum offering stunning sights of colorful corals and fish surging by overhead. The Chiang Mai Aquarium is the biggest in Southeast Asia, and its tunnel the longest in the world.
Wat Yai Chai Mongkhon: a charming riverside temple, Wat Chaimongkol is the closest temple to the Empress Chiang Mai Hotel. Situated at the Charoen Prathet Road, it boasts over six hundred years of rich history and an exceptional collection of shrines and relics. What makes this place distinct from many other temples is that its architectural makeup bears traces of ancient Lanna existing in harmony with Lanna's enemies, Laos and Myanmar.
Wat Suan Dok: unique due to its dedicated "Monk Chat" facility. With coordination from educators from the Chiang Mai University, this is the place to be if you are an English-speaking traveler with an interest in Buddhism. Programs include Meditation Retreat Workshop courses, talks and lectures on Buddhist philosophies, Thai language lessons, and informal conversations with monks. Wat Suan Dok, in addition, is set in a sizeable complex and one of its pagodas houses Part of the relic that was used in the foundation of Wat Phrathat Doi Suthep.
Wat Phra That Doi Suthep: a temple no traveler should miss. Situated on the Doi Suthep Mountain, this Wat is about fifteen kilometers from the city, which can be reached cheaply by tuk-tuk or a red bus, or included as part of a larger sightseeing tour. This complex includes a wonderful looking gold-plated pagoda, murals, the famous naga stairway which brings you to the top (however, the temple itself can also be reached by cable car) and a vantage point over a thousand meters above sea level that gives you a magnificent picturesque vista of Chiang Mai. Wat Phra That Doi Suthep, at over 600 years old, remains one of the most important historical sites in northern Thailand.
Wat Phra Singh: located in the Old City area, this temple is conveniently situated on a street lined with many other temples and is an excellent starting point or destination for travelers interested in Buddhism. It's best known for its, exceptional architectural features, and for housing the statue Phra Buddha Sihing.
Ratchaphruek Royal Flora Garden: first opened in late 2006, the Ratchaphruek Garden is one of the most unique features of Chiang Mai. Its original expo was collaboration between Thailand and many countries both throughout Asia and around the world who contributed national-themed gardens. It features a massive collection of classical Thai flora, an insect museum, an orchid pavilion, and even hothouses dedicated to raising desert plants. Did you miss the last Royal Flora expo? Mark your calendar: the next one will take place on 9 November 2011 to 15 February 2011 in honor of the king's and queens long and beloved reign.
Adventures Places
Flight of the Gibbon: a canopy zip-line tour through a primal rainforest, over 1500 years old that allows you to become one with nature while staying perfectly safe as you sour through stunning vistas.
Tiger Kingdom: An once-in-a-lifetime opportunity for you to get up close and personal with these magnificent predators and endangered species, both adult and cubs.
Mae Sa Elephant Camp: located in the jungle of Mae Sae Valley, the elephant camp offers mahout courses, elephant shows, and a chance to watch elephants paint.
Golden Triangle: a comprehensive sightseeing tour to where the borders of Laos, Myanmar, and Thailand meet: includes stops at mountain tribe villages, trading town, and a river cruise as an option. Experience total cultural immersion in one day.