Fit for the one, who wants to get away from it all, Chiliyanaula is an ideal weekend destination. The name may sound offbeat but being in the shadow of a popular tourist place, Chiliyanaula is easy to access and has good tourism infrastructure around. Chiliyanaula is located in the periphery of Ranikhet and is just 4 km away from this cantonment town in Uttarakhand. In fact travellers to Ranikhet do go to Chiliyanaula but on a sightseeing trip. For Chiliyanaula is home to a popular temple called Haidakhan Temple.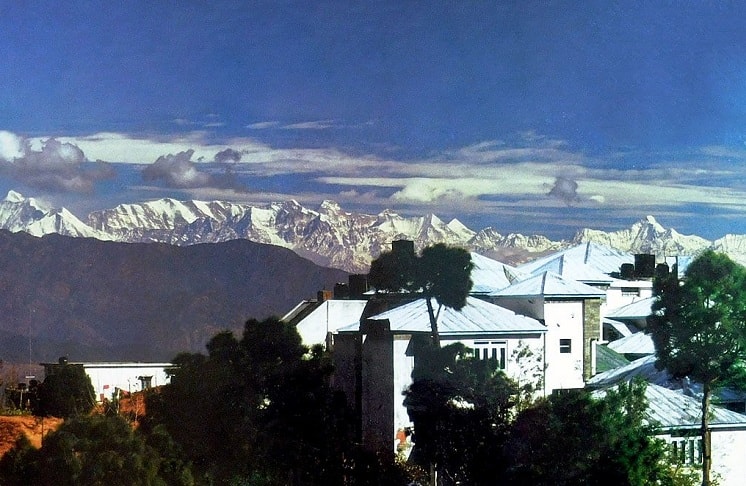 Chiliyanaula has most of scenic delights that you may enjoy in Ranikhet minus the crowd that frequent Ranikhet. This may be one of the advantages of making base at Chiliyanaula. The other and more significant one is that you can have this little tranquil place all to yourself.
Places to See in Chiliyanaula
There is not much to see and do in Chiliyanaula. It is a destination to soak in the beauty of the snow covered mountains. You may take a few quite walks around besides visiting the Haidakhan Temple. It was established by Shri Hairakhan Maharaj who many say was the incarnation of Lord Shiva. The temple offers lovely views of the mountains from here.
Places near Chiliyanaula
Ranikhet, 4 km away is the major tourist destination from Chiliyanaula. The legend has it that Ranikhet a beautiful Kumauni queen, Rani Padmini, feel so deeply in love with the beauty and meadows of a tiny hill paradise that her king, Raja Sukhdev constructed a majestic palace for her there and named the place Ranikhet, or queen's meadow. There is lot to see in Ranikhet, there are museums, temples, bazaars and fruit orchard. Jhula Devi Temple is an important landmark in Ranikhet and a must visit.
Chaubatia Orchards, 10 km away is favourite picnic spot and a great place to buy seasonal fruits. Bhalu Dam which is located at a distance of 3.2 km, supplies Ranikhet with its clear water and is a popular fishing site. Permission is required from the District Forest Officer for fishing. Permission can also be easily acquired from the Fisheries Officer located in Bhimtal, which you will pass through en route to Ranikhet.
Tarikhet, 12 km from Chiliyanaula and Sitlakhet 32 km away are other well-known places of interest near Chiliyanaula.
Places to Stay at Chiliyanaula
There are not many hotels in Chiliyanaula; the only option for accommodation at Chiliyanaula is the KMVN Tourist Rest House. Ranikhet, located not too far from Chiliyanaula has a good number of hotels.
How to Reach Chiliyanaula
By Air: The nearest airport is at Pantnagar, 119 km away.
By Rail: Kathgodam, 81 km away is the nearest railway station.
By Road: Regular buses to Ranikhet are available from Delhi's Anand Vihar ISBT. Chiliyanaula is just 4 km from Ranikhet.
Best Time to Go: March – April. May – June is the peak tourist season
Holiday Ideas: Hotels in Chiliyanaula
Chiliyanaula is 4 km from Ranikhet. There are not a lot of options for hotels in Chiliyanaula; the only accommodation option available at Chiliyanaula is the KMVN Tourist Rest House. Ranikhet, located not too far from Chiliyanaula has a good number of hotels. Hotels in Ranikhet range from mid-price hotels to budget hotels. Here are some hotels in Ranikhet, which offer fine stay options to tourists visiting Ranikhet.
KMVN Tourist Rest House
The only stay option in Chiliyanaula – The Chiliyanaula Rest House is run by Kumaon Mandal Vikas Nigam Ltd., an Uttarakhand State Tourism enterprise. The Rest House has 6 deluxe rooms, 10 super deluxe rooms and 6 deluxe family suites.
Address: Tourist Rest House Complex Ranikhet Road, Ramnagar (Nainital) PIN-244715
Ranikhet Club
Ranikhet Club is a fine stay option in Ranikhet, it has been distinctively refurnished to maintain and preserve the old world charm. The property is located 60 km from Nainital, 85km from Kathgodam and 75 km from Corbett. Ranikhet Club offers 4 elegantly furnished rooms, which are well equipped with modern amenities.
Address: The Mall Road, near Head Post Office, Opposite Military Hospital, Ranikhet Road, Ranikhet, Uttarakhand 263645
Chevron Rosemount
Another fine place to stay in Ranikhet is Chevron Rosemount, which has 12 deluxe rooms, one luxury suite and one cottage. All rooms are fully furnished and equipped with modern facilities. The Chevron Rosemount hotel has an in-house multi-cuisine restaurant that caters dishes from all over including Indian, Chinese and Continental cuisines.
Address: The Mall, Pandey Kota, Nehru Road, Ranikhet, Uttarakhand 263645
Wayfarer Solitaire
Wayfarer Solitaire is located on the outskirts of Ranikhet. The hotel provides accommodation in 8 deluxe double rooms, which are extremely well furnished and completely equipped with state of the art facilities.
Address: Village P O Chaukoni Badrinath Road, Ranikhet 263601, India
West View Hotel
West View Hotel is a heritage hotel that provides fine accommodation in its deluxe rooms and suites. All rooms and suites are well furnished and equipped with modern facilities.
Address: Mall Road, Ranikhet 263 645, Uttarakhand
Windsor Lodge – A Welcome Group Hotel
Windsor Lodge is an erstwhile colonial era hunting lodge which has been completely renovated into a unique heritage hotel. It is located at a vantage point on a wooded hillock with a commanding view of snow-capped mountains, thick pine and cedar forests and the sweeping views of the Ranikhet golf course.
Address: Almora Road, Kalika Estate Ranikhet, Uttarakhand 263001, India
Ranikhet Inn
Ranikhet Inn is located right next to the Ranikhet Bazar. The hotel has 6 standard double rooms and 3 deluxe double rooms and one four-bedded family room. All the rooms are elegantly designed and provided with modern amenities.
Address: Gandhi Chowk | Near SBI, Mall Road, Ranikhet, India
Holm Farm Heritage
Holm Farm Heritage is a perfect blend of the traditional and the modern designer styles. Holm Farm offers accommodation in its 6 elegantly furnished rooms, which are well equipped with new age facilities.
Address: District Almora, Ranikhet, Uttarakhand 263645