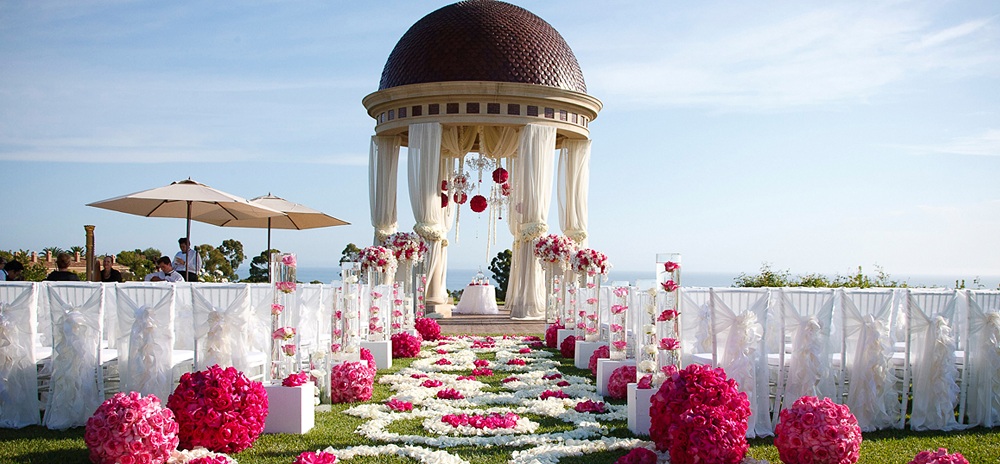 Nowadays, destination weddings are very much in vogue with well-traveled couples choosing from a variety of exotic places ranging from romantic sun-drenched beaches to alluring desert, heritage castles, tropical islands to just mention a few. This is a new trend among the affluent couples who seek to have a really memorable wedding and share the moment with people they care about. Planning a destination wedding needs great imagination as well as an intimate knowledge about the fantasies of the couple, but you also need to be aware of many pitfalls that can otherwise spoil the occasion. Some tips:
Make the Destination Easy To Reach
Sometimes young couples just see a photo of a really beautiful and exotic place and decide that they need to stage their wedding there without paying much thought to the distance or the logistics. Sure, the destination has to be appealing but if you and your guests have a torrid time getting there much of the fun will be spoiled, and you can expect many people to just stay away. The first thing to keep in mind is the distance; you surely do not want to be flying for 20 hours to get to a tropical island in the middle of nowhere. You also need to figure out if the destination is convenient for those you really care about and want to be present – if they are going to be hassled with multiple changes and stopovers, you can be sure everybody's not going to be too happy. Make sure that the destination is near an airport that is on the map of most carriers, and getting to the actual venue is not a pain.
Choose a Wedding Planner or a Package
If you are planning a destination wedding that's more than a little distance away then be sure to engage a wedding planner who is familiar with the territory. He will be able to personalize the event to your taste and ensure both you and your guests have a grand time. Take time to select a planner to make sure that he's handled weddings at that particular location before. Make it a point to collect a few references and check out his performance. The planners' familiarity with the area or even the resort works to your advantage because he will be able to use his local vendor contacts to get you deals that are superior.
If you have been trying to economize on the wedding expenses, for example, by buying tungsten wedding bands instead of gold or platinum rings, then you can opt for a wedding package instead of the more expensive planner. While packages may not give you the flexibility you want, the novelty of the destination will more than adequately make it up with your guests. Never try and arrange a wedding at a remote destination all by yourself to save money as you would surely trip up trying to coordinate with local vendors, who may not even be very familiar with English.
Verify If Your Wedding Is Clashing With Others
If you are booking yourself a package at a resort or a luxury hotel, you need to find out from the management if your event is the only one being held on that date. While most standard resorts would not book several weddings at the same time, you can never be too sure, so do ask a very pointed question to avoid your wedding being disrupted by another or a sales incentive meeting.
Make It a Long Weekend
Since your guests are taking the trouble to attend your wedding, you should plan to make the experience doubly wonderful for them by organizing events for the entire weekend and not for just the day of the wedding. When the guests arrive, typically on a Thursday, make sure you have a welcome dinner. It has become a standard practice to have a party on Friday night, with the wedding taking place on a Saturday. Plan for a brunch on Sunday, after which, the guests can depart to their respective homes. On Friday, you can keep them engaged with various activities that the destination is well-known for. Ask the resort management for suggestions, and find out how they can help in keeping everyone engaged.
Send Out the Invitations Early
Even if you have given them advance intimations, most guests wouldn't book their flights and accommodation till they actually receive the formal invitation. To make sure you have all your relatives and friends on the all-important day, send out the invitations three months in advance so that they get enough time to plan their break and make the necessary arrangements. If you get the confirmations a month in advance, you can go ahead and get them good discounts at a hotel, where they can all stay together.