Located on the eastern coast of the Indian subcontinent, Odisha is the unsung hero and a pearl of east India. Ever since it became a settled state, the locals here depended on the fresh available natural resources to meet their food needs. The food of this wonderful state truly and clearly reflects the rich heritage, culture and essence of what Odisha is all about. It represents the perfect amalgamation of vegetarian and non-vegetarian cuisines that are made using locally available or grown resources that are the trademark of this state.
If you ever plan on visiting this culturally rich state then here are some dishes that you should definitely try, after all what is travelling without trying the delicious local dishes that define a place?
List of 15 Famous Dishes of Odisha
Chungdi Malai
Khicede
Dalma
Pakhala Bhata
Kanika
Macha Ghanta
Saaga Moonga
Pilaf
Dahi Machha
Saaga Moonga
Santula
Kadali Manja Rai
Khata
Chaatu Rai
Gupchup
1. Chungdi Malai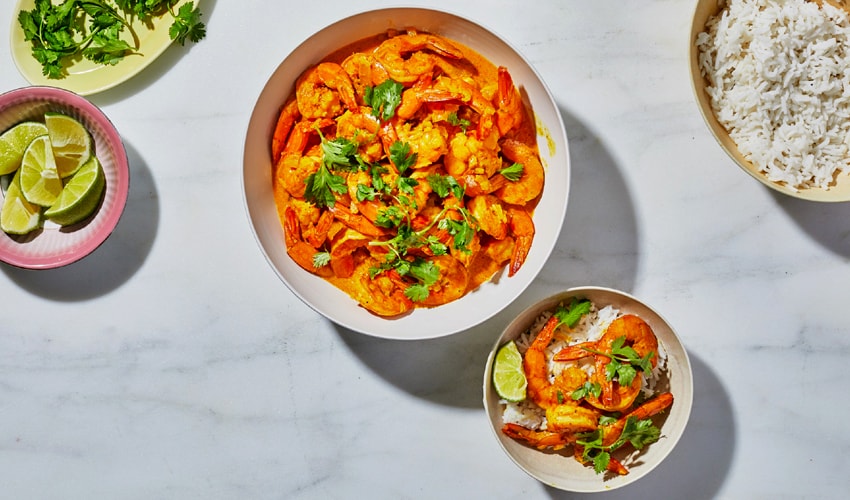 If you get random seafood cravings then feasting on a flavor-packed fragrant prawn curry dish may be just the thing that you need. Unlike any other prawn curry you may have tried in the past, the classic Chungdi Malai is made using coconut milk resulting in silky smooth and delectable gravy which bursts with flavour in every bite. The only spices used in Chungdi Malai are a combination of some light locally available spices. This dish cannot be missed during your holiday in Odisha. Try it with steaming hot white rice or light fluffy Chapati, either way it's sure a treat for all the senses.
2. Khicede
When it comes to traditionally prepared food of Odisha, the flavorsome, healthy and nutritionally rich Khichdi is just the thing you need. This food is so important to the culture of Odisha that it is also prepared as a Prasad for Lord Jagannath in the Char Dham Temple of Jagannath Mandir in Odisha. This food for gods is prepared using equal portions of lentils and rice with ghee being the main cooking medium which also adds a whole lot of flavour and nourishing properties in the meal. To complete it all, the dish is sprinkled on with some light seasoning that not only adds a punch of flavour but is also very good for stomach health as well. Khicede describes the best comfort food of all.
3. Dalma
Speaking of traditional Odiya dishes, Dalma has to stand out as one of the most important and trademark dishes. This iconic dish of Odisha is not just popular among the locals but also among the tourists who visit Odisha to learn more about its rich ethnic and traditional background. Made using roasted Moong Dal and a very generous amount of vegetables like pumpkin, yam and papaya among others, this delectable and nutritionally rich dish is cooked without using onions or garlic making it edible for even the Jain population who eat food devoid of garlic, ginger and Onion.
4. Pakhala Bhata
This famous summer food of Odisha, this meal is prepared as a lunch meal in most of the Odiya household and is considered to be one of the best comfort foods for the entire state. It has to be one of the most uniquely prepared dishes in the eastern state as it is made using leftover drive which is soaked overnight in sour curd. This causes the rice to ferment overnight that enhances the overall taste of the rice. This rice is later on paired with fried fish, potato and Papad to create a wholesome and hearty Thali meal out of it.
5. Kanika Pulao
This has to be one of the most unique dishes to be prepared in Odisha or for that matter anywhere in India. Kanika is a sweet pulao recipe which is made using aromatic basmati rice combined with roasted cashews and raisins with loads of Desi Ghee that adds a whole lot of delicious flavour. This is an age-old dish which is prepared with such finesse and technicality that it can give the good old biryani a run for its money. Kanika is one of the famous 'Chappan Bhog' that is offered as a Prasad to Lord Jagannath. It is one of those famous and regularly made household dishes that are eaten with chicken or mutton gravy preparation.
6. Macha Ghanta
Being situated right next to a rich sea source, fish is one of the most important and regularly eaten foods of Odisha. This staple dish is made and eaten using different techniques and different styles as per the preference of the locals. This has to be one of the most famous traditional cuisines of Odisha. It is so famous that Macha Ghanta is also offered as a holy Prasad offering to goddess Durga on Dussehra. Unlike other fish dishes, the main element of the dish is the fish head that is cooked to flavour some perfection along with onion, garlic, ginger, tomato and other delectable spices.
7. Saaga Moonga
Odiya cuisines is all about preparing dishes that represent not only the state and its richly available resources but they also make for some of the healthiest cuisines on the subcontinent which the rest of the nation should also adapt as a regular cuisines. One of the prime examples in Thai case is this Saaga Moonga cuisine that is prepared using leafy veggies and lentils together with some spices that enhance the flavor profile of the dish as a whole. All these factors put together makes Saaga Moonga one of the most nutritionally rich and healthy vegetarian cuisines in India.
8. Pilaf
Just like the iconic Kanika Dish, pilaf is also another one of the most popular traditional rice dishes. Pilaf is made using seasoned broth responsible for imparting delectable taste and deliciousness in every bite and every grain. To further add a rich level of taste pilaf also includes a combination of various dry fruits, spices, vegetables and even meat for the non-vegetarians. Some stir-fried accompaniments goes perfectly with this pilaf dish and keeping up with the traditions of Odisha, it tastes best with fried fish and chicken or mutton gravy Meals.
9. Dahi Machha
The coastal states of West Bengal and Bihar are not the only states that savour the taste of delicious fish dishes. Odisha, due to its location utilizes the presence of fish for their meals on a daily basis. The traditional Odisha fish dishes have gathered a lot of attention for its use of delectable ingredients that makes the entire dish totally worth every bite. Doi Maach is made using ingredients like mustard paste and yogurt that gives the whole dish a rich creamy texture and a wonderfully rich taste. The amount of spices is used in a minimal level which reinstates and doesn't compromise with the original flavor profile of the dish as a whole.
10. Saaga Moonga
Quickly becoming a healthful, nutritious and wholesome meal, Saaga Moonga has gained popularity for being a super food meal in the world. It is a delightful vegetarian meal which is made by cooking leafy greens and lentils together. Not only is this meal wholesome and nutritionally packed with the goodness of numerous vitamins and minerals, it is also prepared with a lot of care which is clear through its hearty taste in every bite. This has to be one of the most easily cooked dishes that is packed with all the essential nutritional value as well.
11. Santula
This is one of the most authentic and traditionally made dishes of Odisha which is loved and savoured by not just the locals but tourists as well. The dish is prepared using a range of vegetables which are fried or boiled prior to adding it in the dish. The best way to make the most out of this dish is adding a rich blend of raw papaya, Brinjal, potato and tomato. When it comes to healthy dishes, Santula tends to be among one of the top ones. Low on spices and high on nutritional value, Santula is a treat for the body, especially for people who are fitness conscious.
12. Kadali Manja Rai
When talking about Odia food, Kadali Manja Rai deserves a special mention. This delectable lip-smacking dish is made using lotus stem which adds a unique value to the entire meal. It is cooked using aromatic spices like cardamom, cumin and garlic cloves that further elevates the dish to another level. The aroma of the dish alone with make your mouth water instantly. Served as a side dish along with rice and coriander, sprinkling a little hint of red chillies makes this dish a meal of champions. It tastes best with a steaming hot plate of white rice of Chapati.
13. Khata
Considered to be the best accompaniment with every meal, Khata tops the charts for being the perfect traditional side dish. In fact, the local Odisha population doesn't consider a meal to be complete if there is no khata present along with the meal. Khata is all about representing a combination of sweet and tangy flavours that is made in the form of a chutney and is loved by everyone who tries this dish. With time, there are numerous variants of this chutney which utilizes not only tomatoes but also uses raw mango and elephant apple as the core ingredient. It is an integral part of every meal but khata goes best with rice and Dalma.
14. Chaatu Rai
This is another one of the healthy vegetarian dishes of Odisha, which is packed with not only delicious tasting spices but also with healthful as well as mindful vegetables. All these combinations of veggies and spices create a nutritionally rich meal that is much loved among the local households. This dish is traditionally made using tomatoes and mushrooms along with a small hint of turmeric and mustard paste. This dish is made as a mark of some special occasion of festival, not only in Odisha but in most parts of India as well. This dish has to be on your list of foods to try while visiting Odisha.
15. Gupchup
Gupchup goes by many names like Golgappas in Delhi, Paani Puri in Mumbai and Puchka in Bihar and West Bengal. Every state has its own special way of making this delectable snack which is loved by everyone. This quick snack is made out of Sooji and cooked to crispy little light balls which is then filled on with spicy boiled potato filling along with Namkeen and topped off with a combination of spicy, tangy and sweet water which is made with Dhaniya and tamarind. If you are going to Odisha, then trying the delicious Gupchup snack is a must.
Other than the delicious home-cooked Odiya meals and cuisines, the desserts are also a trademark feature of traditional Odisha dishes. Most of these desserts and sweets are made out of khoya and milk products. Some of the most popular desserts of Odisha are Kheer Sagar, Chhena Jalebi, Chhena Poda, Poda Pitha, Khaja, Malpua and many more.