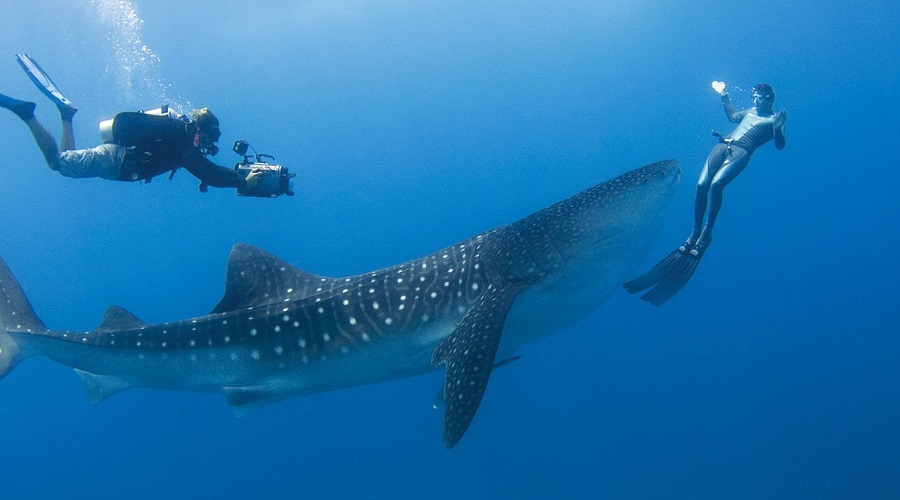 There are a plenty of questions running in the mind of scuba divers when they plan a dive safari in the Maldives. So, if you are also the one looking for diving in Maldives and seeking for the answers to your queries then check this article till end. It should come in very handy when planning all the details of your diving safari in the Maldives.
What is a Maldives Dive Safari?
A Maldives dive safari is a holiday spent living on a dive boat known as a liveboard with a group of scuba divers. Maldives safaris tend to last anywhere from five to 21 days and will take you to some of the best dive spots in the country. On a typical diving safari in the Maldives, you can expect to do two or three dives each day.
What Can I Expect to See on a Maldives Safari?
Think of a Maldives dive safari as you would of an African safari in the Serengeti. Only underwater! There are many varieties of marine animals and fish that you can expect to see, which range from small reef-dwelling fish to enormous rays and sharks. The waters of the Maldives are some of the most exciting in the world from a scuba diver's point of view, but there are a handful of animals that have people flocking to the Maldives in the hope to catch a glimpse or – even better – dive alongside with.
Much like the 'Big Five' of an African safari, divers in the Maldives really hope to see whale sharks, manta rays, moray eels, grey reef sharks and turtles. The really great thing about a Maldives safari is that spotting the 'Maldivian Big Five' is somewhat easier than the African equivalent and all these species can be found in the Maldives throughout the year. In fact, there are very few scuba divers who complete a Maldives diving safari without spotting at least four of the 'Big Five'.
In order to see the 'Big Five', you will need to visit plenty of different dive sites, all of which are interesting and visually stunning in different ways. Each dive site is renowned for a different kind of fish or animal and your crew will design a Maldives safari route that is sure not to disappoint. The exact route you take will depend largely upon what time of year you visit the Maldives, but the experienced dive masters and boat captains know these waters like the back of their hands and do their best to take you to the best spots, taking into consideration the season and the precise weather conditions. Currents in the Maldives can be strong and have a significant effect on the movements of the marine life, so this local knowledge is truly indispensable.
What is the Best Maldives Dive Safari Boat?
It's impossible to say which is the best dive safari boat in the Maldives because every person has different requirements and tastes. There really is a live-aboard cruising safari in the Maldives to suit every budget and taste, from the utterly glamorous MV Orion and the Island Safari 2 Royal Maldives to the beautiful and comfortable Black Pearl Maldives safari liveaboard.
All liveaboards are equipped with private bedrooms, each of which has an en-suite bathroom, air conditioning and external windows. The more luxurious ships sometimes offer private balconies, bathtubs and even Jacuzzis! All live boards offer a further selection of common areas, including lounge rooms, restaurants and bar areas, outdoor sunbathing areas, television rooms with selections of movies on DVDs and internet access. Of course, every ship is different, so make sure that your liveaboard offers the facilities you need before making your reservation.
Can I learn to Dive on a Maldives Diving Safari?
Most diving safaris in the Maldives are designed for experienced scuba divers, so you definitely need to check this in advance with the individual dive boat. Nearly all dive safari boats in the Maldives offer a selection of PADI courses, but most of them are designed for people who are already qualified as Open Water Divers and simply want to further their studies. Be sure to ask in advance!
Is it Possible to Book a last-minute Dive Safari in Maldives?
Definitely! In fact, this is probably the best way to book your Maldives diving safari as long as you don't mind waiting until the last minute. By booking a last minute dive safari in Maldives, you'll probably get the best possible price. The other time you'll find a real bargain on your Maldives safari is if you book your dive holiday quite some time in advance.
How Much Does a Maldives Dive Safari Cost?
Maldives safari prices vary with the time of year, the Maldives safari boat you choose to stay on and how long you go for. Typically, one of the more basic boats will cost around USD $150 per person per night, while one of the more luxurious boats will cost USD $250 per person per night. Maldives safari prices are inclusive of accommodation, transfers between the airport and the boat, all meals and all dives (2 or 3 dives per day). Extra costs include equipment rental in case you don't have your own and alcoholic drinks: all liveaboard safari boats have a full bar, offering a wide variety of international spirits and draught beers, but these are charged at an additional cost.
How Do I Book a Diving Safari in Maldives?
The best way to book a Maldives diving safari is online. Maldives Dive Travel is a leading provider of diving safaris in the Maldives and has plenty of information on its website, including online Maldives brochures for safari, news and information about special offers and deals on last minute diving safaris. The site is regularly updated and offers a great variety of background information to get you ready for your trip. When you are ready to book a safari cruise in the Maldives, contact Maldives Dive Travel through their website, indicating which safari dive in Maldives you're interested in and we'll get back to you quickly with confirmation of prices and availability.