Dubai is home to two leading film festivals – the Dubai International Film Festival (DIFF), held in December at a number of venues in Dubai, and the Gulf Film Festival (GFF). DIFF has over the years made a name for itself as the access point for capturing the Middle Eastern audience. It attracts the biggest names in the film industry from the West and the East, like Tom Cruise, Owen Wilson, George Clooney, Shah Rukh Khan, Ranbir Kapoor, Anushka Sharma, Farhan Akhtar, Michelle Yeoh, Morgan Freeman, Oliver Stone and Richard Gere, to name a few. It provides the people of Dubai with the chance to not just see the celebs up close but also to enjoy a wide range of international feature films and documentaries. The GFF, on the other hand, focuses on creative efforts from within the Gulf region.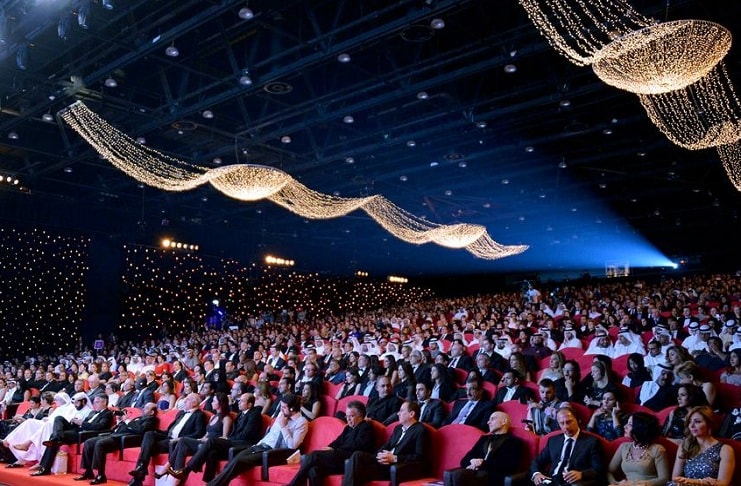 Dubai has over time also made a name for itself as a great destination for shoots, be it the George Clooney starrer Syriana or the Tom Cruise thriller Mission Impossible – Ghost Protocol (which had its international premiere in Dubai). Moviemakers from the Indian film industry have also been coming to Dubai for many years to shoot their movies. In all these films the emirate of Dubai plays a pivotal role. This has also led to the growth of Dubai's nascent film industry with filmmakers like Ali Mustafa who made the well-received City Of Life or its first female director Nayla Al Khaja garnering recognition within the region and at international film festivals.
During the winter months one can also enjoy watching films across different venues in Dubai as part of smaller movie clubs, like the Movie Under The Stars at the Rooftop Gardens in Wafi (00971 4 324 4100) or the Dubai Confidential Movie Club (00971 55 553 7686) which screens art house films and classics. However while the first is free and you only pay for the food and drinks that you consume, the second club costs one Dhs 250 per ticket for movie, along with canapé and drinks.
Parallel to the film industry even the television industry in Dubai is growing. One of its most popular channels is Dubai One, which transmits everything from hit films and popular shows to current event programs. Dubai Media Incorporated, the parent company of Dubai One, also owns Dubai TV, Sama Dubai, Dubai Sports Channel and the Dubai Racing Channel.
Dubai also hosts various Bollywood shows that feature leading stars from the Hindi film industry. Some of these shows like Temptations bring together talents like Shah Rukh Khan, Priyanka Chopra and Arjun Rampal. These shows provide a great platform for fans to see and even meet their favorite stars. Dubai also has played host for leading award ceremonies for the Indian film industry and these have attracted names like John Abraham, Rani Mukherjee and Mammootty.