What is Ecotourism? Ecotourism Destinations you can find in Sri Lanka
In very simple terms ecotourism can be described as travelling to remote protected areas in a responsible way so as not to harm the nature in any way while doing research of that area. An added benefit of this is, of course, the improvement of living conditions for people in the surrounding areas. Sri Lanka has being known for its beautiful remote places for a long time and with the end of the thirty-year-old civil war tourism industry is soaring and a high focus is given on ecotourism. Although it's a small island Sri Lanks is full of remote areas where you can enjoy nature at its most pure state. One great example of this is the Sinharaja forest reserve which is also one of the world heritage sites in Sri Lanka. Although there are predefined paths for casual visitors the remote areas are very hard to access thus preserving this virgin rainforest for the whole world. In this article, I will discuss few other ecotourism locations in Sri Lanka.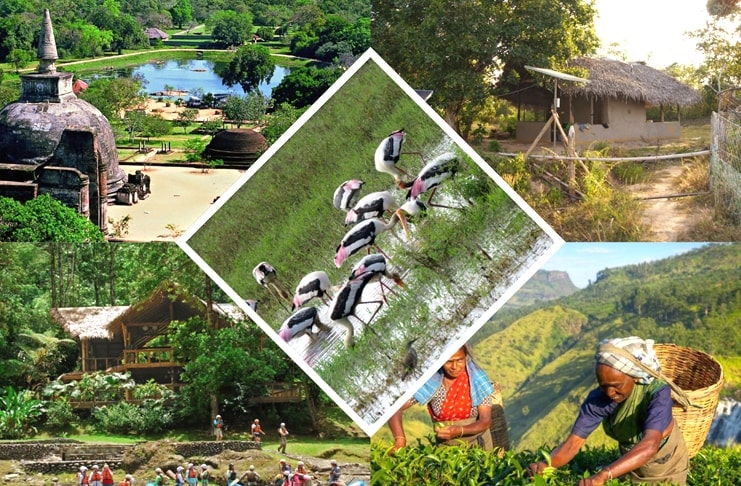 Wildlife Safaris to Nature Reserves In Sri Lanka
Witnessing animals in their natural habitat is one of the main reasons as to why tourist visit Sri Lanka, the other being enjoying the beautiful white sand beaches in Sri Lanka. With more than fifty wildlife parks and nature reserves, you are sure to find a jungle adventure that suits your needs. Each of these reserves and wildlife parks offers different scenery and different animals to see and almost all of the have camping sites and holiday bungalows inside the park. To get an idea about what each reserve offers you can check this article about nature reserves and wildlife parks in Sri Lanka. However, going on a safari tour isn't exactly visiting a remote location because there are plenty of other safari jeeps going around in the park roads. However, there are few wildlife parks in Sri Lanka that gives you a true eco-tourism experience.
One such challenging destination is the visit to the sector two of Yala national park. Sector two has being closed to the public because of the civil war and only recently it was opened to public. There are no roads inside sector two and there are huge plains with lots of animals. This could be considered an off-road adventure because you need at least two good off-road vehicles if you want to succeed in navigating through sector two of Yala.
Another slightly different experience is Whale watching and Dolphin watching tours. This is great for people who interested in watching various marine animals. If you are adventurous then you can go snorkelling and diving among the coral reefs to see more exciting fish species.
Trekking To Cloud Forests and Virgin Forests
Sri Lanka is a country where you can go from 30 Celsius low plains near the beach to 10 Celsius 2500 meter high mountain ranges in four to five hours. Because of this diversity in nature and climate, Sri Lanka is home to various types of Forests including a UNESCO world heritage site like Sinharaja virgin rainforest and world heritage site nominee Horton plains cloud forest. These virgin rainforests can offer you a truly unique ecotourism adventure.
Sinharaja rain forest is the most famous one renowned for its biodiversity and frequently visited by scientists all over the world. Although there are paths that are often taken by regular visitors there are few trails which lead to the remote areas of the forest. You have to cross few streams and during these trails and because of constant showers in the area you could find yourself trapped so it is always a good idea to go with an experienced guide if you are going to unexplored areas.
Another popular ecotourism destination is the Horton plains cloud forests. Because of the elevation it provided the visitors with a unique experience. The most popular destination in Horton plains is called "World's End" and most trails lead to there. There are camping sites and lodges in remote areas so you can trek to one of those and spend a night there.
Adams peak wildlife sanctuary, Knuckles range are few other great trekking destinations to be found in Sri Lanka. If you are not going with and experienced guide it is very easy to get lost in places like Knuckles range because visibility becomes very low because of the mist. So be mindful of these facts before venturing on your journey.
Eco Lodges to Spend a Relaxing Holiday
With the increasing advent of tourism another factor that is on a constant rise is the number of Eco-lodges and Eco resorts in Sri Lanka. For an island full of beautiful places surrounded by nature it isn't hard to find a suitable spot to build an Ecolodge. Other than the rise of the tourism another reason they are getting popular is more and more people are looking for nature resorts to spend holiday away from the overpowering concrete jungle of Colombo and its surrounding cities. It is almost impossible to list down the Ecolodges and nature resorts in Sri Lanka but Gods Paradise Nature resort, Wijaya holiday resort, Kukuleganga holiday resort are some of the ones that come to mind that are relatively close to Colombo. For most of these lodges, the main attraction is a freshwater stream and a natural rock pool for safe bathing. Then there are the trekking excursion in the nearby mountain ranges, camping in the forest etc. Because most of these lodges are away from Colombo they are not considered prime property in Sri Lanka,so, if you are looking for a relatively low-cost Ecotourism experience then going to one of these lodges or resorts is a very good idea.
Plenty of Option for You to Choose To Have the Exact Ecotourism Adventure You Like
Sri Lanka is fast becoming a hot spot for Ecotourism and it is completely justified as well. For such a small island there are lots of remote but beautiful places to visit and the friendly nature of the natives just add to that experience. There are lots of options for you so you can arrange an Ecotourism adventure that fits your budget. There are plenty of tour guides and tour operation companies that are solely dedicated to Ecotourism so you want have any trouble arranging such a tour. In case you couldn't make a suitable arrangement feel free to contact me via the comments form and I will help you as best as I can.