The Maldives, an island country set in the Indian Ocean about seven hundred miles off the coast of Sri Lanka is considered by most who visit to be a tropical paradise. Twenty-six atolls, made up of approximately 1,200 small islands are spread over fifty-six thousand square miles. Only two hundred of the country's small islands are inhabited, the rest are used for either tourism or agriculture. The country has expanses of beautiful white beaches, coral reefs, unique and fascinating local markets and both budget and luxury accommodations and hotels. A Maldives holiday will be sure to provide you with plenty of opportunity for rest and relaxation in absolutely stunning surroundings.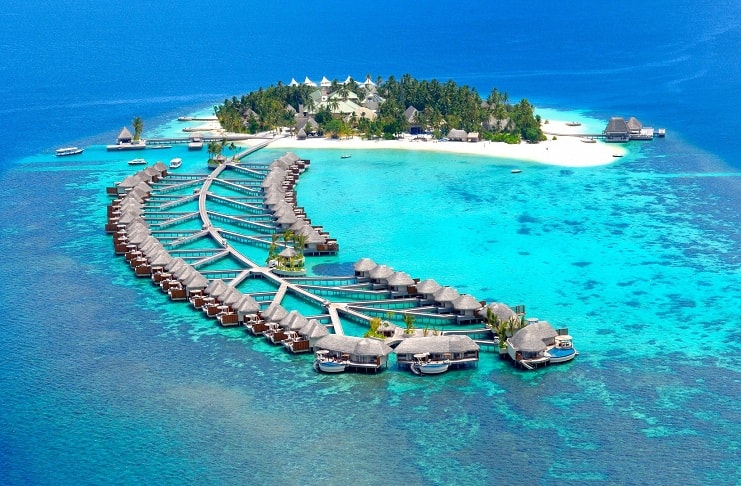 Each of the approximately ninety Maldivian resorts is located on their own island. Each resort is different, with some catering more to families, others to honeymooners. There are plenty of water sports and scuba diving opportunities, though again some resorts are better equipped than others. One thing to note is that this type of holiday is perfect for those who want to get away from everything and spend time lazing around on the powdery white sands but perhaps not as well suited for the type of person who enjoys a lot of variety and sight-seeing.
Many travel agents offer complete Maldives Holiday Packages. When deciding on which package you would like it is important to determine first of all how much you are prepared to pay for your holiday and then to decide what facilities are important to you. Generally, you will only have access to the facilities present on the island where you stay, although hotels can arrange boat trips to fishing villages or back to the Maldives capital, Male. Some packages off an AI or "All Inclusive" package. Others will provide you with bed and breakfast, and then expect you to buy your own lunches and dinners. Be forewarned, however, that 'all inclusive' may mean different things at different hotels. For example, an all-inclusive deal with one hotel may mean certain alcoholic beverages are included, while at other hotels you may be restricted to eating at specific restaurants only and have to pay for your own drinks. It is also important to note that all of the food, toiletries and other necessities are imported thus, they can be quite expensive to buy locally. It is highly recommended that you bring plenty of toiletries, sunscreen and anything else you may need with you, as costs will quickly mount if you have to buy these items.
If you are considering taking your children with you on your Maldive holidays, you may be limited to which resorts and islands you can stay at. Some islands are off limits to all children, others have restrictions on the age of the children allowed at the resort. This is done in part to provide honeymooners and other couples with peace and relaxation, without having lots of children running around. That said, there are also plenty of hotels who welcome children, many with kiddy pools, children's menus and babysitting facilities. Just be sure, if you will be traveling with your children, to choose a hotel that is child-friendly.
Once at your destination there are some activities and tours offered. The Maldives is considered a haven for those who enjoy snorkeling. Surrounded by coral reefs, the underwater sea life is both exotic and plentiful. Many resorts have reefs within swimming distance and they will provide you with snorkeling equipment and arrange snorkeling tours so you can experience the underwater world first hand. If you are a beginner, lessons in both snorkeling and scuba diving are available. Some hotels will require you to rent the equipment on a daily basis, which can be expensive. If you plan on spending a lot of time in the water snorkeling you may want to bring your own equipment with you.
There are also many Spa resorts that include daily spas as a part of their package. This will often include massage and aromatherapy with Indian oils and herbs.
Of course, one of the main attractions is the beautiful, pristine beaches that are covered in soft, fine white sand. The waters around the islands are tropical, meaning that they are warm all year round and beautiful crystal clear. Aside from swimming in the tropical waters or watching the colorful fish as they swim around the coral reefs, you may also get a chance to watch dolphins and whales, as it is one of the top five most popular places for this in the world.
If you are looking for cheap holidays, Maldives may not be the most ideal place for this. However, they do have four-star hotels and if you book through a travel agent, you will find there are plenty of options for cheaper accommodation. One of the best ways to benefit from cheap holidays in the Maldives is to look for cheap airfares, as this can cut down your costs considerably. While it may not be the cheapest place for a vacation, a Maldives holiday is sure to be both pleasurable and relaxing.