Where to Go in China
China is a fascinating place for a vacation. Along with some other beautiful cities it is also getting developed if we look at the reports then we can find that Shanghai and Beijing are approaching towards modernism but at the same time there are some other cities which are unchanged from a long time and even very rich in traditions. Terracotta industries and the Great wall act as magnets whose beauty compels tourists to visit this country. This article is all about these and some more obscure places that I visited on my very extensive itinerary, travel tips, advice and hotel recommendations.
In July 2007 I went on holiday to China. I wanted to see it before the Olympic Games, although I had perhaps left it a bit late to see Beijing before the massive construction activity had begun. We pre-arranged accommodation, flights and some other transport and guides where needed, but otherwise we were on our own. Total cost of the two-week trip including international and internal flights was a little over £2,000 each.
Beijing
There are many international flights to Beijing from all over the world, and this is perhaps the best place to start when touring China.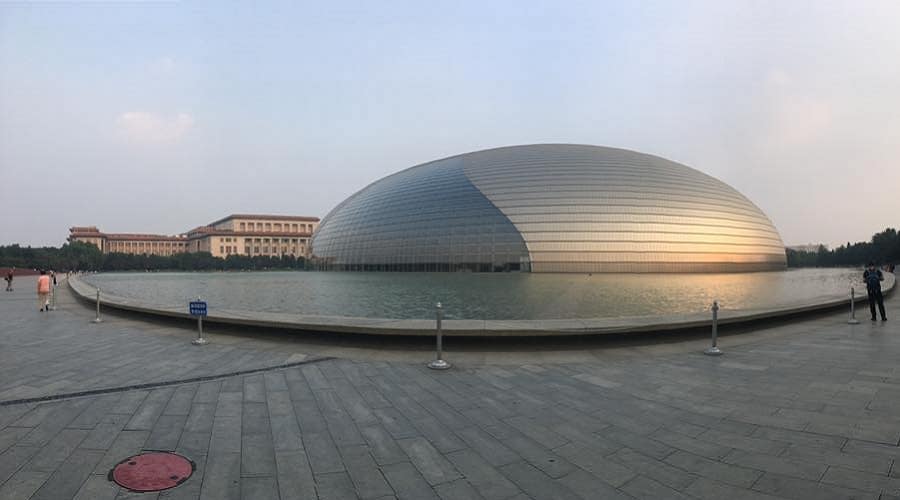 It takes around 10 hours to reach Beijing from Heathrow by flight; a fairly long flight, but bearable and direct. Taxis are readily available at the airport, but pre-arranging a car makes the arrival less traumatic.
Where to Stay in Beijing
We stayed at the Peace Hotel which is hardly luxurious but comfortable, and inexpensive, probably costing about £60 ($100) per night for a double room including breakfast. It is in an extremely good location near many of Beijing's major attractions, with the Forbidden City visible from outside the hotel. There are several new, expensive, luxury hotels near Tiananmen Square which would also act as an ideal base while in Beijing and offer rather more style and luxury albeit at far more expensive "international" prices. We explored a few of them.
The Peace Hotel had little excitement to offer on our first evening so we took a short taxi ride to Raffles Hotel near Tiananmen Square, costing just £0.70. Raffles, while not having the history and character of the original Raffles Hotel in Singapore, did provide a touch of oriental luxury after our long flight, at quite un-Chinese prices, with a "Singapore Sling" costing £5.00 and the smallest Sherry in the world costing £4. Then we moved towards Tiananmen Square by rickshaw and reached at our destination Forbidden City and asked rickshaw puller to negotiate the fare to £3.50, but ended up foolishly paying £14 because he did a far bigger tour and took us to Beijing Hotel for dinner. The Beijing Hotel is another very new hotel next to Raffles offering a range of restaurants and bars, which, although very luxurious, expensive and pleasant, is really just another international hotel similar to so many around the world, but with a slightly Chinese flavour. The inexpensive Peace Hotel was, for me, a good choice because the posh hotels did have an air of shopping mall about them and I disapprove of paying to go into a shopping mall. However the dinner was quite appreciable at the Beijing Restaurant. We chose the most oriental looking restaurant there and ordered Peking Duck, which was good, but certainly not the best I had ever had and extremely expensive.
Beijing has a modern, disappointingly western atmosphere about it, and confuses tourists as one can find shops which look similar to others and terrible traffic problems. We tried to find local restaurants or bars, but the ones my partner would contemplate eating in were generally quite expensive. We decided to try to find a good bar for an aperitif and after some research and recommendations in out guide book we took a long and expensive taxi-ride (just one mile away, but we sat in traffic for 45 minutes) to Capone's Italian bar. It turned out to be in yet another modern characterless shopping mall, and the bar was O.K. but distinctly American in style. We did however find a chain of Duck restaurants with huge plastic ducks outside which did produce some extremely good Peking Duck, which was carved in front of us and served by hand in hygienic plastic gloves.
The Forbidden City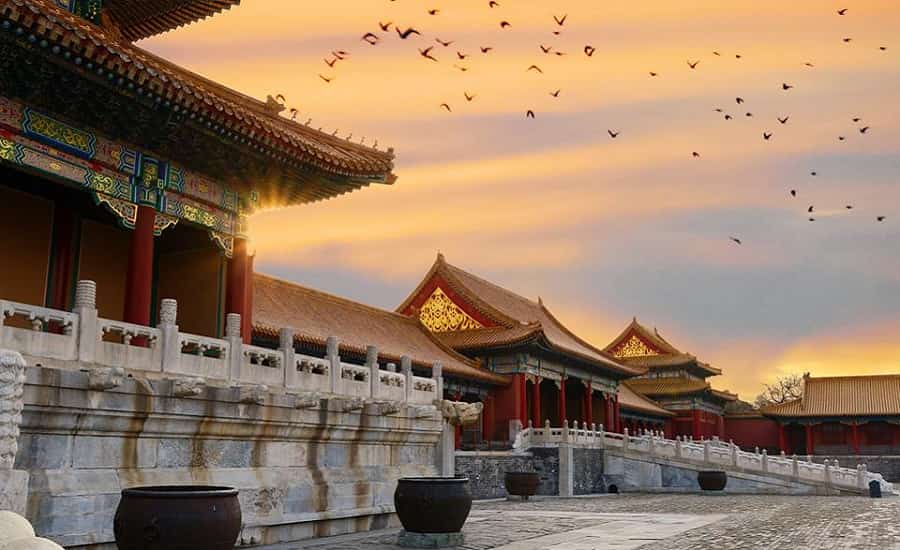 The Forbidden City is a short walk from the Peace Hotel, but our first attempt to visit was thwarted by the presence of a huge new shopping centre on the way which apparently was more enticing to the other member of my party than ancient Chinese treasures, so we ended up back at the hotel with little cultural enlightenment achieved in the first day. We headed back there the following day, once my other half had her finished her shopping. The Forbidden City used to serve as an accommodation for the emperors of Ming and Qing Dynasties and was closed to the majority of the population for over 500 years. It covers a huge area filled with architecturally fascinating buildings in bright colours. It gets busy with many foreign visitors, and even more Chinese tourists with their umbrellas permanently up to protect them from the sun.
Tiananmen Square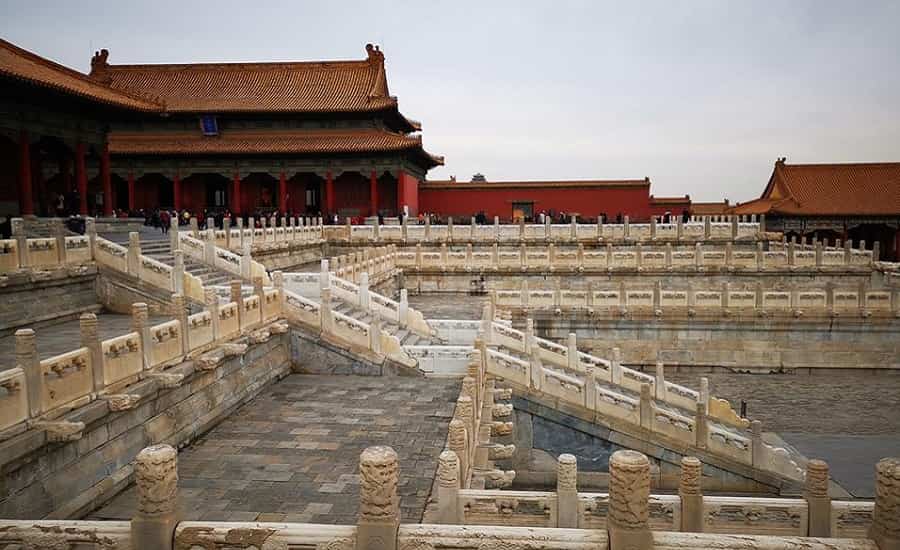 Tiananmen Square, now rather infamous for the pro-democracy protests of 1989, is a huge square designed to accommodate up to a million people, while not the most attractive is one of the many points of interest on any tourist's itinerary and is the heart of modern Beijing. The Forbidden City is on the northern side of the square behind the famous, huge portrait of Chairman Mao. Chairman Mao's mausoleum is also located in Tiananmen Square (incidentally David Baddiel's cat is called Chairman Meow) it was our hard luck as we couldn't visit the place due to the renovation work going on at that time but should have reopened by now.
The Bell Tower and Hutongs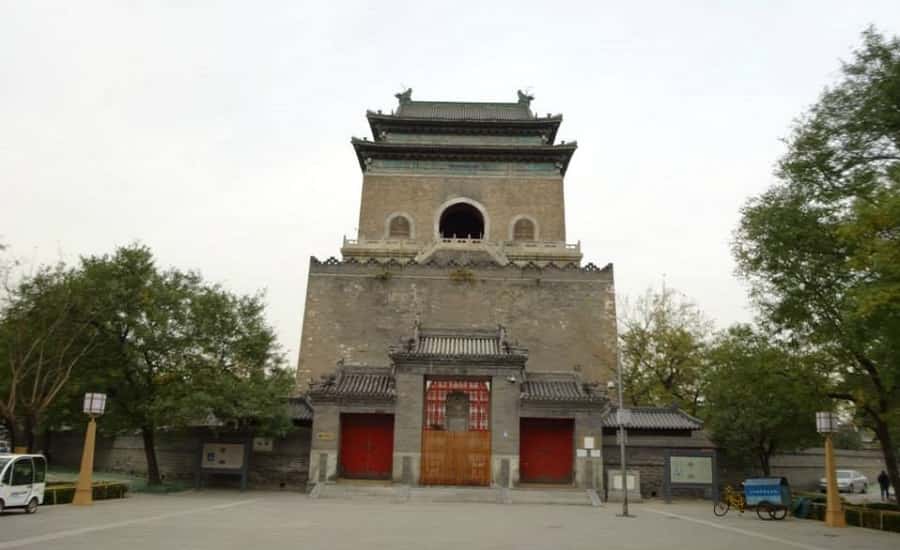 There is plenty to see in Beijing and it is certainly worth spending a few days there exploring what remains of the wonderful architecture, and some rather less attractive modern architecture. The Temple of Heaven is another fascinating, beautiful place to explore Chinese history and religion. It is set in 267 hectares of parkland. For an insight into everyday life in Beijing it is possible to hire a rickshaw and explore the Hutongs, the old narrow back streets in the Changiao area of the Western District. We did this, starting at the old Bell Tower for a view over the Hutongs, then spending a couple of hours weaving between them. We even stopped off to visit some inhabitants. The houses are tiny and have shared toilets for each small street. Apparently the rent was REM 200 per month rent (£14). The house had a nicer kitchen than mine and a 42″ plasma TV. I wonder if they are all that posh inside or if this was some kind of propaganda? After the tour we found ourselves diverted into a "Tea Ceremony". It was of course a touristy shop where they gave us many types of tea to sample, then tried to flog it to us. A bit sneaky but quite enjoyable.
The Great Wall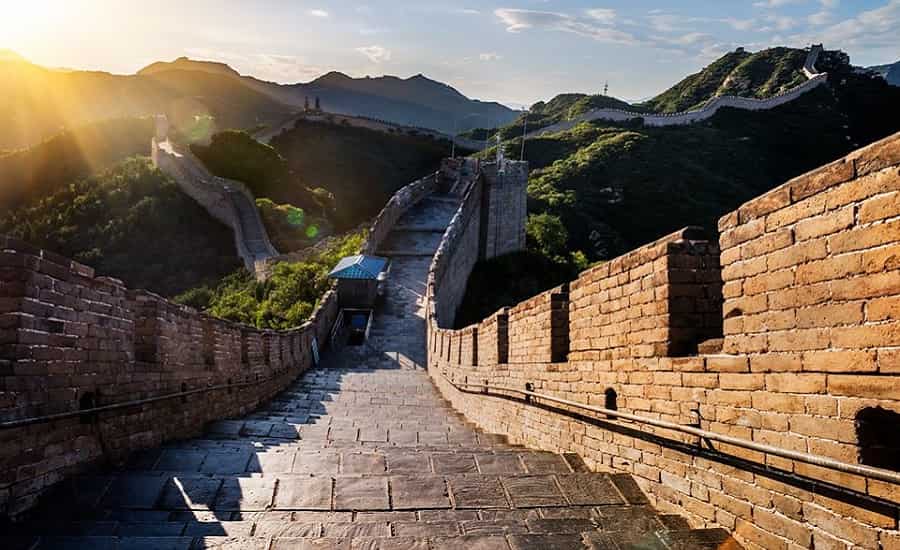 We spent a full day exploring part of the Great Wall. We had already arranged a private excursion with vehicle, driver and guide, although apparently it would have been possible to arrange a trip once we arrived at the hotel or even take a taxi to part of the wall nearer the centre of Beijing. This full day excursion was fantastic and had the advantage of being a stretch of the wall that receives far fewer tourists. We left early for the two and a half hour drive on deserted, brand new roads for the walk between Simatai and Jinshanling. The full walk is about 10km along the top of a Ming dynasty section of the wall, but we only managed about half of the distance because it was extremely hot in mid-July. The views were stunning, exactly as expected, but still incredible, especially with almost no tourists in sight. The other advantage of this section of the wall is the air-quality is far batter being a long way from the city. We took a cable car back down, and then set back for the2.5 hour drive to hotel.
Beijing to Pingyao by overnight Sleeper Train
We needed to get to an airport to fly to Xian. A prearranged driver and car arrived at our guesthouse in Pingyao to take us to Taiyan airport. To break the journey we stopped at Shuang Li Temple which is about 30 minutes out of the city, then the historic Jinci Temple which is a huge complex of buildings that date back to about 1030, although mostly more recent or rebuilt. The origins of the site are from several centuries BC. Very interesting architecture. We reluctantly ate in an extremely dirty looking restaurant nearby. We then flew for one hour from Taiyan to Xian with TBC airlines.
Pingyao
Pingyao is a fantastic place to visit. Just how I imagined China to be. It was the banking capital during the Ming Dynasty, although ironically there is no cash machine there. I asked for directions to the bank and was shown to a 500-year-old museum. I had ample amount of Sterling with me so was able to pay the amount at the guesthouse. Pingyao is full of fun activities and stop offs for the tourists including several ancient temples of various varieties and many small houses and banks with courtyards now converted into museums covering the history of this important walled city. The city wall and gates are still intact and can be climbed for a good view over the city. The straight roads still mostly filled with bicycles rather than cars and lined with proper Chinese buildings housing the shops, restaurants and the temples and museums. It would take a whole day to see everything included on the tourist entry ticket, and we decided to take it easy and not try to visit everything.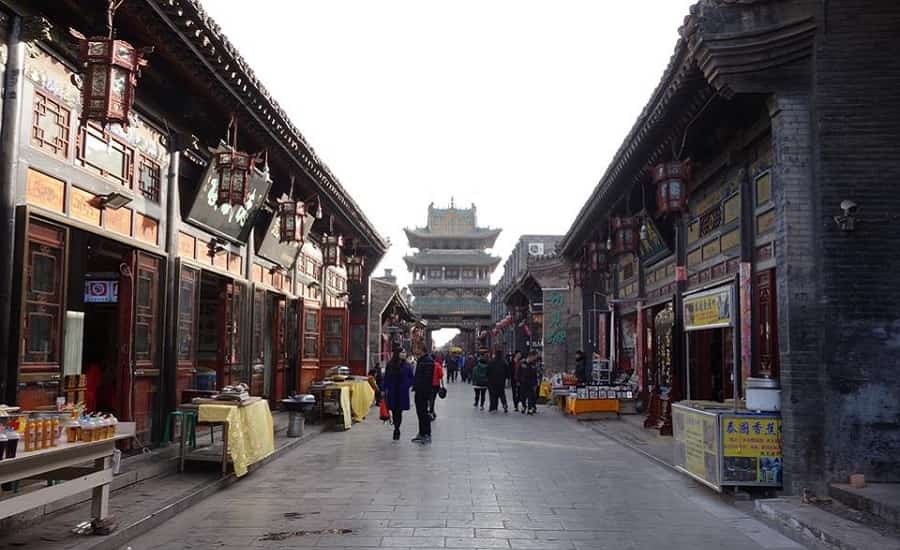 We were sure that we hadn't arranged for any assistance in Pingyao, but a gentleman was waiting for us when we got off the train and took us to the guesthouse and seemed intent on accompanying us all day. We politely asked him to go away and once he'd taken us for registration with the official tourist office and helped us collect our tickets for every single attraction in the city he did disappear, although he was still waiting for us at the hotel when we finished our day's exploration. The restaurants in Pingyao were inexpensive and many were very real Chinese restaurants with just a few selling western food. The first one we tried for lunch, was serving dog stew, but my other half made it clear that if I even contemplated eating it she would leave me, so we went next door and ate very mediocre pizza. Dinner was far better however, in a beautiful Chinese courtyard restaurant.
We stayed in the Yide Guesthouse, which I would certainly recommend. Very simple and extremely cheap (just a few pounds for a simple ensuite room), with a decent breakfast included. Reasonable food was available and the restaurant and bar made a great place to relax.
Pingyao to Taiyuan to Xian
We needed to get to an airport to fly to Xian. A prearranged driver and car arrived at our guesthouse in Pingyao to take us to Taiyan airport. To break the journey we stopped at Shuang Li Temple at a distance of 30 minutes from the city then the historic Jinci Temple which is a huge complex of buildings that date back to about 1030, although mostly more recent or rebuilt. The origins of the site are from several centuries BC. Very interesting architecture. We reluctantly ate in an extremely dirty looking restaurant nearby. We then flew for one hour from Taiyan to Xian with TBC airlines.
Xian and the Terracotta Army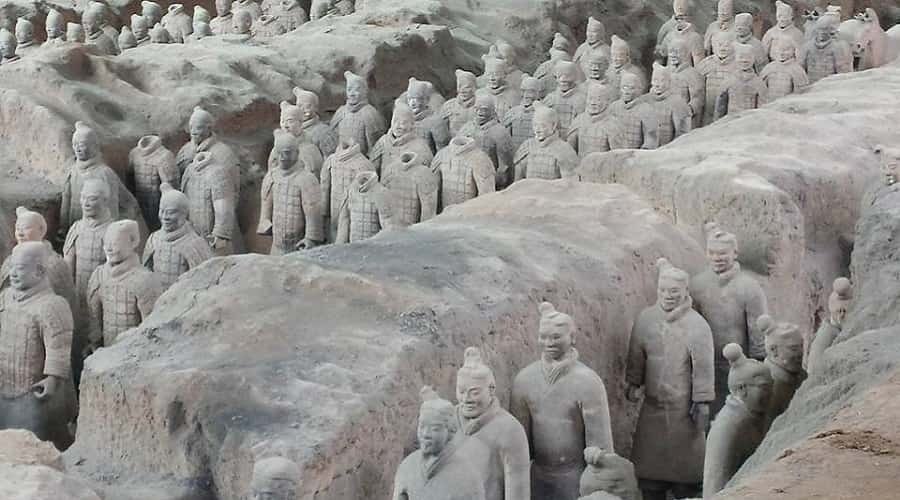 Xian was originally known as or Chang-An was the political centre, and is a much bigger and far more modern walled city than Pingyao. Bell Tower Hotel was our resting place very near the centre of the city and opposite the bell-tower. A hotel filled with modern amenities but of course the main reason for anyone to go to Xian is to see the Terracotta Army, outside the city. We wanted to taste the local delicacies in dinner and ordered the same, which is referred to as "hotpot", but is actually raw meat & vegetables served with a small cauldron of boiling soup, in which we had to cook the meat. Quite pleasant and certainly a fun meal.
We had arranged a private excursion to the Terracotta Army Museum with our own vehicle, driver and guide, for the day after arriving. As I am in love with Terracotta so we planned to move towards museum from the factory shop where we can get the best items of terracotta figures that we'd been encouraged to buy at the factory shop. The museum is quite stunning. The scale of the terracotta army is incredible and you really have to see the hundreds of rows of individual life-sized soldiers to appreciate quite what an undertaking it was to construct this. There are four main human body styles, which were mass-produced, but the painting and the structure of the hands and face which was made individually was giving it a unique look. The paint has mostly gone now, but it is possible to imagine what this army would have looked like when originally completed. One of the farmers who found the site is still alive and signs souvenir books for tourists and get amusingly grumpy if you take a photo of him (without paying)
While in Xian it is also worth exploring some of the city wall, but we didn't have time to see anything else before going to the theatre. We hadn't managed to see an opera in Beijing, so we thought we would try in Xian. We purchased tickets for a performance from a local contact we had been given by Audley Travel and got a taxi to the theatre. Dim Sum was served at the theatre before the opera started, which was quite good, (although I've had far better in San Francisco) if a little rushed, then the performance started. Chinese Opera is apparently an acquired taste for western tourists, but I was keen to experience it. This however was obviously a "show" aimed at American tourists and certainly not authentic. Not the kind of thing I would normally do on holiday (my other half loved it).
Shanghai
The following day we flew to Shanghai from Xian and checked into the Sofitel Hyland Hotel. Shanghai is a massive contrast, both to Beijing and to the smaller places we had been to. It has been a modern city for a much longer time than Beijing. In some places it looks and feels like a1950s prediction of the future, with its concrete flyovers and high-rise buildings, while in other parts it is a mixture of 1930s art deco and a more modern interpretation of what the future ought to look like.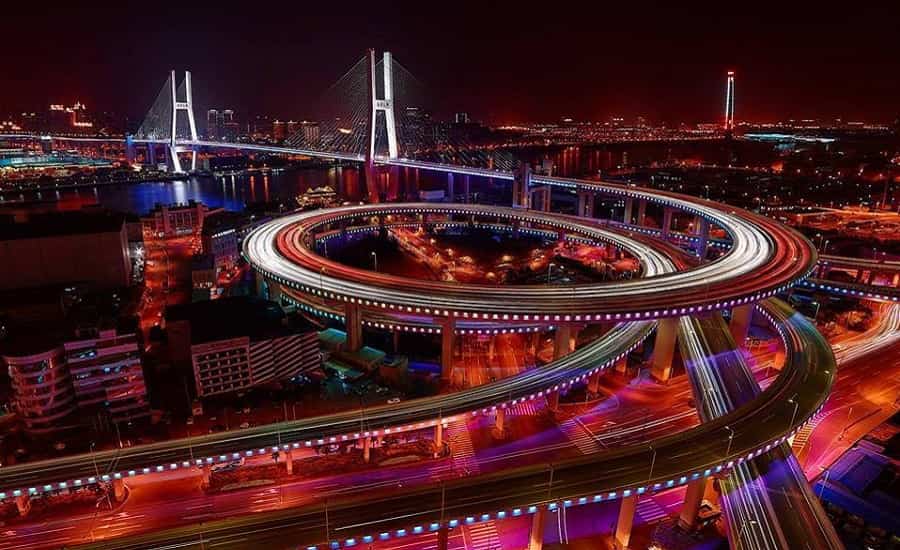 The main areas of interest to tourist are Nanjing Road, perhaps Shanghai's equivalent of Oxford Street and The Bund, the riverside area famous for its views of the Shanghai skyline. The city is always hoarded with numerous visitors who loves to spend their savings on the most lovable items in the most abundant shops but I kept myself busy in finding the older and the better market and finally we stopped at the Metropol Hotel whose scripture is still maintained nicely, slightly tired art deco features and made a nice alternative to the ultra-modern style elsewhere, but renovation work was already in progress, so I don't know if it will still exist in this form. Another good area to head for to get an alternative view of Shanghai is Hengshan Road. 1930s style European architecture with a selection of interesting bars and restaurants and some quite reasonable food. Eating in up market restaurants in Shanghai proved to be quite expensive, almost on a par with London, with meals occasionally costing up to £100, with wine costing up to about £10 a glass, (except in our hotel where at lunch time the wine was free and they made up for that with outrageous food prices)
The Sofitel Hyland Hotel was very good. Modern and fairly standard expensive international style, but in an ideal location in the centre, apparently well run, with a good, if a little pricey, restaurant. But most important of all, it has it's own brewery and it even brews it's own dark beer. None of this Chinese style lager, but full-bodied thick brown beer.
Guilin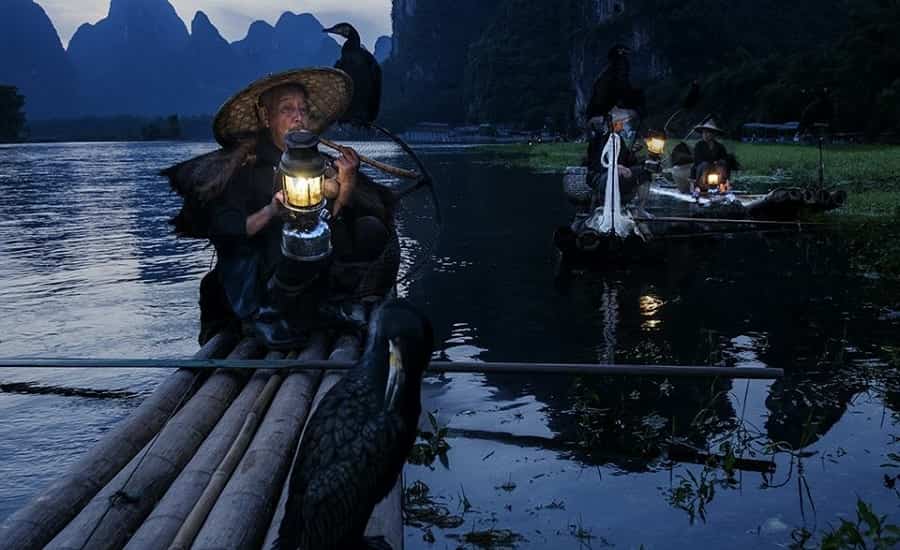 Guilin is a fairly large modern city next to a lake and surrounded by the inspiring arts used to adorn the city by using limestone in a beautiful and a different way since centuries. We stayed in the Bravo Hotel, Guilin, for one night as, like most tourists, we were just there for the river cruise. The Bravo Hotel is located right next to the lake a pleasant walk from Guilin centre from where one can enjoy the soul enriching views of the mountains. The centre of Guilin is very modern with a Louvre style glass pyramid in the central square. There is a good selection of places to eat and drink from expensive business hotels to small bars and restaurants. I found a "German" bar that sold outrageously expensive bottles of beer from around the world.
Li River Cruise (Guilin to Yangshuo)
It took almost half day to arrive at Yangshuo. The scenery is stunning with the impossible limestone hills constantly amazing. Lunch was included but we could see into the kitchens of other boats along the river and decided that our boat was unlikely to be different and opted not to partake. Instead we had the observation deck to ourselves and that incredible view.
After checking into the Magnolia Hotel, an inexpensive comfortable hotel, we had a late lunch in "Andy's Bar" (pizza) which, no doubt had a kitchen every bit as hygienic as the boat's but we couldn't see it. Yangshuo is a very touristy place, with every shop and bar aimed purely at extracting tourist money, but somehow it didn't matter. The shops were selling the debris items and even the standard of the bars were also not up to the mark. The cormorant fishermen are full of tourism spirit and they enter the city with a high hope of selling their items on a long bamboo stick. You can enjoy the night sight of the place by sitting in a boat. One jetty guide was guiding us for the whole trip and he took us to the boat rides where 30 people were seated in 2 boats and were following the Cormorant Fishermen busy in their action. The cormorants have string tied round their necks so they can't swallow the larger fish and the fishermen make the birds regurgitate the fish when they return to the boat. I decided not to eat fish in Yangshuo. A memorable and interesting excursion
We decided to have a beverage named Peking Duck whose taste was horrible and it cost us £6. Later we enjoyed another drink by keeping ourself comfortable in the balcony of the hotel from where the view of lanterns was really a fascinating one.
Next morning we approached towards "Shangri La" which is a shopping stop off in Guilin. A Chinese tourist theme park, Interesting and quite attractive with a wonderful backdrop. Certainly worth a visit if you are passing and have time to kill. We flew home to London stopping off in Hong Kong briefly.
Conclusion
China is a wonderful place for a holiday with a huge variety of elements including beautiful sights, cultures etc. which attract even the people who are offhand about travelling. From the ultra-modern shopping malls and luxury hotels of Beijing, Shanghai and Hong Kong to the stunning and unique scenery of a Li River cruise and evidence of ancient culture everywhere which entertains and attracts everyone. It can be a very cheap place to stay and eat or very expensive if you opt for a luxury experience, although hygiene was a bit of a worry in some of the cheapest restaurants and air-quality is an issue almost everywhere. China is developing fast and will become more expensive and possibly less interesting in the future. Go soon.
Author:
AndyPo: Hi, I am Andy. I live in the U.K. and have gone on excursion of several countries. I am in a profession of wildlife and travel photography.