The state of Maharashtra boasts of an extensive 750 km long natural coastline which is host to numerous breathtaking hill stations. Geographically these ranges are a part of the Sahyadris and the western Ghat which is also known for being an amazing hotspot for rich and thriving biodiversity.
The hill stations of Maharashtra are all about scenic valleys, lush green hills, and a deeply rejuvenating experience. If you think you need a break from the chaos then you surely do! Listen to your heart and head on to these top hill stations in Maharashtra for the perfect vacation:
List of 14 Famous Hill Stations in Maharashtra
Lavasa
Satara
Karjat
Amboli
Panhala
Durshet
Khandala
Toranmal
Igatpuri
Matheran
Lonavala
Panchgani
Malshej Ghat
Mahabaleshwar
1. Igatpuri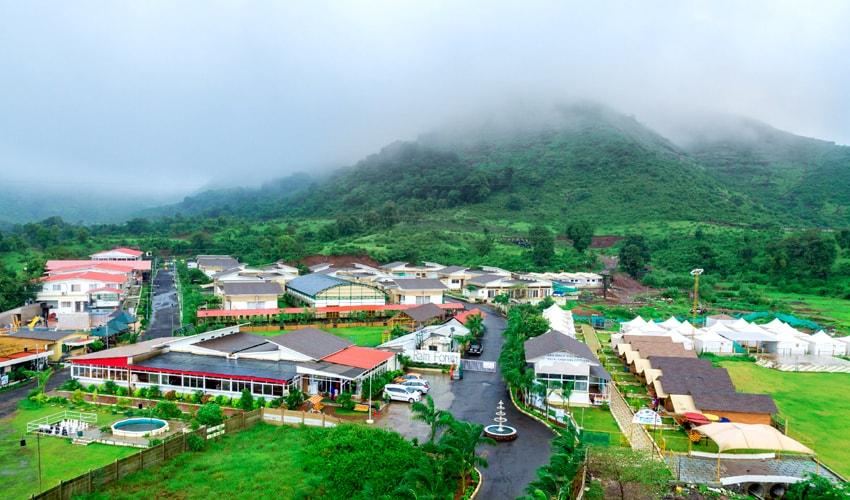 Igatpuri is a small, tiny yet one of the most popular weekend getaways from Mumbai. Placed gracefully amidst the lush greenery of the centuries-old western Ghat this hill station is all about maximizing your relaxation. Dotted with gorgeous waterfalls, quaint forts, and a pleasant year-long climatic condition makes it an ideal family as well as a solo getaway destination.
Igatpuri is just one road trip away from Mumbai, as it is 130 kms north of Mumbai and 47 kms south of Nashik. Igatpuri recently shot to popularity among people who are spiritually bent as it is home to Vipassana International Academy that offers intensely rejuvenating training about the ancient practice of meditation.
2. Matheran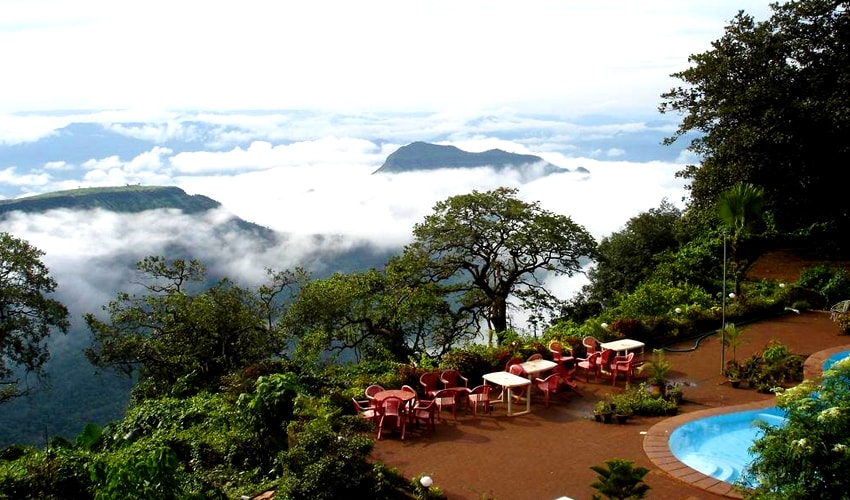 Blessed with a pleasant climate throughout the year against the backdrop of richly lush Sahyadri hill ranges, Matheran is one of the smallest hill stations in India. Located on the Western Ghats, on a decent elevation of about 2,000 feet above sea level, this quirky hill station is about 90 kms from Mumbai and 120 kms away from Pune.
Matheran literally translates to 'forests on the forehead' in the regional dialect, is famous for being Asia's only automobile free hill station, which has helped restore and preserve the rich biodiversity the region is blessed with. There are numerous trekking and hiking trails drawn all over this little hill station and each viewpoint offers some of the most magnificent views of the surroundings.
3. Mahabaleshwar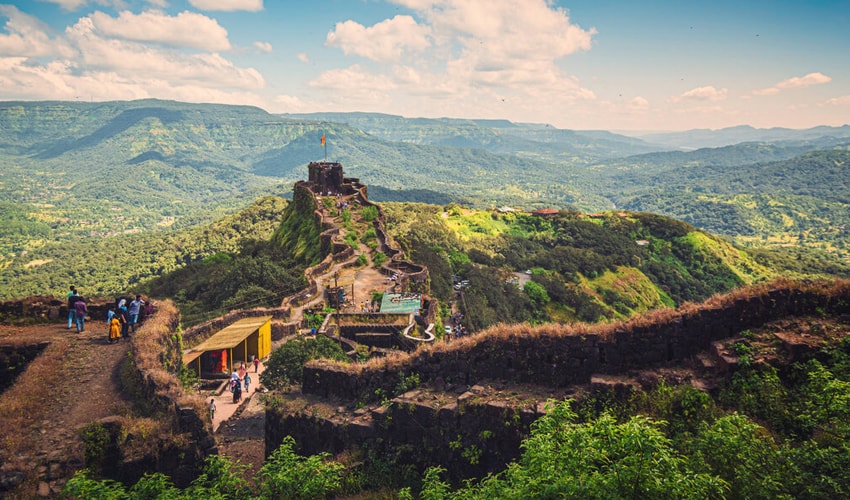 If you are thinking of spending an idyllic holiday on the hills near Maharashtra, then Mahabaleshwar may be the first place that comes to mind. Famous for accentuating the natural beauty of the Western Ghats, this scenic hill station comprises gushing rivers, cascading hill ranges, and majestic peaks that dominate the region.
Mahabaleshwar was made popular during the harsh colonial rule in India where the British officers had used Mahabaleshwar as their summer capital. It is a much-loved destination among nature lovers and people looking to indulge in fun tourist activities with the family. Mahabaleshwar is situated at a distance of almost 300 kms away from Mumbai and is bound on both sides by gorgeous plunging lush valleys.
4. Lonavala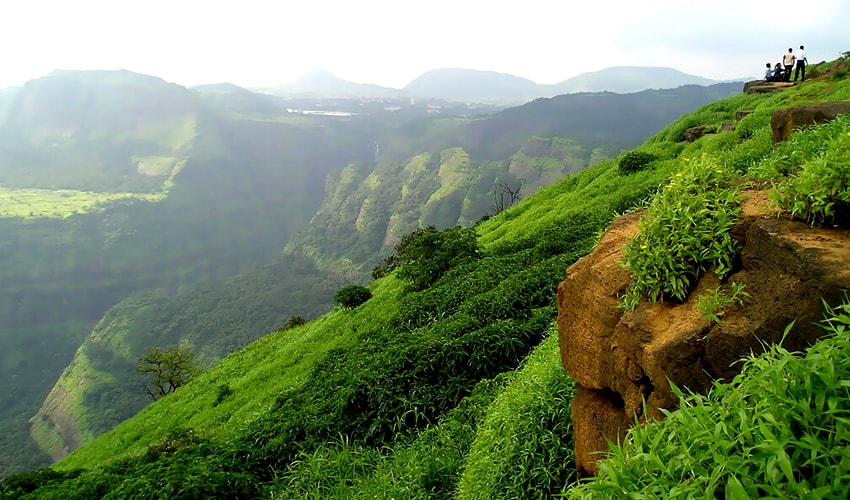 Located very close to the Sahyadri Ranges of the Western Ghats, Lonavala is undoubtedly one of the most visited hill stations in Maharashtra. Its scenic beauty amplifies especially during the monsoon season when the whole valley gets washed, revealing the glittering shades of green covering the entire region.
Surrounded by bountiful and dense forests, sparkling waterfalls, and lakes all around are one of the much-loved destinations among trekkers and hikers alike. Trying the locally made hard candy called Chikki should not be missed out on. Some of the must-visit places in Lonavala include places like Karla Caves, Rajmachi Fort, Bhaja Caves, and Bhushi Dam. If you are in Maharashtra and are looking for a quick getaway, then Lonavala is the place for you.
5. Karjat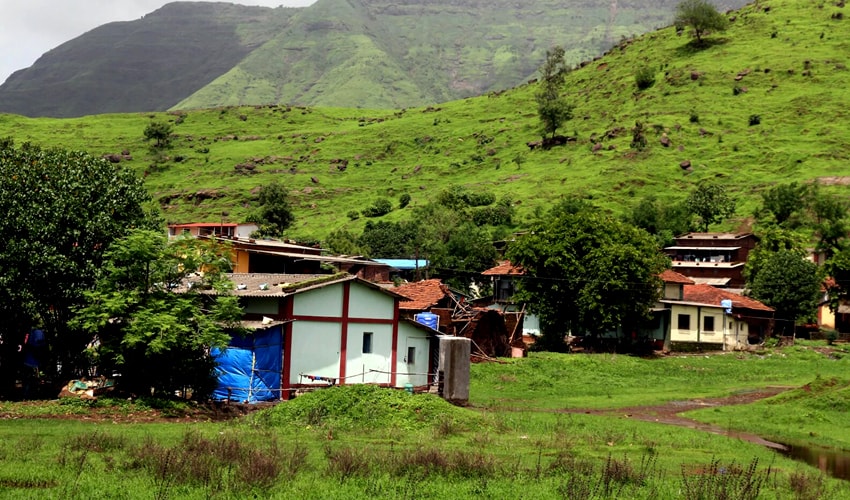 Located in the scenic Raigad district of Maharashtra, Karjat is a part of Mumbai's metro city region which is preferred the most by weekenders. When it comes to beating the city blues Karjat has a lot of options. Dotted with old monuments, ancient temples, exquisite caves, and lush seraphic valleys, it is one of the most promising getaway destinations which are just 2 hours away from Mumbai.
The hill city is often frequented by Hindu pilgrims and hikers for its ancient and imposing temples that dominate the region. For the thrill-seeker, Karjat offers a wide range of activities like hiking, trekking, camping, and even river rafting. Be it trekking up to the Sondai Fort or sliding down the Bhivpuri Waterfall, every activity here is exciting and filled with a hint of spirituality.
Must Read: Ajanta Caves in Maharashtra – UNESCO World Heritage Centre
6. Amboli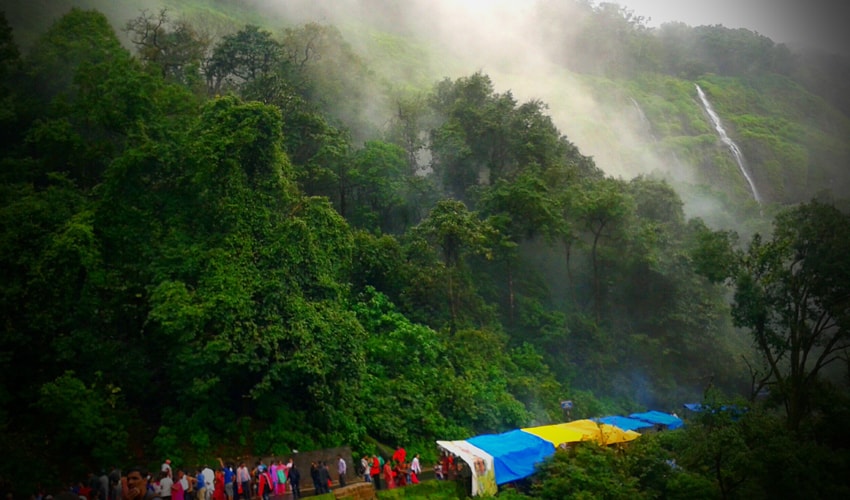 Placed in the southern region of Maharashtra, on a decent elevation of 690 meters above sea level, Amboli marks the last hill station before the beginning of the Goan coastal highlands. It is truly a heaven on earth for people who love nature since it is one of the hottest ecozones in India featuring a unique range of flora and fauna. The Amboli waterfalls are one of the most famous reasons for tourists to make their way to Amboli.
Amboli receives the highest amount of rainfall in Maharashtra throughout the year making it a pleasant place to visit throughout the year. The gentle hills and lush forested region is great for going out hiking and trekking with the family.
7. Malshej Ghat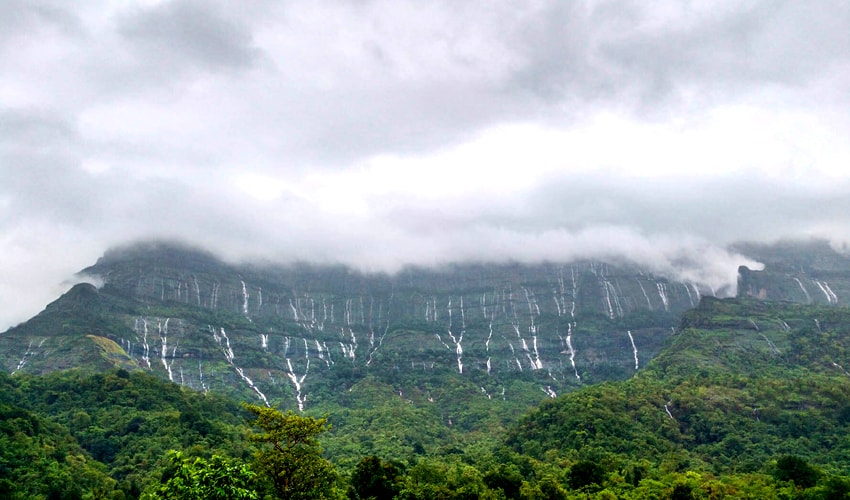 Malshej Ghat is all about waterfalls, lush green natural beauty, a haven for bird watchers, and spectacular lakes. Located on the Kalyan Ahmednagar road Malshej Ghat is a mountain pass that graces a part of the Western Ghat. Home to hundreds of different kinds of flora and fauna, the Ghat is located at a distance of just 150 kms away from Mumbai and is even closer to Pune making it a famous hill station getaway.
Make your way through the dark wood forests, walk along with the uniquely mesmerizing selection of flora and fauna and make your way up the hill to feast your eyes on some of the most incredible views of the valley. A long drive from Mumbai or Pune to Malshej Ghat is an experience everyone needs to have at least once in a lifetime.
Must Read: Tourist Places in Pune
8. Panchgani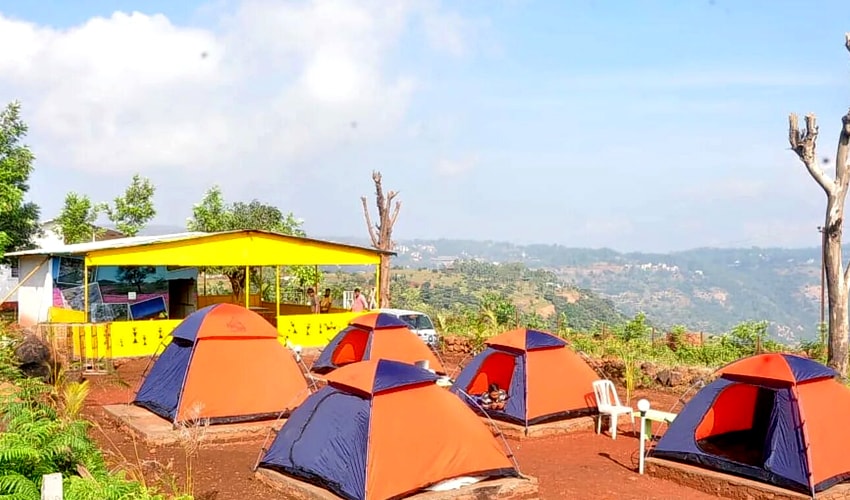 Developed by the British Raj as a summer capital in Maharashtra and also known as the 'table land', Panchgani is a popular hill station in Maharashtra. Extremely famous for its sunset and sunrise points, at an altitude of 1,300 meters above sea level, Panchgani is named after the 5 hills that make up the Sahyadri mountain ranges. It is a unique destination with the backdrop of the hills on one hand and expansive views of the coastal plains on the other hand.
Mahabaleshwar is a twin city of Panchgani that is located in its vicinity and can easily be paired up with a visit to Mahabaleshwar. Along with the verdant green valleys and lush hills, the delicious juicy strawberries are a major attraction here.
9. Khandala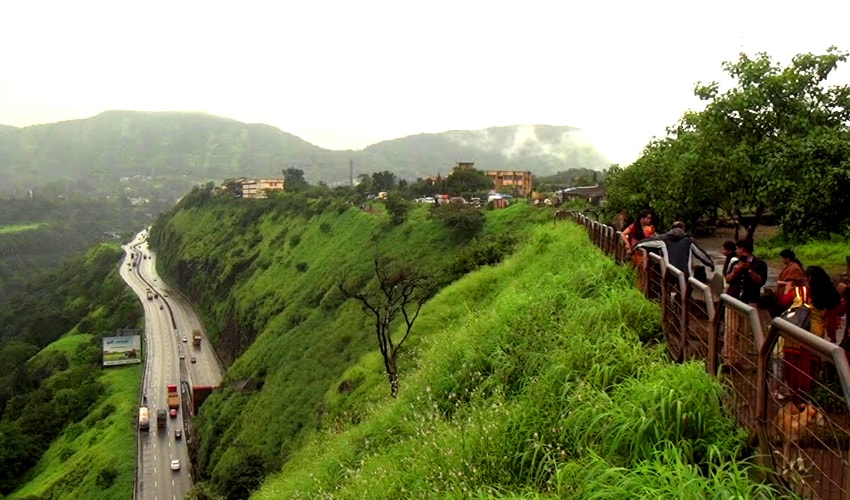 If you are a Bollywood fanatic then you may be aware of the fantastic hill station called Khandala which is situated very close to the state of Maharashtra. Situated at a distance of just 3 kms from Lonavala and at the top of Bhor Ghat, Khandala serves as the main link between the major cities of Mumbai and Pune. Blessed with nature's alluring and never-ending beauty, Khandala quickly rose to popularity for offering some much-needed relief from the summer heat.
Lined with cascading waterfalls, trek your way up to the tiger's leap point to experience one of the most stunning sunrises in India. A dream destination for adventure lovers, Khandala also represents a hint of deep Buddhist sensibilities that adds a sense of spiritualism to the whole trip.
10. Panhala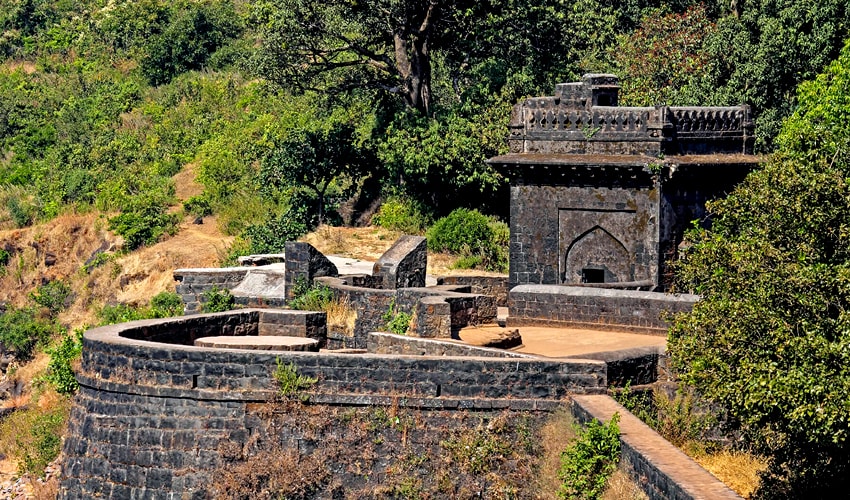 Situated in the district of Kolhapur Panhala offers the perfect respite for the city dwellers of Maharashtra. Not only is Panhala scenic to look at, but it is also known for its great historical relevance concerning the great king Shivaji. One of the most visited places here by the tourists is Sajja Kothi and Someshwar tank which is a naturally built-up tank from the quarrying of stones.
The Parashar spring is one of the most celebrated tourists spot here, mainly for its naturally occurring hot water and the spiritual value attached to it. The beauty of this place is best captured with the help of expert and amateur photography enthusiasts. Locate 5 kms from Panhala is the Masai Pathar that is one of the largest plateaus of Asia.
11. Durshet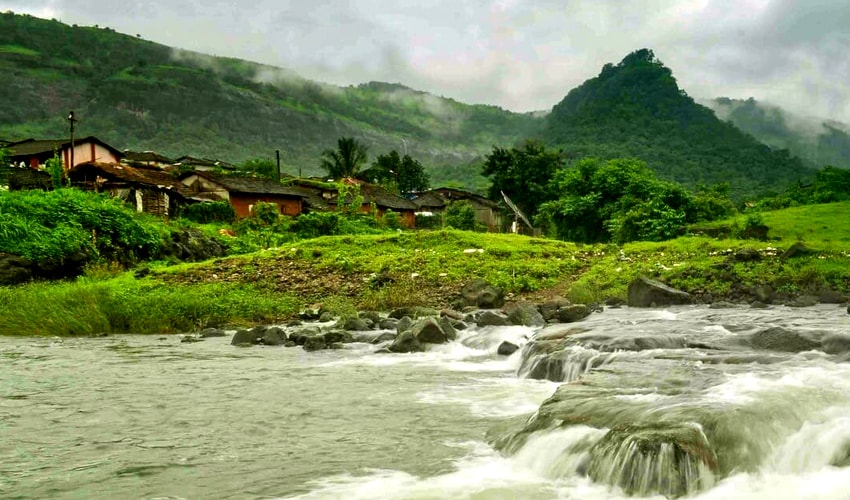 Durshet is a small hill town located on the bank of River Amba and nestled amidst the lush green hills of Sahyadri hill ranges. For people looking to get some peaceful time away from the rush of city life in Mumbai or Pune, then Durshet is the place to be. This little town is settled amidst 2 Ganesh temples of Pali and Mahad, right off the highway close to the village of Khopoli.
Other than its obvious natural beauty which this place is blessed with, it is historically significant for being a battlefield when Shivaji Maharaj had fought Kartalab Khan for Umbarkhind during the 1600s. The natural beauty here is ethereal and is surrounded by a series of hillocks, plateaus, waterfalls, and traversing rivers.
12. Lavasa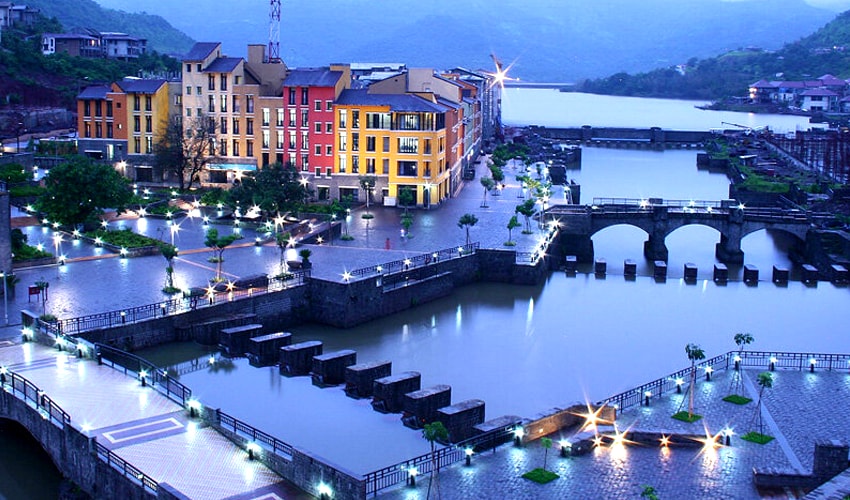 Lavasa or 'India's first planned city, is also known for being India's newest hill station. This cute little hill station was developed as a project which spreads across the 7 hills and covers a massive area of over 25,000 acres. It represents the perfect combination of natural beauty and detailed infrastructure. Located close to Pune, Maharashtra, this little hill town is an enjoyable retreat for the students and family here.
Lavasa has to be the first choice among Mumbaikars to go on a long drive up to the hills. Giving the whole city an enchantingly mesmerizing look is the 65km wide lakefront. The Lavasa region is surrounded by some tiny preexisting settlements that can often be seen mingling with the Lavasa residents.
13. Satara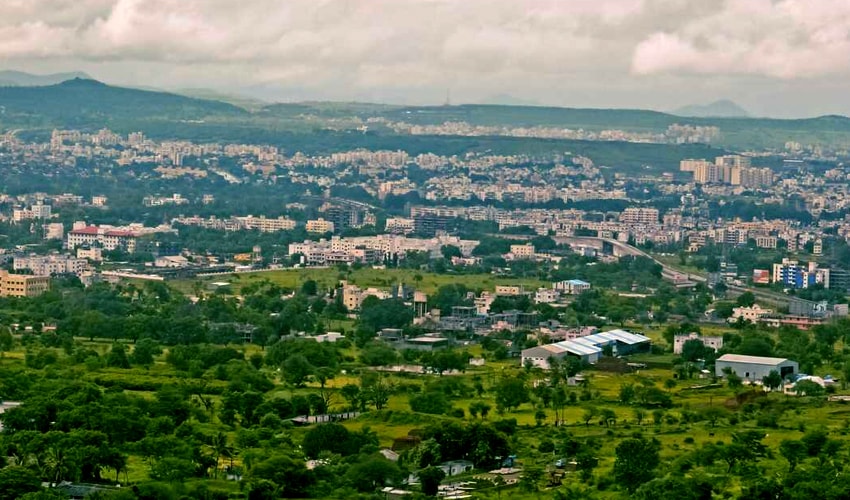 Satara is a district in Maharashtra which marks the confluence of river Krishna to its tributary, the veena. Stara is mainly famous for the UNESCO world heritage site of Kaas plateau. Satara is the perfect place to visit during the monsoon season when this entire plateau springs to life with a colorful and mesmerizing collection of wildflowers wonderland. Established during the 16th century, Satara was the seat of Chhatrapati of the Maratha Empire.
This hill station is blessed with a bountiful selection of nature's touch as well as a very interesting history. Dotted all over with ancient forts, temples, and museums, Satara is an ideal destination for people who love spending their time among nature as well as indulging in thrilling and fun adventure activities.
14. Toranmal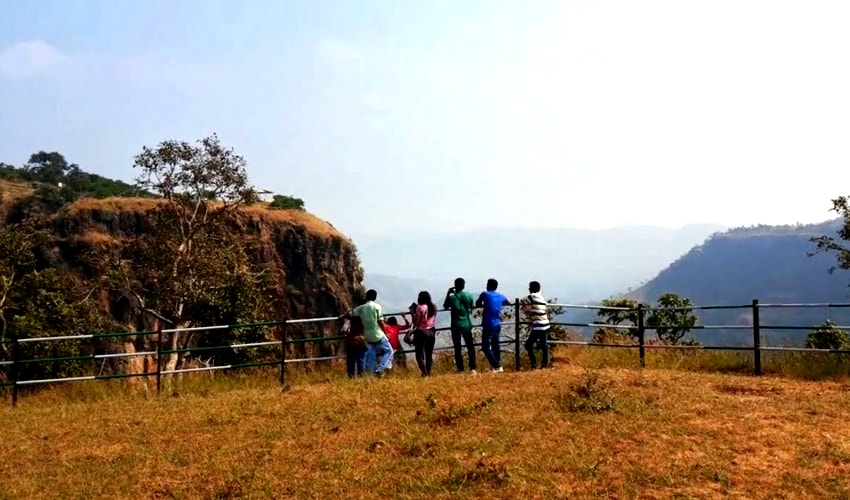 Nestled in the lap of the Maharashtra hill stations, topped off with radiant weather conditions throughout the year and lush green surroundings Toranmal is all about accentuating the blissful natural beauty. From tranquil lakes to gushing cascading waterfalls all around, Toranmal is also blessed with an enriching amount of flora and fauna along with being flanked by the 7 hill ranges of Saputara.
The dense forest cover remains the highlight of this place which has earned its place for being a gleaming box of bountiful natural beauty and spirituality. The name of this place is derived from the name of the tribe that resides in this region which makes the entire region dripping with immense serenity and tranquility. Take some time off away from the buzzing city life, to get in touch with mot.