Gujarat is a hidden treasure with a history dating back to the 15th century and beyond. The state boasts of its rich heritage, inspiring culture and architectural wonders that will enthral you from within. The diverse heritage of Gujarat invites travellers, pilgrims as well as historians from different parts of the country. The sheer grandiose of the ancient palaces and the legendary past of the iconic landmarks make Gujarat one of the topmost historical travel destinations in India.
If you are planning to visit Gujarat, this guide will help you with the most popular historical monuments that must be on your bucket list during the trip. The below-mentioned list contains important information about the landmarks as well as entry fees and timings.
Laxmi Vilas Palace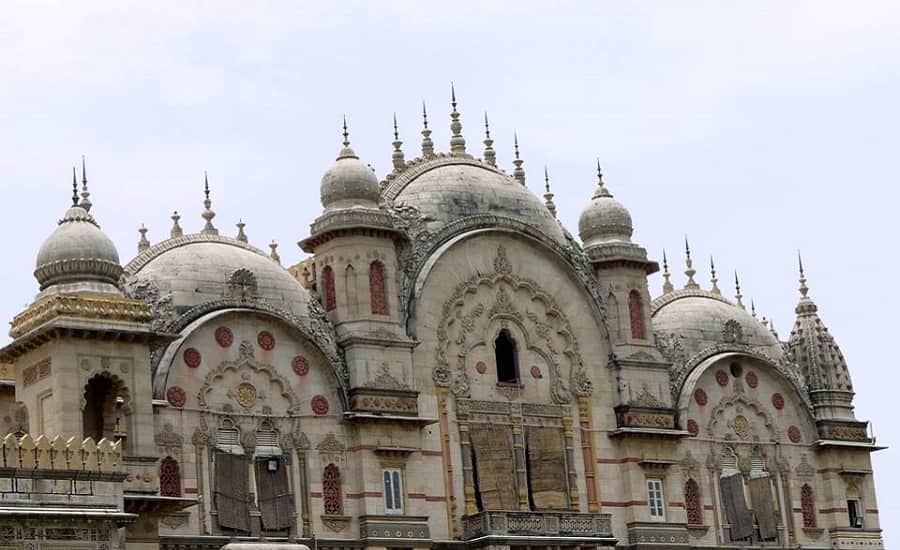 Laxmi Vilas Palace is the official home of the royal family of Vadodara. It was built in the year 1889. The grandeur of this palace attracts tourists from far and near. Laxmi Vilas Palace is spread over a whopping 500 acres of land and is four times bigger than the iconic Buckingham Palace. Laxmi Vilas Palace is the largest private dwelling in the world. This architectural masterpiece is a blend of Hindu, Gothic and Mughal styles. The museum is the highlight of the palace that showcases artefacts and paintings from different parts of the world. One can also stroll in the lush green gardens and enjoy a game of golf in the huge golf course compound.
Visiting Hours: Every day except Monday: 9:00 a.m. – 5:00 p.m.
Entry Fee:
Palace – INR 200 per person (Indian) and INR 400 per person (Foreigner)
Museum – INR 80 per person (Indian) and INR 150 per person (Foreigner)
Dholavira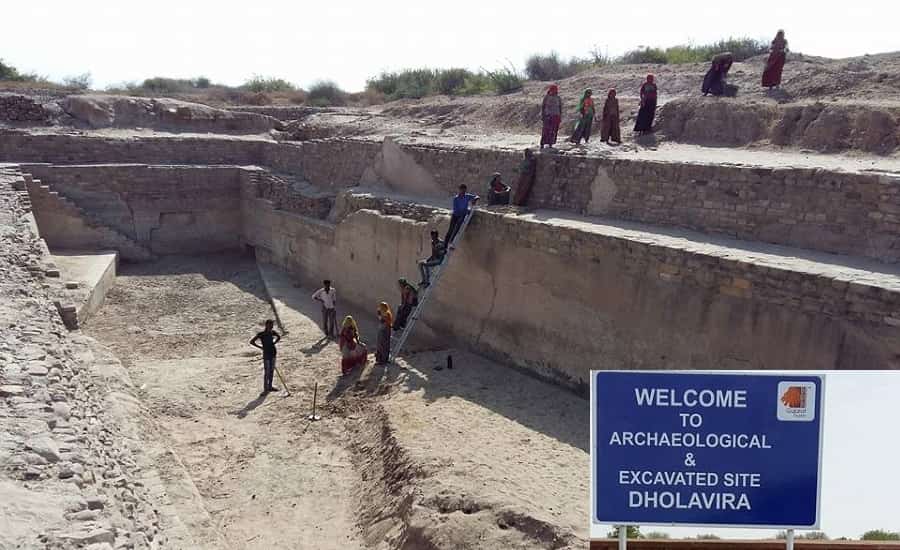 Commonly known as Kotada Timba, Dholavira is a prominent heritage site located in the Kutch region of Gujarat. Dating back to the Harappan culture or the Indus Valley Civilization, Dholavira is a treasure for historians. This remarkable excavation is more than 4500 years old. It is divided into three different zones namely citadel, middle city and lower city. The ruins of Dholavira reveal the architectural grandeur of the ancient civilization. Once you enter the citadel which is the home of the rulers and higher officials, you would find stone sculptures, pottery, terracotta ornaments, animal sculptures, and many such objects. However, the ancient reservoirs are the highlight of the tour which is in a well-preserved condition.
Entry Fee: Free of charge
Rani ki Vav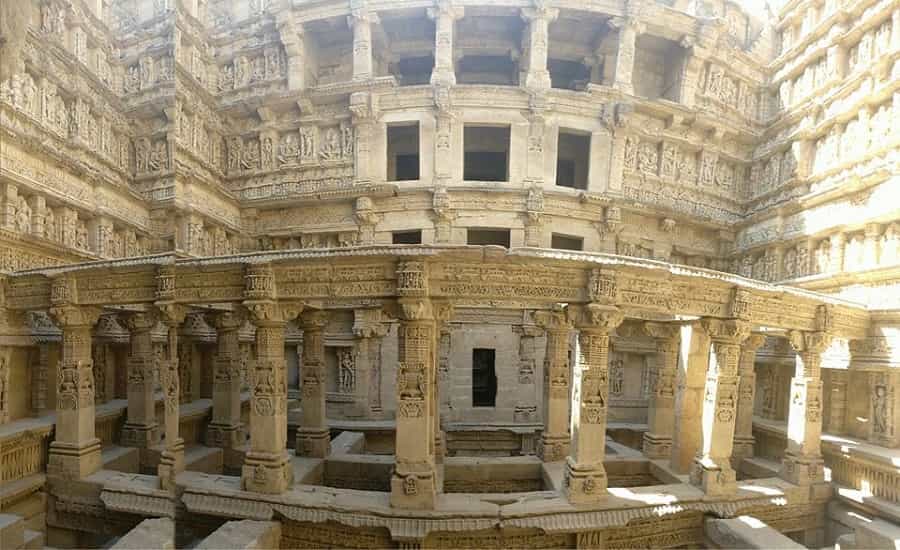 Rani ki Vav is a UNESCO World Heritage Site situated in Patan. It is an intricately designed Stepwell which reflects the rich history and smart architecture of our country. It is believed that Rani Ki Vav was built by Queen Udaymati in the memory of the 11th century deceased King Bhimdev 1. It is constructed in the Maru – Gurjara style which is not only complex but also a treat for the sore eyes.  This Stepwell in Patan is carved with more than eight hundred sculptures of Lord Vishnu and his forms. There are carvings of beautiful women (Apsaras) which can also be spotted when you visit this magnificent site.
Visiting hours: Every day: 8:00 a.m. – 6:00 p.m.
Entry Fees: INR 5 per person (Indian) and INR 128 per person (Foreigner)
Sidi Saiyyed Mosque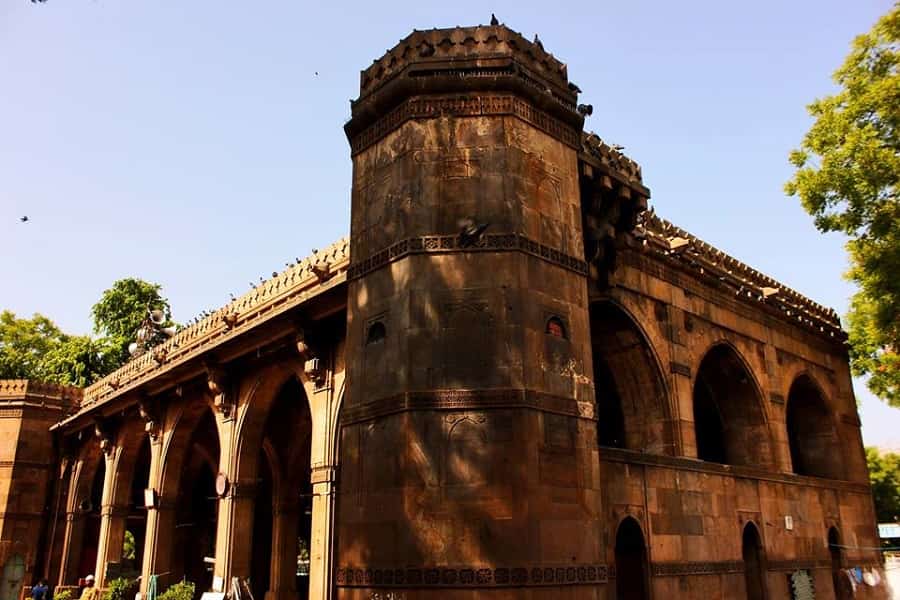 The list of historical sites in Gujarat would be incomplete without mentioning the Sidi Saiyyed Mosque. It was constructed in the year 1573 by Sidi Saiyyed who was the slave of Sultan Ahmed Shah. The interior of this manmade wonder is grandeur. When you set foot in the mosque, the Saracenic style architecture will leave you jaw-dropped. Sidi Saiyyed Mosque is meticulously constructed with chiselled marble and Jaali windows that make it one of the most sought-after historical places not only in Gujarat but also in entire India.
Visiting Hours: Every day: 7:00 a.m. – 6:00 p.m.
Entry Fees: Free of charge
Somnath Temple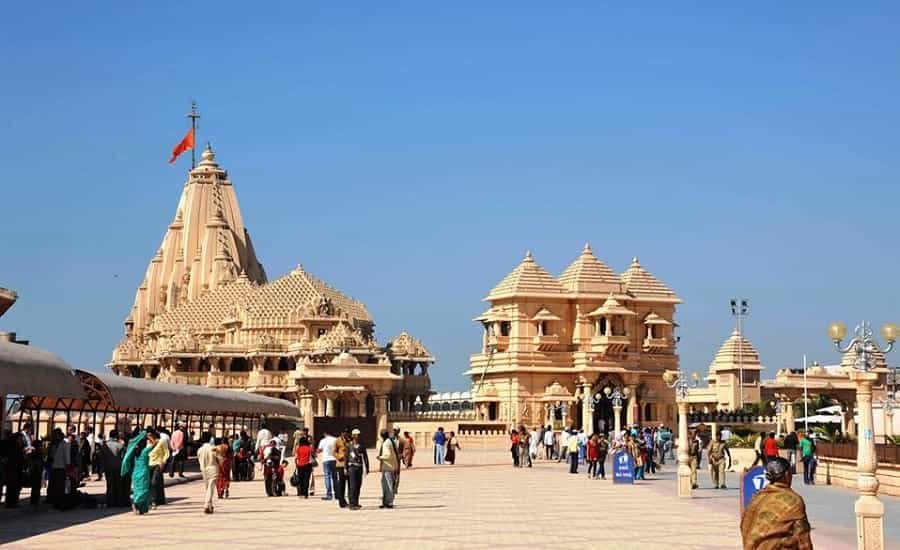 Somnath Temple is a prominent heritage site in Saurashtra and the first of the twelve Jyotirlingas. This temple has been renovated numerous times with recent changes made in the year 1951. It is built in the Chalukya architecture style and is worth applause. This pious landmark with incomparable glory had valuable gemstones fixed in different places. But the temple was attacked several times by foreign invaders who sacked the treasure and tried to destroy it. When you are visiting the Somnath Temple, carrying mobile phones, cameras and other electronic gadgets are strictly prohibited.
Visiting Hours: Every day: 6:00 a.m. – 7:00 p.m. (Darshan)
Every Day: 8:00 p.m. – 9:00 p.m. (Light and sound show)
Vijay Vilas Palace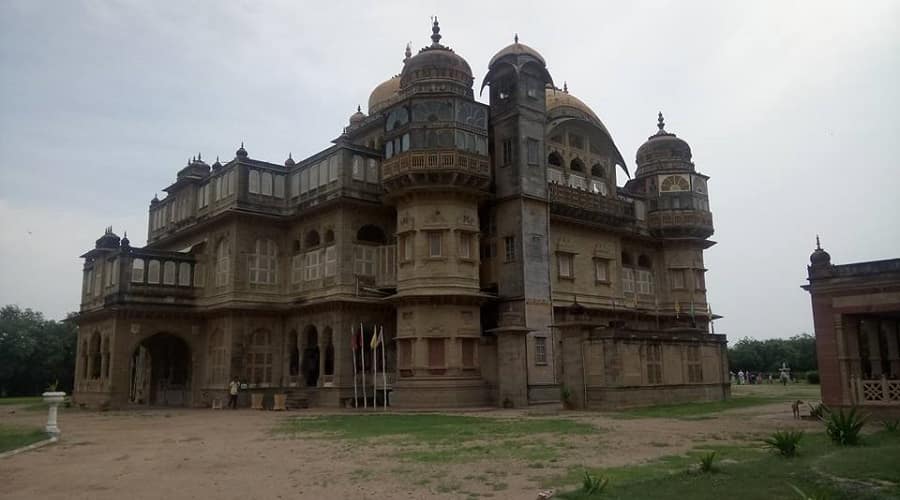 Vijay Vilas Palace was constructed in the year 1929 by Vijayraj Ji. This majestic palace holds a lot of historical importance as the Kutch royal family still lives here. Vijay Vilas Palace is built on a sprawling 450 acres of land which includes a lush green garden and a well-maintained private beach. This palace is a perfect combination of three different architectural styles namely Victorian, Mughal and Rajput. A part of the Vijay Vilas Palace is converted into a heritage resort that offers luxury accommodation with modern amenities.
Visiting Hours: All days except Thursday: 10:00 a.m. – 1:00 p.m. and 3:00 p.m. – 6:00 p.m.
Entry Fees: INR 50 per person (Additional charge of INR 20 per camera and INR 10 for a private vehicle)
Sun Temple of Modhera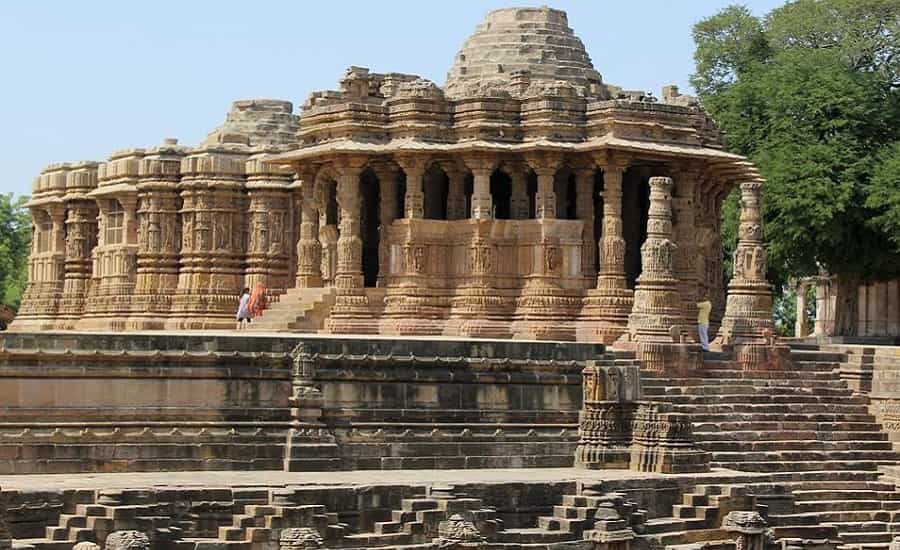 The Sun Temple of Modhera is solely dedicated to the Sun God. It was built along the embankment of Pushpavati River during the reign of Bhima I of the Chalukya Dynasty. In the recent era, this temple is a historic site preserved by the Archaeological Survey of India. Modhera Sun Temple flaunts the Maru-Gurjara architectural style and the exquisitely carved temple complex is indeed a sight to behold.
Visiting Hours: Every day: 6:00 a.m. – 6:00 p.m.
Entry Fees: Free of charge
Mahabat Maqbara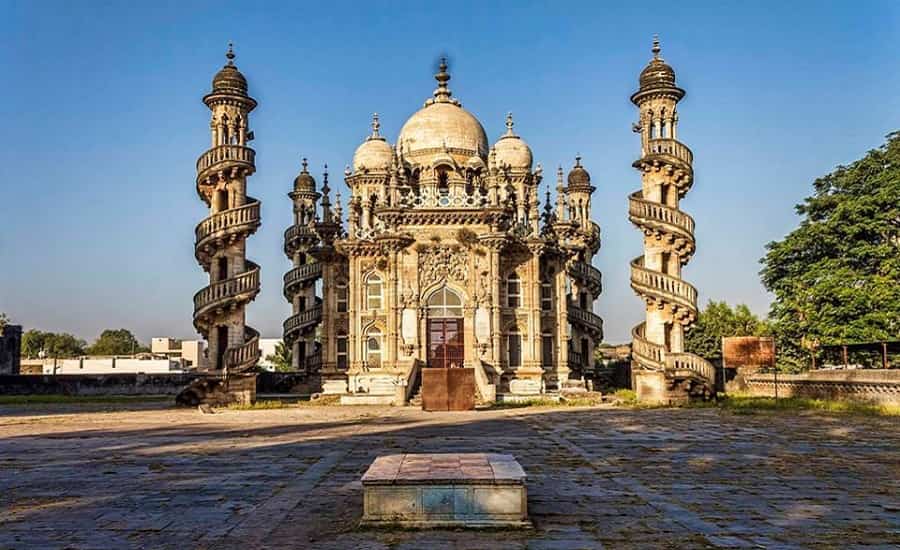 Mahabat Maqbara is a jaw-dropping splendour located in the heart of Junagadh. Built during the late 19th century, this iconic landmark is a fusion of Indo-Islamic and Gothic architectural style. Mahabat Maqbara is the mausoleum of Wazir Hasainbhai which features exquisite stone carvings, winding stairs, meticulously designed arches and a perfect onion-shaped dome. Try visiting Mahabat Maqbara during sunset which makes it look mystical and has a unique vibe. And when you are here, do not forget to shoot a few Instagram worthy images.
Visiting Hours: Every day
Nani Daman Fort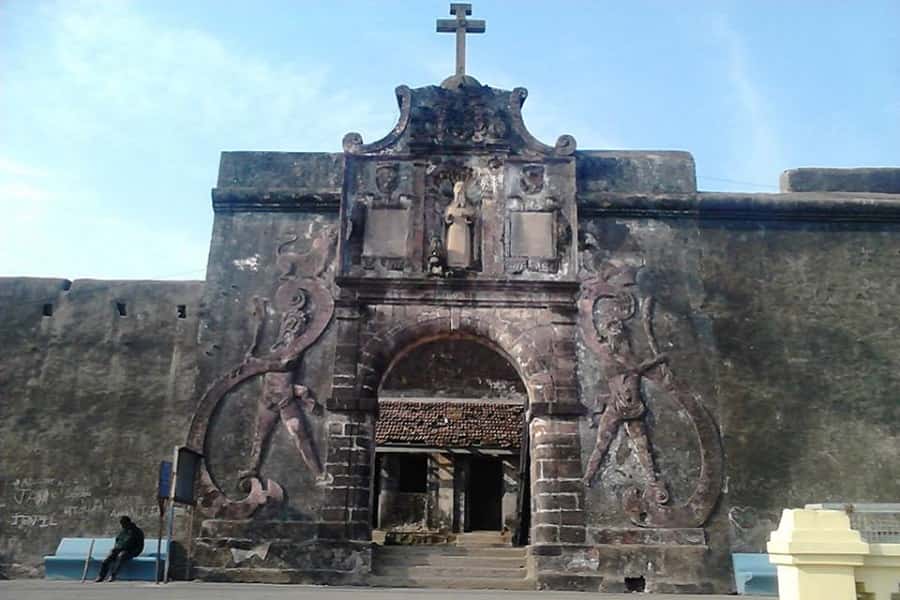 Nani Daman Fort is a very popular landmark in Daman. It is basically a small citadel with a huge statue of St. Jerome who is a famous Catholic priest. This monument was established in 1672 by Dom Jeronimo, the 12th Portuguese Viceroy of our country. In the ancient times St. Jerome Fort was built to keep a check on the enemies and track the vessels that ventured in the territory via sea. This fort is an example of fine craftsmanship. It was built more than 400 years ago but the walls do not show any sign of breakage even today. There are holes in the walls for supporting the guns in case of an attack. However, there are no canons that can be seen in the fort. In recent time, Nani Daman Fort serves as an educational institution with an architectural splendour.
Visiting Hours: Every Day: 8:00 a.m. – 4:00 p.m.
Entry Fees:  INR 15 per person
Dwarkadhish Temple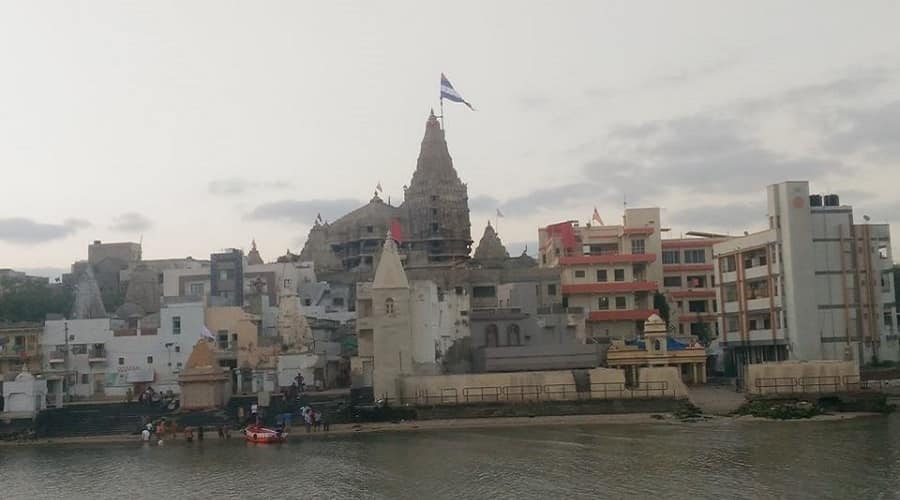 Dwarkadhish Temple, dedicated to Lord Krishna is a renowned pilgrimage spot of the Hindus. It is believed that the temple is more than 2200 years old. Dwarkadhish Temple is commonly known as the Jagat Mandir. It is an archaeological marvel supported by a total of seventy-two pillars. The temple attracts pilgrims from far and wide especially during the occasion of Janmashtami. It is beautifully decorated and the idols are adorned with ornaments which are indeed a feast to the eyes. Thus the Dwarkadhish Temple is a must visit during the grand celebration of Janmashtami.
Visiting Hours: Every day: 6:30 a.m. – 1:00 p.m. and 5:00 p.m. – 9:30 p.m.
Entry Fees: Free of charge
Surat Old Fort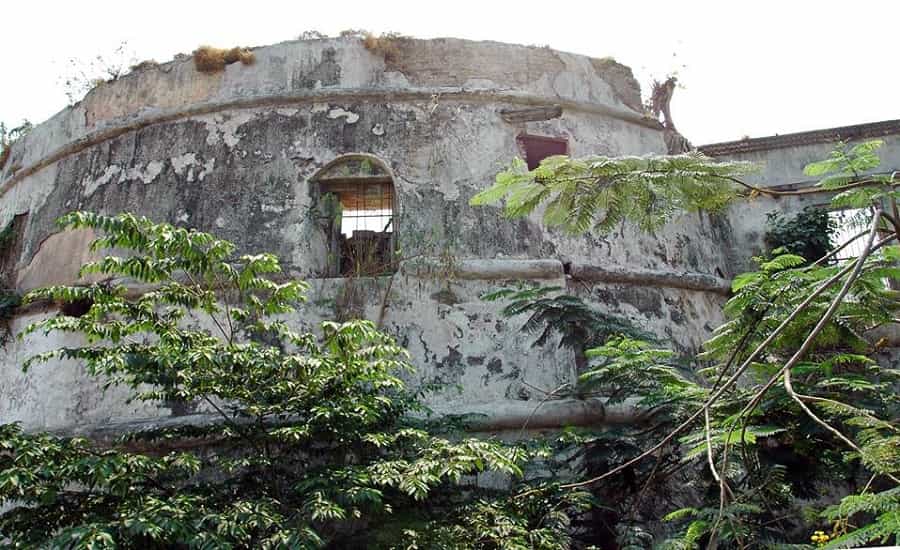 Surat Old Fort was established by Muhammad Tughluq during the 14th century as a defence against the Bhil attackers. This fort is not just a tourist spot but holds a lot of historical significance. It is one of the must-visit spots when you are in Gujarat. The Tapi River flowing along the citadel is a view to savour. Currently, the Old Fort is under maintenance and it is recommended to confirm its opening time with the Gujarat Tourism before visiting the fort. Do not forget to carry your cameras when you are here.
Visiting Hours: Every day: 10:00 a.m. – 6:00 p.m.
Entry Fees: Free of charge
Adalaj ni Vav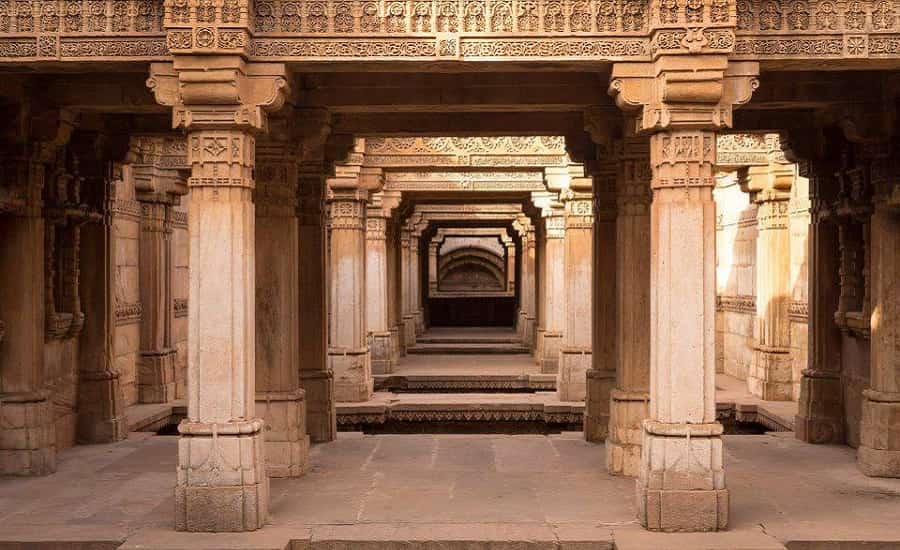 Adalaj ni Vav is an architectural wonder that was built in the 15th century. It is five storeys deep and was constructed to provide relief to the travellers in the arid region who had to walk long distances. It is situated in the village of Adalaj, near Gandhinagar. This entire monument is covered with sculptures and carvings that are a perfect blend of the Indo-Islamic architectural pattern. The unique feature of Adalaj ni Vav is that it is constructed with three different set of stairs that meet on a massive square-shaped platform. Visitors are often impressed with the intricate designs carved on the walls of the Stepwell.
Visiting Hours: Every day: 8:00 a.m. – 6:00 p.m.
Entry Fees: Free of charge
Sarkhej Roza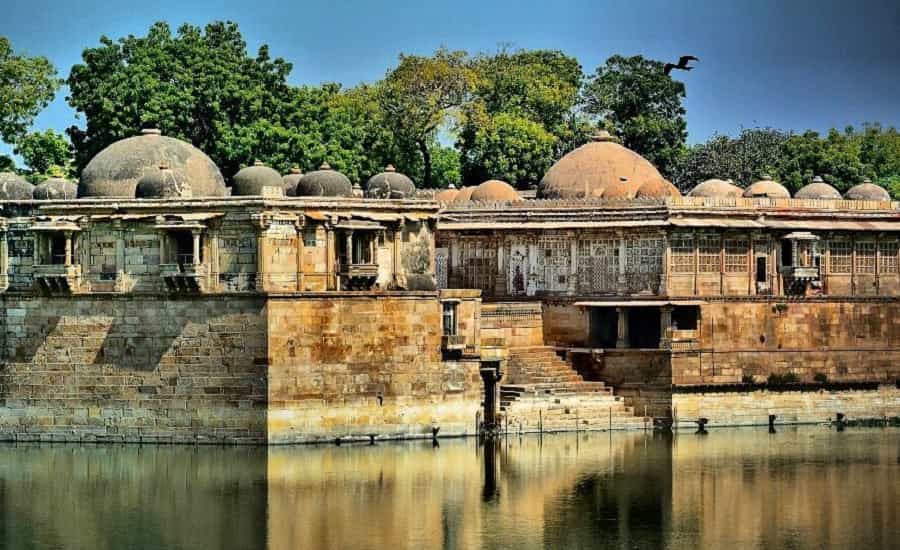 Dating back to the 15th century, Sarkhej Roza is a tomb as well as a mosque with a true amalgamation of Islamic, Jain and Hindu architectural style. It is located in the Makarba village, near Ahmedabad. It is one of the most magnificent archaeological complexes in the state of Gujarat. Sarkhej Roza holds the tomb of Shaikh Ganj Baksh Khattu, a saint who lived in this peaceful environment till death. The complex was spread over a sprawling 72 acres of land and surrounded by gardens on all sides. As the days passed human settlements came around the complex and the area got reduced to 34 acres. This ancient site is definitely going to enthral you with its rich history and tradition.
Visiting Hours: Every day: 9:00 a.m. – 6:00 p.m.
Lothal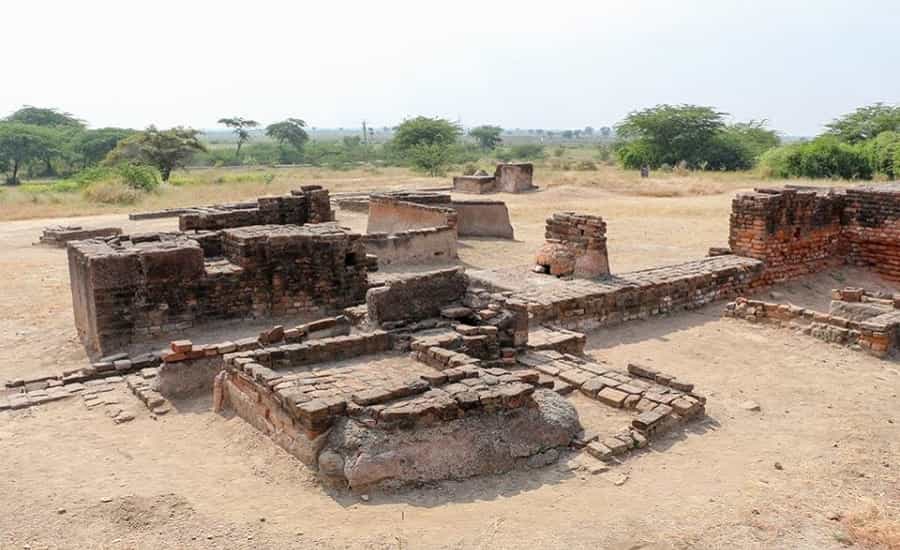 The ruins of Lothal had its dates back to the Indus Valley Civilization. It is situated in the Bhal region of Gujarat, one and a half hours' drive from the city of Ahmedabad. Lothal was discovered in the year 1964 and its excavations continued till 1960. Here, you can find residential complexes, dockyard and a burial ground which is definitely worth your time. Lothal means the 'City of Dead' and its history always fascinated people across the globe. You can also visit the archaeological museum that contains terracotta ornaments, painted pottery, copper and bronze objects as well as figurines.
Visiting Hours: All days except Friday: 10:00 a.m. – 5:00 p.m.
Sabarmati Ashram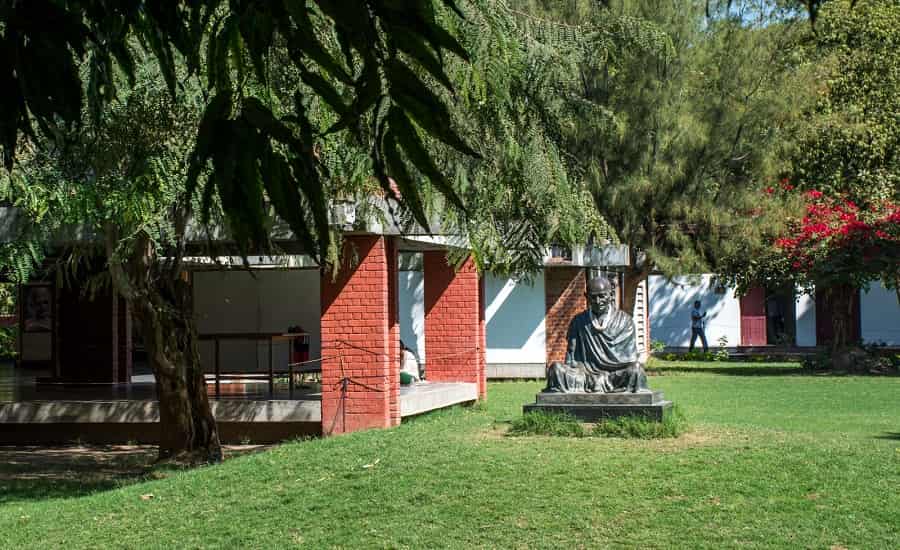 Sabarmati Ashram, situated on the banks of the Sabarmati River has witnessed a number of significant historical events that took a toll on the British Empire. This ashram was formerly known as Satyagraha Ashram. The world famous leader, Mahatma Gandhi led the Indian Independence Movement from here. Sabarmati Ashram has a museum which contains a large number of manuscripts of Gandhi's articles. Gandhi lived in this ashram for twelve years and it is the base from where he and his companions started the Dandi March. The sight of tiny huts spread across an open area along the banks of the river calms the soul of visitors coming to the Sabarmati Ashram.
Visiting Hours: Every day: 8:30 a.m. – 6:30 p.m.
Entry Fees: Free of charge
A sight of these ancient landmarks will surely mesmerize you. Gujarat is worth exploring, so make sure to include all of these places in your itinerary to get an out of the world experience. A vibrant state with cultural diversity, Gujarat attracts a large number of travellers every year and never fails to fascinate them.