Before I visited Hong Kong, I had my doubts about it. Many travelers told me that it is an expensive city and also a shopping heaven. Wait – what? – Shopping heaven? Sounds very contradicting. So i went to Hong Kong and see it for myself. Shopping heaven it is but not really for the budget traveler. Which brings me to the next point, can I still travel in Hong Kong on a tight budget?
Yes, I can! Keep reading to find out how to spend less than $500 including Hong Kong Disneyland!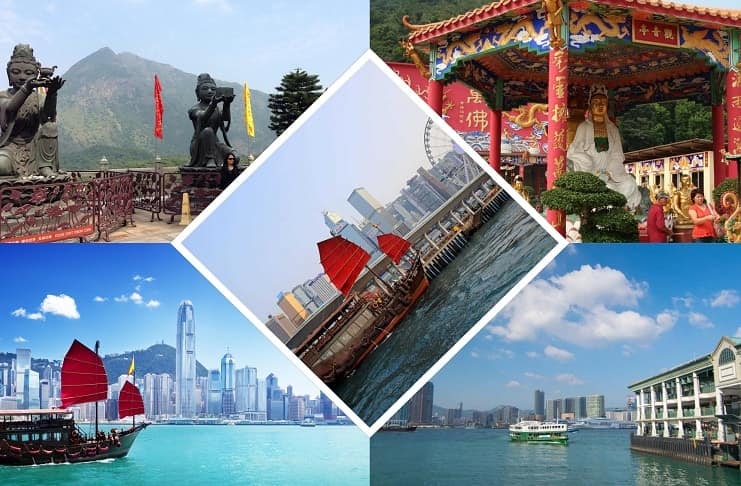 If you follow this guide, it will definitely maximize your experience and wallet too. P.S: This guide is based on the cheapest flight ticket, recommended accommodation, estimated spending on food, attraction sites and transport for 3 nights (not forgetting *coughs* my experience).
Flight
There's a number of low-cost carriers that flies into Hong Kong International Airport such as Tiger Air, Jetstar, Scoot etc from Singapore. To see the overall flight fares across airlines, i would ALWAYS go to Skyscanner and list it from Low to High price. Currently, the cheapest return flight & the cheapest month in 2016 that i have found to Hong Kong cost SGD $142. 4 days 3 nights for that price is a pretty good deal! To be more realistic, i would pick the flight schedule that cost SGD $154.
Total Price on Flight: HKD $1189
Transport
Next, we talk about transport. It is really important to research about the city's transportation system that you are traveling in. It will save you time thinking about the mode of transportation to get to the places of your interest.
From Airport to City
There are various transportation options that can bring you to the city. One of them is to take the Airport Express train. This train will give you an option to exit Kowloon, Hong Kong or Tsing Yi Station.
If you are traveling in a group, it is cheaper to buy the Airport Express ticket instead of getting the Octopus Card for the trip to the city. It is more expensive using the Octopus Card compared to a separate Airport Express ticket. I was traveling with a partner and our Airport Express 1 way ticket cost only HKD $70 instead of HKD $90 per person if i'm traveling alone. We saved HKD $20 each! This was also advice by the staff at the station.
From City to Other Suburbs/Town
Hong Kong is very similar to Singapore and most places can be reached via their MTR. Get an Octopus Card at the airport or rail station. It works like you Ezlink card/Metro Card. You can also get it from the same place where you get your Airport Express ticket. There are 2 types of Octopus card you can use in Hong Kong. Sold Tourist Octopus Card at HKD $39 and On-Loan Octopus Card with a refundable deposit of HKD $50.
I took a free shuttle bus from Kowloon station. This shuttle bus goes to a few hotels around Tsim Sha Tsui and i alighted to the one nearer to my hostel and find my way around. That reduces one trip off my transport fare. I also reloaded an extra HKD $50 my On-Loan Octopus Card on top of the refundable deposit of HKD $50 and initial top up for HKD $100. At one point of time, my Octopus card was at a low amount and i was surprised they still deduct my transport fares up to a negative HKD -$35 before i was prompt to reload it.
Note:
You are only allowed to top up the minimum amount of HKD $50 at the ticket machine, convenience store and MTR Control Station.
You can use your Octopus Card at various convenience store and food carts!
At the end of my trip, i returned back my On-Loan Octopus card and received my HKD $50 deposit including the unused amount in my card. YAY! Spare money to eat in the airport.
Total Price for Transport: HKD $220 (excluding deposit)
Accommodation
A decent hotel/guest house can cost about HKD $300/night. The rooms are usually very small and cramp due to the small land space and building structures in Hong Kong. You can barely move about freely without tumbling over things. I prefer to stay in hostels as they are cheaper and the rooms is big enough for me to breathe well (sort of).
I stayed in Urban Pack hostel as it was recommended by a few travelers. An 8 bed mixed dorm cost HKD $199/night and an 8 bed female dorm at HKD $250/night. The hostel i stayed in is a the heart of Tsim Sha Tsui and very accessible to the train station and river front. Did not regret staying here at all!
Total Price for 3 nights: HKD $658 (price based on Booking.com and its discount as of posting)
Food
DIM SUM! Probably the first thing in your mind when food in Hong Kong is mentioned. Good food (and cheap food) is easy to find in Hong Kong but what's clearly missing is the variety of street food. As i have a special type of dietary requirements, i ate only Halal food. There are many Halal restaurants around Hong Kong, only in the matter of finding it. I had my lunch and dinner in Wan Chai when i am in the city. A popular halal restaurant located in Masjid Ammar (Ammar Mosque) Islamic Centre Canteen. Many raved about their great halal Dim Sum. Their Dim Sum is only available between 10am to 3pm. I also picked up some snacks and kebabs along the way. It is cheaper especially when you are traveling with a buddy and buy rice and dishes to share and Cantonese food servings are quite a lot! A plate of Yang Chow Fried Rice and dumplings is good enough for two tummies! My food spending was at HKD $45 per day.
Note:
Always set a budget for your daily spending on food and other miscellaneous items.
Total Price for Food: HKD $180
Attraction Sites
Most of the attractions are free and I avoid the common ones like Madame Tussaud Wax Museum as it is available in my own country. It is always good to find out all the free things to do in Hong Kong to save you some money. Here is some:
Garden of the Stars
Avenue of the Stars
Avenue of the Stars
The Peak (If you don't take the tram)
Symphony of Lights
Hiking at the various trails in Hong Kong
Other than that, walking around to explore markets in the suburbs is pretty fun too! Visit Temple Street Market and Ladies Market.
If you like theme parks: Hong Kong Disneyland & Ocean Park
The only attractions that i paid was Hong Kong Disneyland SGD $55 and Ngong Ping Cable Car one way at HKD $185 Standard Cabin. I bought my Disneyland ticket at a fraction of the original price via an online ticket seller from Carousell. You can also find online for cheap Disneyland ticket sold by travel agents. Deal at your own risk 😉
Total Price for Attraction Sites: HKD 487.11
Now let's calculate the total expenses in Hong Kong$:
| | |
| --- | --- |
| Expenses | Price in HK$ |
| Flight | 1189 |
| Transport | 220 |
| Accommodation | 658 |
| Food | 180 |
| Attractions | 487.11 |
| Total Expenses | 2734.11 |
After conversion, the total amount spend is SGD$497.78/USD$352.76. Now that is a few cents shy of $500 excluding shopping. It really helps when you know how to search for the cheapest flights and get cheaper tickets to the theme park. Looks like Hong Kong can be done on a budget with some clever strategies and proper research. So what are you waiting for? Let's go to Hong Kong!