Throughout history, there have been many examples of rulers building massive structures to honor their deities – and show off their own wealth and power. The Jama Masjid in India is one such building. It is still in use today as a place of worship, but even for those who do not follow the faith of Islam, the mosque's size and beauty make it a worthy part of a visit to the city of Delhi.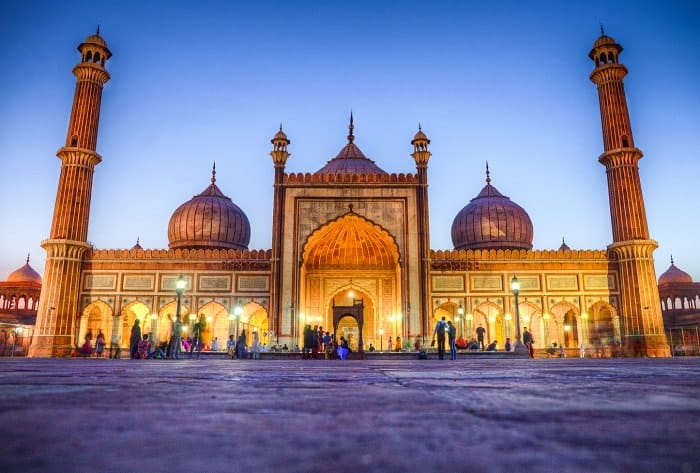 The Jama Masjid, or "Friday mosque," was originally called the Masjid-i-Jahan-Numa, which means "mosque commanding view of the world." It is one of the final buildings constructed by the Mughal emperor Shah Jahan, whose other architectural triumphs include the Red Fort, which sits across from the mosque to the east, and the world famous Taj Mahal. Construction was begun on the building in 1644, and was not completed until 1656. It was designed to sit above its surroundings, built on a large platform constructed out of sandstone that reaches a height of about 10 m (30 ft) above the ground. The mosque itself was built of sandstone and marble, which alternate throughout the building in vertical strips.
It has two minarets, one on either side of the structure and standing about 40 m (130 ft) high, four towers, each with a balcony to mark every story, and three gateways, in the north, south and east. The mosque's main entrance is through the eastern gate; it was probably originally used by the emperors. The main prayer hall has a facade of eleven cusped arches, the centre one of which is larger than the others. It serves as the entrance to the hall. Over the prayer hall are three domes striped in black and white marble. Twenty-five thousand people can fit in the courtyard of the Jama Masjid for worship and prayer, making it the largest mosque in India.
Entrance to the mosque is free, but tourists will be charged two hundred to three hundred rupees if they have a camera with them. Because the complex is still used for worship, it is closed to tourists at specified days and times, and you will be asked not to take pictures of anyone who is praying during your visit. In addition, all visitors are expected to take off their shoes and cover up their shoulders and legs. Robes and scarfs are available for rental. Many people do recommend climbing one of the minarets on your visit to the Jama Masjid. There is a small charge, and officials may require that women be accompanied by men, but the view from the top is magnificent. The complex also houses several relics of the prophet Muhammad, along with a copy of holy Quran written on deerskin, a red hair from the prophet's beard, his sandals and an impression of his footprint in marble.
The Jama Masjid is located in Old Delhi, the ancient section of the city of Delhi. (The newer section, New Delhi, is listed as the official capital of India.) Old Delhi encompasses much of the important historical architecture of Shahjahanabad, the city of the emperor Shah Jahan. He erected walls with six gates around the city, many of which still stand. Because Delhi is so large and so important, there is much to see and do in both the old and new sections of the city. You can get to Delhi by plane on various international airlines, by bus from Chitwan and Kathmandu in Nepal and from almost every city in India, and by train. Once you have arrived, there are various methods to get around the city; one of the most convenient is the Delhi Metro, which has separate compartments available for women. There are also several bus services – the government runs DTC buses, while Blue-Line buses are privately-owned, and Hop On Hop Off buses stop at several set points around the city, so that you can "hop off" at one location and "hop on" the next bus when it arrives. You can also hire a taxi, a rented car, or an auto or cycle rickshaw, or even go on foot, although much of the city is not pedestrian-friendly.
When it comes to finding a place to stay, there is a large selection of lodgings to fit any budget. There are hostels and cheap hotels in Chandni Chowk and Paharganj, mid-range guest houses such as Hotel Ananda and the BnB New Delhi Bed and Breakfast can be found all over the city, and even expensive hotels such as The Imperial and Shangri-La are well-known. Radisson, Sheraton and Hyatt also have hotels in Delhi. Some tourists warn, however, that there is greater demand for luxury hotel rooms than there are rooms, so even the most ordinary room in an expensive hotel might cost anywhere from US$200 to US$400 per night.
Like hotels and guesthouses, there are restaurants to fit any budget and any taste throughout the city. There are even plenty of places to buy food on the street, although you should be careful to check the location's hygiene. If you are willing to splurge, you can join the Food Enthusiasts of Delhi or the Delhi Food Adventure, two groups who organize regular "food walks" to sample the city's chaat. Chaat is a type of street food that most commonly consists of a shell made of deep-fried pastry which is filled lentils or potatoes. A mix of chutney, yogurt, and chaat masala spice goes on top. Chaat can be purchased from many different restaurants, as well as on the street; Nathu's and Ashok's are two of the most popular.
If you are looking for different types of Indian food, including Haldiram's, which has supposedly gone global with its snacks and sweets, Nan Garg, where both vegetarian and non-vegetarian food is sold, and Kake Di Hatti, which sells naans. Restaurants that charge mid-range prices include Western chains like McDonald's and Pizza Hut – which have extensive vegetarian menus as well. Places like the Club India Cafe and Sagar Ratna sell very good Southern Indian food. For more expensive, and still very delicious, meals, try restaurants such as Bukhara and Chor Bizarre. Tourists can also find Italian, Japanese, Thai, Chinese, Korean, Middle Eastern, and even barbeque restaurants in Delhi.
Drink options include coffee (which can be enjoyed at chain stores such as Barista) and tea (Aapki Pasand Tea Shop is a popular place to visit; they boast that their teas have been given as presents during visits of state). There are also a number of clubs that sell alcohol, including places such as F Bar & Lounge and TLR. Many locations also offer hookah, including Hookah and Toast by Lazeez Affaire.
There is never a shortage of things to do in Delhi. Even if you choose not to spend time clubbing, shopping, or finding new places to dine, there are many sites in the city that are worth a visit. One of the most popular is the Red Fort, which is next to the Jama Masjid. There are also Humayun's Tomb and the Qutub complex, which are both on UNESCO's list of World Heritage Sites. You can visit museums, parks, gardens, temples, mosques and cathedrals. Rajiv Chowk (formerly Connaught Place) was a market in colonial days, and is still fun to walk around in, and Jantar Mantar is an observatory originally constructed in the eighteenth century. If you choose to look outside of the city, there are many interesting and remarkable places within a few hours' travel. For example, try Bandhavgarh National Park and Fort, which is the site of a tiger reserve. Shimla is undisputedly one of the most incredible hill station destination according to many visitors, making it well worth a visit. You can even travel to Kathmandu, across the border in Nepal, or Dharamsala, where the Dalai Lama's government in exile is centered. For the tourist who likes to be on the move, there is the Maharajas' Express, which is a luxury train that will take you from Delhi to the city of Mumbai.
The Jama Masjid is one of the many fascinating sights in the ancient city of Delhi, and a large part of its impressive appearance comes from its size and grandeur. It is a showcase not only for the power and wealth of the emperor who constructed it, but also for the importance of the Islamic faith for both ruler and subjects. As a place of worship, it can provide an atmosphere of peace and spirituality even for a person who does not practice Islam, and its history and beauty make it an unforgettable part of any visit to Delhi.