As the name suggests, Maharashtrian or the Marathi Cuisine has originated from the traditional eating habits and the natural ingredients utilized by the inhabitants of the state of Maharashtra. The defining feature of any Marathi Cuisine is the presence of mild spices and some amount of sweetness which makes it very different from the cuisines and food of the rest of India.
For their dietary staples, the people of Maharashtra utilize wheat, Rice, Jowar, Bajra, lentils, and a plethora of vegetables as a major part of the population is vegetarian. Initially, meat was used sparsely due to the economic backward conditions and cultural beliefs however, during recent times and as a result of various influences from everywhere in the world, the people in Maharashtra have started incorporating various forms of meats and non-vegetarian ingredients as well.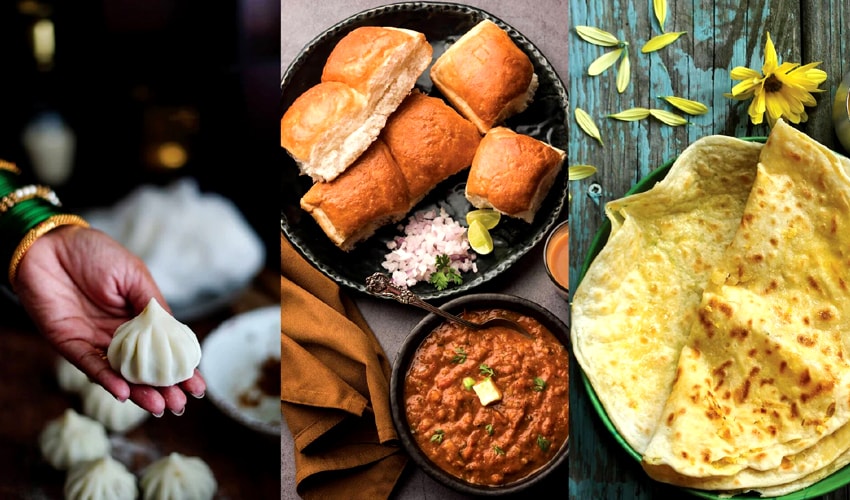 Here are some of the must try Maharashtrian Dishes of the state and beat those hunger pangs like a boss:
List of 14 Most Popular Dishes of Maharashtrian
Poha
Rassa
Modak
Aamras
Basundi
Vada Pav
Pav Bhaji
Misal Pav
Shrikhand
Puran Poli
Bharli Vangi
Pithla Bhakri
Ragda Pattice
Sabudana Khichdi
1. Puran Poli
Love eating Parathas? You will absolutely relish the taste of this Maharashtrian version of Parathas which is much loved among the locals of the state. Unlike its salty delicious northern counterparts, Puran Poli is a sweet Paratha version whose stuffing is made using a unique combination of Gur or Jaggery, Chana Dal, cardamom powder, ghee, and plain flour.
People normally eat this dish as a part of their morning breakfast meal but they also make it during some special occasion or festival. Although it is sweet and uses sweet ingredients to make it, Puran Poli has quickly gained a lot of popularity for being an authentic testament to the age-old culture of Maharashtra.
2. Pav Bhaji
Pav Bhaji is not the sole traditional delicacy restricted to the state of Maharashtra; it is loved by people all over north India. In this cuisine, loads of veggies like potatoes, capsicum, carrots, peas, and other vegetables of your liking are added together. These veggies are then cooked to perfection with special Pav Bhaji Masala, which is available easily in the markets and grocery or there are several recipes available to make the Pav Bhaji Masala from scratch which includes the use of powdered Dhaniya, Jeera, and other such spices.
The best way to eat it is with Pav, which is somewhat like dinner rolls, but fluffier, softer, and a little bigger in size. These Pavs are browned on a pan using butter or ghee which crisps up the Pavs and makes it a lot more delicious to eat with the flavor-packed Bhajis.
3. Vada Pav
If you have been to Mumbai or not, Vada Pav is the first that comes to mind when someone speaks about the food of Maharashtra. Due to its serving style, Vada Pav can be easily defined as an Indian version of the American burger which also boasts of a variety of mouth-tingling, flavor combinations. The patty or the Vada is made using mashed boiled potatoes which are then rolled into balls and then spiced with a variety of spices before deep-frying it to a crisp.
These Vadas are then stuffed into fluffy bread dinner rolls which are first lined with savory, spice, and tangy chutneys. Once the whole thing is put together, it is topped off with spiced-up green Chillies and some Sev that is loved by Mumbaikars as well as non-Mumbaikars all over.
4. Misal Pav
Misal Pav is quintessentially a snack dish from Pune which in no time had gained and continues to gain a lot of popularity among the locals of Maharashtra as well as the world. Misal Pav is a dish that can be used as a breakfast meal, snack, or even a brunch dish since it is very light and savory in nature. This popular, sweet, and tangy street food is made using tangy lentil curry or moth bean which is served with Pav bread (the one used in Vada Pav and Pav Bhaji). Some people like to eat it spicy while others use yogurt to lessen the spice.
There are several types and styles of Misal that the people of Maharashtra have developed depending on their liking and taste buds. These Misal Pavs include Puneri Pav, Nagpuri Misal, and Mumbai Misal which are defined by their spiciness.
5. Ragda Pattice
Ragda Pattice is the Indian or the Maharashtrian version of English patties which had gained a lot of popularity during the colonial era. This is one delectable street food that should not be missed out on during your holiday in Mumbai or anywhere in the state. This lip-smacking and easily available street food is made using curried dried peas, potatoes, and patties.
These stuffed patties are then dipped into the famous Ragda gravy before finally being topped off with various Chaat chutneys, finely chopped onions, Crispy Sev, and a lot of green cilantro. In the restaurants, you will find some gourmet versions of the same dish that you will be able to spot at the street food vendors.
6. Bharli Vangi
Who knew a Brinjal Dish would find a spot in this list and yet it has managed to grab a spot from being one of the most loved cuisines of Maharashtra. In this popular Maharashtrian Dish, small Brinjals are used rather than the regular-sized ones. These tiny Brinjals are then stuffed with a delicious and balanced flavor combination of coconut, onion, and Jaggery. The one masala that adds a lot of flavor to the whole dish is the special Goda Masala.
Although Brinjals are not anyone's favorite vegetable right off the bat, it has managed to stay loved among the locals of Maharashtra.
7. Poha
Poha is very popular as the number one breakfast option for not only the people of Maharashtra but also for people all over India. The reason being most of the ingredients are readily available everywhere on the subcontinent along with being super easy to prepare and make. This classic breakfast food option that found its origin in Pune is made out of flattened rice and people have also come up with numerous other ways of cooking it.
While Kanda Poha's main ingredient remains flat rice and onions, other variants of Poha include Batata or potatoes and Dadpe Poha which is prepared using green Chilies, fresh shredded coconut, and a plethora of spices according to the maker's liking that can include Red Chilli powder and salt among others.
8. Sabudana Khichdi
This one goes out for all the health-conscious people out there. Sabudana or tapioca is famous among health-conscious people for its numerous health benefits, especially as a way of feeling full while also promoting weight loss. Khichdi which means a mixture and different versions of Khichdi is famous and eaten all over the subcontinent. This dish is especially famous among the local folks of Maharashtra as a breakfast item.
The core ingredient of the dish is tapioca pearls or Sabudana, boiled potatoes, roasted peanuts, and a very selective few spices that help in the flavor enhancement of the dish as a whole. This savory wholesome and fulfilling dish is also an important part of the Upwaas culture in Indian households.
9. Rassa
Although not the most popular part of Maharashtrian food, non-vegetarian delicacies in the state are quickly gaining a lot of popularity in the state. Rassa also goes by a lot of names like Tambde, Varhadi, and Pandhra which is a non-vegetarian curry dish. The core ingredient of the dish can vary from chicken and mutton to fish and other varieties of seafood. The name Rassa is derived from the word ras meaning juicy and its origins can be easily traced back to the Maharashtrian state of Kolhapur.
Other than the meat ingredient what defines and sets this dish apart is its spiciness attributed to the locally grown and super spicy Kolhapur Chillies. To cut out the extreme spiciness of the meal, people also tend to add some amount of Yoghurt to the curries which also gives it a rich, creamy, delicious texture.
10. Pithla Bhakri
Pithla Bhakri goes hand in hand with Maharashtrian cuisines for being one of the most loved comfort foods of the state. The meal is often referred to as a farmer's meal since it is eaten mostly by the hard-working farming communities of the state after a long hard day of toiling. It is said to be extremely fulfilling, warming, and delicious which seems like a treat after a day of hard work on the fields.
This popular dish of Maharashtra is made using several powdered ingredients like Besan, Onion, Green Chilies, curry leaves, spice powders, and many more. Having it with Chapati or Tawa Paratha is the best combination that will fill you right up.
Desserts in Maharashtra
No meal is complete without a delectable collection of Mithai or locally made desserts. Here are some popular Maharashtrian desserts that you have to try during Mumbai or Maharashtra Darshan.
11. Modak
Modak or the most loved dessert of Lord Ganesh is a very famous sweet of Maharashtra and can be found anywhere in the state. Eaten and prepared extensively during the famous Ganesh Chaturthi festival, various variants of Modak can be found all over the state. Modaks are tiny white sweets that are stuffed with a delectable filling of freshly grated coconut and Jaggery or Gur. The outer shell of the Modak which encases this wholesome filling is made using rice flour which gives the entire mithai a very soft texture.
12. Shrikhand
Shrikhand can be easily defined as the combination of sweet yogurt dessert which is flavored with powdered cardamom and Kesar or saffron. This dish is a Superhit among dessert lovers and is made in huge amounts during special occasions such as weddings and especially the festival of Dussehra. Not just in Maharashtra, this desert is famous all over the country and is usually served with piping hot Puris.
13. Basundi
Basundi is a milk sweet dish that is relished by mainly the people of central and western coastal India. Made using milk, which is boiled on extremely low heat until the milk's initial volume is cut down to less than half. This is the moment when all the flavoring agents are added to this milk-like cardamom powder, saffron, and sugar. The best part about Basundi is that it can be made using a variety of different types of fruits like custard apple, pomegranate, and many more. The goodness of Basundi is credited to the creativity of the maker.
14. Aamras
This is one dish whose name describes what it actually is, Aamras meaning mango juice but thinner than the regular mango juice consistency. This dish doesn't need to be cooked or needs any sort of prep work. The pulp of the mango is removed by hand and the thick texture is then crushed manually to create a very thin, watery sort of consistency that is eaten with Puris or Chapatis. The king of fruits or mango is the main ingredient of the dessert which is shown clearly in its name.
There are many more different types of foods, both savory and sweet that taste like bliss.