Nepal is a fabulous and one f the most loved travel destinations in the world for not only spiritual seekers and philosophers but also for adventure sports lovers and especially the mountaineers. People and explorers from across the border make their way to this safe haven in search of adventure, pure natural beauty and experience the unique customs and culture which makes it truly one of a kind. From viewing the snow clad hills on all sides to witnessing the changing horizon every step of the way Nepal sure is a treat for visitors from all walks of life. This place is a Pandora box for travellers that beautifully unfurl itself one day at a time. Being home to a majority part of the Himalayas and of course the mighty towering Sagarmatha or Mount Everest if you are an avid mountaineer and love to make ascent or just go on soulful walking trips on snow tops then here are some of the most highly acclaimed top mountains in Nepal.
Here is everything you need to know about these mystical towering majestic snow bund mountain peaks:
1- Mount Everest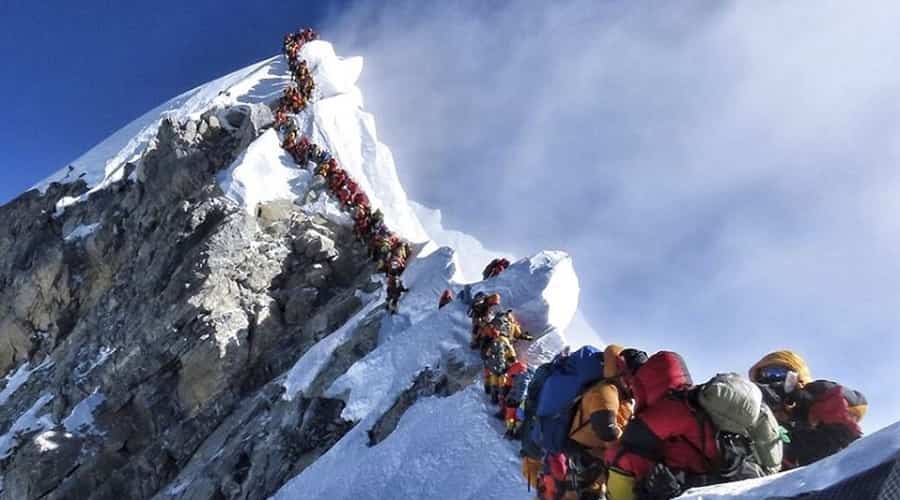 This tallest peak in the world had to be on the top of the rankings. Mount Everest has not only been seen as a professional mountaineering landmark but it is also seen as a personal achievement since making your way up the peak is extremely challenging. Filled with random ice falls, fissures, ridge walks and mountain climbing this mountain peak has been on every avid mountaineer's bucket list. Not just the ascent to the mountain top, the journey up to the base camp itself is seen as a mark of respect as getting there to is a whole another difficult job. The peak is located within the district of Solukhumbu and forming a vital part of the Khumbu Mahalangur Himalayan range Everest is also locally referred to as Sagarmatha which means 'the head of the sky'. Piercing through the stratosphere this sky touching peak is something straight out of a fantasy novel which seems like it has come to life.
Elevation – 8,848 metres above sea level
Also Read
2- Kanchenjunga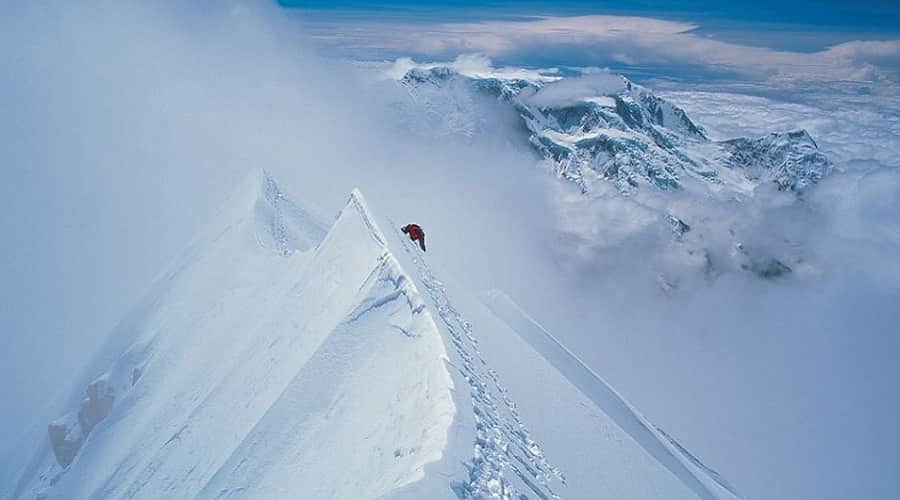 This is deemed for being one of the most beautiful and awe inspiring mountain ranges in the world which is not only a treat for mountaineers but is also sure to give you a whole new experience of trekking on the snow clad peaks. This peak is also famous for being the 3rd highest peak in the world and is also referred to as the '5 treasures of the snow'. Situated within the scenic district of taplejung these ranges make for a distinct part of the Kanchenjunga Himalayan ranges. The entire landscape leading up to the top is extremely jagged and varied making a trip up to its base camp as exciting as ever in itself. If you have been in the trekking game for a while now then you can challenge your boundaries by making your way to this remarkable range of snow clad peaks. The bountiful natural beauty here can be experienced properly especially during the time of mid-March to June and from mid-September to October.
Elevation – 8,586 metres above sea level
3- Lhotse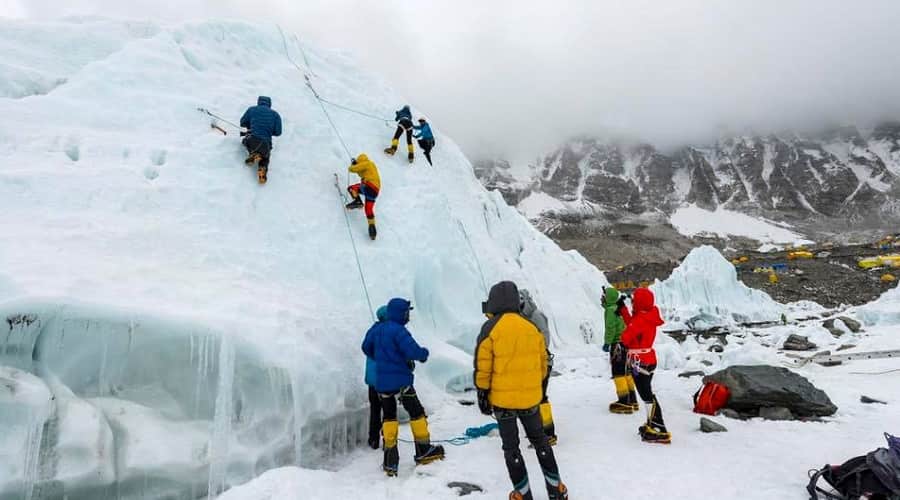 This mountain range is one of the finest examples of natural and bountiful beauty of the world. Lhotse range of peaks is famous for being the 4th tallest mountains in the world after Everest, K2 and Kanchenjunga and often the mountaineering experience here is compared to that of Everest and people could get a taste of what it would be like on your expedition to Everest. Literally the name of this peak translates into 'south peak' in Tibetan language and is made up of various smaller peaks that goes with the name of Lhotse middle and Lhotse Shar. The summits of these peaks are adorned on the Tibetan and Chinese border within the region of Khumbu in Nepal. A standard route leading up to Lhotse leads the way from the south col route which goes on to Mount Everest. This has to be one of the most beautiful and awe inspiring treks and mountaineering feat anybody could take.
Elevation – 8,414 metres above sea level
Also Read
4- Mount Makalu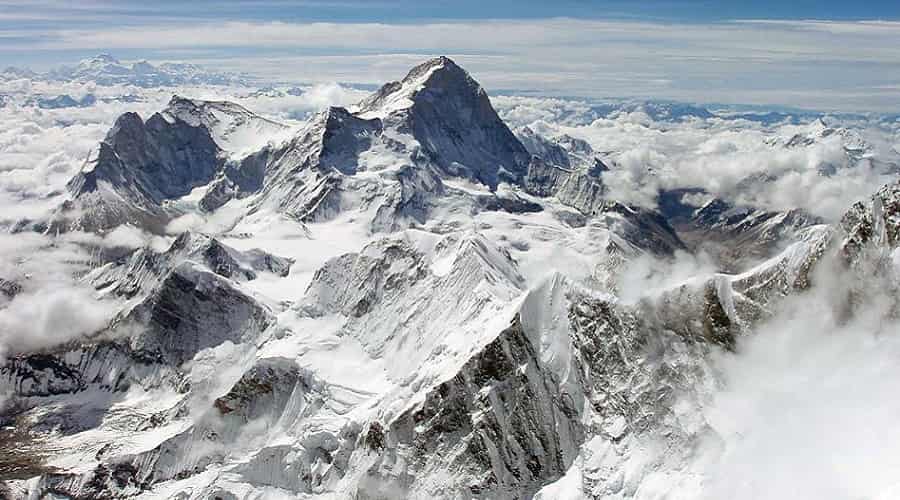 Considered to be one of the most beautiful and breath taking mountains in Nepal Mt. Makalu is truly a mesmerizing work of nature. The unique feature about this peak is that it is shaped in the form of a 4 sided snow and ice pyramid and is named after the Hindu Lord Shivji. Famous as the 5th highest mountain peak in the world and adorning the south eastern end of Mount Everest this isolated peak is a thrill for adventure seekers and explorers from different parts of the world. 2 of the most notable subsidiary peaks here are named Kangchungtse and Makalu 2 and is also popular as 1 of the famous 8 thousander peaks in the world. The peak is a real challenge for every avid and expert climber looking to face challenges and push their boundaries. Spring time sees a number of mountaineers making their way to the peak in pursuit of their excellence.
Elevation – 8,481 metres above sea level
5- Manaslu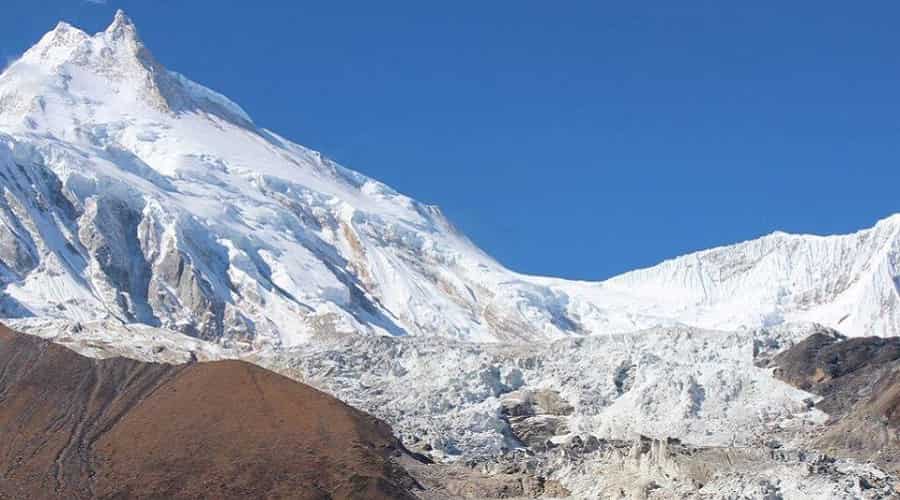 Admired for its beauty and challenging terrain accompanied with moments of scenic serendipity Manaslu Peak beautifies the west central region of Nepal. Situated as a part of the Mansiri Himal region of the Nepal Himalayan ranges, the word Manaslu can be translated into 'mountain of the spirit' and it is a Sanskrit word which means soul or intellect. This is also the highest peak in the district of Gorkha and it is easily accessible from all sides to the mountaineers due to the presence of several ridges which leads to the summit of the peak which is the dominant towering feature that looms above the world below and can even be viewed from far away. It is also the prominent part of the Manaslu conservation area and is a very well protected entity of Nepal. The trekking trail here is established on an ancient trading route that goes via the Burhi Gandak River.
Elevation – 8,163 metres above sea level
Also Read
6- Dhaulagiri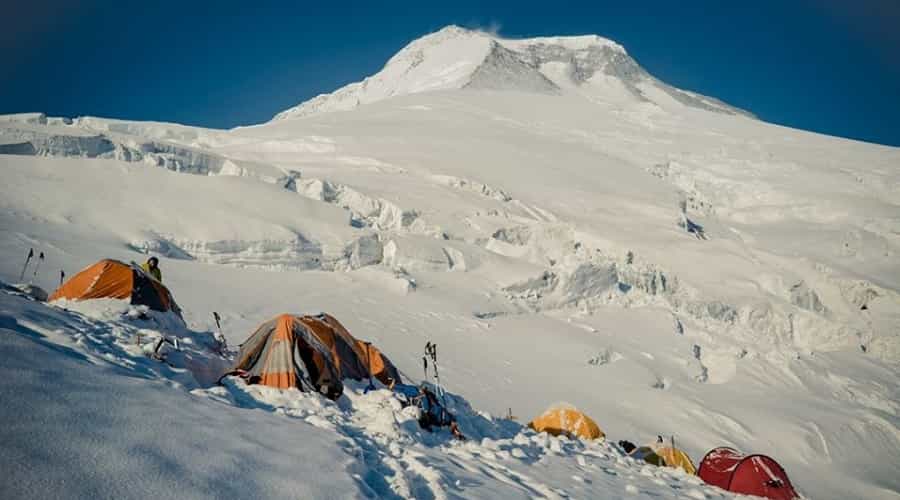 Deemed for being one of the most beautiful mountains in Nepal this particular name is the combination of 2 Sanskrit words 'Dhwala' which means white, dazzling and beautiful where as 'Giri' translates into mountain. All the trekkers have kept this place at the top if their list for resembling a piece of heaven on earth. This is one of the most offbeat mountaineering destinations in Nepal and offers the perfect opportunity for people to walk all over the expansive, untouched and least explored regions. A unique thing about this place is that no matter where you stop and take a look around you will be greeted with magnificent views of the glistening world below. June to mid-July is the time when the place reaches its pinnacle vibrancy and makes every step of your way and effort extremely rewarding and totally worth it.
Elevation – 8,167 metres above sea level
7- Mount Cho Oyu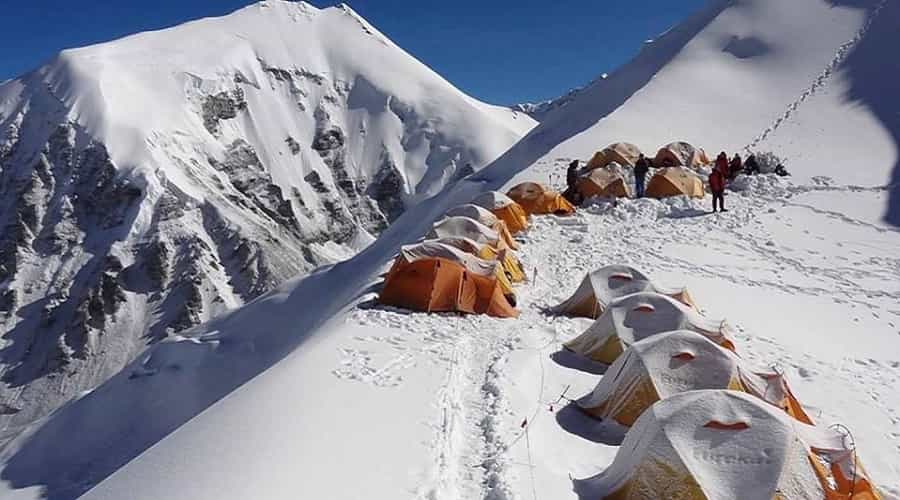 This majestic mountain range forms a naturally occurring border in between China and Nepal and it means the 'turquoise goddess' in Tibetan language. There are a lot of folk legends related to this mountain making it also one of the most significant religious structure in Nepal. Famous as the 6th highest mountain peaks in the world this peak also makes for the westernmost peak of the Khumbu part and is located at a distance of 20 kms from Mount Everest. Sherpas and Tibetan traders in general utilize a glaciated pass of Nangpa La as a major trading route. This is also considered to be one of the most- easy going 8 thousander peaks in the world to ascent. It is the perfect option for a beginner mountaineer to get a grip of the higher Himalayan peaks. The beauty of this place cannot be described perfectly in words.
Elevation – 8,201 metres above sea level
8- Ama Dablam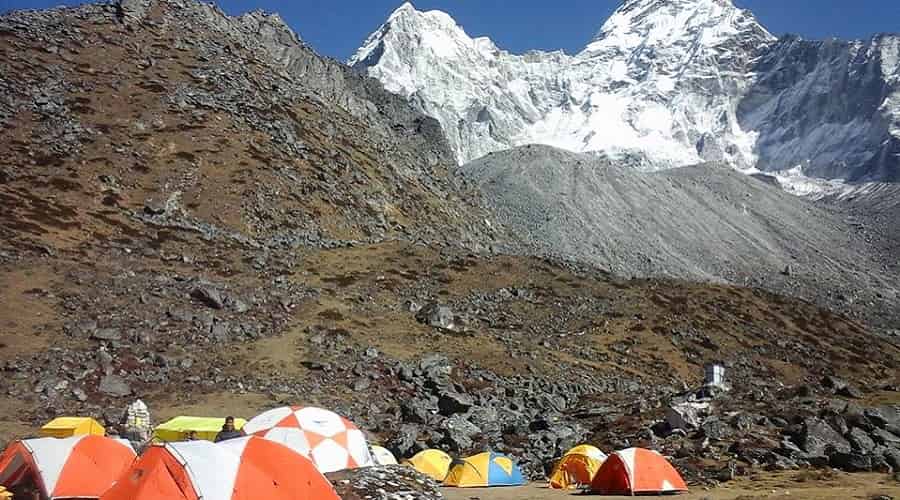 Rising high and jutting through the ground and reaching for the sky above Ama Dablam is a true testament of nature's art at its best. Adorning the eastern end of the Himalayan Nepal range the literal meaning of this place translates into 'mother's necklace'. The most distinctive feature of this snow bound peak is that the ridges leading up to the summit on either sides reaches out like a mother's arm protecting her child. The term Dablam describes a glacier which hangs like a beautiful pendant. People trekking up to Mount Everest will be accompanied and overlooked for a long time by this peak which is considered to be a must visit for mountaineers planning to try and go for the Alpine peaks. It is also famous for being one of the most aesthetic climbing routes which also includes incredibly stunning views of the massif of Everest which, in real time, is breath taking.
Elevation – 6,812 metres above sea level
9- Kala Patthar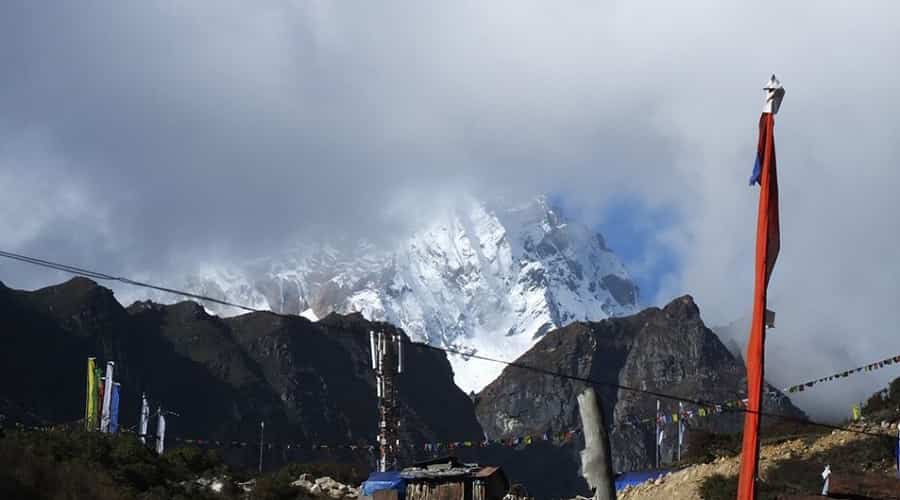 Literally translating into 'black rock' in not only Nepali but also in Urdu and Hindi, this amazing landmark beautifies the southern ridge of Pumori which is located within the Nepalese Himalayan region just above Gorak Shep. Although not considered to be one of the many other challenging peaks dominating the region, Kala Patthar is primarily utilized by avid trekkers for its expansive and wide ranging view of peaks like Nuptse and Changtse also a very close up view of Mount Everest. Reaching up to the top of this snow covered range trails through numerous prayer flags, idyllic village hamlets and a river that will keep you company for a long time. It will also take the explorer through dense forests of pine and oak where one can relax, sit back and observe some much needed peace. An interesting fact about the mountain is that one does not require a permit to climb it.
Elevation – 5,644 metres above sea level
10- Hiunchuli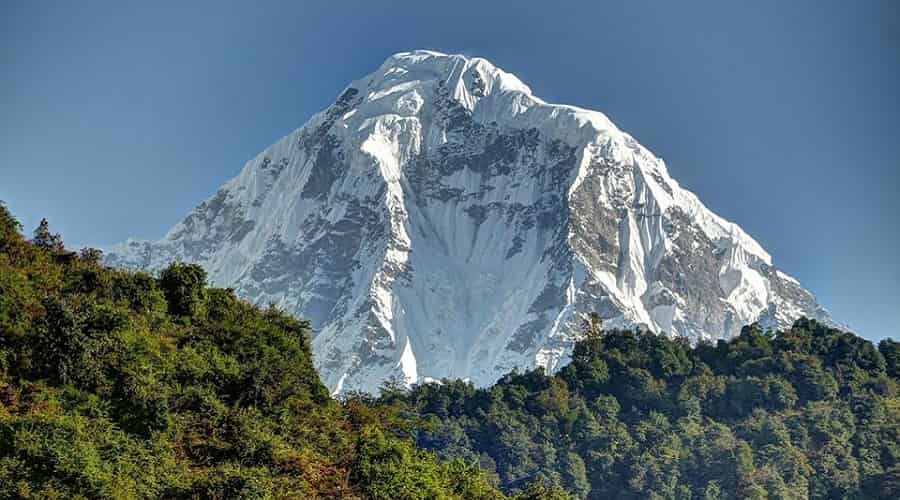 Dominating the central region of Nepal Himalayas is the snow bound mountain peak of Hiunchuli and is an extension of Annapurna south. The only access for the Annapurna sanctuary lies in between this peak and Machapuchare via a narrow section of valley. This mountain has been classified as one of the best trekking peaks in Nepal but is also known from being a difficult trail to cover owing to its unexpected rock falls and treacherous routes. Due to its remote and relatively inaccessible location Hiunchuli is one of the lesser known and off beat routes taken up by various explorers and travelers from all over the world. From the northern end the path to this mountain peak rises gradually and becomes more steep with every step this trekking expedition is not meant for beginners and requires expert trekking experience. Ever since its exploration in 1971 this peak has been attracting off beat peaks of the world.
Elevation – 6,441 metres above sea level
11- Gaurishankar
Adorning behind the stunning snowy peak of Melungtse the name of this mountain is derived from the name of a manifestation of Hindu Goddess Durga, Gauri. This visually enchanting peaks and range of mountains is the 2nd highest peak on the Rolwaling Himal. This place is held at a very high regard by not only Hindus but Tibetans as well due to its name. One of the most notable features of this peak is the presence of 2 summits at its peak which are the northern and southern summits that goes by the names of Shankar and Gauri respectively. The characteristics of this peak is defined and made distinct due to the presence of steep faces and various ridges on all sides making accessibility possible. Mostly avid mountaineers and trekkers make their way to this stunning white peak from the months of April to May and from September to October when this place remains thronged with explorers, tourists and visitors looking for a getaway from the maddening crowd of the sightseeing places in Nepal.
Elevation – 7,134 metres above sea level