Temples have always fascinated me. I will tell you of my experience of going to a unique Shiva temple near Bhavnagar. During last Christmas, I had gone to Bhavnagar in Saurashtra or North Gujarat for couple of days. I had read about a Shiva Temple called Nishkalank Mahadev temple, and so wanted to go and explore it more.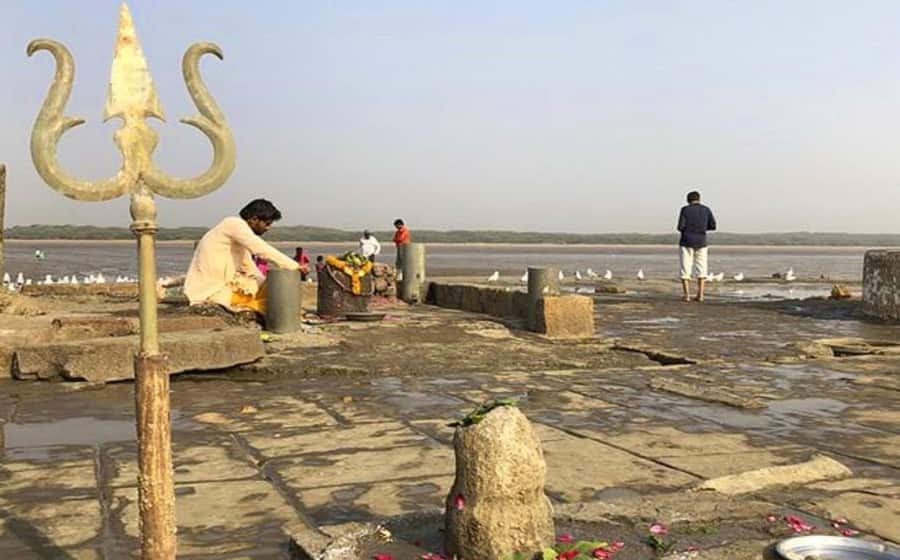 History of Nishkalank Temple
Before, going to the temple, I started to read about its history and what it holds. Established in Koliyak near to Bhavnagar, Nishkalank Temple is reckoned for its unique feature. One cannot look over the entire structure of the temple as it remains under the sea water throughout the year and only the pillar and the flag can only be seen. The pilgrimage holds an interesting mythology stating that to atone the sins of their Mahabharat war, Lord Krishna had sent Pandavas along with a black cow and flag. the Lord had told them that if those two things they were carrying would turn white then they would be free from their sins so when Pandavas reached here that black flag and cow turned into white. Pandavas also meditated here for some time and this made Lord Shiva impresses so he appeared in front of them and blessed him and resided himself here in the form of Shivalinga on a full and new moon night in the month of Shravan.
Journey and the Structure of the Nishkalank Mahadev Temple
Did not face any issue in reaching there early in morning by bus. When I reached there, I could not see the temple. I asked the priest" where the temple is, and I was shown a flag and a pillar stating, that the temple is inside the sea and will be visible when the tide goes down. The priest told me, that there are 5 Shiva Lingams inside the temple. He told me to complete my worship before 1 to 7 pm before the tide comes in again."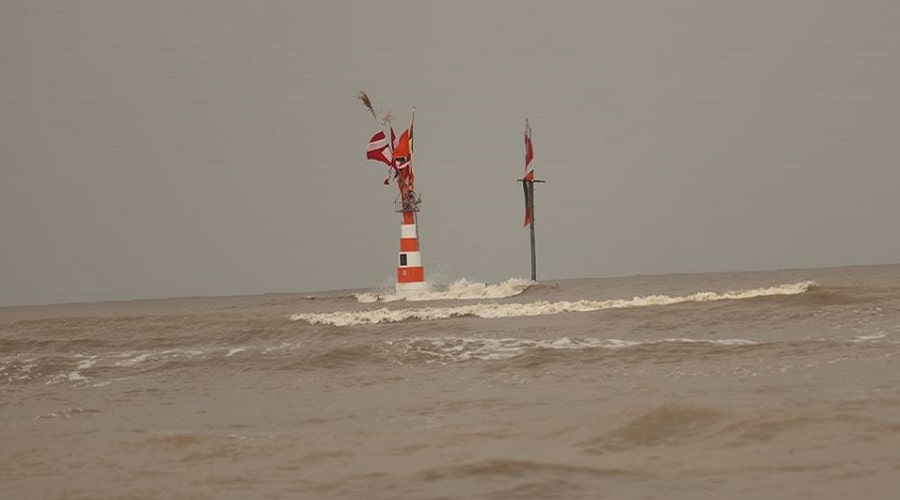 The tide receded and I could see the temples. The word 'Nishkalank' means purity, clean, and guiltless. I had just missed the famous fair of Bhadarvi by 4 months which is held in August at this place. I reached the temple and was told to wash my hands and legs, in a pond called Pandava Pond before going to the temple. The temples or Shiva Lingams are placed across a square platform with Image of Nandi the bull facing each of the Shiva Lingams. I could see young and adult people, who had come for worship offering their prayers with milk and water. All wanted to offer their worship and see the spectacle of tide coming over again. The tides are active between the full moon day and the new Moon day
The temple I saw was about 2000 ft long and about 500 ft in height. There is a guest house for people coming from far locations in name of 'Dharamshala'. Since it is near an isolate area, there are no near facilities for food eating and a hospital. The Aarti is performed in morning at 6 30 am and in evening at 7 pm
Back home After Bhavnagar Trip
Upon my enquiry, I was told that the temple festival starts by flag hoisting on the name of the Bhavnagar King, which remains throughout the year and then replaced by other flag.  I performed my worship and went back to watch the tides come back and cover the temple. It was a sight to watch. When I started back for home, it was almost 6 pm.
Fortunately, I got a bus back home which stopped for dinner on the way, and I reached around 8 pm back home. I had clicked some pic, which I will remember throughout my life for my visit to the temple.