Some Facts and Figure about Chandigarh
Location: Foothills of the Shivalik Range of Himalayas in northwest India
Area: 114 sq km (44.5 sq mi)
Population: 1,055,450 (Provisional – 2011)
Average Elevation: 321 metres (ranging between 302-365 metres) above MSL
Monsoon: July to September
Average Rain Fall: 1110.70 mm
Temperature Range: There are great variations in temperature ranging from -1 to 44 degrees Celsius. The city is known for mild winters and very hot summers.
Air Port: 11 kms from City Centre
Railway Station: 8 kms from City Centre
By Road: Well connected to neighbouring states, Air-conditioned and other buses available. Inter-state Bus Terminus in Sector 17. Delhi: 148 kms, Jaipur: 507 kms and Shimla: 120 km
Best Season to Visit: Autumn – Mid-August to November
As a young person I had an earnest desire to settle in this city, but could not get posting on my first employment as my profile did not match any position in the Department at that time. Three decades later I landed in this city not as a matter of choice but forced by circumstances. The city sounded quite different to me – expanded, populous but vibrant and still a destination yearned by many in this part of the country. In spite all this big time gap I love this city called 'Chandigarh, the City Beautiful'.
A Bit Historical
A Union Territory in India, Chandigarh is the capital of two states, Punjab and Haryana, in addition to its own, a unique status fabricated by history. Conceptualised as an alternative to Lahore after partition of Punjab state which remained in Pakistan, this became a dream project of Le Corbusier, a world famous French Architect. Even after six decades, people still talk about the passion its creator had to make it a most planned city in India. On a wider spectrum, there have been some major architectural changes even if the planning for the new sectors had developed in the duration of the past 2 decades. Apartment type buildings have come up in a row in new Sectors and it has, in fact, become a preferred mode of finding an abode in view of dwindling of land available for constructing homes.
Location and Planning
Google Map shows the location of the City. The city is divided into Sectors, each sector is about 800 meters x 1200 meters enclosed by roads on all sides but the houses do not have a direct access to these roads. Each Sector is designed to be self-sufficient unit with cluster type housing. There is ample open space available in each Sector and there is are markets to cater to the daily needs of the residents in each Sector.
It is one of the greenest cities in India with 1400 nos. of green belts/parks/gardens.
Sukhna Lake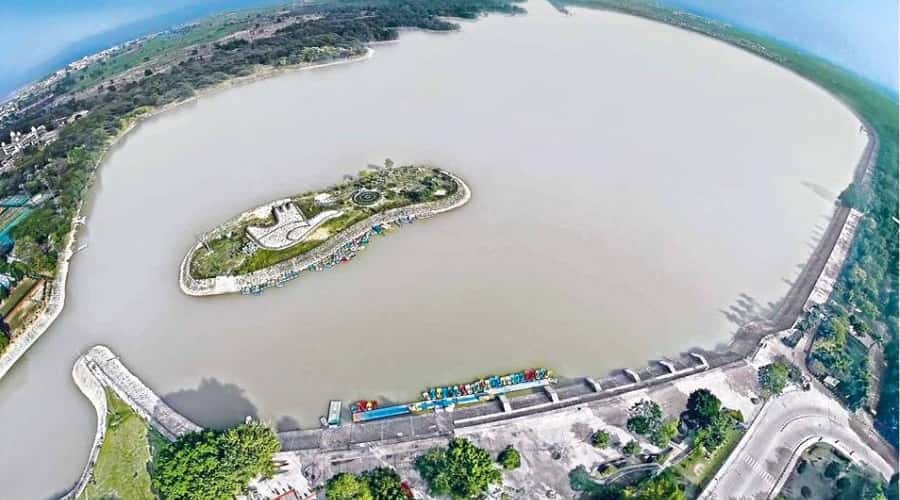 If you love cool breeze, serenity and a view of the nature's bounty, then you cannot find a better place for your morning walk than the long shore of Sukhna Lake. Jogging, yoga and morning exercises by people of all age groups are the common scenes at dawn and long walks and relaxing while watching others engaged in boating and water skiing clubbed with birds playful swimming are common scenes till late evening. A great picnic spot, the lake has been declared as a protected national wetland by the Government and the city citizens take pride in de-silting the lake voluntarily once in a year.
Boating at Sukhna Lake
Many of the tourists enjoy boating specially in the evening. These are not motorised boats to maintain the tranquility at this spot. You have to paddle till you get tired to enjoy boating here
Birds in Plenty
Many birds will surround you as you sit on the shore. It you are lucky you may find many migratory birds in the winter.
Rock Garden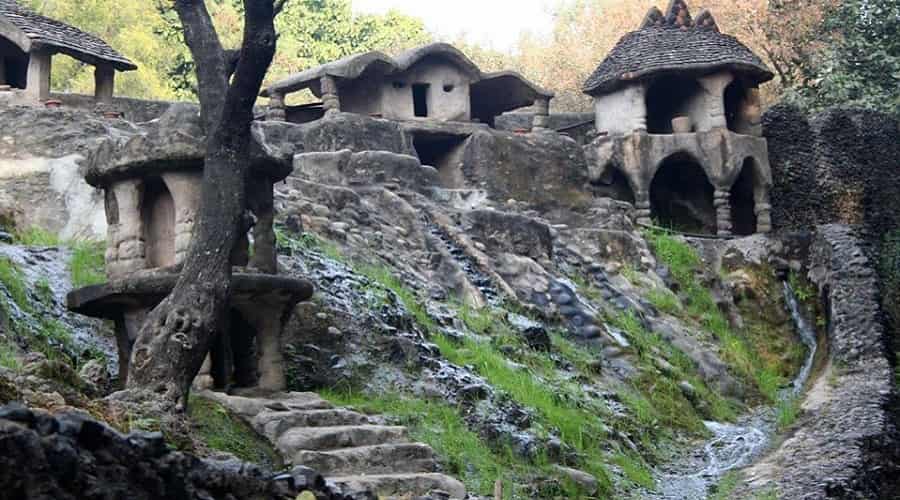 Started with a mission to create a small garden by clearing a part of jungle this single handed endeavour by a humble official ended up with creation of a structure which happens to be one of the most visited spots in Chandigarh today. Mr Nek Chand picked up stones from the nearby hills visualising abstract shapes in them, used his bicycle to transport them stealthily to the site being cleared, fixed those stones along with other picked up waste materials from debris including broken pieces of chinaware, glass bangles, used fluorescent tubes and any other material junked during huge construction work of this city. Sandwiched by Sukhna Lake and Capitol Complex this twenty five acres of land having unique sculptures and waterfalls now is a world acknowledged fantastic piece of human imagination.
Rocks and Waterfall make a Joyful Combination
The structures including some persons standing at the top are actually silhouettes created from waste material
The Capitol Complex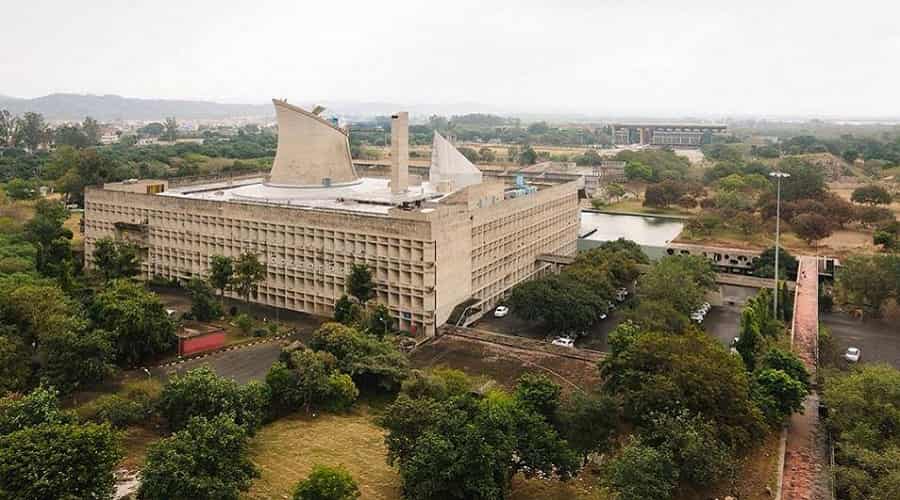 This Complex comprises three main concrete buildings, representing a group of most prestigious of all the architectural displays of Le Corbusier. The buildings shared by the authorities are Punjab and Haryana States Legislative Assembles, Secretariats and the High Court.
The open hand is truly a remarkable and defining feature in this entire complex which is placed in the central region. This symbolises the whole ethos of the city meaning open to receive and give.  Really giant a sculpture, it is made up metal sheets and 85 feet high. It can rotate with the direction of wind and considered to be the official emblem of Chandigarh
The State Legislative Assembly
Houses Legislative Assemblies of Punjab and Haryana States. The shape at the roof top adds to the grandeur of this spectacular building
High Court Building
It serves as a court for both Punjab and Haryana.
Secretariat
Perhaps the tallest and the most spacious building at Chandigarh
Museums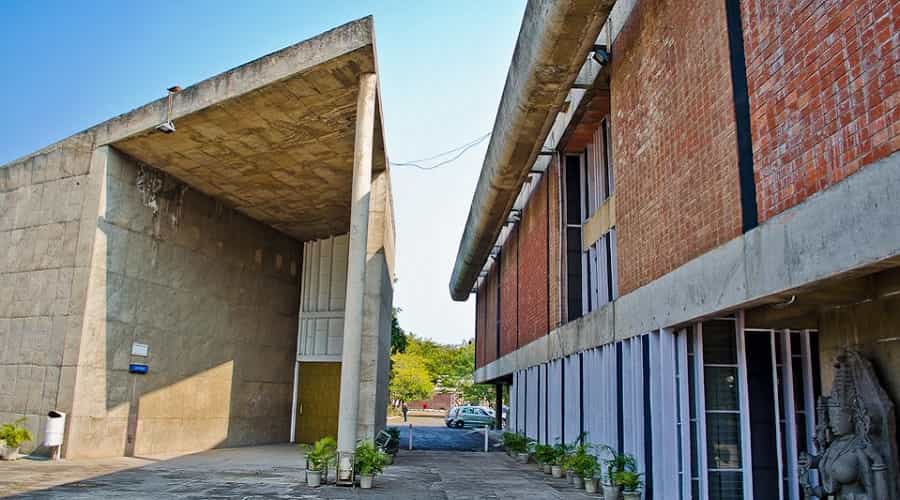 There are 5 museums which can be utilized as sources of acquiring knowledge and amusement also.
(a) Government Museum and Art Gallery: Many tourists get attracted to this to see the Indian miniature paintings, Gandhara, ancient, metal and medieval sculpture and decorative and contemporary arts.
(b) Museum of Evolution of Life: Indus Valley Civilization to the day of visiting is a long period in history. A tourist can recapitulate over 5000 years. Depicting evolution from unicellular organism, the museum offers a repertoire in galleries on astronomy, History, Botany, Biology, Archaeology and Geology.
(c) The National Gallery of Portraits: Tourists interested to have a detailed view of the freedom struggle of India can have a glimpse of historic developments from 1857 to 1947. Sculptures and posters of all those linked with the freedom struggle are placed in this Museum.
(d) The Chandigarh Architecture Museum: 'Depicting Chandigarh today and Tomorrow', this Museum are for those interested to see original drawings, sketches and other documents used during planning and construction of the City.
(e) International Dolls Museum: Established with the main objective of amusement of children, this Museum houses a section with beautifully attired men and women from different Indian states. Fascinating dolls from different countries like Denmark, Germany, Russia, Netherlands, Spain, Korea and others allure people of every age.
The first four are located in Sector 10 and there is a reference library with over 10,000 books including rare books and journals. International Dolls Museum is located in Sector 23.
Buddha's Sculptures
Such sculptures are in plenty in this part of the museum
Fine Arts Museum
It is a pleasure to see the beautiful surroundings of this Museum.
Gardens and Parks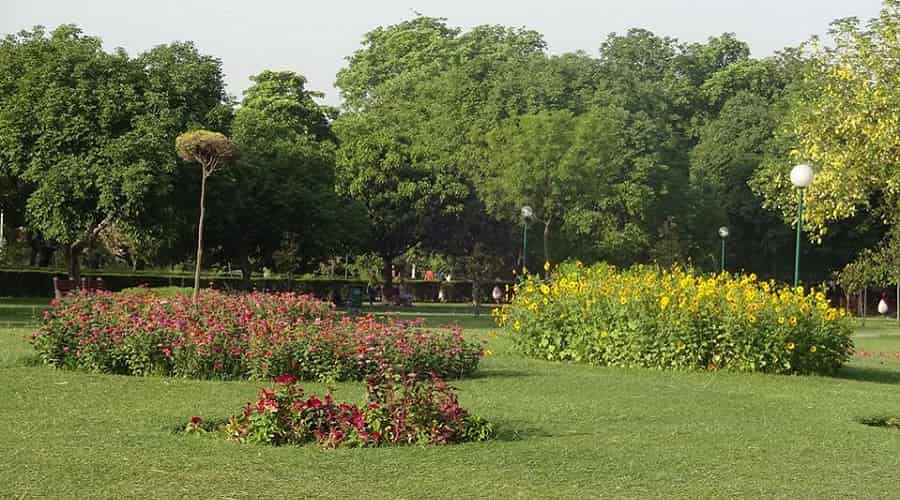 Chandigarh has many gardens and parks attracting tourists. In Sector 10, Rose Garden, the most famous among these, is spread over 30 ares of land, has over 1600 varieties of roses and considered to be the largest Rose Garden in Asia. Those visiting in late February/early March may be lucky to visit the annual Rose Festival displaying roses of many competitors and celebrations.
Each Sector has parks or a garden with a theme and these are visited by the citizens for morning walks or for evening strolls.
Some Thematic Parks
At top is Garden of Fragrance (Sector 36)
Left below is Shanti Kunj (Sector 10) , beautifully designed with sprawling lush green lawns.
Right below in Sector 49 is a park under construction with a theme 'Valley of Animals'