Devbhoomi is a rather apt name for the beautiful land of Uttarakhand, for its picturesque landscapes are complemented by the sacred spiritual abodes strewn across its terrains. It's as if the land is akin to a beautiful poem coloured in the shades of spirituality. The state could well endorse itself as the land of pilgrimages for the sheer number of holy destinations it holds in its mantle. Take the case of the highly coveted char dham yatra – pilgrimage to Yamunotri, Gangotri, Badrinath and Kedarnath. Or the highly revered Panch Prayag, Panch Kedar and Panch Prayag destinations. In addition, there are also individual pilgrimage spots that should be on your list of places to visit during the yatra. Most people just make plans to undertake the Char Dham yatra and be done with it but there are lots more in Uttarakhand. They can gain more spiritual knowledge and solace if they visit as many pilgrimage spots as possible in an epic journey that takes in all or most of these destinations. Places to Visit in Chardham Yatra, Let's get started.
1. Haridwar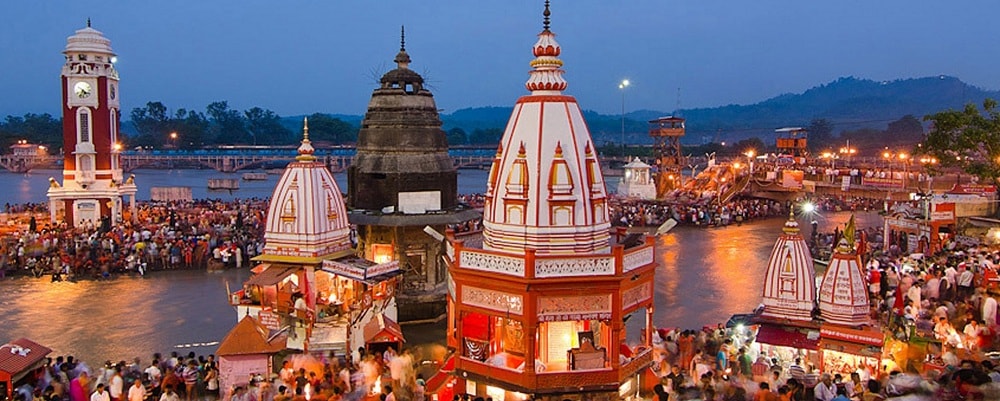 Haridwar is the starting point for the Char Dham yatra and pilgrims arrive here by train, by road or by air only to rush off to Rishikesh for the onward yatra. Wait a while and explore this ancient and holy city.
Mansa Devi temple is dedicated to Goddess Mansa located on the banks of the Ganges and it is accessible on foot or by the use of a cable car. Devotees flock to the temple, tie a symbolic thread to a branch of the sacred tree in the premises and devoutly pray to have their wishes fulfilled. This ancient temple is worth a visit.
Har ki Pauri is a landmark place on the banks of the Ganga, a place where people perform rites for the peace of souls of their departed ancestors, a place where a dip cleanses you of sins and also a place where the gloriously magnificent Ganga Aarti at dusk is a sight to behold.
Chandi Devi temple atop the Neel Parvat is accessible through a bus ride and it is a Siddha Peetha where devotees fervently believe their wishes are granted by the Devi.
2. Rishikesh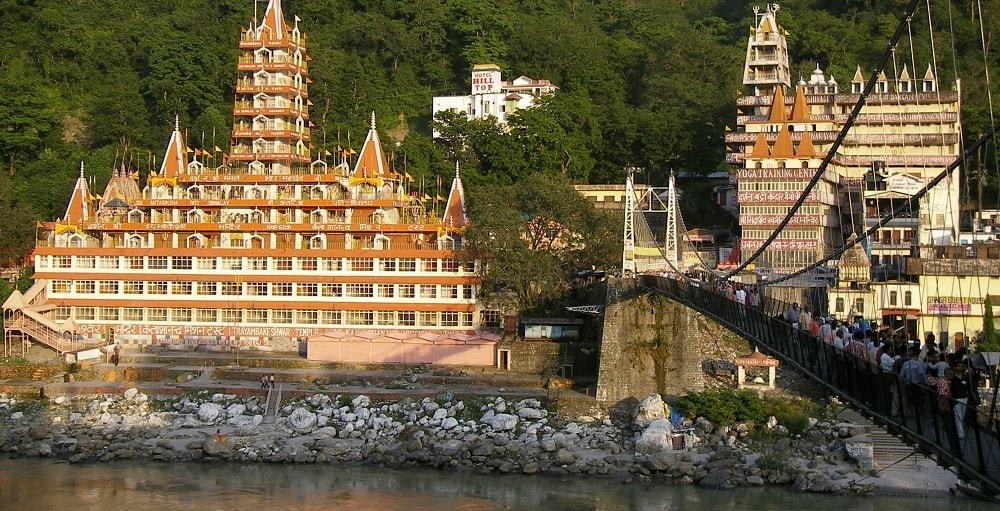 The true starting point of the Chardham yatra is Rishikesh so you arrive here but instead of rushing off straightaway, explore this city of yoga and yoga ashrams.
Triveni Ghat is one place you must visit because this is where the holy Ganga meets the equally holy Yamuna and confluences with the mythical Saraswati. Take a dip here and you are cleaned of your sins. Sit back and relax as dusk falls and the Maha Aarti gets underway.
Neelkanth Mahadev temple is dedicated to Lord Shiva as Neelkanth—his throat turned dark blue when he swallowed poison that emerged during the great Samudra Manthan whence the name—and a much-visited place.
Trimbakeshwar Temple is an imposing 13 story high temple again dedicated to Lord Shiva. One can reach it by crossing Laxman Jhula Bridge. The bridge is believed to have been built by Lakshman, brother of Lord Rama and it is another historic landmark you should visit.
The pilgrimage of the city over you can proceed to Uttarkashi for the onward trip to Yamunotri but why not take the Dehradun-Mussoorie-Barkot route instead? It is highly rewarding so here we go off to Barkot via Dehradun and Mussoorie.
3. Dehradun-Mussoorie-Barkot
Kempty Falls is where most pilgrims stop and enjoy a refreshing "shower" under the waterfalls and then proceed to Mussoorie Lake for a brief interlude of boating.
Robber's Cave is a place you must visit before proceeding to Barkot simply because it has a bit of history and beauty of nature in the form of a cave through a rivulet flows to disappear and then reappear elsewhere. The cave also has some tiny waterfalls.
Sahastradhara is another soul-satisfying serene waterfall with the additional benefit of claiming to possess medicinal properties. Bathe and camp here for a while before proceeding to the next destination in Dehradun.
Lachchiwala is a fine picnic spot to enjoy a bit of lunch and enjoy birds in full flight before you go on to Barkot.
Barkot is a staging post for the Yamunotri yatra, a small and quiet hill resort known for its old Shiva temple and a wonderful view of the Himalayas in the distance. A couple of hours here is time well spent.
Hanuman Chatti may be perceived as the starting point for the Yamunotri trek but it has lots more on offer in the shape of Darwa top, Dodi Tal and the Hanuman temple that you may include in your places to visit while here, which should be quite rewarding.
Janki Chatti is where you arrive by road from Hanuman Chatti and alight for the padayatra or foot journey to Yamunotri temple but stop. There is a hot water spring where you can bathe before taking on the 6 km trek by foot or use a palanquin to reach Yamunotri but not before a stop at Kharsali.
Kharsali is just 1 Km from Janki Chatti where you visit the Shani Dev Temple and pray to Shani Dev to remove obstacles. Kharsali also happens to be the winter residence of Yamuna Devi.
4. Yamunotri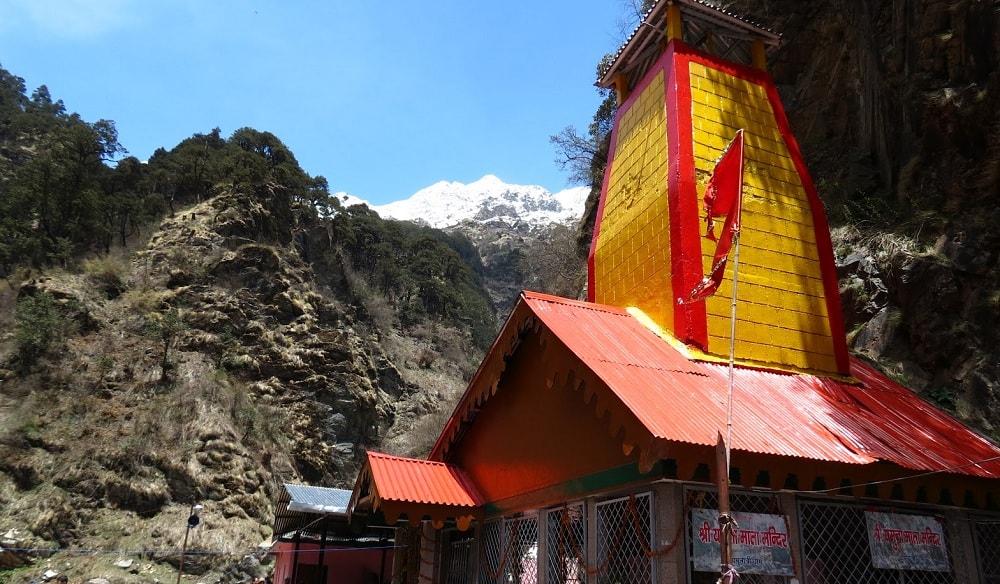 Joy fills your soul on beholding the Yamunotri temple and so you proceed with a heart full of hope.
Suryakund is the place where all pilgrims stop to pay respects to the Sun God, father of Yamuna and then boil the obligatory offering of rice and potatoes in a cloth. The hot water cooks the offering you carry along to the next stop.
Divya Shila is a divine rock pillar where you pray before entering the temple.
Yamunotri temple is now just a couple of steps away and you enter, pray to the Goddess and exit with your heart full of peace.
Champasar Glacier should be the next spot to visit because it is close but then there is no harm in giving it a miss because you have to climb a steep slope.
Prakateshwar Cave falls en route to Uttarkashi and the cave is known for a Shivlinga in limestone, perhaps a reflection of Amarnath.
5. Uttarkashi to Gangotri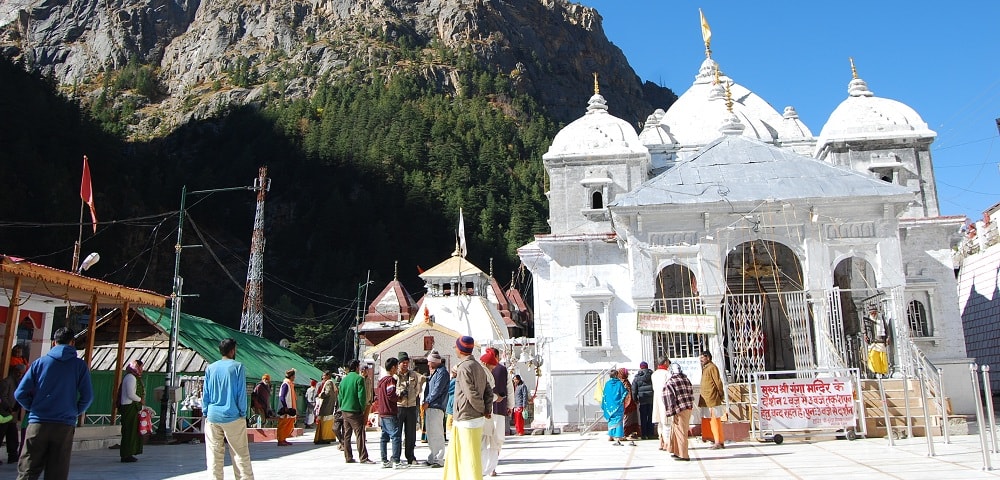 On the banks of the Bhagirathi River, Uttarkashi is a town dotted with temples and a stopover on the way to Gangotri. Stay for a day and explore its attractions which are:
Shakti temple dedicated to Goddess Durga where you seek her blessings and go on to
Vishwanath temple dedicated to Lord Shiva, the spot where Lord Shiva saved Markandeya from Yama. Proceed onwards to the next stop on the pilgrimage.
Gangnani is known for its thermal spring where you take a dip in the Rishikund teeth.
Harsil on the banks of the Bhagirathi is home to Sat Tal, a beautiful lake just 7 km away and well worth the effort.
Dharali is about 2 km from Harsil so take a walk to this picturesque orchard village and munch on the crunchy fruit before tracing your footsteps to Mukhba.
Mukhbha is the winter residence of Goddess Ganga, a hamlet of wooden huts set against pines and rhododendrons. Visit the winter shrine of the goddess before going on.
Bhairon Ghati is about 10 km on the road to Gangotri at the confluence of Jat Ganga and Bhagirathi where you find the Bhairon temple.
Submerged Shivlinga is what you will come across on your way to the Gangotri temple, a natural rock shivlinga visible only when the water level recedes.
Gangotri is where you reach from Bhariton temple and pray to the Goddess to wash away your sins and grant you your wishes.
Bhagirath Shila is a rock dedicated to King Bhagirathi whose penance brought Ganga down to earth and you pay respects and thank him here.
Suryakund waterfalls is a picturesque spot just 1 km ahead of Gangotri temple and a must visit the place.
Pandav Gufa is not far from Suryakund and it is believed the Pandavas rested here after the battle and before they ascended to heaven.
Gaumukh Glacier is not for everybody because it involves a trek of 18 km uphill on foot and you also have to obtain a permit but for anyone who takes the trouble the view is more than just rewards.
Tapovan and Nandanvan are ahead of the Gaumukh glacier and if you wish to have a view of the Shivling peaks that will stay embossed in your memories do take this trek even though it is tough.
Half of the Chardham yatra is over and you have taken in a lot but the tougher half remains and the next stop is Kedarnath. It can be reached through Uttarkashi-Tehri- Mayali-Ghansali-Ukhimath-Guptkashi-Sonprayag or from Srinagar but since you are already close to Uttarkashi, it is best to take the Ukhimath road to Kedarnath pilgrimage.
6. Ukhimath
What makes Ukhimath so special is that it is the winter residence of Lord Kedarnath as well as Lord Madhyameshwar as well as being home to other temples.
Kali Math temple is one of the 108 Shakti Peethas with this one dedicated to Goddess Kali, the place where Kali is said to have destroyed Raktabeej, the demon.
Madmaheshwar temple is dedicated to Lord Shiva and forms part of the Panch Kedar chain of temples in Uttarakhand, the place where the central part of the anatomy of Shiva is worshipped.
Omkareshwar temple is another spot where pilgrims make it a point to stop and worship Lord Shiva before proceeding onwards with the Kedarnath yatra.
7. Gupt Kashi
A picturesque town on the banks of the Mandakini River, Guptakashi is overshadowed by the Chaukhambha peaks and its claim to fame is that Lord Shiva proposed to Goddess Parvati on this spot and that the Pandavas prayed to Lord Shiva for pardon and this is where he transformed himself into a bull to avoid them.
Ardhnarishwar temple is home to Goddess Parvati and Lord Shiva where the goddess is in the form of half man and half woman.
Vishwanath temple claims to house a shivlinga that was originally located in the Vishwanath temple in Kashi or Banaras and, as such, it is a must visit pilgrimage spot.
Manikarnika Kund is a pond fed by springs said to be Yamuna and Ganga and therefore a holy spot to bathe and wash off your sins.
8. Sonprayag
Take a break at Sonprayag to bathe at the spot where the Basuki and Mandakini rivers confluence and then walk to Triyugi village to worship at the temple of Lord Vishnu, the Triyuginarayan temple, the spot where Shiva actually married Parvati.
9. Gaurikund
Gaurikund is from where one prepares for the tough 16 to 20 km trek to Kedarnath so you might just as well stop and recharge your batteries here while baking in the hot waters of the Gaurikund. Visit the Gauri temple because it is a part of the ritual. This is where Goddess Parvati performed penance to get Lord Shiva as her husband and this is where Shiva blessed Lord Ganesha with an elephant head. This done you can now gird up your loins for the 16 odd km walk to Kedarnath or take it the easy way by hiring a pony or palanquin or even get into a helicopter for fast yatra to Kedarnath.
10. Kedarnath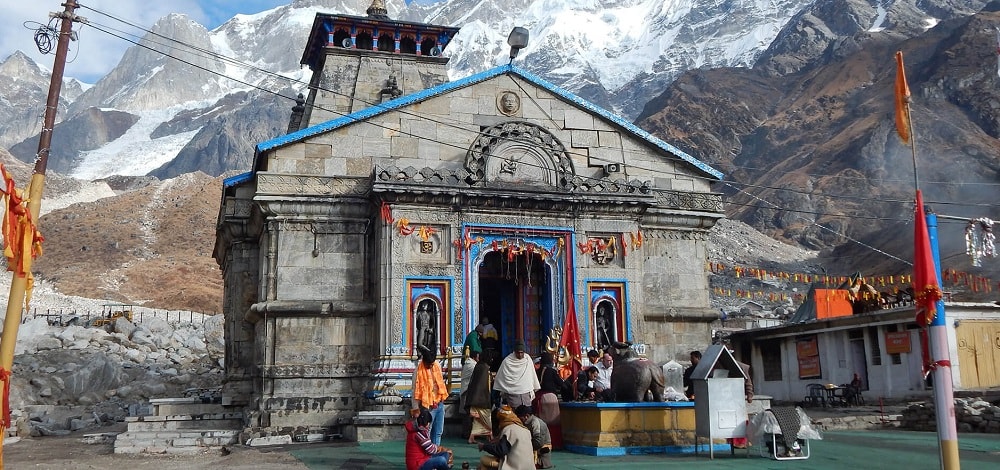 Located at a height of 3583 meters the temple of Kedarnath sits on the banks of the Mandakini River with the Swargarohini peaks in the distance. You bathe in the river and proceed to the temple for darshan of the Lord.
Vasuki Tal or lake lies about 8 km and if you have come this far why not just trek a little bit more to the place where Lord Vishnu is said to have bathed? The view is just breathtaking.
Bhairav temple is dedicated to Bhairavnath who traditionally acts as a guard for the Kedarnath temple.
The Tough Kedarnath yatra is over and now only Badrinath remains to be visited. You can return to Ukhimath and travel via Chopta to Chamoli, Joshimath, and Vishnuprayag. Another route is from Rudraprayag to Chamoni, Joshimath, and Vishnuprayag. Regardless you have to arrive at Chopta so you can take either route and stop at Chopta.
11. Chopta
Chopta is a picturesque hill resort that is gaining popularity for a wide range of leisure time activities like mountain climbing and rappelling. However, it is home to pilgrimage spots:
Chandrashila Peak as the name implies gives you a magnificent 360-degree view of the surrounding Himalayan scenery with the Tungnath temple, one of the highest Lord Shiva temples in the world, just 1 km below.
Tungnath temple is ancient and if it were not for the fact that it is difficult to access, it would be a more popular pilgrimage spot. This is where Lord Shiva's arms reside while he eluded the Pandavas and split his body into parts forming part of the Panch Kedar circuit.
Gopinath Temple is located in Chamoli, another picturesque resort near Chopta, home to Lord Shiva. People worship the Trident that Lord Shiva aimed at Kamdev, God of Love.
You have options on which way to proceed to reach Badrinath Dham. One route takes you this way.
12. Nandprayag
Nandprayag is located at the confluence of the Alaknanda and Mandakini and it is part of the holy panch prayags or confluences. Nandprayag has a small temple you can visit on your Badrinath yatra.
13. Joshimath
Joshimath is a small town, the staging post for the onward yatra to Badrinath. However, it is equally famous for the 3 Km cable ride that connects it to Auli, a winter resort. Do take the cable ride for the astonishing view. If you like you can take a detour to visit the Valley of Flowers and Hemkund Sahib, a trek that is like walking through a Swiss Meadow.
Narsingh temple is a must visit spot because it is the winter abode of Badrinath.
Shankaracharya math is said to have been established by Adi Sankaracharya and it houses idols of Lord Badri and Rajarajeshwari Devi in separate temples inside the complex. It must be remembered Adi Sankaracharya was responsible for opening up char dhams to Hindus and therefore a visit to this temple is obligatory.
14. Vishnuprayag
Located at the confluence of the Dhauliganga and Alaknanda, Vishnuprayag in Chamoli is one of the panch prayags most Hindus must visit as part of their char Dham yatras in order for it to be complete. Take a dip in the Vishnu Kund and then proceed to the temple dedicated to Lord Vishnu before proceeding onwards on the Badrinath yatra leg.
15. Hanuman Chatti
More popular as the starting point to the Badrinath yatra, Hanuman Chatti has a temple dedicated to Lord Hanuman and praying to him here removes obstacles in your path. This is where Hanuman is said to have bested Bhima in a show of strength.
16. Pandukeshwar
En route to Badrinath, you will come across Pandukeshwar where you must visit the Yog Dhyan Badri mandir and worship Lord Vishnu seated in a dhyan mudra. This location forms one of the seven badris in Uttarakhand and the temple is as old and important as Badrinath itself, the next step in your pilgrimage.
17. Badrinath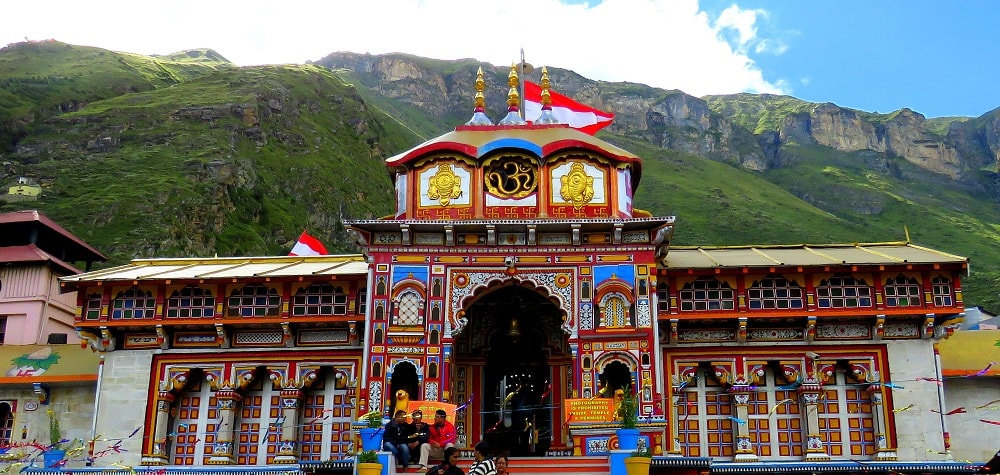 According to legend Lord Vishnu meditated and performed penance for thousands of years in freezing cold and Laxmi, his consort, turned herself into a Badri tree to protect him from which is derived the name Badrinarayan. The temple has a black saligram stone worshipped by deities and the aarti is a sight to behold. Pay your respects and after darshan proceeds to other important places in the vicinity.
Tapt Kund as its name implies is a hot water spring with medicinal properties so do take a dip before entering the temple.
Narad Kund is nearby and it is the place where Narad is said to have composed the Narada Bhakti Sutra and where Adi Sankaracharya discovered the idol residing in Badrinath temple.
Mana village is the last outpost on the Indian border next to Tibet where you will find Vyas Gufa or cave to Vyasa who composed the Mahabharat here. There is also a Ganesh temple here because Ganesh helped Vyasa compose the epic.
Bheem Pool is a natural rock bridge that Bhima built by placing rocks across the Saraswati River so that the Pandavas could go on to ascend to heaven.
Saraswati River may no longer be visible but its importance has not diminished and it is a belief that the Rig Veda was composed on its banks here but a small rivulet is said to be Saraswati and is accordingly reversed.
Vasudhara Falls is a beautiful and charmingly idyllic spot not far from Mana with a great view of the Himalayas, well worth the trouble you take to trek to it.
18. Karnaprayag
Karna, the son of Surya by Kunti, mother of Pandavas, worshipped his father here at the confluence of the Pindar and Alaknanda rivers and it is here that Karna was cremated after his death in Mahabharat. There is an old Karna temple and Uma Devi temple that one must visit besides bathing in the confluence to wash away sins.
19. Rudraprayag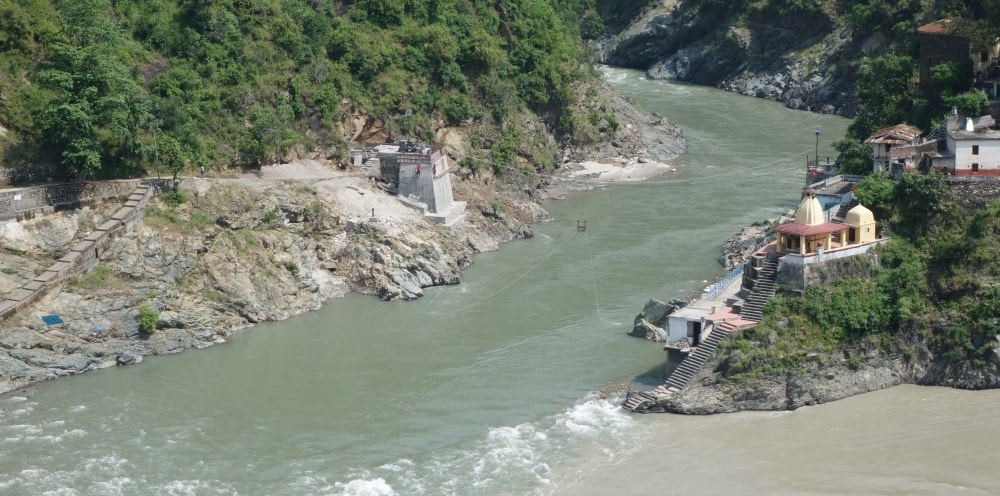 Rudraprayag is a bustling town on the confluence of Mandakini and Alaknanda, one of the Panch Prayags. Shiva appeared in his Rudra avatar and blessed Narad at this spot. The view from above of the confluence is breathtaking and this done you proceeds to other locations in and around Rudraprayag.
Chamunda Devi temple, the wife of Lord Rudra, is worshipped here and pilgrims fervently pray to have their wishes granted. Rudranath temple is dedicated to Lord Shiva in his Rudra avatar and that makes it a must visit the place.
Koteshwar temple on the banks of the Alaknanda, located inside a cave is another temple dedicated to Lord Shiva, just 5 kilometers from Rudraprayag town center. Lord Shiva prayed to Lord Vishnu for his help to destroy the demon Bhasmasur and succeeded.
Kartik Swami Tempe is located at some distance from Rudraprayag on Nagnath Pokhri route at a height of 3050 meters. This temple is one of the very few dedicated to Lord Kartikeya, son of Lord Shiva and Parvati. What will strike you is the ineffable beauty of the scenery you can view from this height.
Hariyali Devi temple is about 35 km from Rudraprayag, one of the 58 Siddha Peetha in India dedicated to Hariyali Devi, a manifestation of Vaishno Devi.
20. Agastmuni
Agastmuni is a staging post for the Kedarnath yatra and it also has a helipad for Kedarnath helicopter yatra. Agastmuni also has religious significance due to the location of the Agasteshwar Mahadev temple dedicated to Lord Shiva.
21. Srinagar
Far different from its namesake in Kashmir, Srinagar en route to Kedarnath is located alongside the Alaknanda and makes one of the starting points of the trek to Kedarnath.
Kamleshwar Mahadev temple is one of the attractions here, the temple dedicated to Lord Shiva, the place where Lord Rama prayed to Shiva.
Dhari Devi temple on the banks of the Alaknanda is an unassuming temple but of importance to devotees. This is where Goddess Dhari is supposed to change her looks from a small girl to a woman to an old lady as the day progresses.
22. Devprayag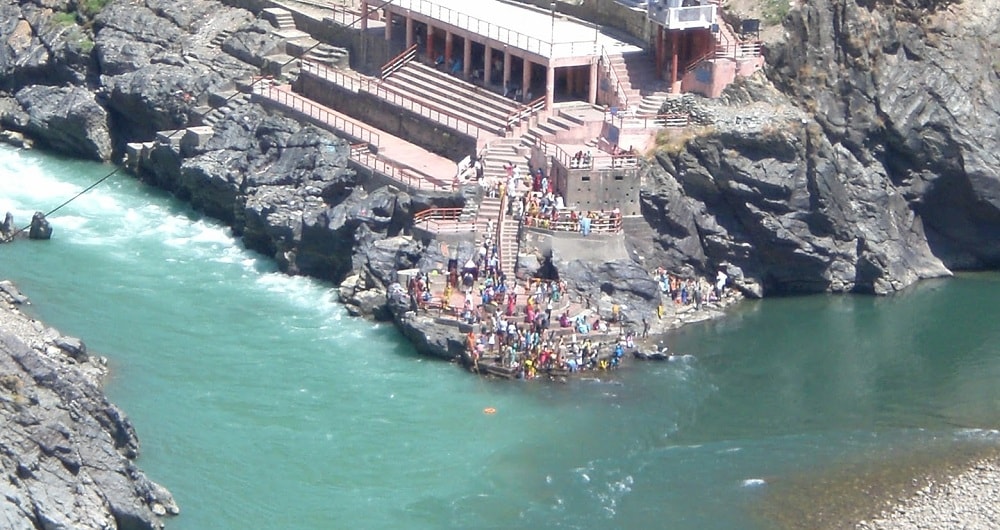 One of the panchayats, Devprayag is where the Alaknanda meets the Bhagirathi in a turbulent meeting and bathing here is obligatory to wash away sins. There is more to Devprayag:
Raghunath temple is dedicated to Lord Rama housing carved idols of Ram, Lakshman, and Sita, and it is obligatory for pilgrims to pay their respects to the Lord.
Brahma Kund and Vashishta kund are two holy ponds on the banks of the two rivers, a place where people take a dip before visiting the Raghunath temple.
Baital Shila is enveloped in steadfast belief that bathing in the water of the spring emanating from the Shila or Rock can cure one of any disease.
There are of course other places of the Chardham yatra route such as Patal Bhuvaneshwar but that is for another time. If and when you plan a Chardham yatra try to take in all these places. It will be so much more memorable than just a vanilla trip to the four spots. You get a much more rounded perspective of the spirituality, history, and culture of our ancient India.
Suggested Tour: