The historical place of Gaya is one of the most sacred destinations in the state of Bihar and is home to come of the most iconic and legendary temples and places of worship. The place is not only a significant religious destination for Hindus but is also holds importance in the lives of Jains and Buddhists as well. The place has found its mention in various Hindu religious books of Mahabharat and Ramayan as the place where ram accompanied with Lakshman and Sita had come to do the Pind Daan ritual for their father king Dashrath. There are numerous places of religious interest dedicated to various gods and goddesses for devout Hindus to explore and truly feel closer to the lord.
Mahabodhi Temple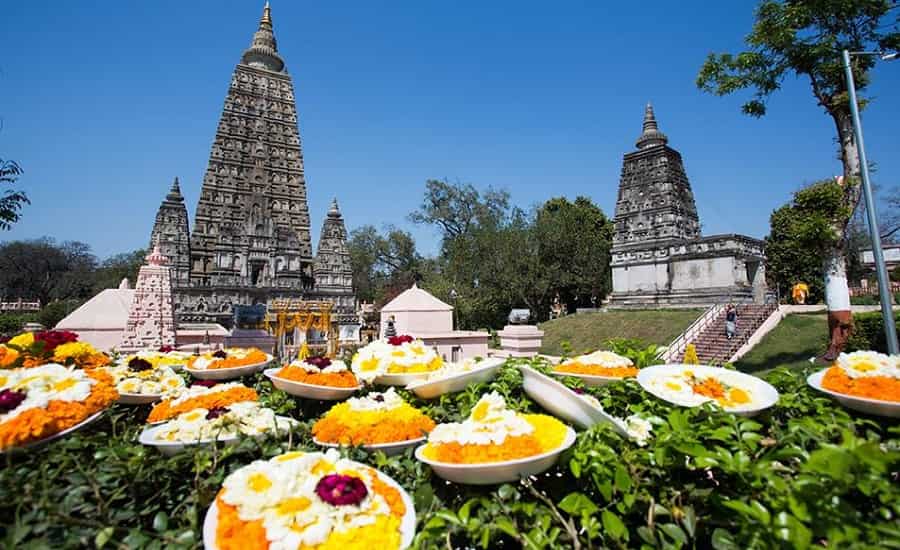 This UNESCO world heritage site is probably the most significant landmark of Gaya and is visited by devout Buddhists from India and across the globe as well. Literally translating into 'the great awakening temple' the temple marks the spot where lord Buddha had attained his enlightenment and is also home to the famous Bodhi Tree under which he had performed severe meditation for nirvana. The construction of this temple which has become a major pilgrimage site was built by Ashoka who was an avid Buddhist himself and wanted to spread the word of Buddhism all over the world.
How to Reach – 30 minutes of road journey from Gaya bus stand taking the Hario road and crosses Wat Thai Buddhabhumi.
Entry Fee – Rs.100/- per person; Rs.300/- extra for video cameras
Timings – 5 am to 9 pm
Also Read
Great Buddha Statue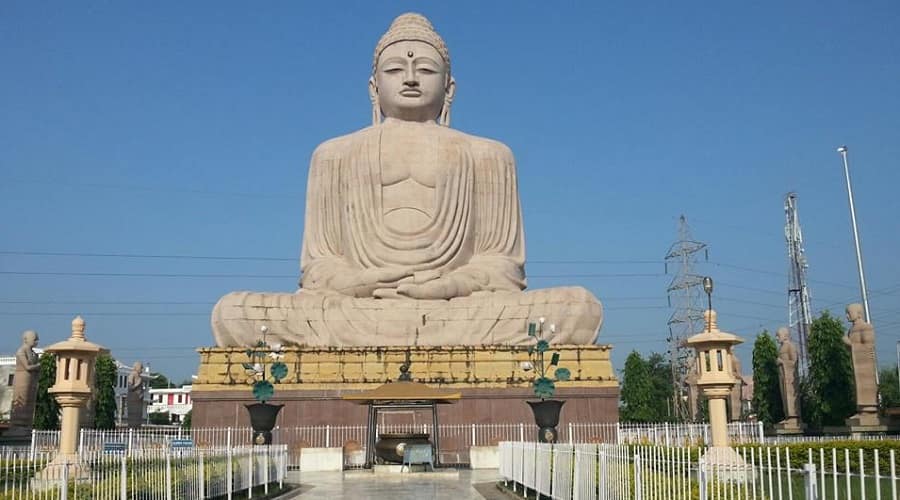 This is one of the many different stops people make during their pilgrimage journey in India. The statue is named so since it is built at a staggering height of 64 feet. The Buddha is shown in a Dhyaan Mudra or the meditation pose on top of a lotus in open air. This intricate structure is built by using a mixture of sandstone blocks and red granite which took around 7 whole years to be completed with the help of 1200 masons. This is largest statue of India was opened for visit after its completion by his holiness 14th Dalai Lama.
How to Reach – 30 minutes of road journey from Gaya bus stand
Entry Fee – Free Entry
Timings – 7 am to 12 pm / 2 pm to 6 pm
Thai Monastery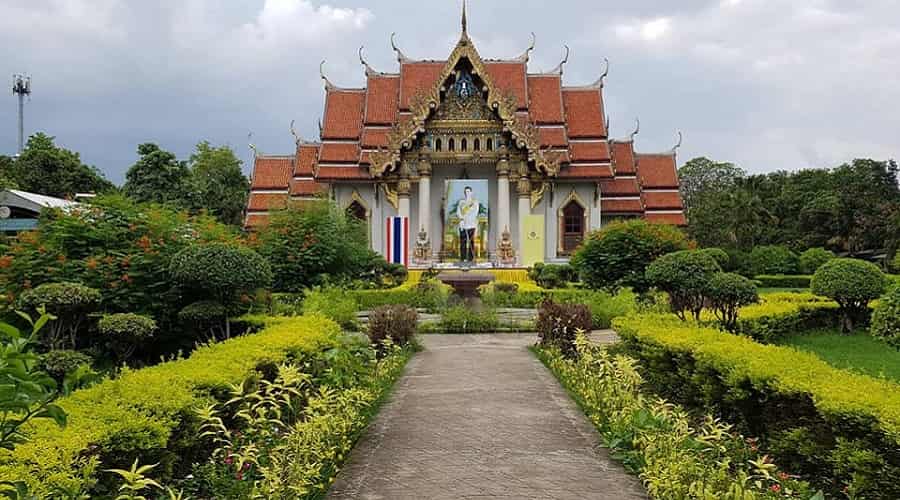 Built by Thai monarch in 1956 this is the only Thai temple in India which was done as a sign of strengthening relations between the 2 countries along with the aim of spreading the world of Buddhism. The sloping and curving roof of the monastery's structure which is covered with golden tiles will make you feel like you are in Thailand. Greeting your inside the monastery will be a 25 metre high statue of Buddha with his hair neatly tied in a bun. Every nook and corner of the monastery from within is decorated with images and intricate carvings of Buddha in different forms.
How to Reach – 35 to 40 minutes of road journey from Gaya bus stand
Entry Fee – Free entry
Timings – 9 am to 6 pm
Royal Bhutan Monastery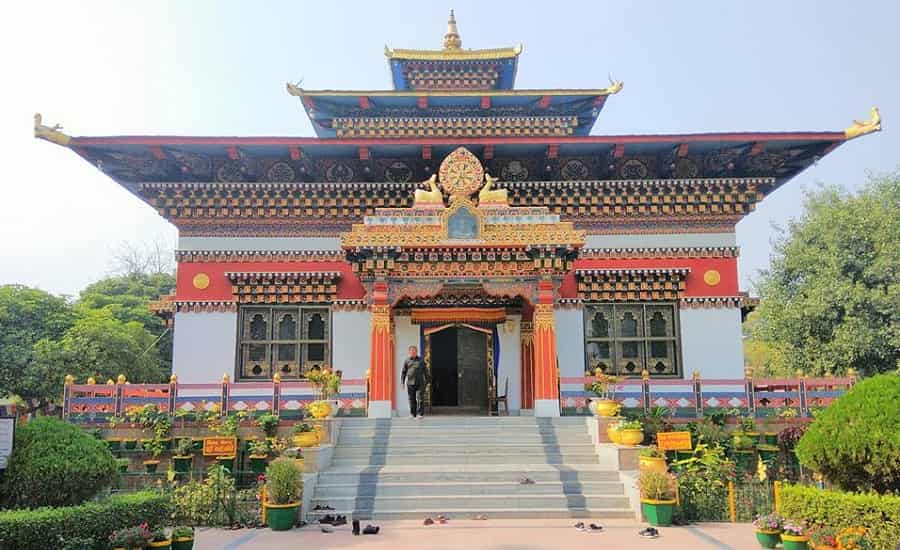 Built featuring the traditional Bhutanese architecture and adorned with intricate carvings in the interior of the life and times of Lord Buddha, this place is the epitome of peace and calm. Visited by Buddha followers from all over the world the temple within the monastery features a statue of Buddha that rises up to 7 feet and every inch of the interiors if neatly carved out with imagery depicting various life stages of Buddha which is a very unique aspect of this monastery. There are also spacious rooms available within the monastery complex if you wish to spend your days seeped in spirituality and peace.
How to Reach – 20 minutes of road journey from Gaya bus stand
Entry Fee – free entry
Timings – 7 am to 7 pm
Vishnupad Mandir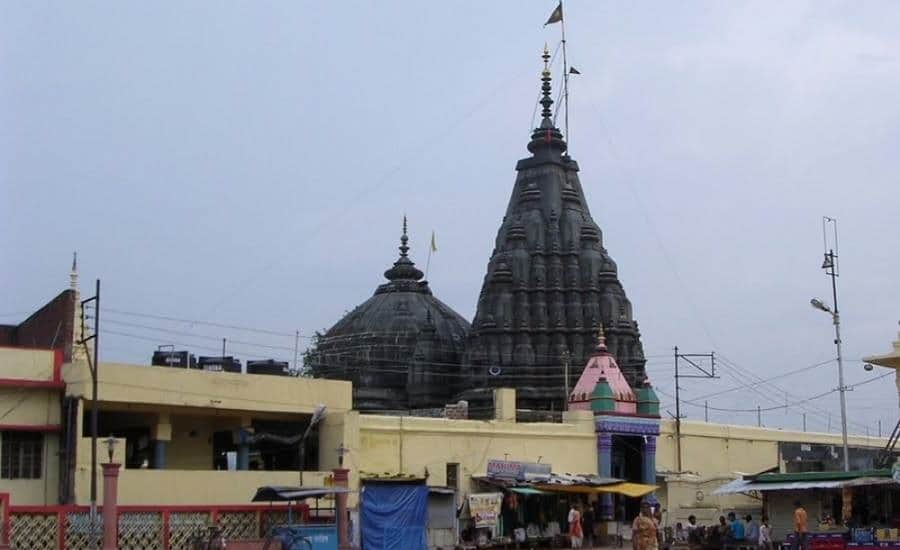 Located on the banks of the holy river of Falgu is the temple that houses the foot prints of Lord Vishnu. The marks are incised into a block of basalt and serves as the central imagery of worship to the visitors. This ancient temple has been visited by several iconic and legendary saints such as Chaitanya Mahaprabhu, Ramanujacharya, Ramakrishna etc. the historic and religious importance of the temple had been recognised long back and ever since then it had been visited by massive crowd of Hindu devotees and especially Vaishnavites across the globe.
How to Reach – Less than 20 minutes of road journey from Gaya bus stand
Entry Fee – Free entry
Timings – 6:30 am to 7:30 pm
Barabar Caves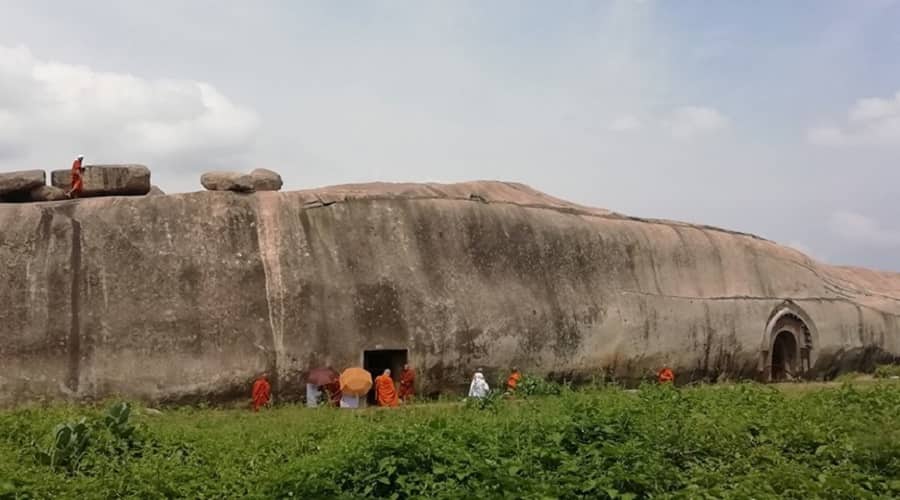 These caves are the oldest surviving rock cut caves in India which dates back to the time of the Mauryan empire rule in 322 – 185 BCE. In the olden days these caves were utilised by the ascetics belonging to the sect of Ajivika which was founded by Makkhali Gosala – a contemporary of Gautam Buddha and Mahavira. Sculptures present inside the caves show depictions of Hindu and Buddhist beliefs. Most of these caves consists of 2 chambers which are entirely carved out of granite and offers you a fun echo effect.
How to Reach – The caves are located on top of a hill. Visitors have to climb up. 1 hours 20 minutes from the Gaya bus stand.
Entry Fee – Free entry
Timings – 6 am to 6 pm
Also Read
 Muchalinda Lake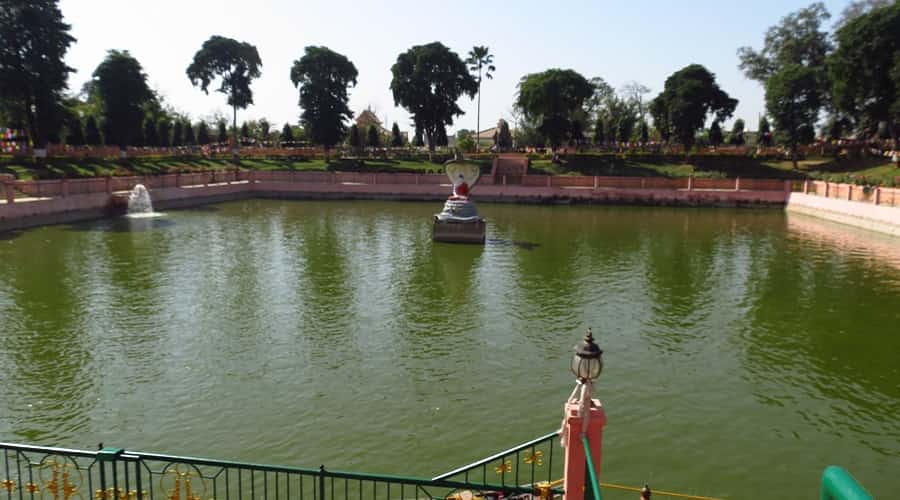 Situated on the right side of Mahabodhi temple is the famous Muchalinda lake which is also referred to as the lotus pond. The lake is surrounded by peaceful beauty and allows the people to have a quiet time amidst the lush greenery along with a beautiful statue of lord buddha sitting in a meditating pose on top of a snake coil. The water in this pond is deemed to be very sacred and is home to a number of fishes who the visitors feed puffed rice. The legend associated with the pond is that it was here while Buddha was meditating, he was protected by the snake king from the sudden and harsh storm.
How to Reach – 25minutes of road journey from Gaya bus stand
Entry Fee – Rs. 20/- per person
Timings – open 24 hours
Mangala Gauri Temple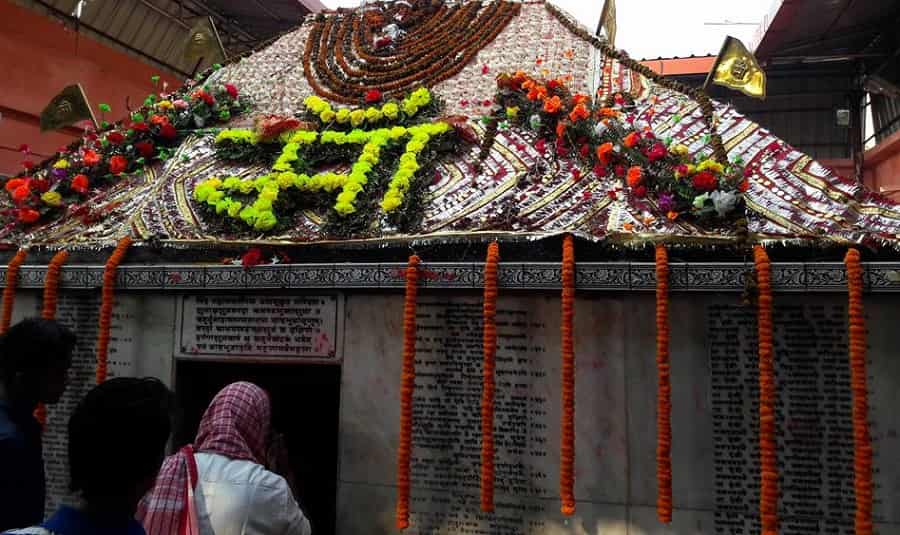 This holy temple has found its mention in various holy Hindu books like that of the puranas and other tantric works as well. The temple is one of the 18 Maha Shaktipeeths in India and its construction dates back to around 15th century. The main deity who is worshipped inside is sati and is one of the most prominent pilgrimage destinations among the Vaishnavite community. It is a common belief here that if anyone worships the goddess with deep devotion then their prayers are answered. it is a simple temple built in a typical Hindu style with a small main shrine accompanied with a courtyard.
How to Reach – 15 minutes of road travel distance from Gaya bus stand
Entry Fee – Free entry
Timings – 6 am to 8 pm
Dungeshwari Cave Temples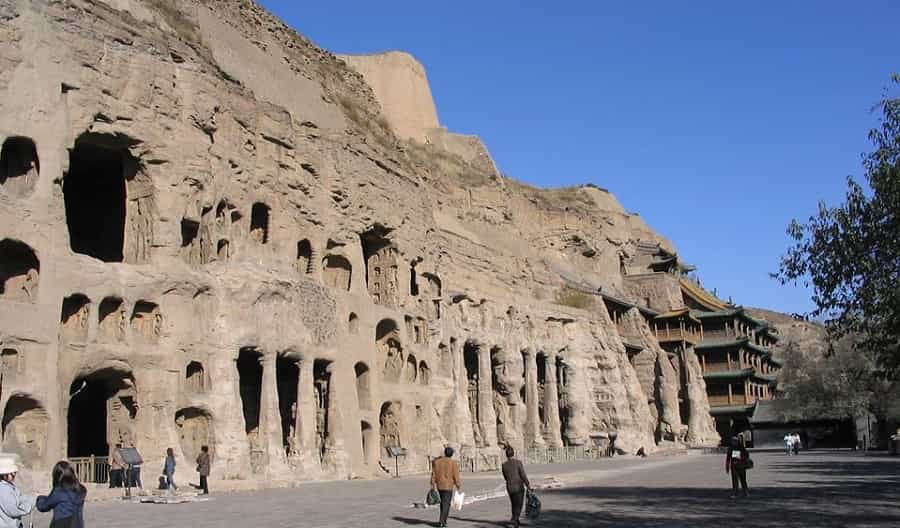 This cave temple of Gautam Buddha is situated 12 kms away from the main city of Gaya amidst scenic and peaceful surroundings. It is believed that Buddha had meditated in these 3 caves before making his trip to Bodhgaya. Present inside the cave is 6 feet tall golden idol of Gautam Buddha in a meditative pose and is known as Sujata Sthan (the woman who had given Buddha food when he was starving and famished). This is one of must visit places if you are on an excursion of Gaya and it also makes for a good place to getaway from the fast paced city life.
How to Reach – 12 to 15 kms from Gaya can be covered by road in a cab, taxi, bus or autorickshaw.
Entry Fee – Free entry
Timings – 10 am to 5 pm
Koteshwarnath Temple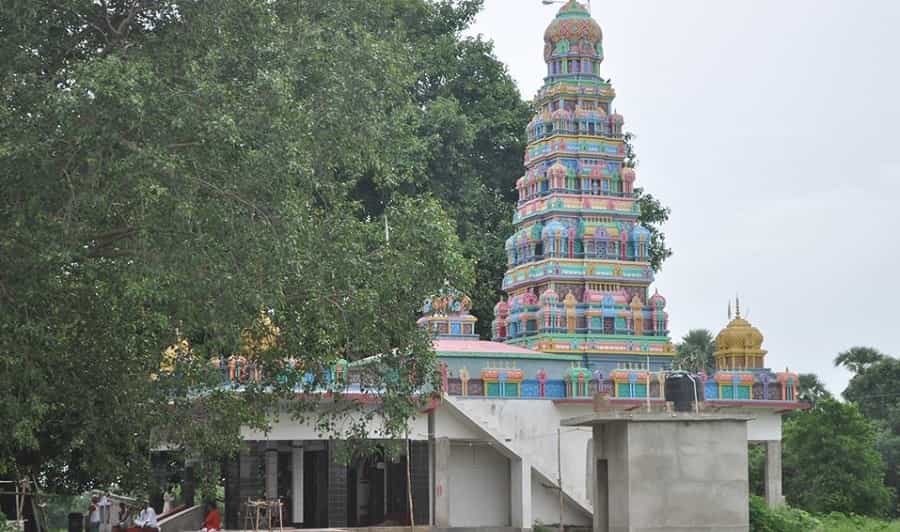 This holy temple is located right on the confluence of river Morha and Dargah and is dedicated to lord shiva. Initially referred to as the Shiv Nagar during the ancient times, it is said that the presiding Shiv Linga which is worshipped here was established during the Dwapar Yuga by Usha the daughter of king Banasur. A visit to this place has proven to fulfil all the wishes of a devotee who asks with a pure heart. The Saawan months sees a huge turnout of devotees looking to offer prayer. The temple is a very nice and peaceful place of worship especially if you are an ardent Shaivite.
How to Reach – well connected with roads from all sides of Bela Rampur, Tekari, Makhdumpur.
Entry Fee – Free entry
Timings – 9 am to 9 pm
Vietnamese Temple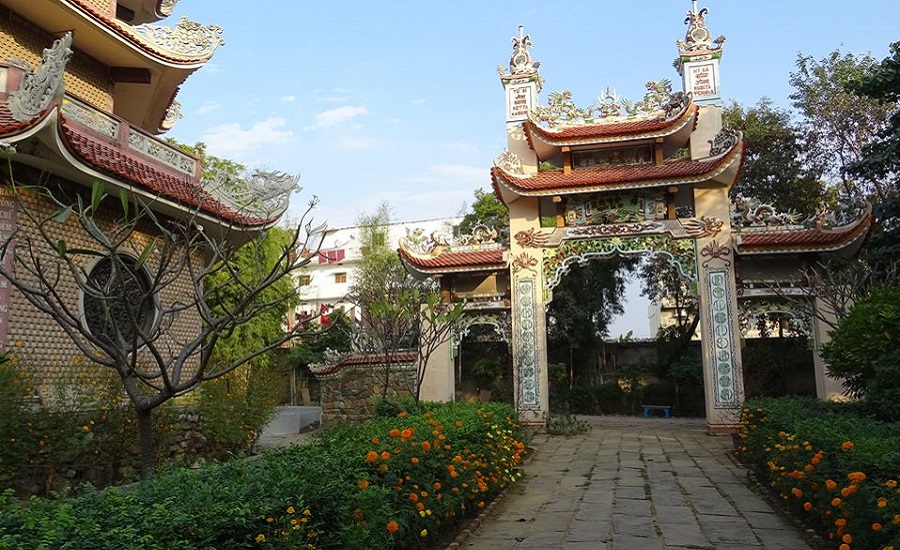 This is a very beautiful and peaceful place of worship within the heart of the city. Covered in lush greenery and an aura of deep spirituality, the temple allows you to go up the stairs and perform some serious meditation in one of the halls here. it is famous for its serene environment and the opportunity it gives to visitors to just relax and clear their mind. You can even choose to stay here for the night for some more peacefully spiritual experience and the courteous staff here will be happy to do so.
How to Reach – 40 minutes of road distance from Gaya bus stand
Entry Fee – Free entry
Timings – 5 am to 8 pm
Ratnaghara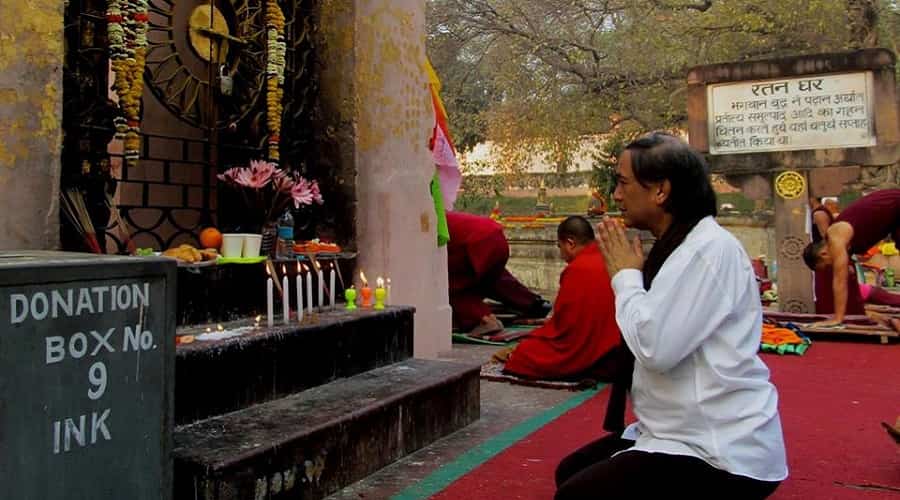 The name of this place literally translates into 'jewel house' and holds immense importance to Buddhists since it is here where Buddha is said to have performed meditation while reflection on Patthana. It is here that various colours were emitted out of Buddha's body which can now be seen on the Buddhist prayer flags. It is a very peaceful place where one can perform meditation and feel closer to the lord. There is a huge Buddha statue that will greet you on entering the premises which is a very beautiful and masterful work of art.
How to Reach – Almost 20 minutes of road journey from Gaya bus stand
Entry Fee – Free entry
Timings –   7 am to 6 pm
Burmese Monastery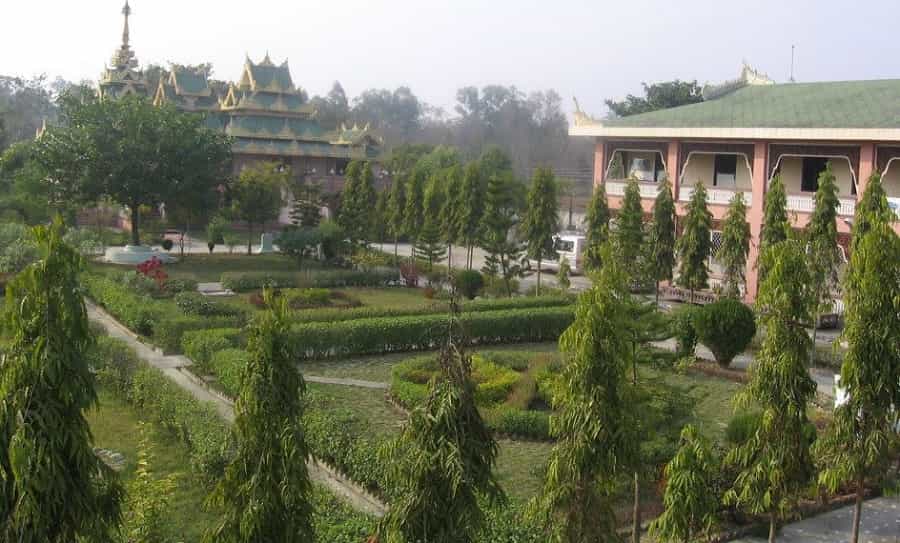 Tucked away from the main centre chaos of the city, and following an offbeat beaten path the temple structure is very beautiful and is doused in a peaceful aura. If you like you can speak respectfully with one of the monks here and get to know about their culture and traditions. The entry for the monastery is located in very close proximity to the Mahabodhi temple complex which makes the whole environment here very spiritual and tranquil. Once you are done with your holy experience inside you can indulge in shopping for some artefacts, spiritual idols and memorabilia etc.
How to Reach – 30 minutes rad distance from Gaya bus stand
Entry Fee – Free entry
Timings – 7 am to 4 pm
Archaeological Museum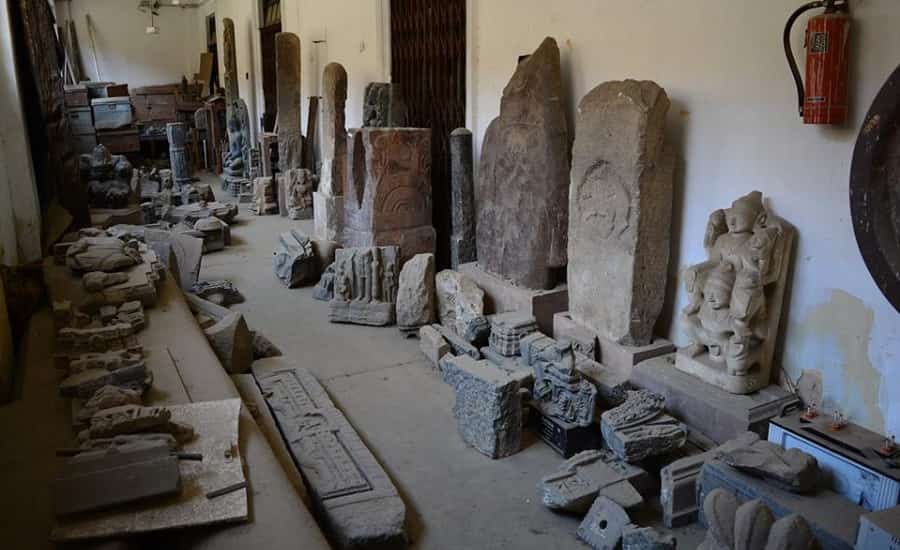 Established in the year 1956 and located close to the iconic Mahabodhi temple and houses a massive collection of numerous Hindu, Buddhist relics, stone sculptures, images, miniature pots, terracotta artefacts, copper antimony rod etc. the entire place is divided into various galleries and some of the popular attractions here include are huge idols dedicated to lord buddha. There are also coins dating back to the Mughal era and monument structures belonging to the Gupta and Mauryan period which is kept on display for visitors. It gives you an insight into the life that it was in the bygone era.
How to Reach – 25 minutes from Gaya bus stand
Entry Fee – Rs. 2/-
Timings – 9 am to 5 pm
 Pretshila Hill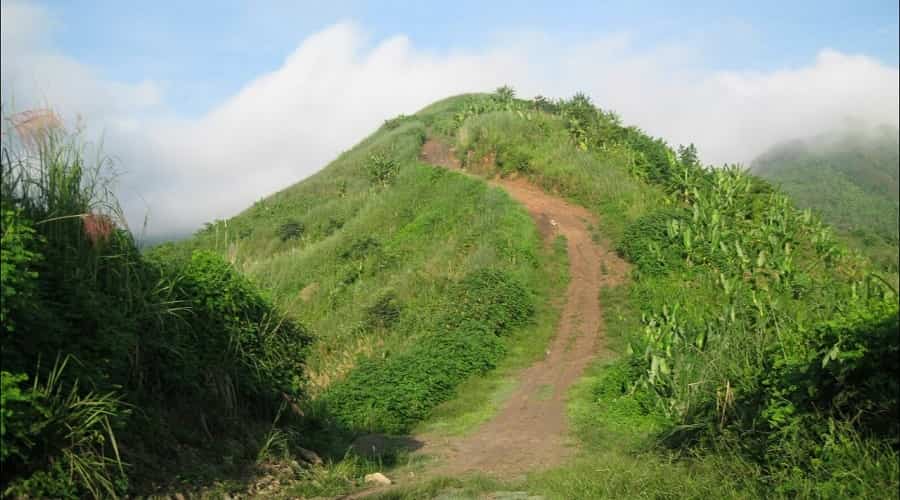 Located at a distance of just 8 km from the main city of Gaya is the Pretshila hill which can be translated into hill of ghost and is a very highly revered place especially for the pind daan ritual. On top of the hill is a temple dedicated to lord Yama – god of death – is situated. A tank present here called Ramkund is located where Lord Rama is believed to have taken a bath and taking a holy bath here is believed to wash away all the sins of the devotees visiting. This place of worships holds immense importance in the life of devouts.
How to Reach – 40 minutes from Gaya bus stand
Entry Fee – Free entry
Timings – open 24 hours
Also Read