Kodaikanal, the mystical town of South India is packed with innumerable tourist attractions. This is one of the very few hill stations in the whole of India with optimum weather conditions. Kodaikanal is a promising place with ideal weather that could be enjoyed throughout the day. This is in contrast to the usual weather conditions of north Indian snow-capped hills that could deny you an evening walk on account of extreme cold weather.
This is one of the best places to stay on your South India Tour as the appealing tourist sites are located closer to each other and you don't need to cover a long distance to flock the destinations. Even a majority of the destinations are located within the radius of 10 Km from the popular Kodaikanal Lake and offers you some of the most amazing moments to take out your tiredness and boredom when the cool gentle breeze gently touches your face. At this beautiful city you get to binge on the scrumptious South Indian cuisine and have masala taste tea followed by a walk along the lakeside restaurants and other tourist sites. There is nothing in this world that can compare the freshness and the calmness offered by this glimmering city not even after doing yoga meditation for 100 consecutive days.
There are several cold places in India. But there only a few that are equally beautiful as well. Kodaikanal is certainly one of them.
Kodaikanal Lake: Man-Made Star Shaped Lake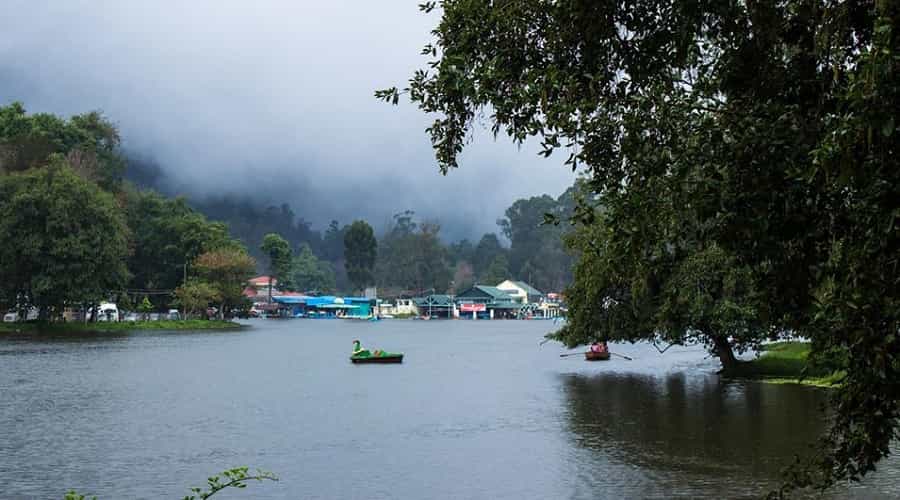 Who said British East India Company colonized India denying peace? This will be proved false if you get to witness the man-made lake of Kodaikanal which is going to mesmerize you with transcendental peace
It is always a pleasure to learn about the history of a place before knowing what it has got to offer. Let me briefly say the history of when and why this lake was formed.
The star shaped lake was formed during mid-19th century by then retired collector of Madurai. He did the right thing by spending his post retirement period in the queen of hills. After retirement, one of the very first things he did was to form the star shaped lake by constructing bunds. About 50 years later, boating was opened to general public. This is one of the key turning points in the tourism history of Kodaikanal, after which people started thronging the place every year during summer months (April to June). Since then, Kodaikanal has become a default summer destination for South Indians.
Today, a government operated boat house manages boating on the lake. There are different boats to choose from including two-seater steamboat, four-seater steamboat, rowing boats etc. There are specially designed boats for honeymoon couples as well.
Apart from boating, you are going to enjoy walking around the lake. It is going to be a great experience if you are going to choose early morning or late evening for your walk. While walking, it is not a great idea to miss few sips of spicy masala tea in small shops on the lake road.
Pillar Rock View: Beautiful view of Majestic Pillar Shaped Rocks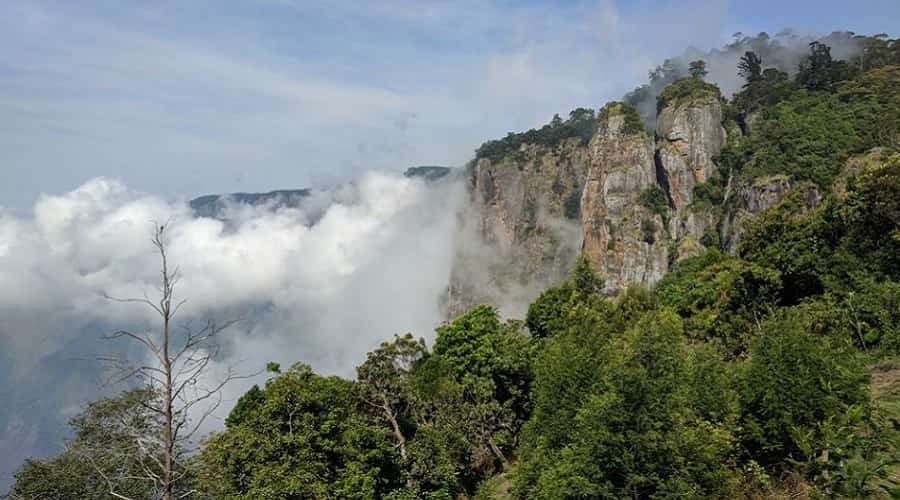 At a distance of 10km distance from the lake, are three tall and magnificent rocks named pillar rocks. The tourism department has built a view point at about a kilometer distance in front of these rocks.
On one side of the rocks is dense forest. On the other side there is unlimited blue sky giving a perfect background to the spot. This is one of the best places to photograph. Here you can witness several professional and amateur photographers waiting day long to capture these rocks in various lightning's.
An important aspect of these rocks is that they look completely different every time depending upon the sky background at that time. If the sky is cloudy or misty the rocks assume a blended look. On the other hand if the day is bright with less or no mist, the rocks look bold and bright.
This place has got an interesting acoustic effect as well. The place echoes each and every word shouted into the unlimited space in between the view point and the rocks.
Kurinji Andavar Temple: Scenic Temple at a Very High Spot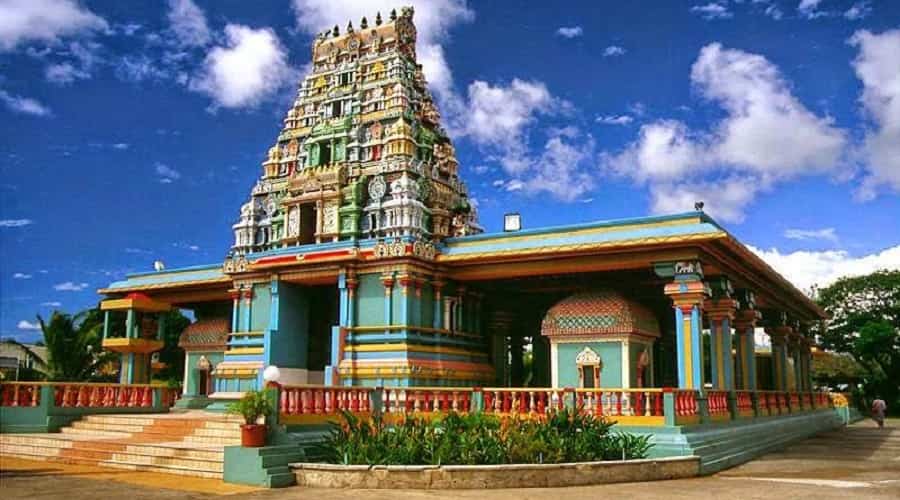 South India is extremely famous for its temples. If you think temples only exist on plains, you will be proved wrong by the very presence of a scenic temple at a very high point on Kodai hills (Kodaikanal is shortly called as Kodai). This is situated at about 5 Km distance from the lake. The drive to the temple itself is a wonderful experience. You will be driving on a breezy road thronged on both sides by tall trees. While driving, you will be tempted to get down from your car at least once to enjoy the breeze at its very best.
This temple is dedicated to Lord Muruga, a very famous god in this part of the world. When you enter the temple, don't miss to see the small plants down the walls built around the temple. It is said that flowers on these plants bloom only once in 12 years. These flowers are called 'Kurinji' and the temple gets its name from these flowers.
When you come out of the temple, never miss the beautiful view of green plains and underlying settlements from left side of the temple.
Bryant Park: Greenish Park with Beautiful Flowers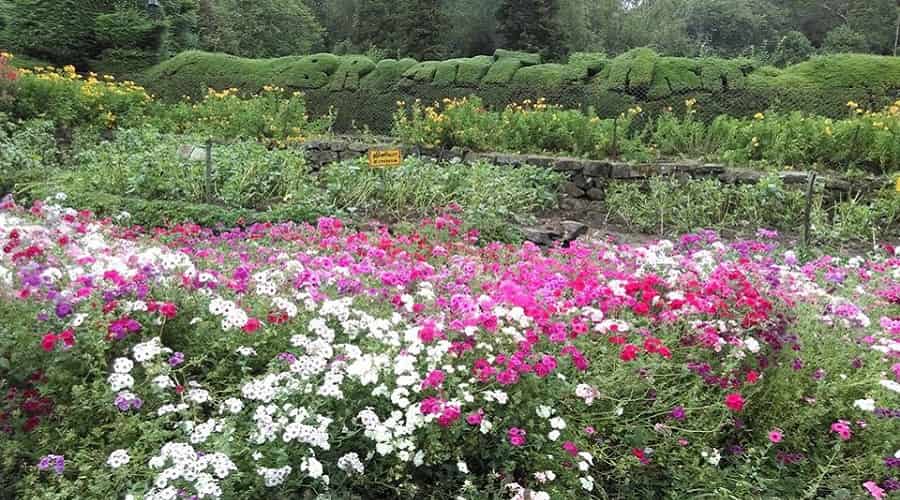 Bryant Park is a feather in the crown of already beautiful Kodaikanal. This is a greenish park with unbelievable variety of flowers. Kodaikanal tourism department conducts flower exhibitions periodically. These exhibitions are ultimate tourist attractions. Though could be overcrowded at times, the park is a very good place to spend at least couple of hours. To beat the crowd, you can choose morning time immediately after the park is opened.
Coaker Walk: Dedicated Pedestrian walk Built Before 20th Century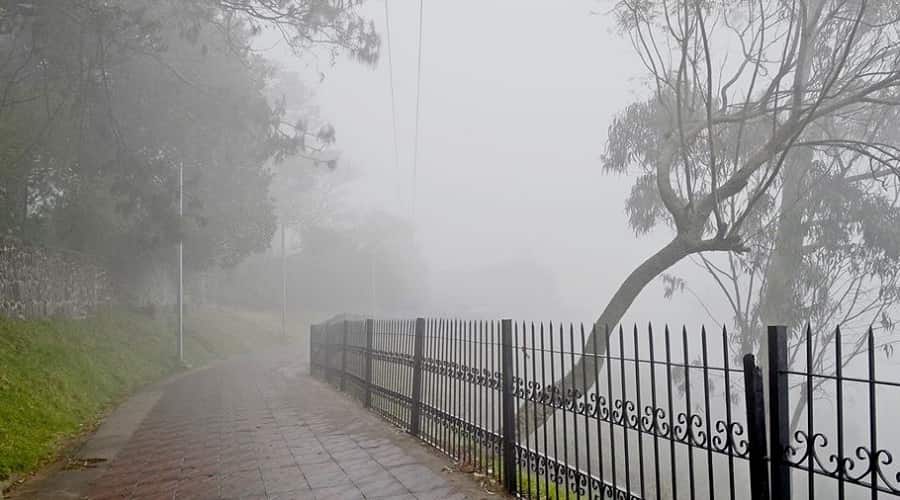 Coaker walk is a dedicated spot for walking. This is a pedestrian path built by a Britisher named Coaker before 20th century. While walking, you will enjoy the beautiful view of plains and toy like houses in the small town underneath. Nevertheless, you will get to experience Kodaikanal's characteristic breeze.
Though it is a dedicated pedestrian path meant for a peaceful walk, the place is often overcrowded. This is due to the proximity of this spot to the town. It is advisable to reach this spot by morning before the crowd sets it.
Dolphin's Nose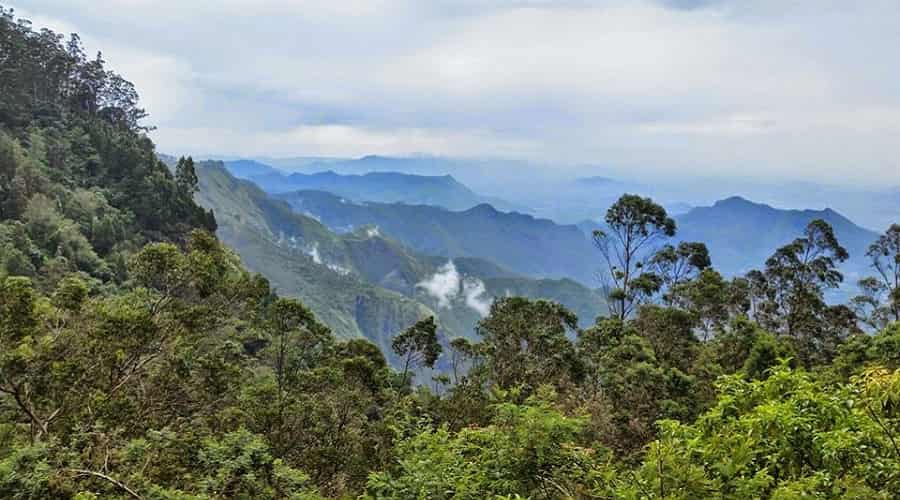 I think this is the most scariest place in Kodaikanal. Once has to go for a long trekking on mountain slides and once you reach this place, you will start feeling really scary. The rock edge looks like a dolphin's nose, hence this name. One can even go, sit at the edge of the rock and can take photographs. Tourists visiting these destinations must look after their safety concerns as the place has reported several deaths and accidents occurred in past years. Please enjoy with care here.
Green Valley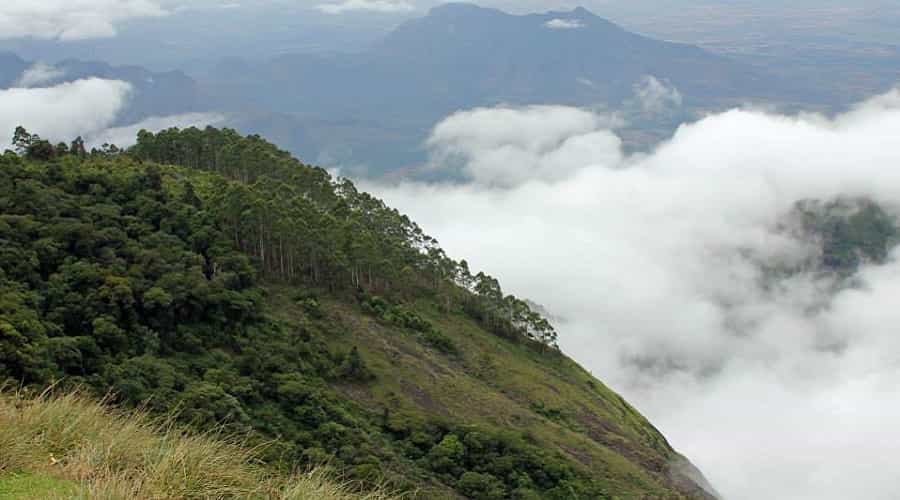 Mountains are sometimes more greenish if the area is so fertile. Green valley is such a place available in Kodaikanal. All the hills surrounded looks only greenish in colour. Especially, the hills are fully surrounded by clouds. You can enjoy the combined fantastic view of white clouds with green vast mountains. Never miss this place.
Lake View in Boat House
If a place is very chill and you got a lake there with a few boats for riding, sure one should not miss such a place. It is the Lakeview, in Kodaikanal with a nicely maintained boat house, definitely one will enjoy a lot there. There are a variety of boats available there for riding. Around the lake, a very good laid road is available wherein one can do cycling and horse riding. Even for a nice walk with romantic talks with your lover will be very nice here. Couples who are in love or newly married couples never miss this place once they come for Kodaikanal.
The 500 Years Oldest Tree in Kodaikkanal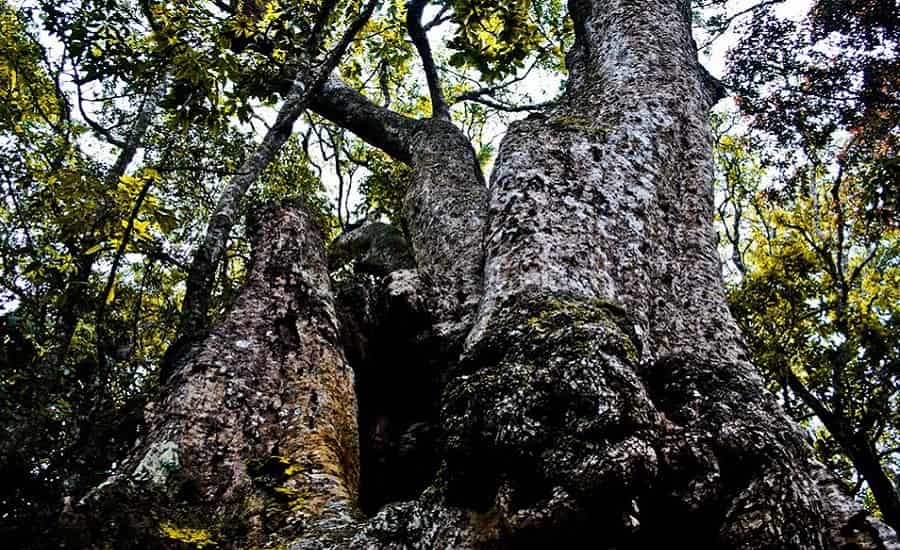 I hope this is the oldest tree in the world. It is 500 years old and it is still preserved at kodaikkanal.
Devil's Kitchen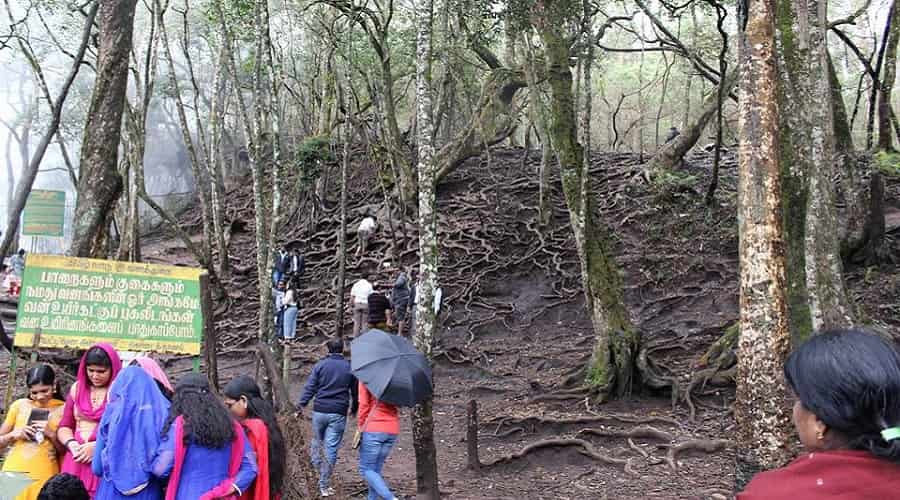 Devil's kitchen is its actual name. But after the shooting of Tamil film actor Kamalhaasan's movie GUNA here, this is popularly called as GUNA cave. If you see that movie, sure you come to know about the natural beauty of this place. Very scary to see also. Now a days, nobody is allowed to cross the limits since more deaths are happening there. All are requested to visit this place safely and enjoy the maximum.
Other Important Spots
Apart from the attractions discussed, there are several other spots as well. Some of them include Solar observatory, Guna caves, Berijam lake, Shenbaganur Museum etc.