The northeastern part of India is famous for its amazing getaway locations which makes this place extremely unique and one of a kind. From the humble and welcoming local residents to the magnificent and unbelievable views every inch or step you take at this magical place is very distinct from one another. You will be filled with a feeling of new found love and respect for the people of this amazing part of India which is hiding in clear sight. It is the perfect getaway for people who love to indulge in various activities while on a holiday. However over the past few years north east has gathered a lot of attention especially by people travelling with their families and especially for the newly-wed couples looking to spend some precious time bonding and getting to know each other better. Here are some of the places that you must include in your itinerary and travel plans:
Kaziranga National Park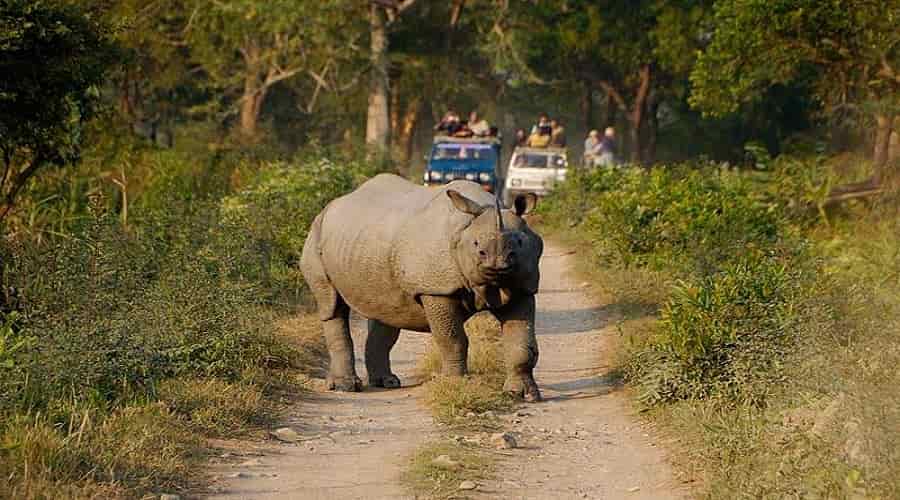 This iconic landmark of north eastern India located in the beautiful state of Assam had to top this list. Home to the endangered species of the 1 horned rhinoceros among other diversity of animals, birds and even plants a jeep safari here is just the right amount of thrill, adventure and rejuvenation your life needs. Add a twist to your holiday plans to north eastern India and explore the wilderness and greenery that dominates the skyline of this place.
How To Reach – The nearest approachable town is Guwahati located at a distance of 193 kms
Things To Do – Jeep Safari, Bird Watching, Nature / Wildlife Photography, Witness The Unique Collection Of Animals etc.
Best Time To Visit – November to April (remains shut down for monsoon)
Tsomgo Lake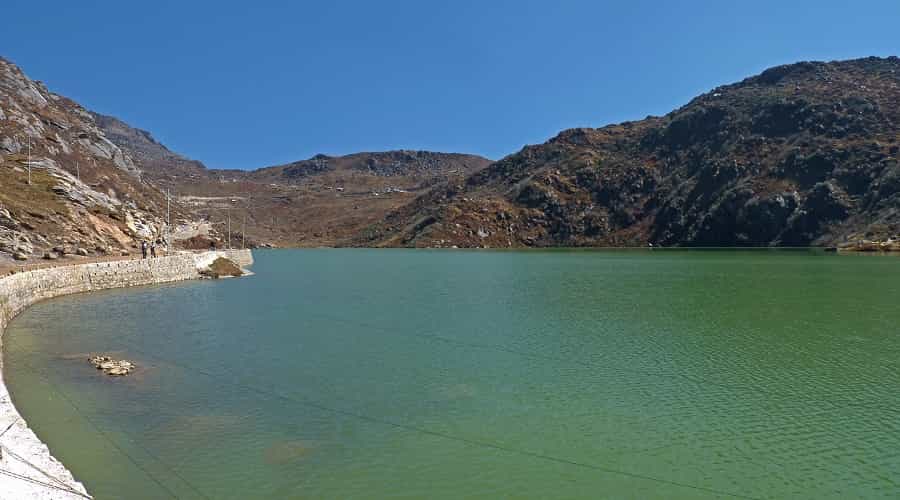 The place is as mystifying and charming as it sounds. The clear and calming water here allows you to put your mind at ease. The lake is fed with the freshwater that melts its way from the surrounding snow bound mountains and it truly is a sight to see. There are several folklore and mythological accounts which makes this place even more interesting. Although you may have seen a lot of lake but the beauty of it cannot be compared to anything else.
How to Reach – Accessible from Gangtok which is 37 kms
Things to Do – Trekking, Ropeway / Cable Car Ride, Hiking, Picnic, Photography, Meditation, Yoga, Yak Safari etc.
Best Time to Visit – October to March
Tawang Monastery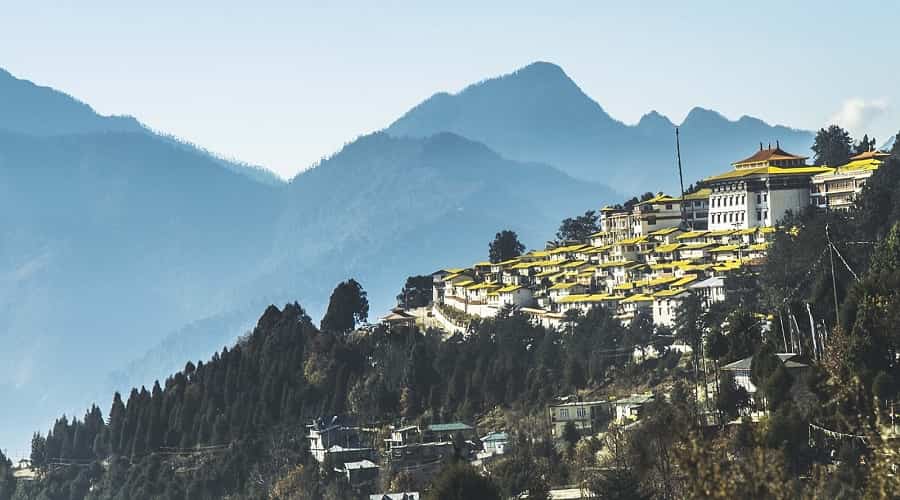 Popular as the 2nd largest monastery in not only India but also in the world and placed on an elevation of close to 10,000 feet above sea level, this heritage place of Buddhist worship is adorned by pilgrims and Buddhists from all over the world since it is also the birthplace of Dalai lama. The moment one starts approaching the monastery you will be greeted with humble monks and will also be overcome with a very deep sense of spirituality from within.
How to Reach – located in close proximity to the main city of tawang and at a distance of 7.2 km
Things to Do – explore the monastery complex inside out, visit some nearby local market places, talk to the lamas and attend their rituals etc.
Best Time to Visit – November to march
Majuli Island
This piece of the beautiful island which is one of the must visit options for you pans out over an area of around 1250 sq. km. famous as a strong contender for the UNESCO world heritage site this island is the cultural capital of Assam and is the place where one can get closely in touch with the rich culture and tradition which is very different from the rest of India. The island is only accessible via waterways which only adds a lot of beauty and thrill to visiting it.
How To Reach – Accessible through 20 kms of travel from Jorhat city
Things To Do – Ferry Ride, Motorboat Ride, Exploring The Culture Of North East India, Getting To Know The Heritage etc.
Best Time To Visit – July to March
Dawki River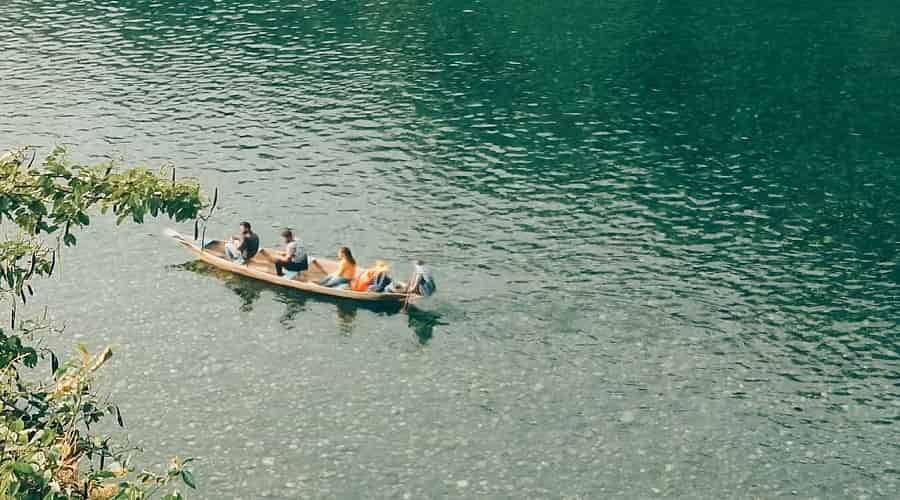 This is one place that seems like it is not in India, the soothing calm lake water is so clear that the boat ride on top of it seems like it is floating. Also referred to as Umngot River this transparent river is a sight to behold. Located amongst the beautiful and scenic lap of the west Jaintia Hills which in itself is visited by a host of travelers and tourists from all over the world. From here not only can you enjoy the scenic beauty but you will also be greeted with breath taking views of the hills of Khasi and Jaintia.
How To Reach – Accessible from shilling since it is located at a distance from 86 km from Shillong
Things To Do – Boat Ride, Photography, Follow Nearby Hiking And Trekking Trails etc.
Best Time To Visit – September to April
Mawsmai Cave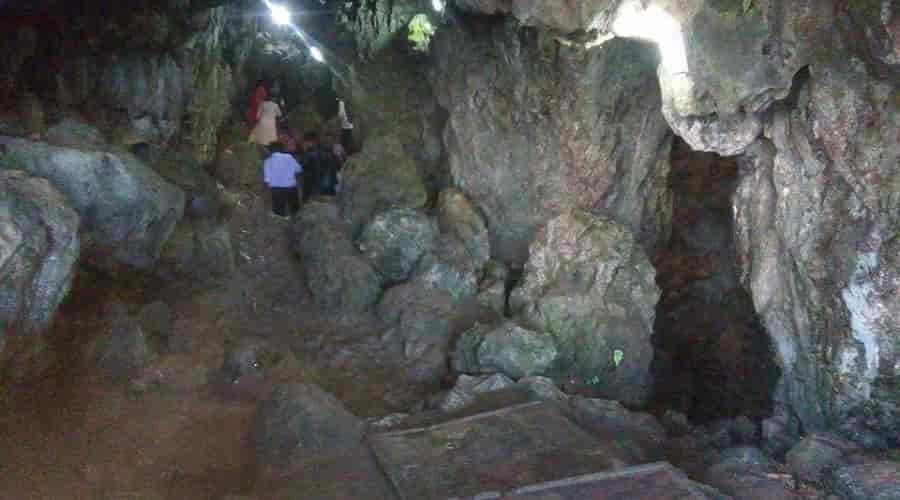 Probably one of the most underrated tourist attractions of northeast India, this ancient cave located in Meghalaya is very unique and truly one of a kind. The natural light passing through illuminates the pathway where the explorers can see the uneven limestone walls and other such naturally occurring structures. One can observe the abrasions and formations that has formed over the years due to various sorts of exposures and even spell binding stalagmite formations. It is now gaining a lot of attention from world travelers as well.
How To Reach – It is located at a distance of 60 kms from Shillong
Things To Do – fun filled cave exploration, learn more about the history of this cave etc.
Best Time To Visit – November to March
Ziro Valley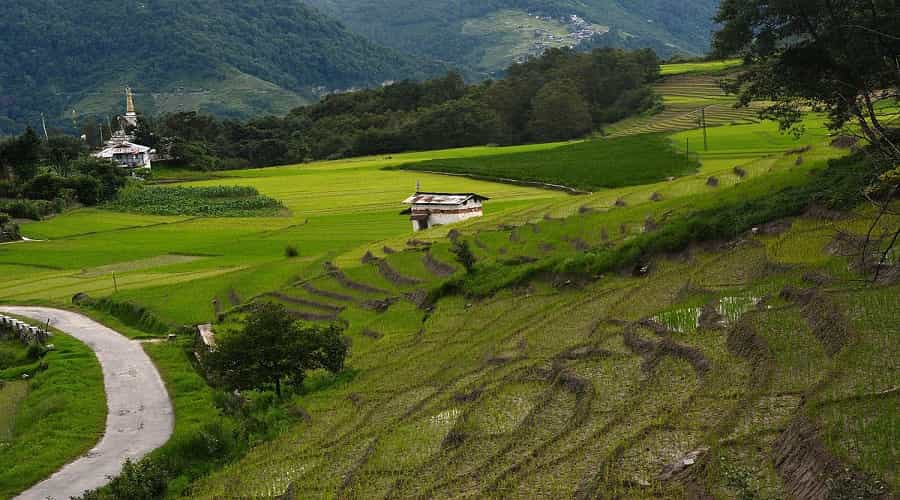 Famous mainly for the iconic Ziro valley musical festival this flat land which is surrounded by sky high mountains and various tribes is a wonderful place to be with your family and loved ones. Filled with numerous vegetation fields and dotted with traditional huts this colorful and vibrant place is full of interesting aspects and greets you with excitement every step of the way. One can even indulge in interesting shopping in one of the many local marketplaces here and take away with you a lifetime worth of memories.
How To Reach – Located at a distance of 110 km from Itanagar which is the capital city of Arunachal Pradesh
Things To Do – attend the famous Ziro music festival, Go hiking And Sightseeing, shop for traditional and locally grown items, Arunachal Pradesh sightseeing tour etc.
Best Time To Visit – September to October
Nathula Paas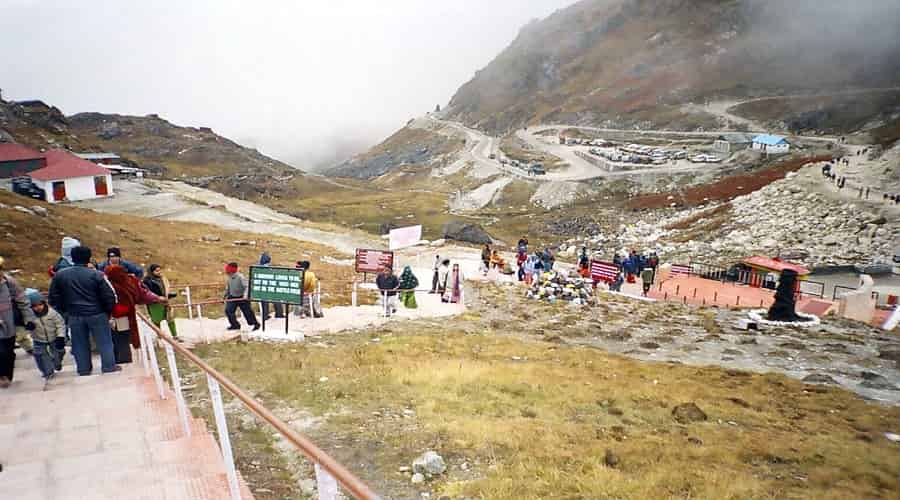 Located in Sikkim is the iconic silk-road which has now turned into one of the most amazing road trip stretches in India. This route was utilized by the traders and merchants travelling to and fro the indo Tibetan border. No matter which season you decide to visit this place you shall be greeted only with freezing and cold weather conditions. richly dotted with a diverse range of flora and fauna, this Paas is a treat for every road trip and biker lover.
How To Reach – Take a shared cab ride covering a distance of 58 kms from Gangtok
Things To Do – Road Trip, Explore The Heritage, Know About The Historical Background, Check Out The Rich Biodiversity etc.
Best Time To Visit – March To October
Nohkalikai Falls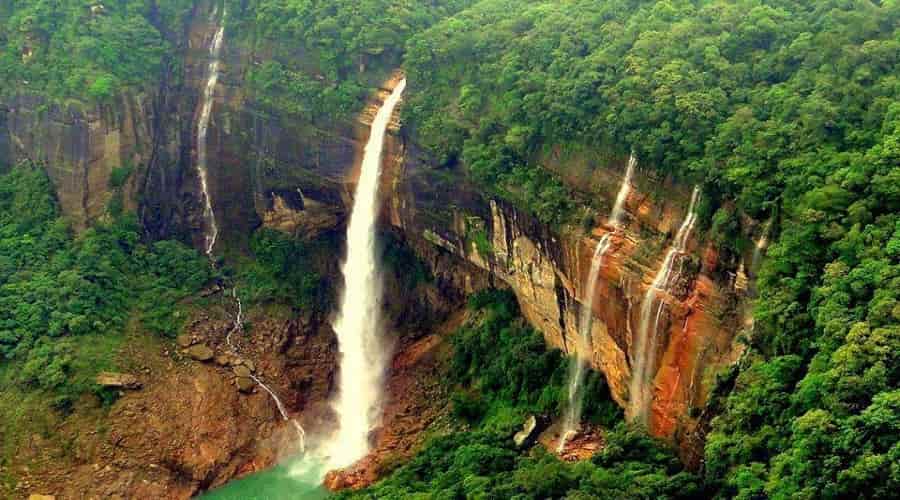 This is not only the face of Meghalaya but also showcases the wonder that north east truly is. Plunging down from an incredible height of around 1,100 feet this place is famous for being the 4th highest waterfall in the world. The thunderous waterfall is itself a sight to behold and creates an enchanting environment all around it. Best visited during the spring season the place displays all the brilliant hues of greenery. A viewing gallery present here allows you to savour some of the most brilliant and vibrant views being displayed in front of you.
How To Reach – Easily Reachable From Shillong since it is located at a distance of 55 kms
Things To Do – Short Trek Up To The Waterfall, Wildlife / Nature Photography, Viewing From The Deck etc.
Best Time To Visit – September to march
Goecha La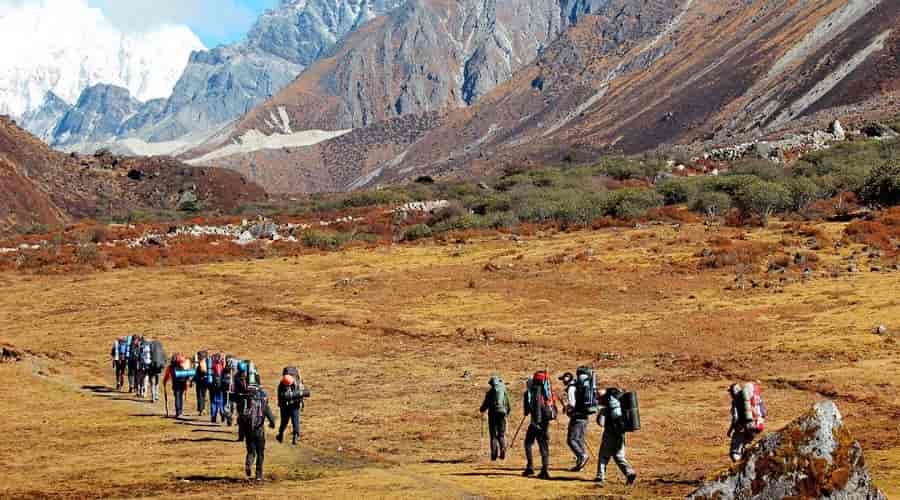 This trek is one of the most popular treks of Sikkim and gives you an in depth view of the stunning Himalayan mountains and snow bound peaks. The most awe-inspiring part about this trek would be witnessing 14 different mountain ranges from here which will blow your mind. Striking above all will be the famous and beautiful mount Kanchenjunga which stands out on an elevation of 16,200 feet above sea level. This is definitely a one-of-a-kind experience that one must have at least once in a lifetime.
How To Reach – To and Fro Overall Trekking Journey Of 90 Kms.
Things To Do – Cover A Moderately Difficult Trekking Expedition, Camping Experiences, Additional Sightseeing etc.
Best Time To Visit – March And April
Umiam Lake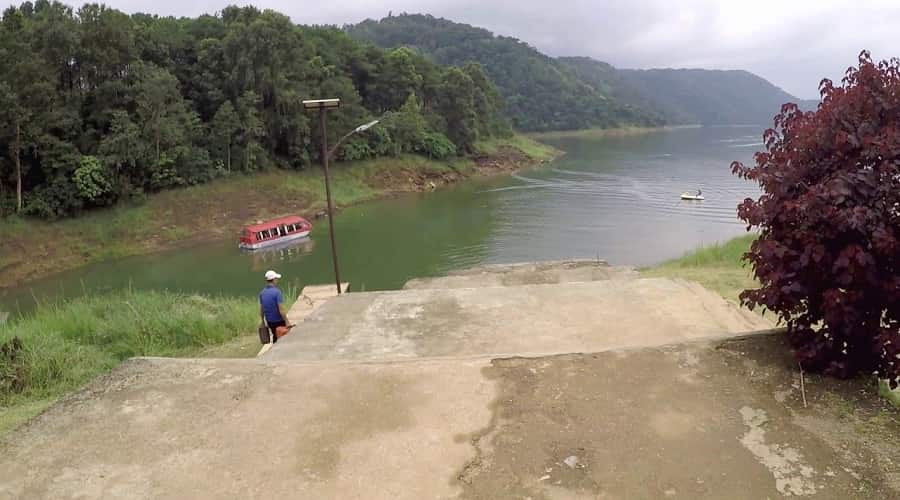 North east India is filled with scenic and wonderful sightseeing options and especially lakes. There are several naturally occurring clear lakes however this artificial lake is one of a kind. Panning out over an area of 222 sq. km. and surrounded on all sides by dense and thick forest cover which offers you the opportunity to explore some scenic trekking and hiking trails. This place is undoubtedly one of the most popular destinations in Shillong. The views and unmatched natural beauty is something that will definitely hold you by surprise.
How To Reach – located at a mere distance of 17kms from the main city of Shillong
Things To Do – Kayaking, Skiing, Canoeing, Boating Activities, Water Sports Activities, Picnic etc.
Best Time To Visit – October to May
Cherrapunji with Mawsynram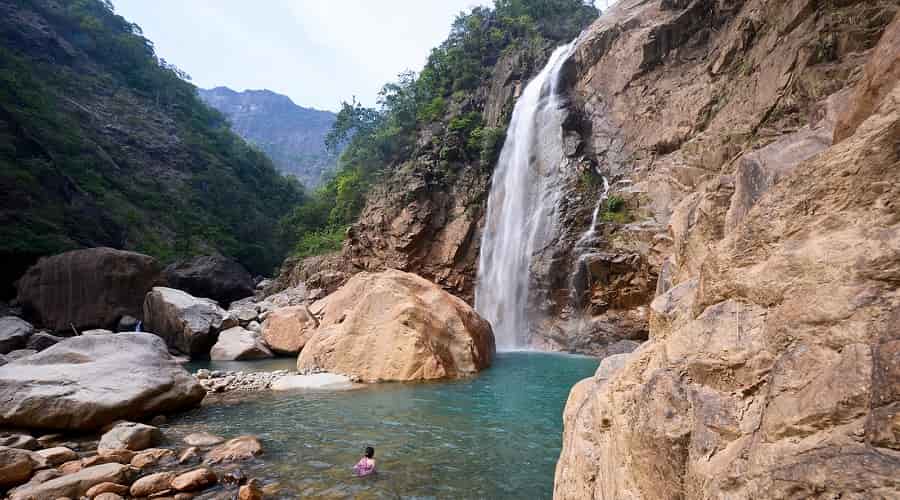 Ever since we were kids we have been familiar with these names. Cherrapunji and Mawsynram are 2 of the wettest places on earth. Both these places not only allow you to experience rainfalls on a daily basis but the scenic beauty here dominates everything and makes you feel like you are a part of a dream come true. From the mist laden valleys, numerous waterfalls and awe inspiring views of the surrounding every step of your way will be filled with a serendipitous experience.
How To Reach – Mawsynram is 60 kms from Shillong and 15 kms from Mawsynram by road
Things To Do – Sightseeing of the nearby places, landscape photography etc.
Best Time To Visit – September to November
Loktak Lake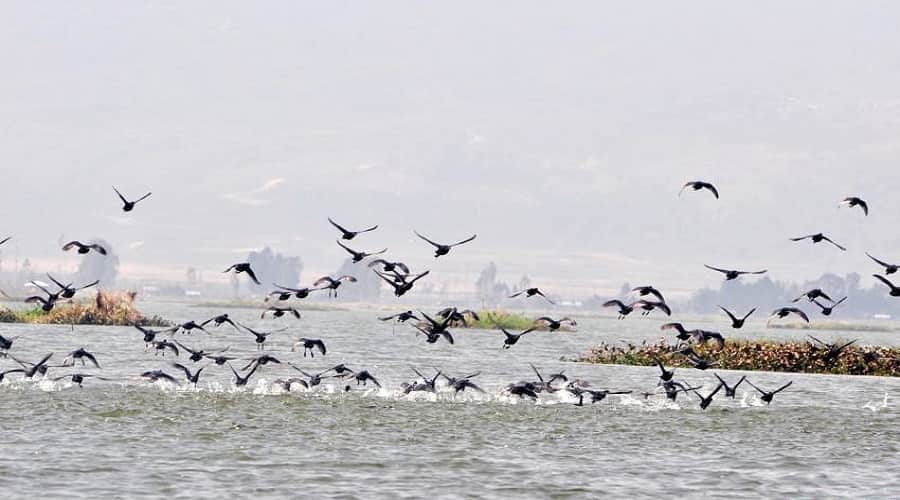 Famous as Phumdis, this iconic lake is a much talked about heritage tourist destination for northeast India. The defining feature of the lake are its numerous small and naturally floating islands which is also the world's only floating national park that goes by the name of Keibul Lamjao national park. Situated in the district of Bishnupur in Manipur these swamps can be easily be explored through the boat rides given by the fishermen residing here. Imagine floating around on the lake in the hills, something which is a rare experience in India.
How To Reach – located at a road journey distance of 53 km from Imphal city
Things To Do – Photography, Knowing About The Culture, Bird Watching, Check Out The Diverse Range Of Different Flora And Fauna.
Best Time To Visit – October to march
Mawlynnong Village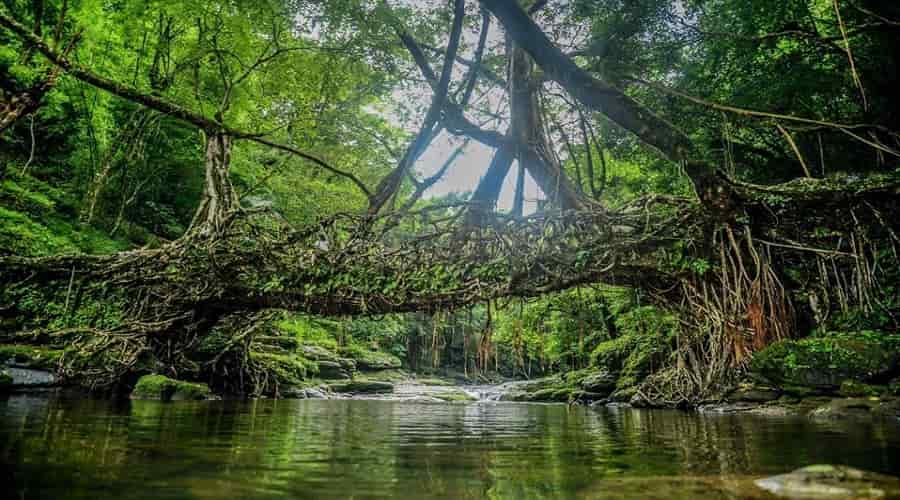 Famous as the cleanest village in Asia this quaint little village hamlet is like a picture-perfect holiday destination which has attained a unique identity of its own. The village is general utilized as a base camp for trekking further to the iconic heritage of the living roots bridge. The entire village is extremely clean and even the dustbins are made out of bamboo to keep the whole environment eco-friendly. This village is extremely close to Bangladesh and is a must visit.
How To Reach – 100 km from the city centre of Shillong
Things To Do – Visit The Living Root Bridge, Go On Hiking Trail, Explore The Local Khasi Culture Of The People Residing Here etc.
Best Time To Visit – All year round