About Sri Ramayana Express:
In an another great attempt by the Indian government to embrace spirituality and make religious destinations easily accessible at budget-friendly rates, Indian Railways unveiled the Shri Ramayana Express on November 14th. The aim of this sacred tour is to take the passengers across all the iconic places associated with the life and times of Lord Ram in the form of an all-inclusive travel package which lasts for 16 days. This circuit is an attempt to take you on a journey on a path that was led by Lord Ram himself. The passengers will be able to retrace the steps of Lord Ram and experience an unparalleled feeling of spirituality. The Shri Ramayana tour offers you the opportunity to choose from two different packages, one package will cover all the important places in India while the other one will be covering all the places in Sri Lanka as well. This holy and extremely pious initiative was taken up by the Indian railway minister Piyush Goyal who was not only present during the unveiling ceremony of the train but he had also congratulated the passengers on their maiden voyage. The journey will commence from Jaipur before reaching the Safdarjung railway station at New Delhi. This 800 seater express train will also come with an IRCTC service tour manager who will be there for the convenience of the passengers.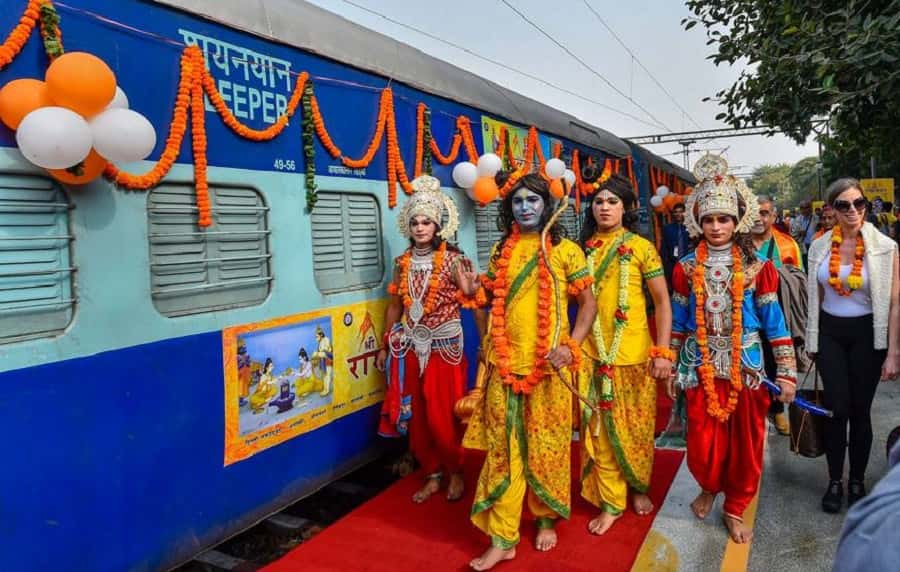 About Lord Ram:
Lord Ram, an incarnation of Lord Vishnu, is an iconic hero and a vital part of the Hindu mythology. It was he who with the help of Laxman and an army of other beings had rescued his wife Sita from the evil clutches of Ravan who was residing in the island nation of Sri Lanka. He is worshipped across the entire Indian sub-continent and has a strict set of followers. Lord Ram has many temples in his name that marks some relevance or the other during his life and times.
Inclusions in the Sri Ramayana Express Tour:
Journeying in the sleeper class bogey.
Pure vegetarian meals.
Night stay, freshening up and changing facilities in Dharamshalas.
Local sightseeing and transfers in vehicles.
An IRCTC tour manager will assist you inside the trains and help you out with any of your needs.
Security guards will also be present inside the train.
For going on a visit to every tourist destination a registered tour escort will be accompanying you.
Inclusion of all applicable taxes and travel insurance.
Destinations Covered During the Indian Phase of Shri Ramayana Express:
The origination point of this train is from the pink city, Jaipur, which will be scheduled for 10 am in the morning. It will then be entering the capital city of Delhi and then later on Lucknow. Your first pilgrimage destination will be Ayodhya and after covering all the holy destinations the train will conclude its journey at Jaipur, but you also have the option to de board at Lucknow, Moradabad, Delhi, Alwar and Bareilly.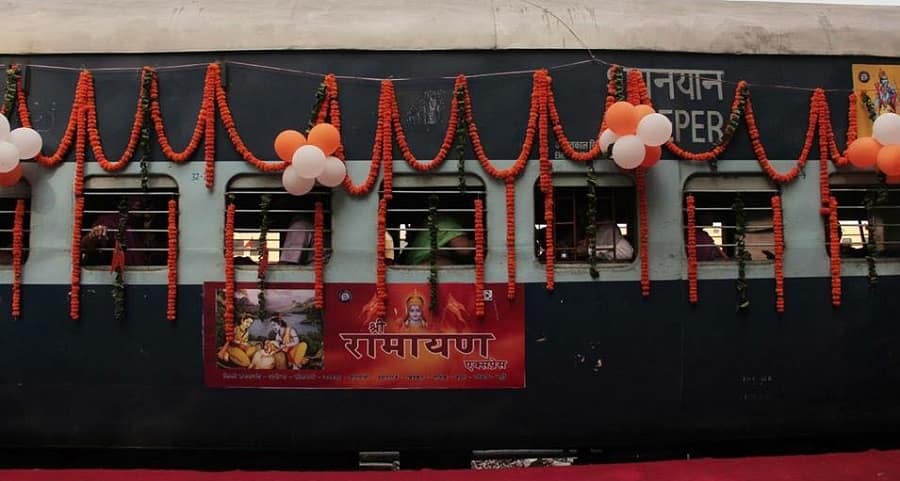 Here is some information about the destinations that you will be covering:
Ayodhya (1st stop) – Believed to be the birthplace of Lord Ram and a prime tourist destination among devout Hindus, Ayodhya has always been one of the prime religious destinations of India. Being closely associated with Lord Ram the city holds a huge amount of holy temples dedicated to the Lord. This legendary city sits majestically on the banks of the holy river Sarayu and it has also been visited by important historical religious figure like Gautama Buddha and Mahavira. This place is also a crucial part of the Saptapuri pilgrimage circuit. Ayodhya is held in an extremely high regard by people from different faiths like – Jains, Buddhists, Greeks as well as Chinese. The entire landscape is dotted with numerous places of worship and important sites like Ram Janmabhoomi, Hanuman Garhi and Hari Darshan Bhajan Mandal among others.
Nandigram (2nd stop) – Located at a distance of just 14 kms from the holy city of Ayodhya this holy city is where Bharat, Ram's second brother was living during Lord Ram's exile. When Ram was sent off for his exile with his brother Laxman and wife Sita, Bharat was not present then. Once Bharat returned back he was informed that he is the new king of Kosala kingdom. Having immense amount of love and respect for his older brother Ram, Bharat was greatly disappointed having heard this. Bharat then decided to travel to Chitrakoot with an aim of convincing lord Ram to come back and rule his kingdom as the rightful heir. However his attempts to convince ram were failed as he refused to return back. Seeing that his decision is final Bharat decided to ask Lord Ram for his wooden sandals which he would worship and rule the kingdom on his behalf, he would also give up on his luxurious life as a king. Nandigram was the place where Bharat had ruled his kingdom and worshipped the wooden sandals of Lord ram for 14 years. There is also temple present here which showcases the deep devotion and respect that Bharat had for Lord Ram.
Sitamarhi (3rd stop) – Located in the Mithila region of Bihar Sitamarhi is a popular Hindu pilgrimage destination since it is known for being the birthplace of Sita, an important character in the epic Hindu of Ramayana and wife of Lord Ram. She is also believed to be the incarnation of goddess Laxmi, this place has garnered immense importance and relevance among the Hindu population. There are a number of temples dedicated to the life and times of Sita. Along with Sitamarhi the nearby towns and villages are also filled with places of importance to the epic Ramayana. These holy sites, shrines and temples relives and recounts all the events and incidents that had taken place in Sita's life among which the most important temple is Janki Mandir that is built close to the birthplace of Sita. This temple also holds a holy Janki Kund which is believed to have been created by Sita's father king Janak.
Janakpur (4th stop) – Situated in close proximity to the Indian Nepal border Janakpur is also believed to be the birthplace of Sita along with being the place of marriage for Sita and Lord Ram. Janakpur had served as the capital city for King Janak's kingdom. The city is home to the popular and extremely religious Janaki temple that is believed to date back to 500 years old making it one of the major pilgrimage destinations among devout Hindus. The city represents a beautiful blend of impeccable Indian and Nepalese culture and it was also the capital of the kingdom of Mithila. There are also numerous ancient traditions that are deeply associated with Lord Ram and Sita. The entire city is adorned with wall murals, paintings and places of worship dedicated to these holy deities and these places are unmistakable and cannot be ignored. Every street and alley way has one or two temples dedicated to the Hindu gods and goddesses and lined with numerous other holy shrines of worship. After Ayodhya another important temple is Janaki temple which is the largest temple that is dedicated to Sita.
Varanasi (5th stop) – It is a well-known fact that Varanasi is an important destination for pilgrimage among devout Hindus who flock here from all over the country to offer their prayers. This is one of the oldest living cities in the world and is replete with innumerable temples, shrines and places of worship. Popularly known as Kashi this place is also crucial for Jains as well. It is believed that anyone who dies in this city is guaranteed to attain his salvation. Sitting along the holiest river in India, Ganga, Varanasi's beauty and divinity remains unparalleled to anywhere else. People from all over the world visit Varanasi to take a dip in the holy river to wash away all their sins and cure all their physical and mental ailments. There are a number of temples of Ramayana relevance here that are dedicated to Lord Hanuman, Sita and Laxman.
Sita Samahit Sthal (6th stop) – Situated in between the holy cities of Allahabad and Varanasi this Hindu pilgrimage site witnesses pilgrims and devotees from all over the world. This temple is believed to be the place where Sita had went inside the earth as per her wish while she was staying with Saint Valmiki one of the forests of Sitamarhi. This is holy and iconic spot is held in high reverence by devout Hindus and this place also remains flocked by pilgrims and devotes throughout the year.
Shringverpur (7th stop) – This is an extremely picturesque holy destination located in Uttar Pradesh. This is believed to be the town where Sita and Laxman had crossed the holy river Ganga on their way towards the exile. It has found its mention in the holy epic Ramayana and in the recent times it has witnessed a growing popularity among the pilgrims and Hindu devotees. It is also believed to be the place where Lord Ram is said to have spent a night and took shelter after a kind request from king Nishadraj before commencing his journey for the jungles.
Allahabad (8th stop) – This is one of the oldest, ancient and one of the holiest cities in India. The entire city is drenched in unmistakable culture, history, religion and spirituality. Situated on the confluence of three holy rivers of Ganga, Yamuna and Saraswati Allahabad has always been a vital pilgrimage centre. Allahabad has found its mention in the holy Ramayana where Lord Ram, Laxman and Sita had spent a few days before heading onwards to Chitrakoot.
Chitrakoot (9th stop) – Situated right on the border of Madhya Pradesh and Uttar Pradesh this holy destination is the place where Bharat had followed Ram and had tried to persuade him to come back to the kingdom. This is also the place where Ram was informed about his father's death and had also performed the final rites for his father, King Dasharatha in the presence of all gods and goddesses. This iconic site has always been a holy and extremely pious Hindu pilgrimage destination.
Nasik (10th) – Previously known as Panchvati, Nasik is believe to be the place where, during his exile Lord Ram is said to have moved to from Chitrakoot. Sitting on the banks of the holy river Godavari this Hindu pilgrimage destination is home to a number of temples that are dedicated to Lord Ram. Apart from Ram, this place is home to the only Laxman temple in the world along with a cave that was named after Sita. A holy shrine is also believed to be the place where Ram and Sita are believed to have prayed to Lord Shiva. The entire town is dotted with traces of Ramayana and cannot be missed out on.
Hampi (11th stop) – This UNESCO world heritage site which is located in the southern state of Karnataka, holds a high reverence among Hindus. Hampi has found a special mention in the holy Ramayana and is believed to be the town where Lord Ram and Lakshman had met Lord Hanuman during his search for his wife Sita. Hampi is popular for its grand architectural representations of temples and structures which date back to the Vijaynagar Empire. Located across the river in Anjaneya hills it is believed to be the place where Anjana had given birth to Lord Hanuman.
Rameshwaram (12th stop) – Located in the southern state of Tamil Nadu, this holy site is situated on the Pamban island and is connected to the Indian landmass via the Pamban channel. As per Ramayana it is believed that this is the place where Lord Ram had arrived with his entire army to attack Sri Lanka. This is not only the place where Lord Ram had decided to construct a sea bridge all across the sea but it is also the place where Vibhishan is said to have abandoned his brother Ravana and joined the Lord's army.
Sri Lankan Leg of the Tour:
If you opt for a package included with Sri Lanka you will be made to board the flight from Chennai to Sri Lanka and you will be covering some other legendary places like Colombo, Kandy and Nuwara Eliya.