Ramayana, one of the most sacred and the significant holy epics of Hindu mythology. The scripture is so significant that several religious destinations in India confront to the legend but this doesn't mean that they are the only ones in the world as there is one other country which is deeply rooted to this holy epic and that is Sri Lanka. This island and the drop-shaped country boasts of numerous sites associated with Ramayana and one can explore all such destinations by browsing our beautifully tailored Sri Lanka Packages especially Ramayana Sri Lanka Tour Package.
Ashok Vatika and the battlefields where the two opposing armies fought with each other are some of the Ramayana destinations which do not require any sort of introduction and similarly, there are many sites in the country which are related to Ramayana and hold a great significance in Hinduism. Scroll down the page and check out the list of Ramayana destinations in Sri Lanka.
Chilaw – A Temple Site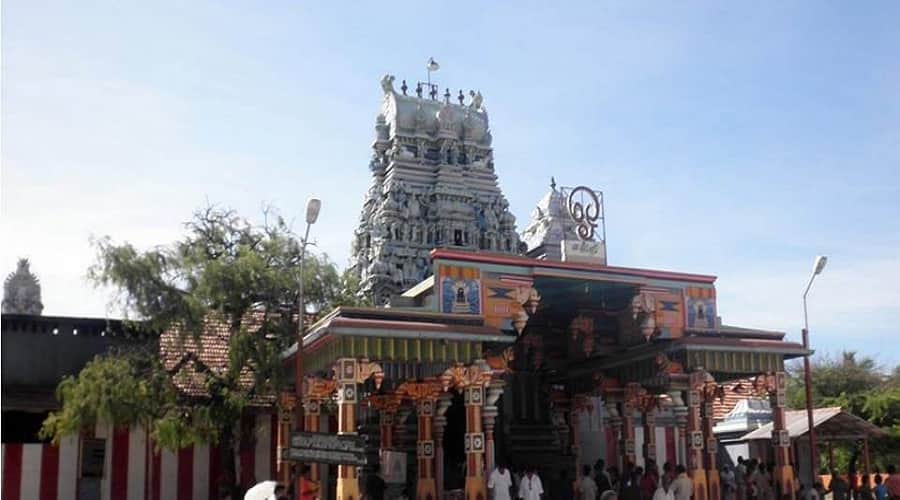 The huge town is located in the Puttalam district in Sri Lanka which is mostly known for 3 Cs namely Crabs, Coconuts, and Coreas. But the destination is most famous and known for its religious significance and this makes it one of the most reckoned tourist destinations in Sri Lanka. Manavari and Munneswaram Temples are the two most important sites of this large town.
Munneswaram Temple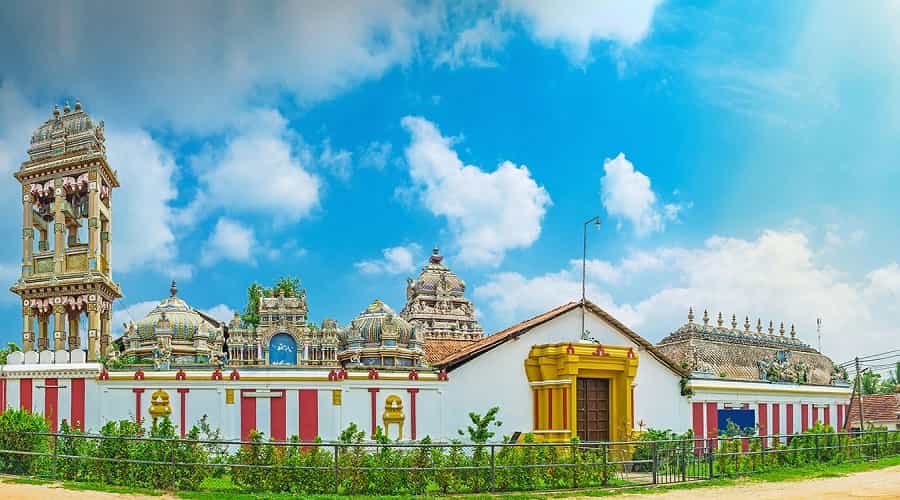 Mythology states that soon after defeating Ravana, Lord Rama left for his home Ayodhya but eventually he realized that someone is following him and so he stayed at one place to get freedom from the sin of killing a Brahmin. He was heavily burdened with the sin and so he prayed to Lord Shiva who advised him to install 4 Lingas in Manavari, Rameshwaram, Thiru Koneswaram, Thiruketheeswaram and also to pray there to make himself free from the Dosham.
Manavari Temple or Ramalinga Shivan
Mythology states that this is the first place where Lord Rama installed Shivlingam and also this is the only lingam that has been named after Lord Rama besides Rameshwaram.
Trincomalee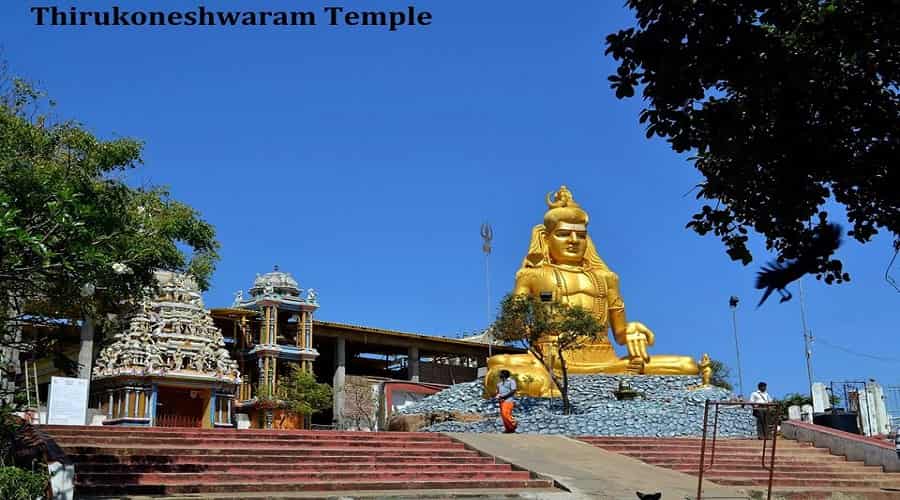 Being popular for its golden glimmering beaches, Tricomalee holds a great place in Hinduism and spirituality as the city houses the gorgeous and ancient Thirukoneshwaram Temple which is believed to be constructed by the great saint Agastya Rishi as per the instructions of the mighty Hindu Lord Shiva. It is believed that this is the second Linga installed by Lord Rama after Manavari Temple to get rid of the sin of killing Ravana who was a Brahmin. This huge temple is reckoned ad enlisted as one of the Pancha Ishwarams in the country. The temple offers an incomparable view of the surroundings as the temple is nestled at an idyllic spot. The temple offers incredible views of the surrounding plains and also the Indian Ocean.
Nuwara Eliya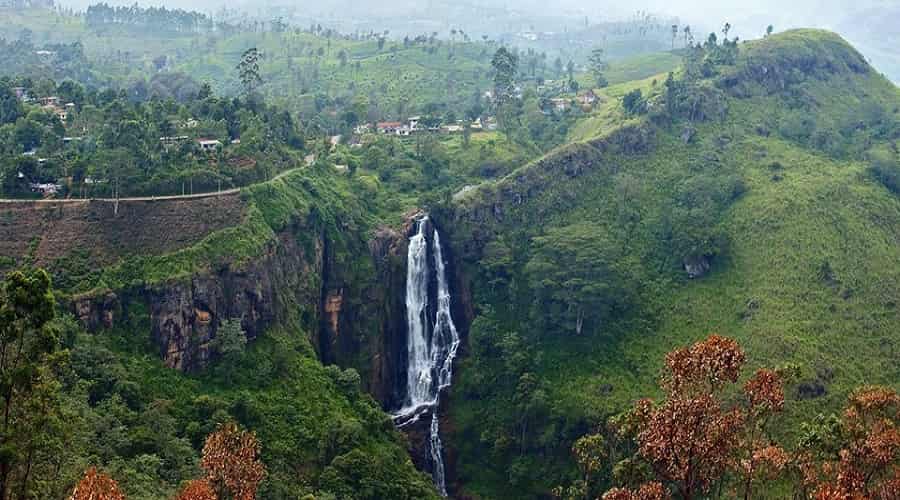 Of the most astounding hill stations in Sri Lanka, Nuwara Eliya holds a great significance in Hinduism as the city houses numerous places which are associated with Ramayana including Seetha Amman Temple, Divurumpola, and Gayatri Peetham. Hindu mythology states that Gayatri Peetham which is located near to the main city of Nuwara Eliya is the place where Meghnath, son of Ravana performed a deep penance to Lord Shiva. It is said that Lord Shiva was so happy with his prayer that he granted him a supernatural power to survive in the battle. Similarly, not very far from the city there is a temple named Seetha Amman Temple devoted to Goddess Sita (wife of Lord Rama), Lord Lakshmana (his brother), Lord Rama, and Lord Hanuman. According to interesting Hindu mythology, the temple is established at the site where Sita was held captive by the demon Ravana. If you are left with much time then you can also visit Hakgala Gardens which is believed to be the same forest area where Sita was kept in Lanka. After covering a distance of 20 km you reach Divurumpola which is believed to be the destination where Goddess Sita underwent the Agni Test when she was asked to give her purity test to her husband.
Ella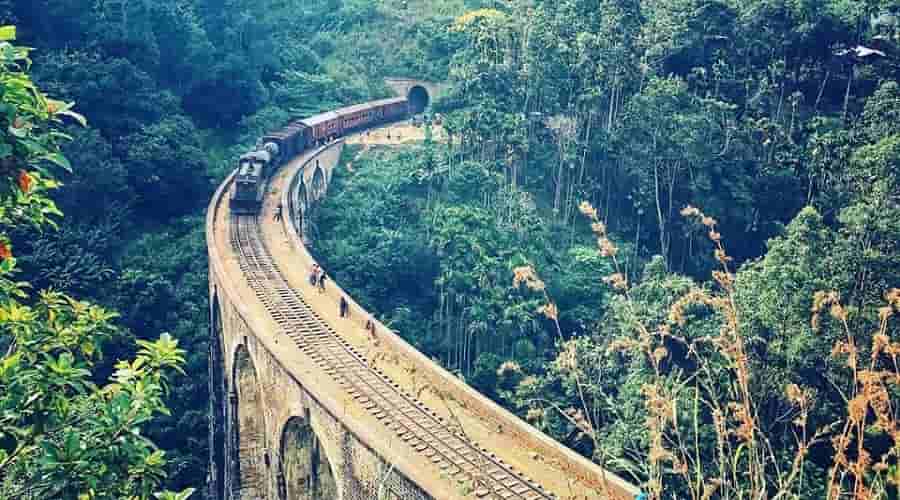 Other highly sacred and significant religious destination in Sri Lanka, Ella holds great importance in Hinduism as it houses two sacred sites which are deeply associated with Ramayana. This beautiful mountainous village is adorned with two popular Ramayana Places viz. Ravana Caves and Ravana Ella Falls. Ravana Ella Falls is named after Ravana where the water of this cascading waterfall falls from the height of approx 25 meters and there is an interesting tale that when Sita was held captive then she used to bath from the accumulated water of this gorgeous water stream. After reaching the height of almost 1370 meters above the sea level you reach Ravana Ella Caves where the demon Ravana used to hide Goddess Sita. The cascading waterfalls and the surreal scenic beauties surrounding the city make this destination a popular tourist spot.
Sigiriya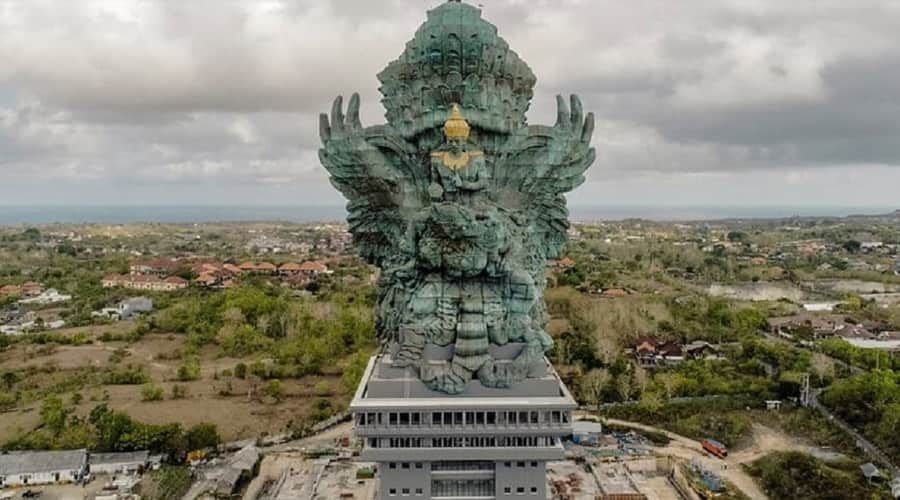 Called Lion Rock, Sigiriya was the ancient capital of the country and inarguably one of the most significant UNESCO World Heritage sites. Due to its amazing and incredible archeological importance, this ancient fortress has been reckoned as the eighth wonder of the world. The place is so significant that it plays a great role in Sri Lanka Tourism and it attracts millions of tourists from all around the globe. Despite being popular for Rock Fortress, Sigiriya is related to Ramayana Tales and this can be concluded from one of the interesting Hindu mythologies. The mythology states that Sigiriya is the place where Ravana held Goddess Sita captive in Sri Lanka. Mythologies state that Lord Rama had shifted Sita to multiple places so that Rama could not find her and Ishtripura, Sita Kotuwa, Ashoka Vatika, Ussangoda, Sita Pokuna, and The Cobra Hood Cave in Sigiriya is the place where Sita was imprisoned.
A fortress, Sigiriya was adorned with various defensive architectures including walls, gates, towers, and moats which was once serving as a habitat of crocodiles. It also houses a beautiful garden having scented and colourful flowers.
Ramboda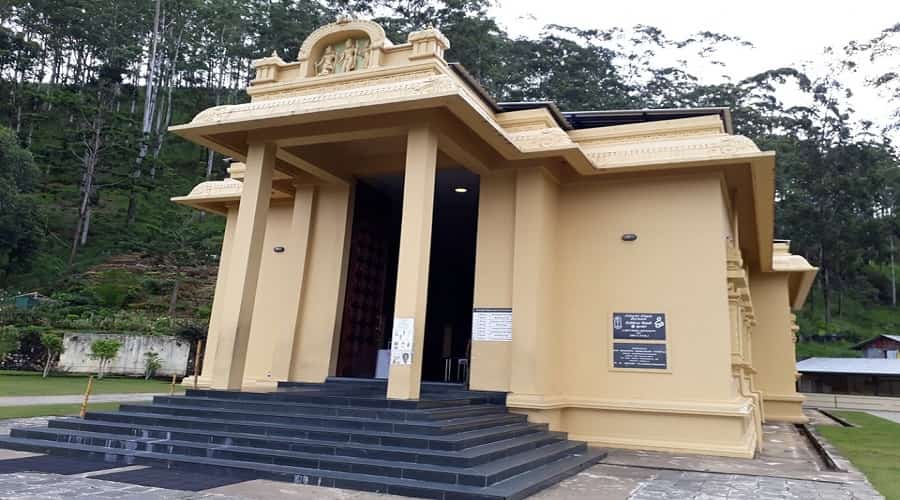 In the Central Province of the drop-shaped country and 50 km away from Kandy, there is a stunning Ramayana Place named Ramboda. This religious destination is widely known for housing the ancient Hanuman Temple and also the gorgeous Ramboda Falls. It is believed that the Chinmaya Mission had laid the foundation of this ancient temple on the hills of Ramboda. The temple is dedicated to Lord Hanuman who was the disciple of Lord Rama and had contributed a lot in searching Sita. There is a huge idol(16 feet) of Lord Hanuman idolized in the temple along with the idols of Rama, Sita, Lakshmana, and Vinayakar. On your Sri Lanka, this is going to be one of the most magnificent places related to Ramayana as this is the spot where both the armies fought with each other for the first time.
Tear Pond is the other major landmark of Ramboda and is believed to be formed by the tears of Goddess Sita during her imprisonment and this makes it more significant in Hinduism. On your Sri Lanka trip do not forget to witness the charm of Ramboda Falls where waterfalls from the height of 109 meters above the sea level. This is one of the highest waterfalls and also popular places to explore in the country. Ramboda also houses the country's longest tunnel (225 meters long) of the country.
Mannar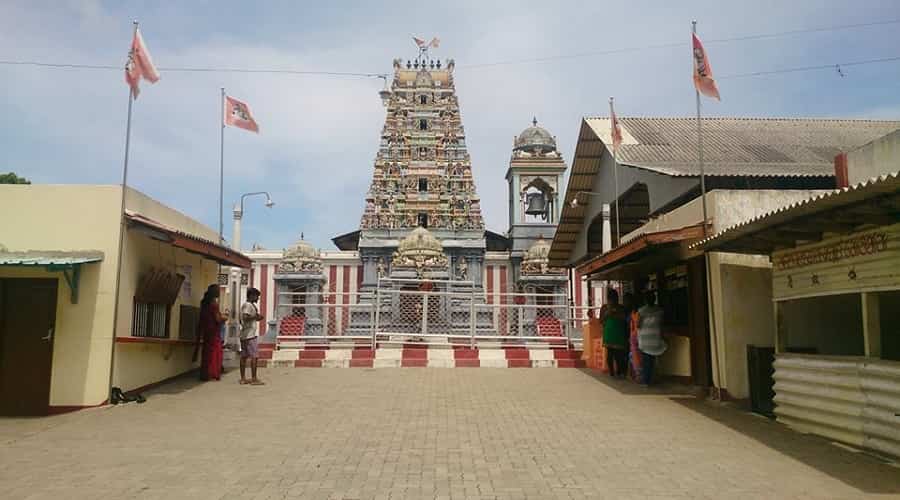 Island region located in the northwestern province of Sri Lanka, Mannar is an island overlooking the popular Gulf of Mannar. It houses the popular Ketheeswaram Temple dedicated to Lord Shiva which was constructed by Mayan, father-in-law of Ravana. Ketheeswaram holds a great religious place in Hinduism as it houses one of the Shiv Lingas installed by Lord Rama after attaining the Dosham of killing Ravana who was a Brahmin. Also Mandodari, Ravana's wife was born in Thiruketheeswaram so this also makes it associated with the holy epic Ramayana. If you are in Talaimannar then do not miss out the chance to visit Adam's Bridge or the Ram Sethu which helped Rama and his armies to reach the kingdom of Ravana. There is a popular legend behind this stone bridge stating that this was built by Hanuman and his army. It is believed that Nala, the Vanara architect ordered his army to construct this bridge by throwing stones into the water body.
10 kilometres away from the main town of Mannar, Thiruketheeswaram Temple is located along the Mannar Highway which ranks second amongst the three Lingas in Sri Lanka. The temple was destroyed by the Portuguese in past but later it got restored in the early 1900s and before its destruction, it was reckoned as the largest Shiva Temples in Sri Lanka and its original charm can be evidenced by visiting the Mannar Fort and the Mannar Churches.
Dolukanda Sanjeevani Mountain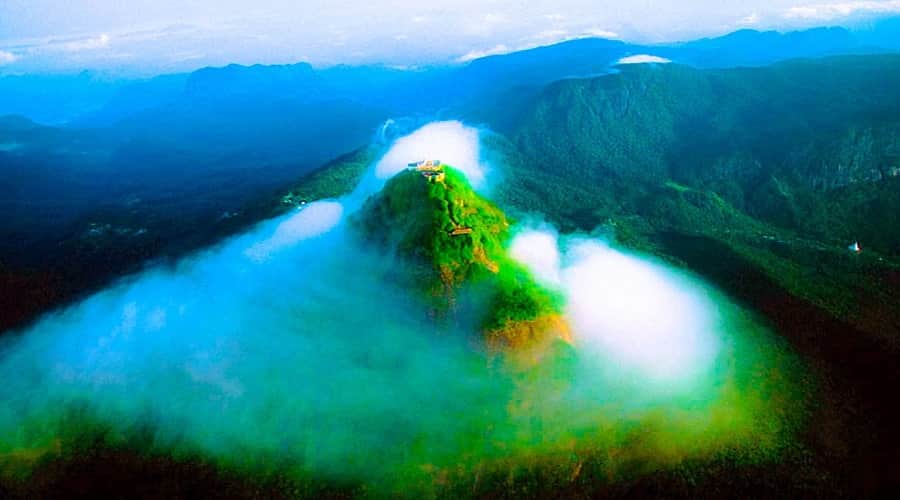 A popular place in Sri Lanka that is strongly associated with Ramayana, Dolukanda Sanjeevani Mountain is one among those five places where Bhakt Hanuman accidentally dropped the pieces of mountain. Mythology states that during the war Lakshmana was seriously injured and to cure his wound Rama asked Hanuman to fetch Sanjeevani Booti but he was unable to identify the herb so he picked up the entire mountain and dropped some pieces of it on the way. Ritigala, Dolukanda, Thalladi, Rumassala, and Kachchativu are the five places where mountain pieces were dropped by Hanuman and this makes them highly significant and important in Hinduism. There is also a grand yet untouched monastery located in Dolukanda which increases its tourism rate by adding different travel experience.
Sita Kotuwa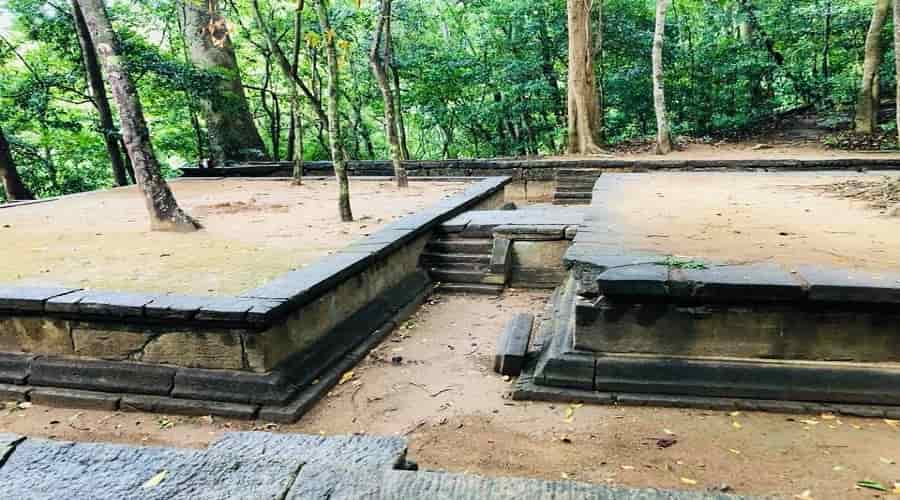 Of the most popular and important places to explore on your Sri Lanka Ramayana Tour Package, Sita Kotuwa is immensely associated with Ramayana. This is called to be the first place where Sita was held captive by Ravana. This was once called as the Lankapura city where Mandodari, Ravana's queen was residing and it is said that Sita was kept captive here only before she was transferred to Ashoka Vatika. The literal meaning of Sita Kotuwa is Sita's Fort and the place has been named so as Sita stayed here for a long time.
Ramayana Places
Your Ramayana Sri Lanka tour you are going to visit various other destinations that are linked to Ramayana which I couldn't compile in the article. Kataragama (a temple dedicated to Lord Kartikeya), Kanniya (some of the underground springs discovered by Ravana), Kelaniya Temple (a huge temple dedicated to Vibhishana), Laggala (the hill from where Ravana spotted Rama's army), Nagadeepa (the destination where Surasa Devi, mother of the Nagas tested Lord Hanuman), and similarly there are many other holy places in Sri Lanka which are associated with Ramayana.