It's been long since my last driving trip during Holi in March (yes, 2 months is long for me). I started looking nearby destination and with onset of summers, it has be somewhere in the hills. However, i am not a kind of person who likes crowded place like Nainital or Shimla and that too in their peak season. I wanted something quiet and peaceful. Also for a change i didn't wanted to drive more than 7-8 hours. I started looking at places around Nainital and Ramgarh turned up in my Google search.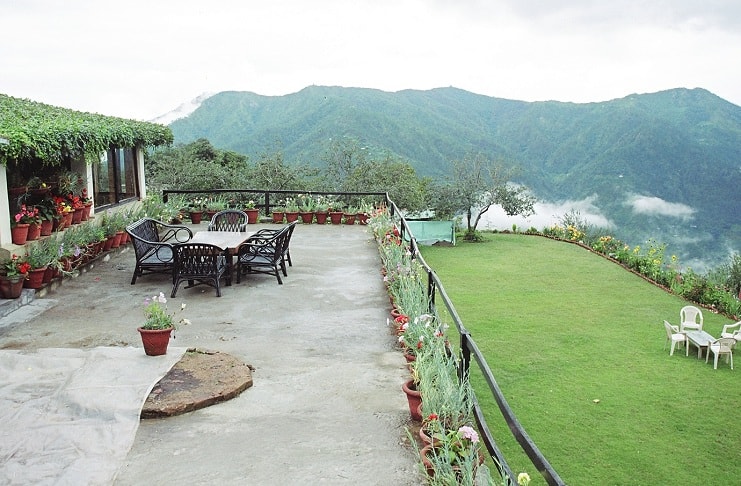 During this search a few other places turned up and inspired me to put an article on my site 7 Offbeat Summer Destination from Delhi.
So let's gets started with a small little travelogue (I know i am not good at writing such a detailed story, but nevertheless let me try).
The Plan:
Leave Delhi on early hours on 17th May and reach Ramgarh by afternoon.
Stay in Ramgarh Bungalows for 2 nights. (Booked Bird cottage in writer's bungalow)
Late checkout on 19th May and reach Delhi by evening or late night.
The Drive:
We were late to start. The original plan was to leave max by 6 Am but, it took us another 3 hours to get going. What that mean was we were going to hit NH 24 during peak hours (although it was Saturday but the traffic was still a mess). There was nothing exciting about this leg of journey as we were crawling to get out of the traffic mess. Once we crossed the toll at Dasna, things were back to normal and we could hit some 3 digit speed.
Our first stop was Gajraula for brunch at around 11. During the same i received a call from Ramgarh Bungalows asking about my whereabouts. They suggested to take "Rampur > Rudrapur > Haldwani > Kathgodam >Bhimtal > Bhowali > Ramgarh" which was what I originally planned. A double confirmation assured me that i am on the right track.
Road condition were good so far and was hoping the same further ahead which in a way came true. After Rampur turned left towards Rudrapur.
The thing is there are two routes from Rampur and both will lead you to Kathgodam.
Rampur > Bilaspur > Rudrapur > Haldwani > Kathgodam >Bhimtal > Bhowali > Ramgarh
Rampur > Suar > Bazpur > Kaladhungi > Haldwani > Kathgodam >Bhimtal > Bhowali > Ramgarh
The difference is, for route 1. You have to turn left just before Rampur town area starts, for the second you have go to market area and take a turn left. Since we were taking the second route it was bound to be slow atleast in city area. Also since it's one of the main routes for Nainital for people coming from Bareilly, it has got more traffic and add holiday season. The drive after Rampur wasn't fast but was kind of average. As soon we hit Bilaspur there was huge traffic jam and it took almost an hour for us to get out of town area. Ultimately we reached Bhowali at around 3.30 where we took our late lunch.
With stomach full, we drive again and what a beautiful drive it turned out to be. Roads till Ramgarh was recently laid with new tar and it was a smooth scenic and traffic free journey. Reached Ramgarh Bunglows at around 5.30 PM and checked ourselves in Writer's Bungalow.
The Stay:
Writer's Bungalow is a century old bungalow in the Himalayan foothills of Ramgarh and is now part of Neemrana – Ramgarh Bungalows. It's believed that Rabindra Nath Tagore started his Nobel prize winning literary work of "Gitanjali" from here.
It used to be stay – for British and Indian officers. It's also popular with foodies, since this is the heart of the Kumaon region, known for its apricots, plums, peaches, pears and apples (and its fantastic marmalade). If you don't want to eat, or to write, it's also great walking territory.
As we walked into our room, we entered into a piece of history restored and maintained well for tourist like us. The cottage has two rooms (one main and other small) housing 1 double bed and 1 single bed. A perfect for small family like our's. Got some tea ordered for us and took my camera out. The Bungalow was surrounded by flowers and a variety of them, we don't even know the names and haven't seen some ever in the past. As i was busy taking some snaps, wife and kids were enjoying the surrounding.
After an initial burst of peaceful and tranquil nature, came an urge to know what's happening back in political scenario but alas, there is no TV in room. In a way it's good as we hit out a few conversation which in our city life is accompanied and dominated by TV. However, my elder son missed it a lot as he was missing IPL in action.
At around 7 two more guest arrived who had booked the room next to us. (Writer's bungalow has two rooms Bird and Butterfly). They were from Germany and staying in Gurgaon from past 6 months on a company assignment. And guess what they came by. Yes it's our own Indian Enfield Bullet. They loved the bike and the conversation started while we were sitting out, relaxing and enjoying the beautiful sun set. Most of our conversation was about road trips, condition and traffic. I was amused initially when they said that driving in India is one of safe thing when compared to euro countries but they explained, i kind of took their argument which is "In India the speed is slow and people adjust to left and right and take responsive measure to avoid accidents. Whereas in euro a small mistake would mean a big bang".
By the time conversation ended, it was eight and time for a dinner. Now the thing is Ramgarh bungalows is a collection of bungalows spread over some 500 metres, and the dinner was supposed to be served at main Bungalow which is around 300-400 metres downhill. We decided to take a walk, which we did, but once we reached the main bungalow we realized the upward journey back is going to be steep. Luckily the hotel manager did arranged a drop after the dinner.
Next Day, the two Germans had checked out and we spent the whole day lazing around in bungalow. Literally doing nothing. We initially thought of doing a small trek down to river but decided against it. The only thing we did was walking in the butterfly garden while we went to Old bungalow for breakfast. It was silence all around. The views, the sound of wind, and of course the sound of my younger kid one was the only thing one could hear in the valley. We spent the whole day together and it was a memorable one.
One thing we discovered was a small TV cum dining room in writer's bungalow and my elder son was happy to watch his IPL matches.
The Food:
I am not a great foodie but overall the food was good especially the signature "Laa maas" of Neemrana Hotels. Both the breakfast and dinner spread was good considering both vegetarian and non-vegetarian items were there. Cost of Dinner was 500 pp whereas the breakfast was free.
With this I am concluding my travelogue, with one thing to add was we took route 2 while returning. The only downside of this route was 5 kms bad stretch between Suar and Bazpur, but overall this was much faster and scenic route.