Jeju Island is a beautiful island located in the Korea Strait off the south coast of South Korea. It is popular with both domestic and international tourists and there are plenty of reasons to visit Jeju Island when exploring interesting South Korea. The island is sometimes referred to as the Island of the Gods – it really is a pretty special place!
You will notice that the culture here is quite different to other parts of South Korea and indeed, to other parts of Asia. Rather than the usual male-dominated societies you'll find a place where the women are firmly in charge! You'll maybe also spot that the language spoken here by locals is also different. People who work in the tourist industry, however, are required to speak standard Korea, and there are a large number of people now who are able to speak other languages too, including Japanese, Chinese, and English.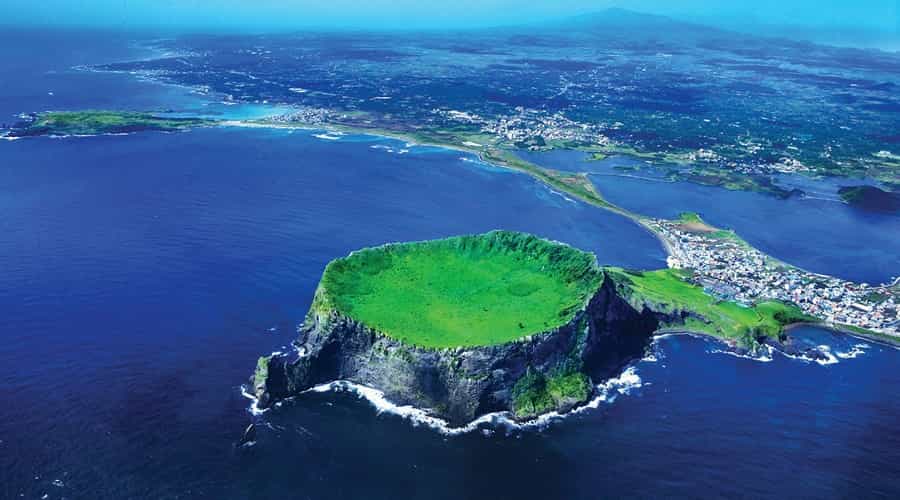 You can get to the island by plans and boat, and there is good public transportation once you arrive.
Some top reasons to visit Jeju Island include:
Beautiful Beaches
There are many nice beaches around the edges of the island, ideal for soaking up the sun in the warm summer months. Surfing and other water sports are popular in some places. Iho Beach is a particular favourite because of its unusual sand – the sands are two different colours! One type is golden whilst the other type is a dark grey. The two colours combined create a really striking effect in the water.
Fascinating Natural Attractions and Activities
Jeju Island is a nature lovers' paradise! There are several beautiful waterfalls and interesting caves all around the island, and you can see some really unusual rock formations in most of the caves. Some striking sights include the basalt columns at Jusangjeolli and Seongsan Ilchulbong. You'll probably recognise Seongsan Ilchulbong from many of the island's promo material – it is one of the main featured images. A towering volcano, it offers great views, especially at sunrise. You can also see some of the famous women divers close by.
There are several places where you can see remains from past volcanic eruptions, including large lava tubes. At Manjanggul you'll find the biggest known lave tube on the planet! The Jungman Lava Columns are also a very dramatic sight – the columns seem to just tumble away into the ocean.
The island offers plenty of good walking and hiking trails if you want to get out and enjoy being in nature. Climb Mount Hallasan, the tallest peak in South Korea, for great views after a good climb. The Olle Trails are also a good way to discover the island. There are several different trails that stretch for more than 400 kilometres around the edges of Jeju Island.
The botanical gardens are great for seeing lots of native trees, plants, and flowers in one easy place.
Fun Galore at the Theme Parks and Museums
Jeju Island is known for its weird and wonderful assortment of strange theme parks and museums; you will certainly find a really eclectic selection here!
One of the most bizarre theme parks (and one that is sure to raise an eyebrow or two!) is Loveland. It is a sculpture park that largely deals with all things to do with sex and intimacy and it graphically deals with some of the taboos in South Korea. The sculpture park near Mount Sanbang is less shocking! And Mini World is also a bit more family-friendly, with replicas of many iconic sights from around the world.
There is a Ripley's Believe it or Not on Jeju Island, where you can gawk at a collection of some real oddities and have your mind completely boggled.
The Glass Castle has a large collection of sculptures made entirely from glass – it is very pretty and you can also have a go at making your own glass creations. Jeju Island is also home to the largest aquarium in Asia. Others include Gimnyeong Maze Park, Dinosaur Land, Ecoland, Chefline World, and a couple of different folk villages. The more offbeat of the island's museums include the Teddy Bear Museum and Green Tea Museum.
There are heaps of reasons to visit Jeju Island and it will certainly add something to any trip around South Korea.