This article is about Safari holidays in Botswana, travel tips, advice and recommendation. Tourists visiting this beautiful city in South Africa get to see many mesmerizing and eye catching views. From the classic safari vacation to the unique and wonderful Okavango Delta I went on a camping trip to Botswana, on an organized tour with Explore (www.explore.co.uk) feeling that it was safer to have everything coordinated and someone at least knowing whom to contact if I was eaten by a hippopotamus or honey badger. A trip to Chobe National Park situated in Botswana is however considered as an untouched and less crowded tourist destination as compared to some of the areas of Kenya and Tanzania but it gives a natural and an adventurous feel. It is a popular place to camp, if you want to be very close to the animals, although there are also luxury lodges nearby. The Okavango Delta is a unique location, extremely tranquil and excellent for viewing hippopotamuses and the occasional crocodile.
Why Botswana?
Botswana and Namibia in Southern Africa are generally safer than other countries in Africa, where humans tend to be the most dangerous animal. Botswana has wonderful wildlife viewing and provides more expensive and higher quality safari experiences than an average safari holiday.
Getting There
We flew from London to Windhoek in Namibia via Frankfurt. Our baggage flew to Frankfurt, where it decided to stay. We stayed the night in Windhoek after quite a hurried shopping trip to Woolworths, which is an African shop selling clothes and everything else, with the £50 each, that our travel agent representative had managed to get for us (possibly from the airline) This turned out to be plenty of money and were able to kit ourselves out with enough clothes for at least a week, and the local representative provided sleeping bags etc.
We moved towards Maun as per the information mentioned in our guidebook. jokingly informed us) in Botswana. Our baggage had now reached Windhoek. We then met up with an English honeymooning couple who were apparently with our group and the four of us, and two pilots flew in a Cessna low over the beautiful scenery and startled animals towards the Okavango Delta. This really is a wonderful way to see the fascinating African plains and the spectacular view of the Deltas. World largest inland delta The Okavango Delta has no outlet to the sea, so there is seasonal flooding of the Kalahari Desert, forming shallow lakes and islands that change constantly. We landed at a tiny, dusty landing strip near where we were going to be camping and were picked up by the main guide, who took us by Land Rover, then boat to the island we would be camping on, stopping off a couple of times for a spot of game viewing on the way. Our baggage was now in Maun.
The Okavango Delta
The rest of the group, six Australians, were already there, the campsite erected and the campfire burning with our "chef" already hard at work preparing dinner. An absolutely fabulous setting surrounded by water and animals, including hippos and crocodiles. The two-man tents were basic, but lion-proof (well that's what the guides said anyway) There were showers and toilet tents already in place as well. Everything needed to be temporary, both for environmental reasons and because of the constantly moving water and animals.
Exploring the Okavango Delta
The next few days consisted of exploring the area, mostly in "dug-out" canoes (made of fibreglass, but quite realistic) being punted slowly through the shallow water, but also occasionally in larger motor boats in the deeper water or in the Land Rovers. The canoes were a wonderfully tranquil way to travel, gliding between the tall reeds, making almost no noise at all. We stayed in the shallow water because the hippos are visible there, whereas in the deep water they can be grazing underneath you and you really do not want to be over a hippo when it surfaces. They may be vegetarian, but they have enormous mouths, easily big enough for a medium-sized tourist. One afternoon was spent fishing in a larger metal boat which was going to be a part of the dinner. We caught one fish between the 10 of us, but the chef was quietly sitting on the riverbank reeling them in. He buried his catch, wrapped in leaves, and then built a fire on top. Delicious.
Chobe National Park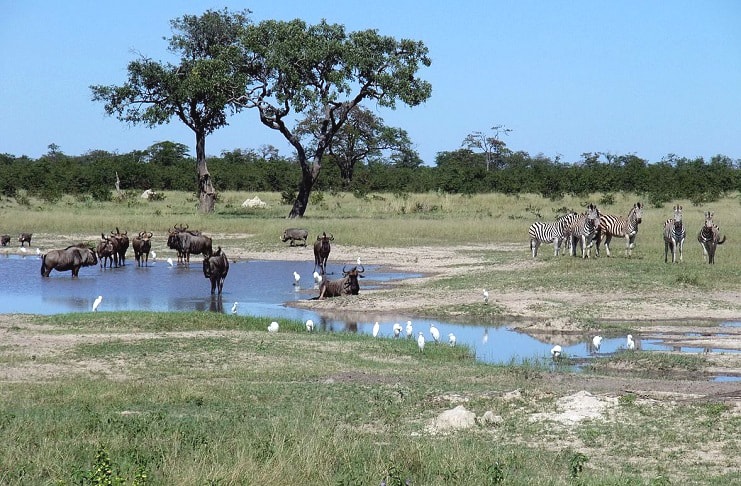 The next phase of our journey was enjoying the Safari Ride at the Chobe National Park which holds a little different and dry Our luggage was still one day behind us, with the local travel company making every effort to get it to us. Again we were camping, but erecting our tents at each new impromptu site, as we made our way across the national park. There were of course no facilities at all, but the "chef" dug a new toilet at each venue, round which he erected a tent. He also made a wonderful shower, consisting of a bucket with a huge shower attachment on the bottom, hanging from a tree, filled with enough hot water, warmed on the fire, for two good long showers. Each day we would head out for at least two game-drives, usually early morning and evening as the sun went down. It was surprisingly cold, considering the temperature at midday, but obviously, this is when the animals are most active. The rest of the day would be spent relaxing and reading under a huge canopy near the tents, unless something interesting wandered past, in which case we would jump into one of the cars and go in pursuit. A leopard wandered through the camp causing an absolute cacophony from the monkeys and birds on one occasion, but he sneaked off before we could get the temperamental Land Rover started.
The main guide was enthusiastic and knowledgeable, university educated in Botswana in subjects associated with ecology, zoology and tourisms. Having a good guide really does add to the experience. On the game drives we saw a huge variety of wildlife, including lions, cheetahs, jackals, elephants, many different antelope and a huge variety of birds. The most memorable sight was perhaps watching the sun go down near a waterhole as the elephants drank and thousands of small birds swooped past. As seems to be the tradition on safari in Africa, Sundowner drinks were served as we watched this glorious sight. Despite camping, this really was frightfully posh.
Camping in Africa
During the evening we would sit round the fire exchanging travel stories with the other tourists, and lion mauling stories with the guides while eating the delicious food prepared on the fire. Jungle etiquette dictates that the lions will not attack unless you run away and they certainly won't come into your tent (probably) One night however a lion decided to sit outside my tent purring, which was annoying as I was desperate to use the toilet. The following night my traveling companion wandered out of the tent, after everyone had gone to bed and met a hyena face-to-face. Not one of those cute cartoon hyenas that laugh all the time, but a big, long-legged one with an intimidating smile. He couldn't remember the jungle etiquette for meeting hyenas, stood for a while, and then eventually said, "shoot" and it trotted off. Hyenas are nasty things that don't really play the game. If you leave your shoes outside the tent they will steal them. They love the smell. If you put them inside the tent they will come in to get them and possibly eat you too. I was terrified for most of the time in Chobe, but I loved the experience.
And on to Zimbabwe, Zambia and Victoria Falls
After traveling across Chobe, and a brief game-viewing excursion into Zimbabwe, we arrived at Victoria Falls, for a short stay before being reunited with our luggage and our flights home. Lot of activities can be performed here to add more enjoyment in the journey such as shopping and bungee jumping off the bridge above the falls, but it is a wonderful place just to relax and enjoy that incredible waterfall. Thunder accompanied with lightning was very noisy and we were like half deaf by that thunder sound and we got completely soaked in a short time as we approached the falls. Helicopter flights from Zambia, just over the border a few miles away were significantly cheaper, so we took a flight over the falls, from the Zambian side, including some more game viewing from the air. It gives a stunning view of the falls and is certainly worth doing.
Abundant Birdlife
Southern Africa is also a wonderful place to visit if you are an ornithologist with an abundance of birds of so many varieties; the beautiful kingfishers are common, vultures watch menacingly, herons and egrets occupy the river banks, the ostriches strut around and the owls snooze quietly during the day… This will have to be the subject of another lens.
Conclusion
Botswana is a highly recommended tourist destination from my side which nobody should miss. It is a wonderful place for a safari holiday and the Okavango Delta is very special and quite unique. It is more expensive than some other, more touristy countries in Africa; even for a two-week camping trip it could cost £2,000 ($4000) each, but offers a huge variety of experiences. Camping with lions and hyenas is, however, a frightening experience and these days I would probably opt for staying at a good lodge rather than in a tent.