South East Asia, world's best destination to partake Scuba Diving and especially The Coral Triangle which is an area that comprises Papua New Guinea,Indonesia, and Malaysia. The Philippines and East Timor, contains the largest amount of marine biodiversity in the world, and is absolutely stunning. This is a list of the 10 best places to dive in South East Asia.
01. Raja Ampat, Indonesia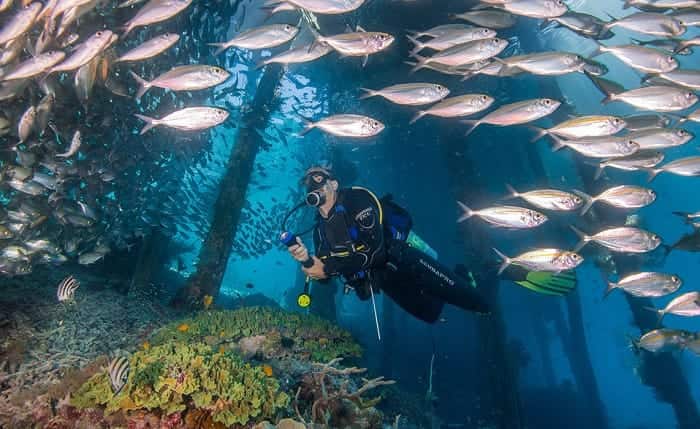 "Raja Ampat" means "Four Kings" in the Indonesian language, referring to the Four Islands jutting out from the ocean.
Coral reefs surround the four islands, and Raja Ampat is number one on this list because it has the some of the world's healthiest and prettiest reefs. The underwater scenery is comprised of soft colourful coral and hard coral.
Raja Ampat contains some of the highest density of small and large underwater creatures in the world. You can see everything from the tiniest goby fish to 5 meter long sharks. Don't worry, the reef sharks here have small mouths and do not bite people.
02. Sipadan, Malaysia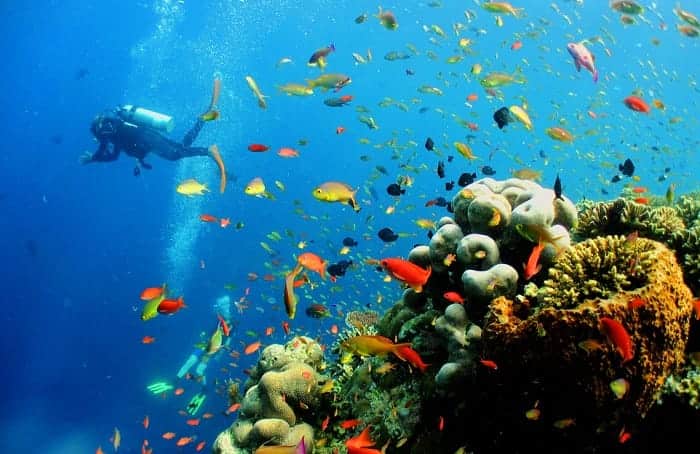 Sipadan Island in Malaysia has been consecutively voted as the top scuba diving destination in the entire world. This area is the best for seeing large pelagic fish (fish that live in the open ocean as opposed to the reef). You can see giant Green Turtles and small Blacktip reef sharks on every dive here.
Sipadan Island sits on the remnants of an extinct underwater volcano. The island itself sits on top of a 600 meter wall drop. This wall is all covered in coral that fed off the soil and nutrients emitted from the volcanic explosion.
Sipadan is famous for its schools of Barracuda. Barracuda are predatory fish that can grow to be 1.5 meters long. Thousands of individuals flock together in a fish school. Because Barracuda are curious creatures, they will sometimes swim towards divers and surround them in a "fish tornado".
03. Koror, Palau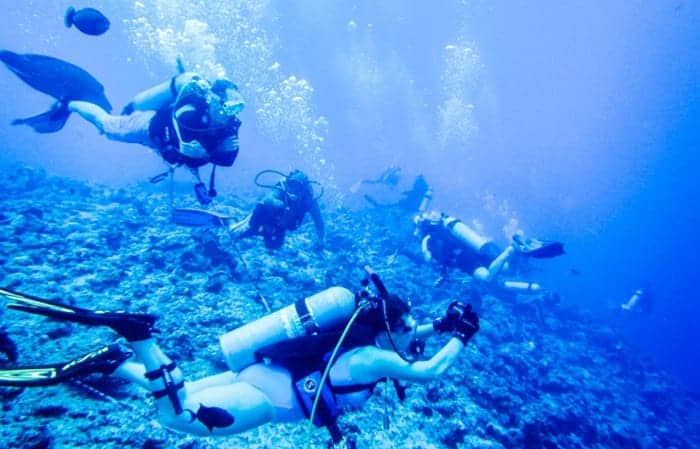 Koror is the capital of the tiny Micronesia island nation of Palau, located east of the Philippines. The coral reefs in Palau are quite unique because they are located in an area where 3 major currents in South East Asia meet. The best thing about the place is that it is home to numerous rare and colorful fauna and flora species which make the underwater sport activity more interesting and appealing. Koror is the home of several large World War II shipwrecks. You can scuba dive inside and outside of the shipwrecks, and see the schools of fish hiding inside.
Koror is the home of the famous jellyfish lake. This is a salt water lake that is connected to the ocean through tunnels in an ancient reef system. But the lake is isolated enough that the jellyfish have evolved to not have tentacles. You can scuba dive and snorkel with thousands of jellyfish in the lake.
04. Similan islands, Thailand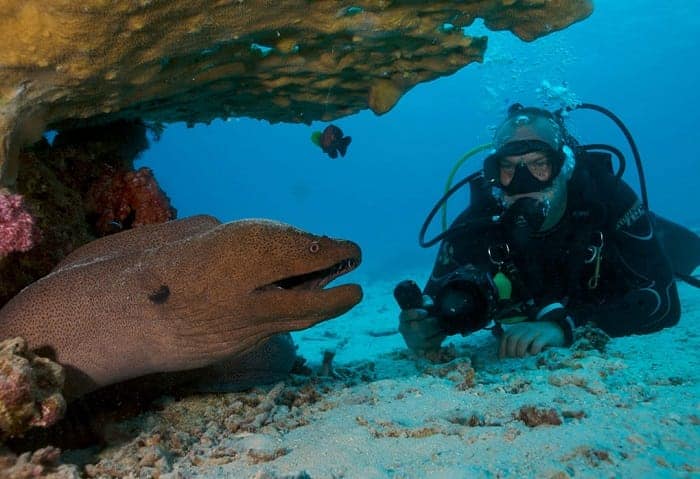 Similan islands National Park is the best location to scuba dive in Thailand. Similans is located in the west side of Thailand, on the sea between Myanmar and India. Similan means "nine," and refers to the nine islands that surround the area.
The diving on the east side of the Similan Islands consist of a 45 degrees sloping coral reef. The west side has gigantic underwater boulders that extend 100 meters down. The west side has large current, and is a maze of coral and caves that you can swim through.
This is a good location to spot Whale Sharks. These are large sharks that filter feed on plankton, and can grow up to the length of a small bus.
05. Derawan Islands, East Kalimantan, Indonesia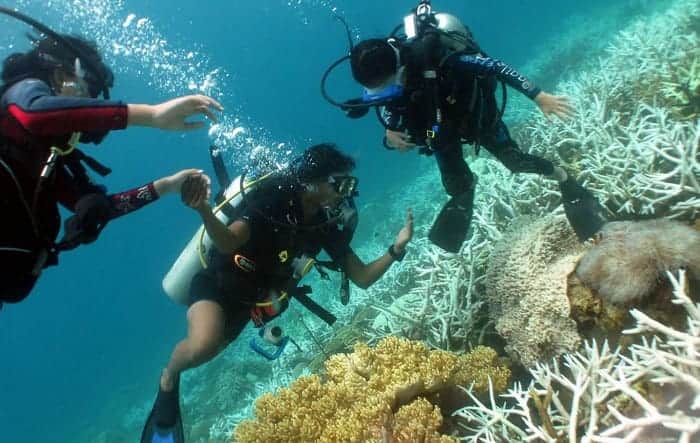 Derawan Islands in Indonesia is great for macro diving. Macro diving means seeing small critters, such as tiny bile-ringed octopus, frog fish that walk on hind fins, and colourful seahorses.
Derawan Islands is also famous for diving with Manta Rays in the open ocean. Manta rays are cousins of string rays, but are much bigger and can grow up to 4 meters. The current in Derawan brings in a lot of plankton, which attracts the Mantas to this area.
Derawan Island beaches contain the largest Green Turtle nesting site in Indonesia. Every year, thousands of turtles come onto the beaches and lay eggs. You can also spot harmless spotted sharks that rest on the reefs.
06. Mergui Archipelago, Myanmar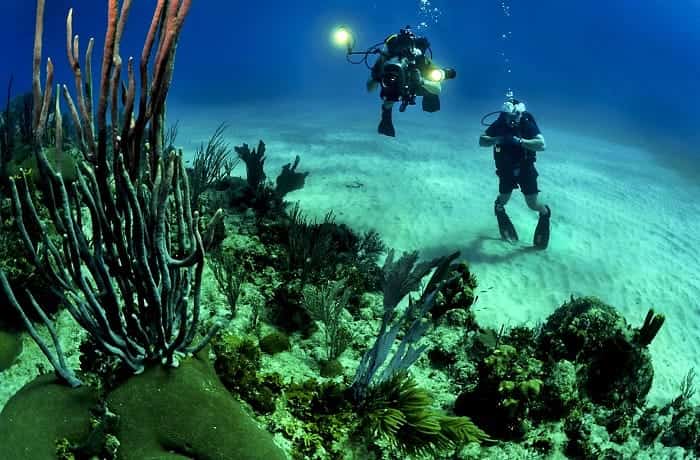 This area has only been recently opened up for tourism in 1997 by the Myanmar government.
The Mergui Archipelago is only accessible by Liveaboard boats. A Liveaboard boat is a dive boat that you live on for 3-7 days in order to go scuba diving in a remote island location.
A Dive site called the Fan Forest Pinnacle contains thousands of large fan coral. One fan coral can extend longer than a person's height. Because of the Mergui Archipelago's geographical isolation, everything underwater is completely untouched and pristine.
07. Andaman and Nicobar Islands, India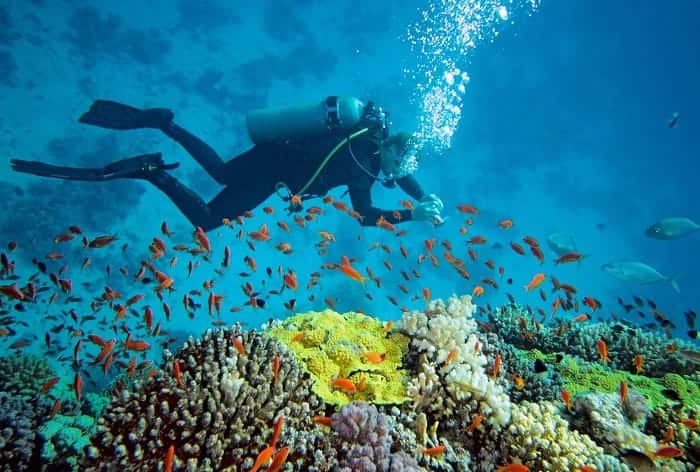 Geographically located in the ocean between India and Myanmar, the Andaman and Nicobar Islands is in a remote location far from human activity.
Some of the dive sites here have a crystal clear visibility of up to 30 meters. Andaman offers hard black coral that rare in Southeast Asia.
Many of the dive sites here are highlighted by sponges and sea squirts, which are sponge-like anemone animals. There are dive sites where red, pink, and purple sponges and sea squirts cover an entire area of reef.
08. Komodo Island, Indonesia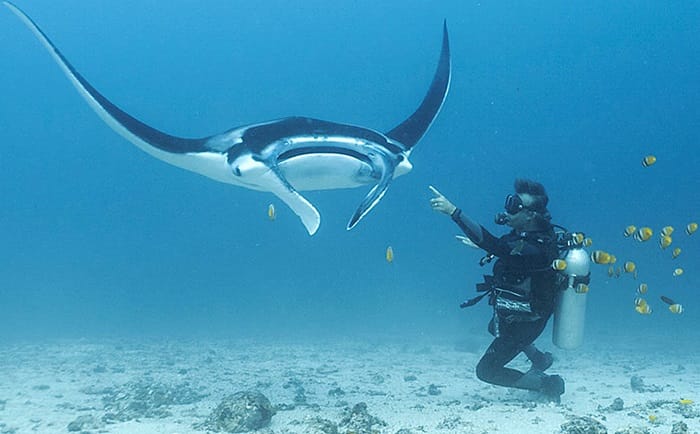 Komodo Island is best known for its Komodo dragons, huge 2 meter reptiles that only exist in that part of the world.
The diving here is also world-class. The shallow reefs generally have no current and is suitable for beginner scuba divers. The Komodo Islands underwater topography consists of huge black boulders covered in coral reefs.
An interesting fish that you can see in Komodo is the ocean sunfish, or Mola Mola, the world's heaviest fish can grow to have a weight of 3 tons, or 1600 kilograms. They like to stay near the surface and sunbathe while cleaner fish eat bacteria off of their skin.
09. Tubbataha, Philippines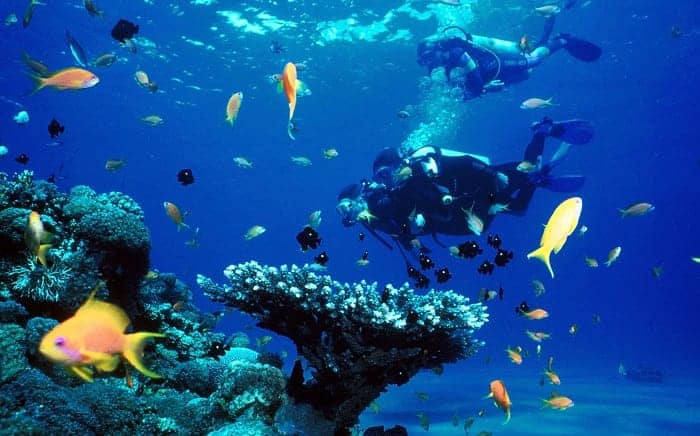 Tubbataha National Marine Park is a UNESCO world Heritage in the Philippines. It is comprised of a underwater wall formation that slopes down for 100 meters. This area is home to 10 shark species, 3 sea turtle species, and 13 dolphin and whale species.
This is an atoll structure. Atolls are ring-shaped coral reefs that grow out from an extinct volcano. Colourful corals cover more than 2/3 of the waters around the waters. Thousands of small fish species live inside crevices of the underwater wall.
10. Tulamben, Bali, Indonesia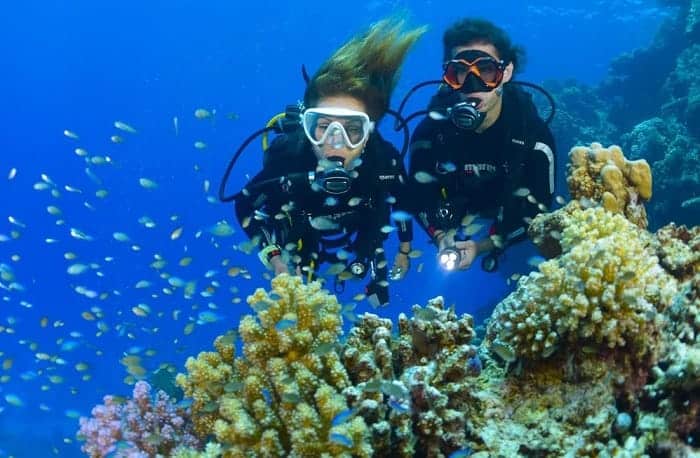 Tulamben is a dive site in Bali, Indonesia. It contains the shipwreck of the US 1940s Army Transport Ship Liberty, which was torpedoed by a Japanese submarine.
The Shipwreck is located 30 meters below water. It is completely covered in soft coral and anemones. The shipwreck provides a good artificial reef, providing shelter to the fish and coral species.
Because of high visibility, gentle current and easy accessibility from the shore, Tulamben Dive site is the most popular dive site in Bali. Many people getting their Scuba Open Water Licences come here to dive.
Note: In order to scuba dive, first you must first get a Open Water License from PADI, the Professional Association of Dive Instructors. The License takes 3-4 days to learn and costs about 300 USD-500 USD depending on the country that you get it at. Many people choose to get their Scuba License in Malaysia or Thailand, because they have the best prices for scuba diving.
You must be a licensed scuba diver before you scuba dive in any of these locations.