Fiddleheads look like the scrolled handle on a violin head and are actually the sprouts of the ostrich fern, harvested just as they are doting through in the ground in early spring. These sprouts – coils about one and a half inches in diameter and about two inches long – are harvested within two weeks, after which they unfurl into the fern plant. Fiddleheads are some of Canada's very rare indigenous vegetables, and one of my favourite and the most obvious signs of the onset of spring, and summer to come.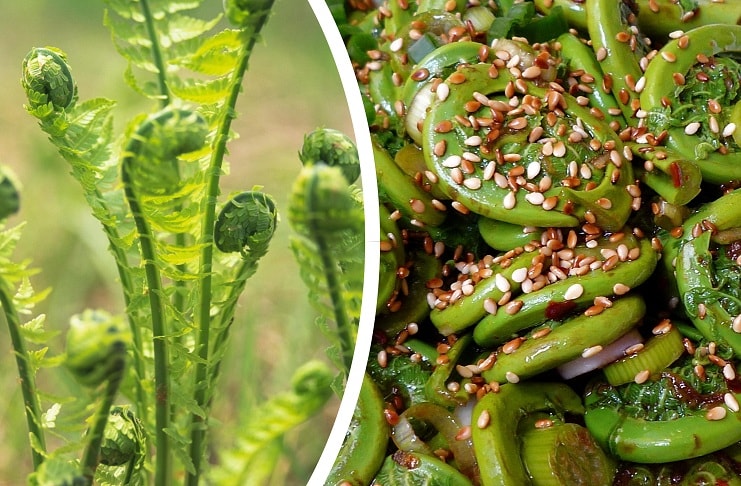 To me, the taste of fiddleheads is something like a blend between broccoli and asparagus, with a little bit of a nutty or woodsy flavour. They are extremely delectable and crunchy to taste, with that 'fresh greens' sensation, steamed and topped with a bit of lemon juice and butter, or in stir-fries or cheesy casseroles.
Pair up fiddleheads with some other uniquely Canadian fare from The Recipe for Travel's Canadian Recipes.
Cooking Fiddleheads
A few quick tips for preparing fiddleheads for cooking:
scrape off the brown scales under cold running water
poke a finger gently through the middle of the coil in both directions under cold running water to release sand and grunge and then reshape into their flat coil shape
trim off the stem ends just before cooking – cut just above where they become fibrous and tough
Buying Fiddleheads
Fresh fiddleheads can be found in your local grocery store and farmers' markets April through early June, depending on where you live. Look for firm, tightly-coiled, bright looking fiddleheads.
Better yet, use some right away and store some for winter:
boil fiddleheads for 3 minutes, then chill it entirely by running it under cold water
pat them dry and spread out the fiddleheads in a single layer on parchment paper and put in the freezer until they're solid
seal the frozen fiddleheads in meal-size portions in freezer bags and use within 12 months
Are There Toxins in Fiddleheads?
According to the Canadian Food Inspection Agency (CFIA), fresh fiddleheads contain some natural toxin which is present in the fern of the plant that could be the cause of some reported cases of 'food poisoning' symptoms experienced after eating raw or undercooked fiddleheads.
I've actually seen several write-ups about fiddleheads – each one different in its recommendation about whether or not fiddleheads can be consumed raw. I love them cooked, and find that they retain their crunch and woodsy flavour even when well-boiled and then cooked further in a cheese and veggie casserole – that said, and with government food safety agencies recommending against eating fiddleheads raw, why would anyone risk it?
Do you have a recipe for fiddleheads? Share it with us in the comments below!