Singapore does it need introduction?
Do I really have to list down what is Singapore?
I mean is it possible to really write in some words what is Singapore?
I don't think so! I can write some few words but will it accredit enough for what this city stands in the world for.
Well to cut the long story short, I will just take a chapter of Singapore- its astonishing night life! (Am not going to tell you it's the cleanest countries and don't mess up anywhere you shall be fined, see did I tell you anything about it!)
All the night owls and bats just dress up right and hoot to Singapore to have the extravagant night. The sun gets extinguished but lights don't dim in Singapore but it gets bright and dazzling. As the night falls, Singapore emerges alive with energy, enigma, vigor, verve and life begins in many areas of Singapore. The Singapore is rated as one of the safest countries in world, where you can hit on the road late night.
Razzle Dazzle and Sizzle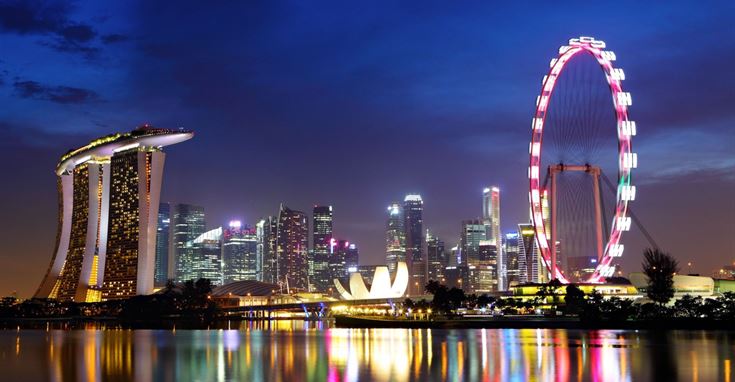 Well that's the Singapore's attitude for its night life, a country that welcomes the entire tourists, gifts them surprises to their senses even in the wee hours of night. Singapore is the country that never sleeps; it rocks on all the night!
A party hedonist, night adventure lover, just the lover, hooker, gluttonous foodie and party animal the exciting and colorful nightlife is Singapore will satiate your every desires, whims and sleep will be far far away! The ultra chic bar, grooving dance clubs, adventurous night safari or classy jazz lounges, the nightlife experience you will get the best.
Though there is restrictions on smoking by the government is pubs, discos and all the nightspots but there are special smoking zones where you can just take on the puff.
Singapore turns itself into a paradise in night with the food that it serves- 24 hour round the clock the coffee houses are open and natives who love to serve are there with their delicacies around the block. You can actually say Eating is the best past time here, not from people here being fat (girls here are hot and sexy and petite figure!) but some food joints open only after mid night! Hey you can get hungry any time and you can tuck in for buffet local, continental and International cuisine, with Chinese and Indian food is superb tasty.
Hey don't forget the favorite past time of all the ladies i.e. the shopping – there are no respite guys from picking up their bags, as there is all the more fun doing the late night shopping. Singapore doesn't sleep guys it rocks and rolls and has great time! Do visit Mustafa its open for you 24 hours with good deals that you will love.
Even the Grand 1 Formula racing chooses Singapore as its venue for the night race. Don't miss that out it is pulsating and wroooooooom goes the Michael Schumacher.
Seductive night– As sun goes down and party fever rises.
The hot and sizzling cool and chilling, that's Singapore a city of contrast after the dark; it's the most seductive and captivating times of nation. On the waterfront promenades of the Singapore River swig on cold beer or sip cocktails in Civic District in midst of historic building. The beckoning Happy Hour- its best time man- cheap good beer, wow! Tempo music,rocking Djs, live bands in Orchard Road to Bohemian enclave in Holland Village. Go break dancing, hip hop and clubbing at some the world's best hippest bars, clubs and lounges for R&B , pulsating techno beats, dance, shake move on your ass and burn the dance floor. Enjoy the lush setting in Tanglin Village and make romantic night as lounging in the beachside lounge in Sentosa and feel the sea breeze, shiver with passion by the beachside.
Get on to the Fun Vee Night Hopper– which will take you all around the best of best night spots and give queue free passes or Go for HIPPO tour with open double-decker bus which will take you night sightseeing of city's top attractions giving 360 degree of panoramic view. Go for river cruise and have romantic time or the traditional Bumboat rides or Glass top boat for scenic ride of Singapore river to see the antiquated godowns and shophouses.
Night time is best to go to Sentosa Luge and Skyride for go cart, toboggan, 360 degree view of the Singapore from the skyride. The adventure and sports lover can go skiing in night or go for Night Safari. The Night Safari is simply superb for you will be able to know what these animals do in night! I mean guys all safari's are in day when do we see them actually- such a superb park it is with eight zones created according to geographic zones like African Savanna, tropical rainforest and with 135 exotic species don't miss this out. Even the Museums are open here for late night visits! Just grab the opportunity if you love ancient times!
But if you don't fear heights and have the balls then get a ride on Singapore Flyer- giant wheel which is 165m high.
Well this is just the introduction to the astonishing nightlife of Singapore chapter shall continue with the memoirs of your visits.