Popular for being one of the most thriving and thumping metropolitans in the world, Singapore has emerged as one of the most popular tourist destinations. The entire landscape of Singapore is dotted with incredibly mesmerizing landmarks and scenic beauty. This land is also immensely culturally diverse which can be observed in its architecture and various cuisines. A visit here will definitely be a one of a kind experience and will stay in your memories a years to come.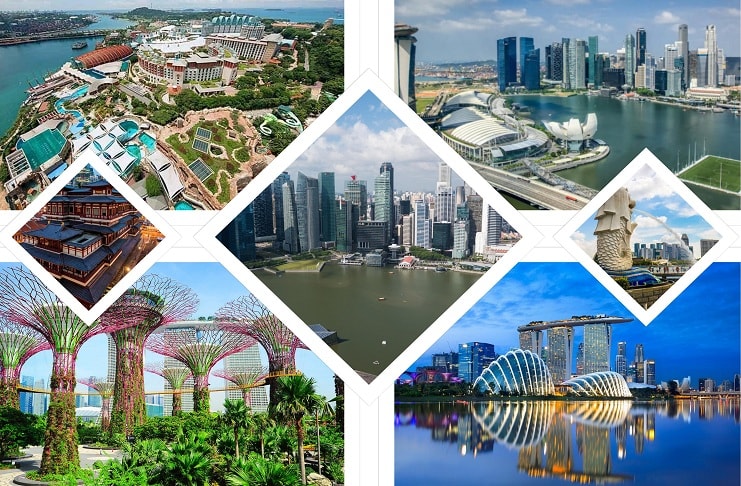 Airport Transfers
MRT (subway train) departs from the station between T2 and T3 to any Singapore station. Passengers change trains at Tanah Merah Singapore station to the city-bound line (just cross the platform to the other train). Trains take about 30 mines to Orchard Road area. [Adult fare SG$2, 5:30 am to 11 pm, trains are very frequent]
Singapore Bus Guide Terminals are located in the basements of T1, T2 and T3. [6 am to midnight, fares below $2, exact fare required]
Shuttle Mini-Bus/Coaches travel to designated areas and hotels within the city. A seat on the next coach can be booked at one of the counters in the arrival hall. [Available 6 am to 2 am, every 15 to 30 minutes, adult fare SG$8]
Taxi is the easiest the way to get to the city. A trip to the city will be SG$20-30 (50% surcharge midnight to 6 am)
Limousines are available 24 hours to anywhere in the city for a flat fee of SG$35.
Coach to/from Malaysia
Singapore does not have a central Singapore bus terminal and coaches to Malaysia arrive/depart from all over the city. It is cheaper to take a Malaysian long-distance express bus from Johor Bahru (Larkin Bus Terminal) to another Malaysian destination as you will pay in Malaysian Ringgit.
Aero line has luxury coaches with on-board meals, power sockets, lounge area etc, to KL. [Departs from HarbourFront Centre, from SGD$47 one-way]
Nice have executive express buses to KL, normal buses and double-decker buses. [Departs Copthorne Orchid Hotel on Dunearn Rd]
Transnational have direct buses from Singapore to many Malaysian destinations. [Departs Lavender St. Executive/economy buses RM60/26]
Transtar has fantastic 16 individual seat First Class coaches with massaging chairs, coach attendants with food & beverage service and LCD screen with pc games/audio/video on demand. [Online booking, SGD$98 one-way to KL, departs Lavender St. Hock Seng Building]
Train to/from Malaysia
Malaysian Railway (KTMB) – Singapore station is the southern terminus of Malaysia's railway network. There are two-day trains and one-night sleeper train daily to Kuala Lumpur and beyond. It is less expensive to purchase the train ticket in Malaysia than at Singapore station. You will be required to cross the border by road and then you will have to board the train at Johor Bahru.
Singapore Transport
Singapore Travel is easy with the high quality and inexpensive public transport.
Taxis in Singapore are clean, safe, reasonably priced and always use the meter.
MRT (Mass Rapid Transit) and LRT (Light Rail Transit) are Singapore's underground and overhead train networks covering a large part of the island. The trains are very inexpensive with a single-trip journey ticket costing between $0.80 to $2.00 along with a $1.00 refundable deposit.
Hop-on Hop-off HiPPO Tour is an open-top Singapore bus for visitors to enjoy Singapore's vibrant sights and sounds with live commentary provided. With 3 tours and 35 stops, HiPPO connects visitors to major hotels, shopping malls, attractions and sights. [Available 9.00am to 6.00pm, at 25-minute intervals, one-day or two-day passes available]
Car rental is not recommended in Singapore as the public transport systems are excellent. Car rental and fuel are very expensive, not to mention the electronic road pricing (ERP) charges. If driving in Malaysia, hire a car across the border in Johor Bahru where the rental and fuel are half price and the car can be handed back at other locations in Malaysia.
Singapore Weather
Singapore is located almost on the equator and has a hot and humid tropical climate. The wet season is November to January but rain falls throughout the year, usually in a short afternoon storm that lasts up to one hour, so carry an umbrella both as cover from the rain and shade from the sun. The high temperature and humidity can be uncomfortable for visitors but all shops, hotels and public transport is air-conditioned.
History of Singapore
According to legend, a Srivijayan prince arrived on the island in the 13th century and saw what he thought was a lion (lions are not native to the Malay Peninsula). He decided to found a new city called Singapore (Lion City in Malay).
In 1819, Sir Thomas Stamford Raffles realized the island was geographically well placed at the junction of the trade routes between Europe, China, India and Australia. He made a deal, with a claimant to the throne of the Sultan of Johor, that the British will be supporting his claim to the throne only in exchange for the right to set up a trading post on the island.
Raffles had declared Singapore a free port (no taxes on trade) and traders flocked to Singapore to escape the taxes imposed at other trading posts in the region. As a result, Singapore rapidly grew into one of the busiest ports in Asia.
In 1867, Singapore was formally made into a British Crown Colony.
During World War II Singapore became a British Naval Base and was heavily fortified guarding against an attack from the sea. However, the Japanese came across the Malaya peninsula (using bicycles) instead. Despite turning the guns around, the British were cornered and surrendered on 15 February 1942 with thousands of men being captured and held in prisoner-of-war camps.
In 1955, the British granted self-rule to Singapore. On 9 August 1965 Singapore gained its independence as a country. Lee Kuan Yew, Singapore's first prime minister, led the country to economic and social prosperity over the next forty years. As a result of superior economic management, Singapore ranks among one of the wealthiest and most developed countries in Asia. Lee Hsien Loong (Lee Kuan Yew's son) is the current leader of the government's People's Action Party (PAP).
Singapore tourism has grown to become one of the main industries of Singapore the country. There are many Singapore Tours making a great vacation Singapore destination.
Nightlife and Entertainment
Boat Quay, Clarke Quay & Robertson Quay is the riverside district of Singapore and has become the center of Singapore's nightlife. The area has many restaurants, cafes, bars and clubs. And there are more establishments on nearby Mohammed Sultan Road.
Orchard Road Singapore has a many restaurants, bars and clubs which are scattered throughout the area. (eg The Hard Rock Cafe is located at the beginning of Orchard Road Singapore at Cuscaden Road).
Raffles Hotel Singapore located at One Beach Road is the world-famous hotel that opened in 1887 and was named after Sir Stamford Raffles, founder of Singapore. Visit the famous Long Bar which is best known for the popular cocktail drink "Singapore Sling".
Emerald Hill has a cluster of bars just off Orchard Road. [Emerald Hill Road, near Orchard Road's Somerset MRT station]
Holland Village, Rochester Park and Tanglin Village offer a multitude of bars and dining outlets for drinks and entertainment and are a favourite place for residents and expats.
Civic District encompasses City Hall and CHIJMES and retains its historical charm from Singapore's colonial past despite the towering presence of modern skyscrapers. City Space and New Asia Bar (Swissotel the Stamford hotel) provide a top-of-the-world experience and view from 70 floors above the bustling roads beneath. CHIJMES is a national heritage site with restaurants, pubs and clubs. Muse Bar and Novus are at the newly refurbished National Museum of Singapore.
St. James Power Station is a former power station that has been transformed into Singapore's largest one-stop nightlife destination with 9 clubs and bars with different themes. After paying the cover charge for one club, you can enter all others. [Sentosa Gateway, opposite Vivocity, Open Wed-Sun, $10-20 cover charge including one drink]
Sentosa Island (Siloso Beach Singapore) has several beach bars.
Casinos – There are two casinos under construction due for completion 2010-11.
Dining
Boat Quay, Clarke Quay & Robertson Quay is the riverside district of Singapore and has become the center of Singapore's nightlife. The area has numerous ranges of restaurants, cafes and bars.
Orchard Road has many restaurants, bars and clubs spread throughout the area.
Holland Village, Rochester Park offers a multitude of bars and dining outlets.
Tanglin Village is situated just off the Holland Road and right outside the Orchard Road precinct is a popular dining area.
Chinatown's Smith Street has many outdoor restaurants in the evening.
Civic District encompasses City Hall and CHIJMES and retains its historical charm from Singapore's colonial past despite the towering presence of modern skyscrapers. Many restaurants here.
Vivocity Harbourfront a great venue for shopping, dining, movies and more.
East Coast Parkway on the East Coast is the beachfront recreation and relaxation district for many Singaporeans and visitors.
Singapore Shopping
Orchard Road Singapore is Singapore's Premier Shopping Street which attracts more than seven million visitors on an annual basis. Orchard Road is a lush tree-lined boulevard hosting many shops, restaurants and large malls and is serviced by Dhoby Ghaut, Somerset and Orchard MRT stations.
Ngee Ann City/Takashimaya/Wisma Atria Shopping Complexes are located on Orchard Road. The centers are all connected through underground shopping malls and the MRT station. The malls host many stores merchandising internationally branded goods, designer boutiques and features Kinokuniya, Southeast Asia's largest bookstore. Takashimaya's basement contains more affordable shops and a fantastic gourmet food hall including a small Harrods shop.
Plaza Singapura is a large center on Orchard Road Singapore near Dhoby Ghaut MRT station. Tennants include Carrefour hypermarket, food court and a large cinema complex on the top floors.
Vivocity Harbourfront is a large shopping mall complex on the mainland and is the gateway to Sentosa Island. The Harbour Front MRT station connects the complex with the rest of Singapore. The center also connects to the Sentosa Skyway cable car to Sentosa Island.
Parco Bugis Junction at 200 Victoria Street (MRT Bugis) is Singapore's first glass-covered air-conditioned shopping street featuring a delightful mix of clusters of Shophouses, modern retail outlets, a department store, and a Cineplex.
Bugis Street opposite Bugis Junction has sheltered walkways and air-conditioned shopping zones housing over 600 stalls. It offers a mix of trendy and functional streetwear, cafes, hawker food.
OG Albert (Bugis MRT station) is a household name in Singapore. OG has fashion, jewelry, cosmetics, watches, toys, things for the home and great food.
Raffles City Plaza is a large shopping complex located in the Civic District bounded by Stamford Road, Beach Road, Bras Basah Road and North Bridge Road, it houses two hotels, an office tower and a convention center. [MRT City Hall station]
Mariner Square has over 300 shops, cafes and restaurants and gives access to Suntec City, City Link Mall, Millenia Walk, Convention Centre MRT station and the Singapore Flyer.
Little India is like stepping into another world where merchants sell jewelry, silk garments and aromatic spices. Explore along Serangoon Road and the surrounding streets [MRT Little India or Farrer Park stations]
Chinatown is a great place to explore for shopping bargains. Explore Pagoda Street and the surrounding streets.
Beyond Singapore
Bahru Johor is a large city across the Causeway Bridge in Malaysia and makes a good day trip. The shopping in Jahor can be cheaper than Singapore. The Causeway Bridge is a very popular and congested right at the entry point that connects Woodlands in the north of Singapore directly into the heart of Johor Bahru. The Causeway can be crossed by bus, train, or car and remember your passport as you will be entering Malaysia.
Malacca is an original colonial trading town, in Malaysia, a pleasant 3 hour coach journey north of Singapore. The journey will take you past lush tropical jungle, rubber and palm oil plantations as well as Malay Village.
Bintan Island is just 45km southeast of bustling Singapore. Take a ferry or catamaran and in less than one hour, discover the Indonesian resort island with stunning beaches and a wide range of water activities and golf.
Singapore's Southern Islands are largely uninhabited and accessible by ferry (SG$15 round-trip). They make a good picnic spot and there is lagoon swimming, however, there are very limited facilities and no shops on the islands.