Once you decide for a Holiday Vacation in Bali then the biggest and one of the most vital decisions that you have to make, other than the activities, is Bali Accommodation and does it include a spa.
Personal choice and holiday budget plays a huge role in reaching your final decision.
Let's take the money out of your decision-making equation and just concentrate on the benefits of Bali Spas…because I have found that most people who are looking at places to stay, immediately write-off Bali spas as being too exclusive and expensive for their budgets.
Not so.
So it goes without saying…Bali Spas are also the best value.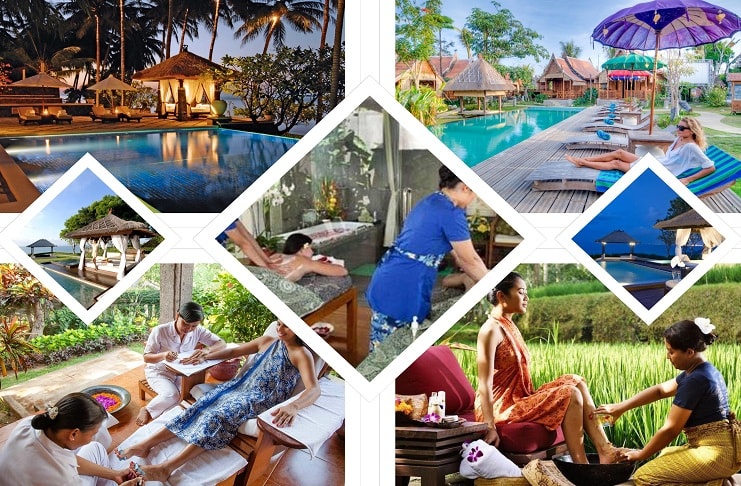 Whether you are staying at a Bali resort with spa facilities or you have found a Bali spa that will definitely inspire and will capture the real essence of what total relaxation and pampering means to you – do yourself, your body and your mind the ultimate favour…book in for a spa treatment.
You will not regret it.
So now that we have clarified the myth about Bali spas costing too much let's look at the "good stuff".
So what do I mean by "good stuff"? I mean the features on offer at these Bali spas. (Get ready to do some serious daydreaming now…let your mind drift away to a unique location where the floral scents entirely fill the air which is completely laced with gentle meditation music. Think stress free zone…think of lying face down on a comfortable mat and being massaged like you have never felt before…this is what awaits you in Bali…)
Allow me to whet your Bali Resort and Bali Spa appetite.
Bali spas can offer you everything from the entry-level small establishment right up to the world class super spas with every treatment and indulgence known to man and woman alike.
Bali has been recognized now as being the spa capital of Asia. The benefit for you is that you won't be disappointed with your spa choice.
Massages
The very first thing that springs to your mind while thinking of Bali resort spa would be massage.
Now massage can be several different things. Let's have a quick look at the types of massage available to you in Bali Spas.
Traditional Balinese massage
Thai massage
Lomi Lomi (Hawaiian) massage
Shiatsu (Japanese) massage
Reflexology
Swedish massage
Body Scrubs
There are 2 main types of body scrubs dedicated to exfoliating your dead skin and revitalizing the body during the process.
Balinese Boreh: This activity is not for the faint-hearted or even for those who have a low threshold of pain. You have been warned. This is serious stuff. Then the trained Boreh masseuse will begin to work their magic on you. This technique was used for remediating the tired bodies of the workers in the Balinese rice fields at the end of a hard day. Needless to say you might never work in a rice field again after having this technique again…but your skin will fell like its glowing in the dark and shining all through the next day.
Javanese Lulur: Aptly named "The Queen of Body Treatments", the origin for this technique have been traced back to the Palaces of Java. Normally the technique was used on brides-to-be as a purifying ritual before the marital ceremony. The main ingredient being turmeric a brightly coloured yellow spice bursting vibrancy gave the new bride a golden yellow skin colour.
Ayurvedic Treatments
Ayurvedic is a Sanskrit word derived from two main origins – Ayur which means "life" and Veda "knowledge". It is a Hindu medicine system steeped in tradition and history focused on the reflexology pressure points surrounding the head.
Let's look at 3 main types of Ayurvedic treatment
Shirodhara: involves warm oil being poured on to the Third Eye known as the 6th Chakra located in the center of your forehead. This technique is carried out in a private room surrounded by silence.
Pizhichil: involves carefully warmed medicinal oils being massaged over the entire body. (Heaven!) This detoxifying therapeutic treatment is claimed to boost and strengthen your entire nervous system and circulation while loosening your joints and improving your flexibility.
Pinda Sweda: involves the use of hot towels infused with positively medicated waters. The hot towels are used to wrap the body and drape over your face while they cleanse and detoxify your body and skin.
Couples Massage
And now for the piece de resistance…For couples traveling together and wanting a totally shared indulgence, I can highly recommend the ultimate shared massage experience.
Some Bali Spas offer the following service known as a "Four Hand Massage". It involves a double room where a couple can share a synchronized massage at the same time. 2 masseuses of a gender selected by you will perform a full body massage at the same time.
Great for reconnecting your mind, body and spirits together again in a romantic massage session. Especially beneficial if you as a couple have been leading busy stressful lives and the quantity of your time together seems to get eroded by modern life.
So if all of the above excites you and you realize that Bali Spas are definitely for you, go ahead and book your session, you will not regret it.