Arequipa City is the second most populous city in Peru and its historic capital. It's not as well-known as Lima, the capital, or Cusco, one of the most popular tourist locations, but it is still the third most visited city in Peru.
Arequipa boasts an amazingly lovely dry climate, with temperatures that usually stay in the 60s to 70s all year round. As it's located in the south of Peru and below the equator, its winter temperatures are slightly warmer than summer ones, though there isn't much variation.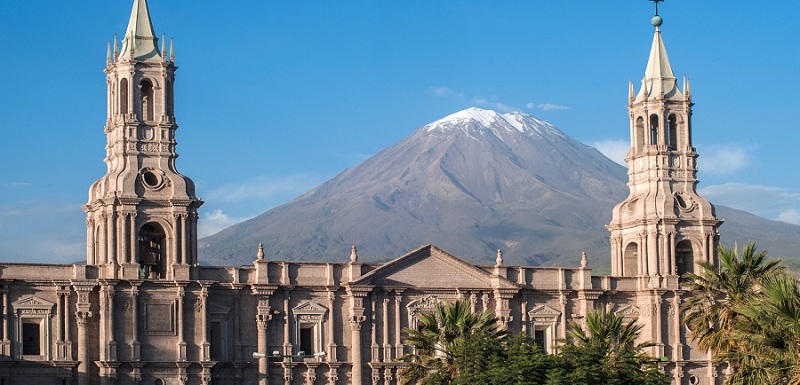 Arequipa Peru Tourist Attractions
If you're looking for some Peru tourist attractions different than the common Incan ones you may find elsewhere, you should try Arequipa (which actually has no Incan artifacts). Instead, Arequipa is known as "The White City," for its many gorgeous white buildings made from Sillar, or pearly volcanic ash.
The ash was taken from the three volcanoes that surround Arequipa City, named El Misti, Chachani and Pichu Pichu. Its architecture, a mix of both indigenous Peruvian and Spanish colonial design, is one of the main reasons to visit Arequipa. Its historic centre was listed as a UNESCO World Heritage Site in 2000.
Arequipa Peru Travel Advice
Another thing to do when you're in Arequipa is to climb one of the massive volcanoes surrounding the city. Both El Misti and Chachani are available for climbing tours, with Misti being a much easier climb and suitable for most able-bodied tourists. Chachani is a bit harder (though it's a smaller peak), but still doable.
The best Peru travel advice you can get regarding volcano climbing is to watch out for altitude sickness. Arequipa itself is already 2,335 meters above sea level, so if you're not fully acclimatized to the altitude, take caution when planning a hike up the mountains. If you're up for a bit more excitement, try downhill volcano biking. All the equipment you need is provided and it's a safe and thrilling way to see some of the most beautiful views in Arequipa.
Looking for More Things to Do in Arequipa?
If you're looking for some Peru tourist attractions that are a little less physical, Arequipa is a great place to take a few Spanish or cooking lessons. Because the people are so friendly and the climate is so nice, you might want to stick around for a while and brush up on your Peruvian skills. There are a number of schools in the area that offer affordable classes. Cooking classes often take place outdoors – and you get to eat everything you make!
And of course, any Peru travel advice will tell you that two of the most Peruvian things are alpacas, a type of Andean camel, and pisco, the traditional drink of Peru (and Chile). The alpaca is used for meat, but is more commonly used for its soft hair that is woven into yarn for textiles. Buy yourself something made of genuine alpaca hair as a great souvenir of your trip.
Pisco is a grape brandy that dates back all the way to the time of the Spanish settlers in Peru. It has a smooth, non-alcoholic taste, so beware of drinking too much of it (a common mistake among those new to pisco). Small sips during dinner will serve you better in the long run!
Whatever you decide to eat, drink or do in Arequipa, you're sure to have a good time in this relaxed and beautiful city.