So! How can i not blog about Perth right? Time has gone pretty far out and i still have fond memories of this quiet little city and i am ready to share with you guys. I did some related post to Western Australia in the past months which you can read if you click here.
If you do not know, Perth is a city and the state capital of Western Australia, Australia. It is also the fourth largest city and is said to be one of the most beautiful cities in Australia. Change your clock when you reach here because Perth is 8 hours ahead of GMT, the same time zone as Singapore, Malaysia and Hong Kong. You do the maths! Because Australia is huge, travelers often choose better-known cities such as Melbourne, Sydney and the Gold Coast. So what makes Perth and also places in Western Australia unique?
Western Australia is famous for its beautiful weather and stunning beaches. Most people find Perth attractive with a laid back vibe, clean and most-friendly city they ever visited. In addition to the natural scenery that it has to offer, it is also home to many cultural experiences. 40, 000 years ago, Perth has been home to the indigenous Noongar. Now they have 2 million people living in the city despite a relatively small population, half of the population was born outside Australia, Perth. Because it is close to Southeast Asia, most of the immigrants are from countries such as Malaysia, Japan and Thailand.
So let's get to the fun part now! Listed below are some of the places i visited while in Perth.
01. The Bell Tower / Belfry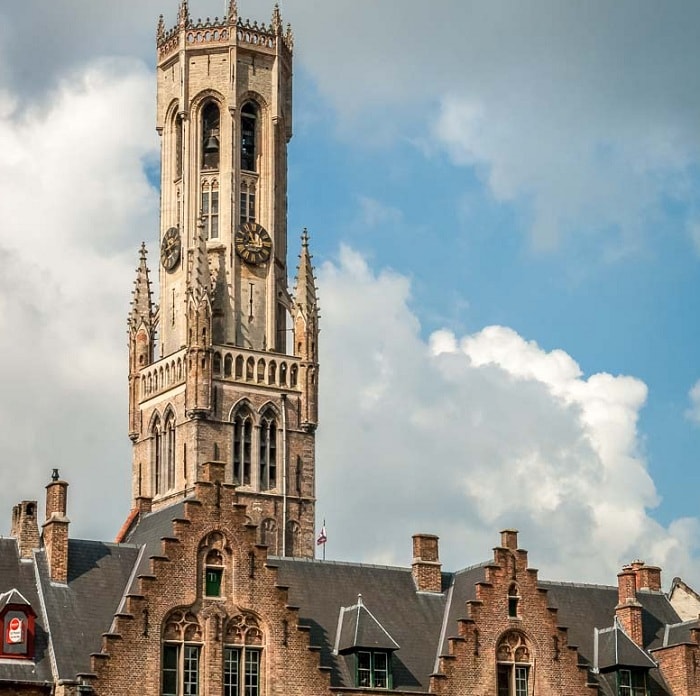 The Bell Tower, also known as the Swan Bell Tower is located on Riverside Drive facing the famous Swan River. It is one of the attractions in Perth is the most unique. The design of the Bell Tower has become an icon for Perth and Western Australia. It features a giant bell weighs 495kg and the oldest bell in Australia since 1550! Among the 18 bells in this building, the 12 bells are bells of St. Martin-In-The-Fields church in Trafalgar Square in London. The shot clock existed before the 14th century.
You Can Hear The Bell Ringing At The Following Times:
Monday, Thursday, Saturday, Sunday – 12 AM – 1 PM
Bells also sounded in some other occasion. If you plan to listen to this ancient bells, advised to contact the Bell Tower in advance to reconfirm rings.
In addition to seeing and hearing the sound of this bell, you can also buy love locks for 30 AUD including two names and dates engraved. Lock your love locks on a network outside the entrance at The Bell Tower. (OF WHICH I AM NOT A FAN OF)
02. Kings Park and Botanic Garden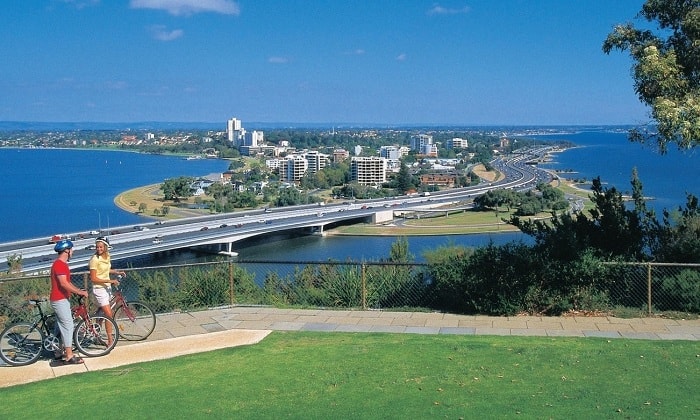 If you want to see Perth CBD city skyline, visit Kings Park and the Botanical Garden. Come during the day and night because both views are very pretty and different. Here also lies the State War Memorial in front of the view of the Swan River and the city skyline.
There is also free guided walks by volunteers in Kings Park every day except Christmas Day. The trip starts from Fraser Avenue outside stores Aspect of Kings Park.
Just a short walk up, the city came into view and it's just mesmerizing! I get to see beautiful flowers that i have never seen before in real life (well, okay except at the Flower Dome in Gardens by the Bay) just so beautiful and blooming.
The State War Memorial located in the park, just so peaceful and serene. I'd recommend this place for a picnic if you have a lot of time in the city! By far, this is my favorite park in the world – for now.
To Kings Park & ​​Botanical Garden, you can take the bus number 37 from Perth CBD for free or you can walk away from the CBD – use GPS/Map and find your way up but it's going to be a hike, just a warning.
03. Crawley Edge Boatshed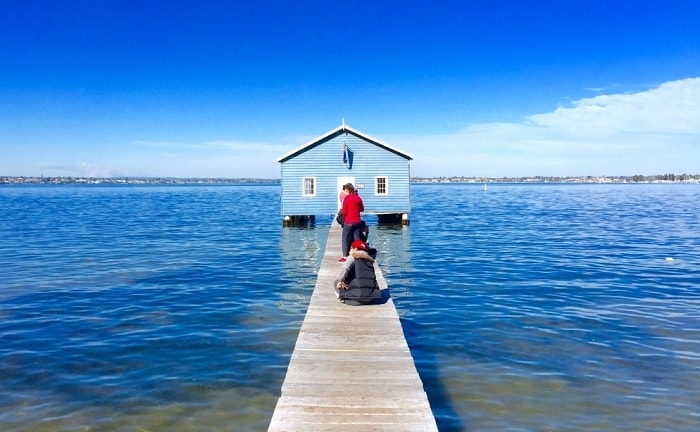 Known as the Blue House, in fact it is called Crawley Edge Boatshed that can be found in Mounts Bay Road opposite the Swan River. One of the few prominent landmarks in Perth, this blue house has been standing on the water since 1930. Now, it is a popular spot for wedding photos, especially photography.
The boat shed is thought to have been originally constructed in the early 1930s. It has been bought over by the Nattrass Family from Ivy French as a family home. In 1972, it was passed down to the Perth Sea Scouts Patrons & then a larger boat shed was built around the original boat shed. In the 1990s, the ownership was purchased back to the Nattrass Family. Thus, it was renovated and now newly refurbished and Relaunched by the solo circumnavigator of the world, Jon Sanders & solo circumnavigator David Dicks.
04. Hay Street and Murray Street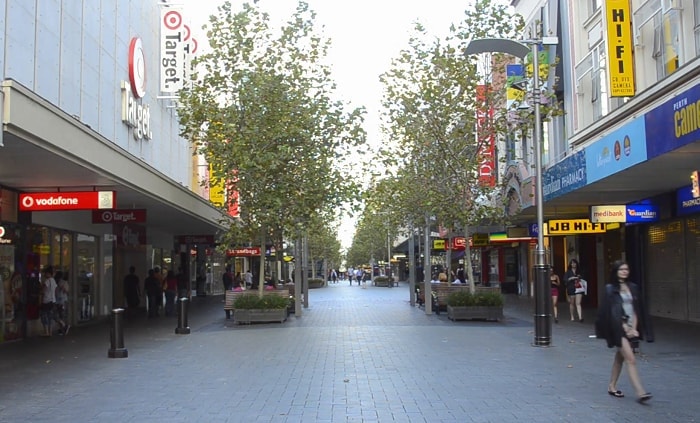 Hay Street and Murray Street is a major shopping centre in Perth. Located in the Perth CBD, the road is closed to vehicles and is also known as 'Pedestrian Mall'. In this vicinity, you cannot smoke by law and will be fined. Nearby there is a Post Office Common Wealth of Australia, Perth Visitor Centre and the Perth Train Station. Pretty convenient if you are staying around here and there's always the visitor centre if you ever get lost – which you probably won't.
05. Watertown Brand Outlet Centre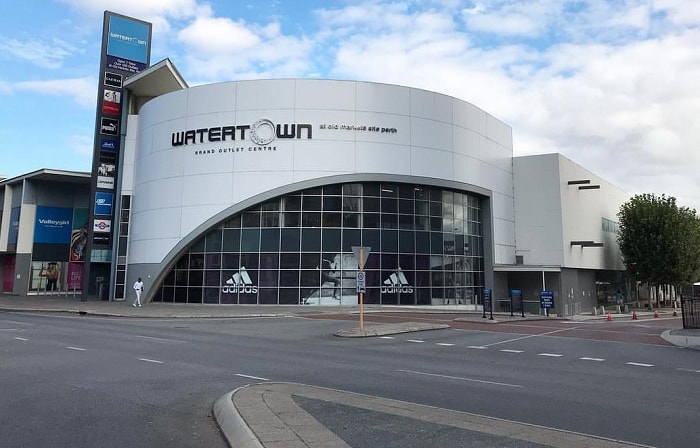 To anyone whose interests are shopping, head to Watertown Brand Outlet Centre? There are many branded designer stores such as Puma, Rip Curl, Kathmandu, Billabong, Cotton On, Kate Hill and others that are on sale! This place is heaven for shopaholics! I'm not too sure of the direction to this outlet because i head there by foot from King's Park. About 15-20 minutes' walk in the cool breeze, i didn't mind at all.
Ok, Kate Hill is officially my favorite store! You can spend hours shopping here so be sure to organised your time well and there's option of halal food too. I wonder how Boxing Day is like over here, probably a chaos!
Watertown Brand Outlet Store Is Open At The Following Times:
Monday, Tuesday, Wednesday, Thursday – 9 AM – 5:30 PM
Friday: 9 AM – 9 PM
Saturday: 9 AM – 5 PM
Sunday: 11 AM – 5 PM
For Watertown Brand Outlet Store, you can catch the Yellow and Green CAT bus for free from the Perth CBD or even walk from Perth CBD approximately 20 minutes. But I walked because i can.
There are other things you can do in Perth such as heading to Fremantle (another city in WA). Check out my Quick Guide to Fremantle here.
Overall, Perth is enjoyable but one of the best part is heading out to the outskirts of the city and see their countryside and do country things. Stay tuned for that! Safe travels.