Philippines is known for being one of the most popular tropical countries in the world that is rich in historical values, culture, and traditions.
Aside from the consistently growing Business Process Outsourcing industry here that was commenced during the time of former President Gloria Macapagal Arroyo, there are numerous other things that people should know about the Philippines, which is more convincing than just taking hearsay or Rumors all over cyberspace.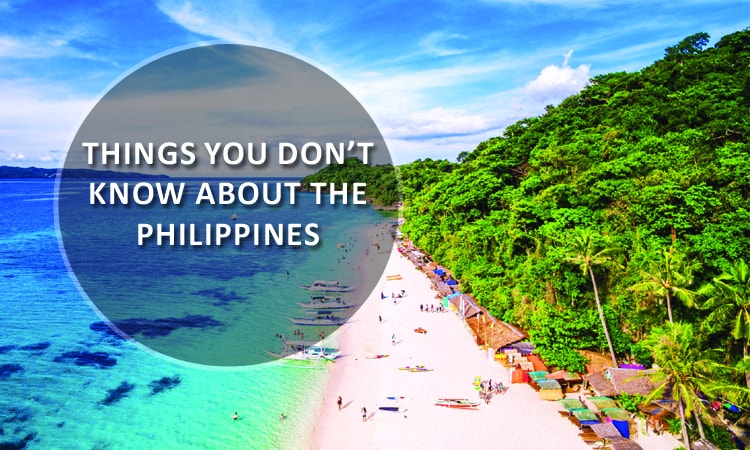 01. The Extent of Filipino's Hospitality
The caring, and friendly attitude of Filipino citizens are seen whenever visitors are coming to their homes. In fact, they are preparing bounteous meals (along with the new eating utensils, which are kept in the cabinets) in order to make their guests feel that they are welcomed. In fact, if their visitors decide for and overnight stay, they would give not just their best room but new things like beddings and pillowcases.
02. The Extreme and Economical Transportation
Aside from the cheapest transportation that you ride in the Philippines like Jeepneys, tricycles (in various styles and forms based in regions); there is also the popular Habal-Habal, a famous motorcycle ride found in Mindanao. Believe it or not, it is just a simple motorbike that could offer seats up to 8 people. How is this possible? It has extensions on both sides made of a large, sturdy plank, which serves as its wings. Hence, the simple type of which, that has no wings could carry up to 5 people with a straight wood extension to the back.
03. The Haggle Power of Filipinos
Despite of the cheapest products that can be found in stalls, malls, and marketplaces, Filipinos are known for its distinct way of meeting their budget, especially those families who are earning a minimal type of income. Filipinos are known for being self-reliant, especially in meeting the financial demands in life.
04. The Bayanihan Spirit
The "Bayanihan" term actually symbolizes unity among Filipinos. It is actually historical in nature wherein natives have reflected a kind of union when transporting a hut to another place. It has been a great tradition and attribute that Filipinos value the most.
05. The Religious Affiliations
Filipinos are religious and it can be seen on the number of activities, events, and especially "fiestas" or feasts that they are celebrating and observing in behalf of canonized saints. However, there are more than 100 religions found in the country, which were also rooted from other major religious affiliations.
06. The Number of Dialects Being Spoken Aside from Tagalog
Tagalog is not just the official or native tongue being spoken in the Philippines. In reality, there are about 175 dialects being used in different regions and places. Other prominent dialects include Cebuano, Ilocano, Waray, and Ilonggo, among many others. As you move from place to place, you will discover the kind of communication that one has to learn, wherein travelers from other places are amazed for this gift of tongues.
07. The Traditional Cooking Method of Filipinos
Filipinos are really conservative not just in values and morals, but even in their way of life. Amidst the modern evolution that can be found in the worldwide scene, which is wrought by advancing civilization, there are still groups, communities, and families that still settle on the traditional way of cooking their meals. Even before rice cookers and microwave ovens have invaded the kitchen, chopped wood, piles of stones, and even a clay pot is used to achieve a unique taste.
08. The Cheapest Buys in the Philippines
People in the Philippines love to shop despite of the meager income that most of the local employees are earning, whether they are skilled or rank and file workers. It's commonplace that a dollar or two could buy you a decent shirt, a pair of shorts, and even chic footwear. Some popular places that actually sell affordable stuff are Divisoria, Baclaran, and other bazaars that can be found in malls or stalls.
09. The Beaches that You Don't want to Miss
One of the reasons why there is an increased ratio of people visiting the Philippines during the summer is because of the beaches situated in various regions of the country. Some of the famous ones are Boracay in Visayas, Puerto Galera, Pagudpud, Dakak, Camiguin, Siargao, Mactan Island, El Nido, and other untouched shores.
10. The 7,107 Islands
For most people who have studied the Philippines, they are already aware that the enchanted archipelago in Asia is composed of 7,107 islands, which is indeed many. However, there is something wondrous in this info as the said number is just one part of the story. The quantity of the islands has been counted during high tide. There is a certain island in Camiguin, which is called the Sand Bar, that disappears when the tide lowers.
There are lots of things to be explored and discovered in the Philippines aside from the wonderful traits that majority of the citizens of the nation possesses. Those are just interesting things that an individual from afar or from other countries could know in order to get better insights and impressions about the Pearl of the Orient. It is rich in wonderful and natural resources that could truly capture the hearts of nature lovers.
Nonetheless, those are priceless details that unveil the secrets and the kind of fun that travelers and visitors can experience and witness. Those are testimonies and affirmations that people have seen and developed, where some of which are innate to the people of the Philippines. Amidst the negative political and economical news being circulated about the country, which give the real value about the nation and its people.
Indeed, it is more fun in the Philippines. With the vast uniqueness of culture, ways, and traditions being observed by the locals and natives in various regions, you can experience fun as many as the islands it possesses. Your kind of fun here can never be encountered anywhere else in the world.