A destination wedding in India's smallest yet naturally rich state of Sikkim is the best one can wish for. Wrapped in snow clad mountains, lush greenery, colourful valleys, placid lakes and gushing waterfalls this is as close to nature as you can get in this part of the land. You probably would've noticed that the land is pristine, quiet and serene, save for the local annual festivities at the monasteries. What better place to mark the beginning of a new relationship with your loved one?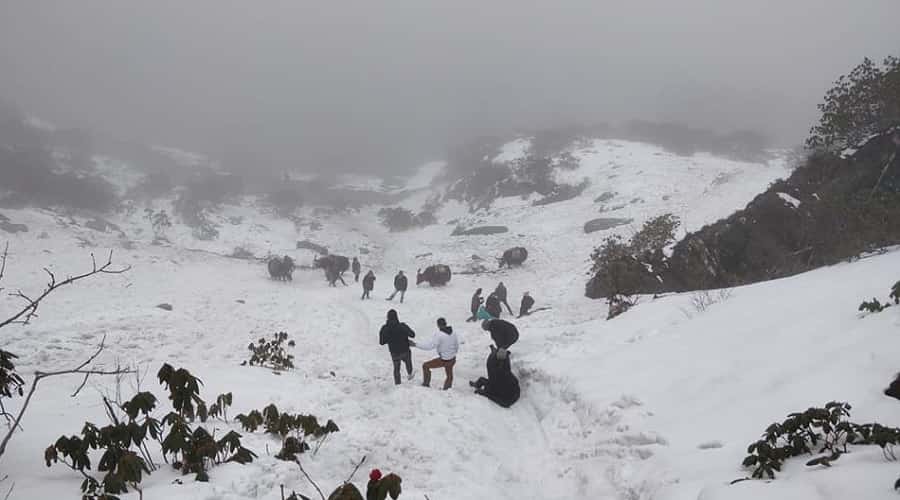 Let's see how best you can plan for a destination wedding in Sikkim.
Weather
The pleasant weather and the scenic backdrop are just a couple of factors that make Sikkim a great wedding destination, especially during the hot summer months. It is however important to start planning for the wedding well in advance as you'll be competing with a horde of tourists for the best of accommodations here during summer.  Summer snow is sure bound to add to the joy of the occasion, and you also get to steer clear of extremely cold temperatures and landslides that are common during the winter and rainy seasons here!  If you and your guests don't mind these challenges, you could benefit from huge off-season discounts, but only essential services are likely to be available. Enquire if an advance reservation can make sure that the wedding goes well as planned, even if the budget jumps a tad.
Themes
While there are no great choices in terms of themes, a mountain wedding, celebrated outdoors on beautiful sprawling lawns or in vast the banquet hall of a luxury hotel could prove equally exciting.  The very fact that your wedding is set in picturesque backdrop of the majestic snow-capped Mt. Kanchenjunga makes a difference!
Venues
The capital city of Gangtok is probably well suited for a destination wedding given the many resorts located in and around it. Logistics, connectivity, accommodation and commutation options are definitely better when compared to other quaint venues that most often can play hosts to fewer guests.
If you are planning a large scale wedding, Gangtok is ideal. For a more intimate wedding celebration, Rumtek or other locations close by could prove suitable. It is better to short list resorts that best fit your requirements and budget and check if they are equipped to host a destination wedding in the format of your choice.
Shuttling between venues may not be comfortable as commutes are slow when compared to the cities.
The Royal Plaza, Elgin Nor-Khill, and Mayfair Resorts are reportedly great venues that can handle destination weddings.
Honeymoon in Sikkim
A wedding Sikkim followed by a honeymoon is but a natural choice for you really will not have the heart to leave this dream destination without taking time to explore the terrain with your loved one.  A honeymoon in Sikkim is a celebration of nature in the special company of your spouse. From a plethora of adventure activities and camping along the lake shores to candle light dinners, private leisure strolls along scenic routes and shopping at the local market, couples can spend quality time in different ways sans the crowd.  Check out the hot springs at Yumthang, Gurudongmar Lake, Rumtek Monastery and host of other local attractions if time permits.
Whizz over Gangtok on the ropeway cable for bird's eye view of the entire scenery, and of course opt for a Yak safari, a unique way to cruise along the terrain and don't forget to capture the picture-postcard landscapes on your camera!
It is recommended that you decide on a suitable Sikkim honeymoon package right when you plan for the wedding. Your wedding planner or event manager at the resort can in fact guide you on the best possible options to plan your honeymoon as well.
However, if you are into partying hard, probably Sikkim may not scale up to your expectations, neither are there decorated horses or elephants or royal bands typical of Indian weddings. You could of course reach Gangtok via a helicopter from Bagdogra instead of a long road trip! Do make sure to double check about the wedding arrangements that are possible at each short listed venue before finalizing your wedding plans.