The Kedarnath Temple is perched at an elevation of 11,755 feet above sea level in the Rudraprayag district of Garhwal Himalayan range close to the holy River Mandakini. Dedicated to Lord Shiva as Lord Kedar and being located at such a whopping height the entire place goes through extreme and dramatic weather changes. The door of the temple opens for darshan and comes to life from Akshaya Tritiya in the months of April/May and closes during the months of October / November during Diwali. During the winter season, the entire trekking route and trails gets buried under the thick stark snow making the temple inaccessible for the visitors. However, the presiding deity is shifted from the main shrine of Kedarnath to Ukhimath where it is worshipped for 6 months. A visit to Kedarnath will fill your senses with refreshing memories and a feeling of spirituality.
Route Map of Kedarnath: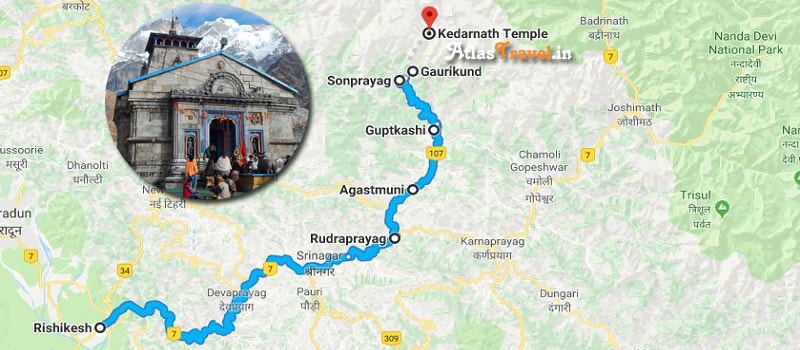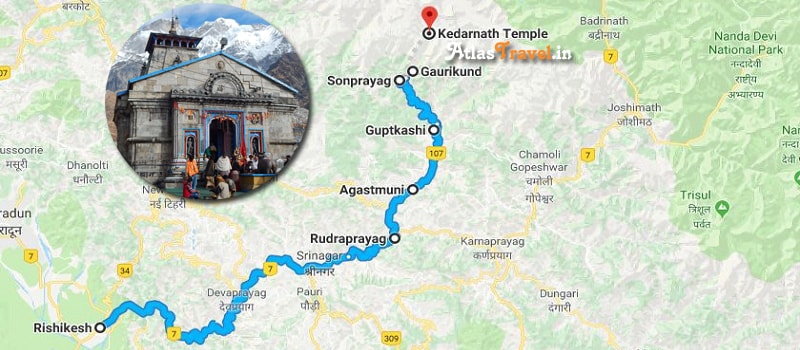 Once you reach Sonprayag you will be required to travel via a shared taxi cab which charges rupees 20/- per head. This cab will drop you at Gaurikund, which is located at a distance of 16 km from the main Kedarnath mandir. From Gaurikund you will be required to trek up to the main temple of Kedarnath. However, ever since the 2013 flash flood disaster which devastated Uttarakhand the normally 14 km trek to Kedarnath now extended to 16 km.
Here is your trekking guide to Kedarnath Mandir:
Sonprayag – Gaurikund (6 km approx.) with the help of a shared taxi.
Gaurikund – Jungle Chatti (4 km) via Rambara Bridge.
Jungle Chatti – Bheembali (3 km)
Bheembali – Linchauli (4 km)
Linchauli – Basecamp of Kedarnath (4 km)
Basecamp – Kedarnath Temple (1 km)
Things to Remember before Taking up The Kedarnath Trek:
Be sure to get yourself checked up thoroughly before heading for this trek since it is extremely physically and mentally taxing.
It advised for people with respiratory problems and high blood pressure not to undertake this journey since the air at this altitude is extremely thin.
If you want to opt for ponies and palkis to cover the journey then the prior booking can be done at Sonprayag / Gaurikund booking counter.
The pilgrims are allowed to trek only between 4 am to 1:30 pm, so it is important for you to start you journey early in the morning.
Carry relevant medicines like, painkillers, Paracetamol, Crocin etc. with you during your trek. Also carry a first aid kit containing bandages, ointments, Vicks among other necessary items.
Be sure to carry appropriate documentation like identity proof, address proof and phone numbers of your close kin and relatives, which might be useful during the time of an emergency.
All the pilgrims are expected to carry heavy woollen clothing and jackets meant for extremely cold weather conditions. Bodywarmers, woollen gloves, muffler windcheaters and sunglasses should also be included.
Travel Tips for Kedarnath Yatra:
Carry eatables high in glucose content like, chocolates, assorted dry fruits, lozenges, milk powder etc which serves as an immediate energy booster during the time of fatigue and lethargy.
Remember to walk at a slow pace and near the hillside.
Always listen to the commands of the yatra officer in order to avoid any danger or inconvenience during your yatra journey.
Do not carry any heavy jewellery items in order to walk as freely as possible during three journeys.
Alcohol and non-vegetarian items are strictly prohibited during the pilgrimage.
Trekking during the rainy season should be avoided at any cost since there is a high chance of landslide and the danger of paths being slippery and prone to accidents.