Nepal is a very whimsical land for travelers, explorers, peace seekers and nature admirers. Trekking in its remarkable terrain is sure an experience of a lifetime for anybody who loves to wander around in the stunning surroundings. Home for mount Everest, Annapurna ranges and several other snow capped mountains works perfectly together in creating a harmonious environment for adventure seekers ranging from experts to novice. Even if you have been to trekking to other places in north or South India, walking the wilderness here is very different and a unique experience in itself which can be felt if you plan a visit here duly.
Trekking in Nepal has become a huge phenomenon in the recent days when people from across the globe make their way to this amazing destination on a look out for fun, peace and adventure. Spend your vacation away from the common and commercialized crowded places and make your way to this land of promises. Perfect opportunity for you to branch out of India and see the other side of the Himalayas in its utmost glory.
Here are some essential tips while you go trekking here or anywhere else:
Carry the right amount of clothing, especially warm layers.
Include a raincoat for extra protection.
Carry hats and sensible while trekking your way.
Research about the previous experiences of people who have already been there.
Know about the weather conditions and the best time to visit to avoid any hindrance.
If you are curious to go beyond bounds and explore the new horizons of trekking then here are some trails in Nepal which will seem like a blessing if you have a streak of adventure in you.
Due to the varied landscape the trekking routes are categorized duly within popular, short / easy and offbeat treks, so that you can pick the best choice that suits your need:
Popular Treks in Nepal
Everest Base Camp Trek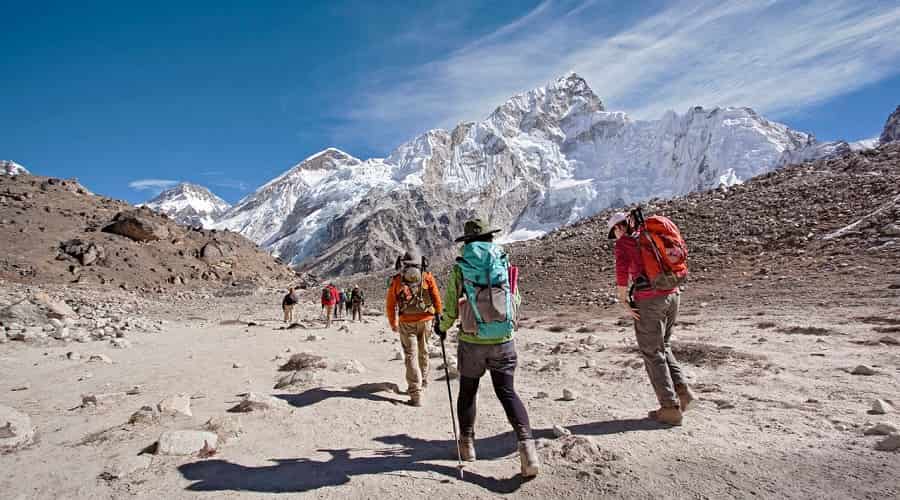 This has to be undoubtedly the landmark trek that takes place in Nepal and people from all over the world make it their life target to go there. It is a moderate 14 days of trekking expedition that takes the participants through some of the most surreal landscapes that you may have ever been a part of. One can easily take a look at the mighty towering Sagarmatha above and spend their time on its base which is really a very unique thing to do and is achieved by very few people in the world. You will cross various dramatic glaciers, Kaala Patthar – the highest point on your trekking trail and several such interesting sites which adds excitement and fun to the whole trip.
Annapurna Base Circuit Trek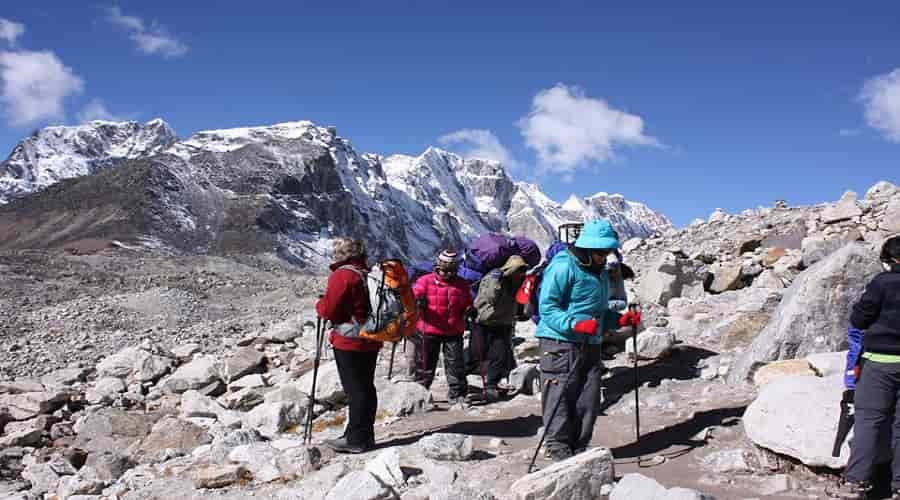 Another name that comes to mind when people talk about treks in Nepal is the 15 days of moderate trek to the base of Annapurna hill ranges. It is a trek which is most preferred by people looking to kick start their trekking tale. The circuit will take you through lush alpine forests and green pastures which really are very stunning and breath taking in their own manner. You will witness a dramatic change in landscape during the conclusion of the trail that takes you through the barren desert Mustang and Manang Valley. During the entire trek you shall be accompanied by the Annapurna ranges at all times.
Chisapani – Nagarkot Trek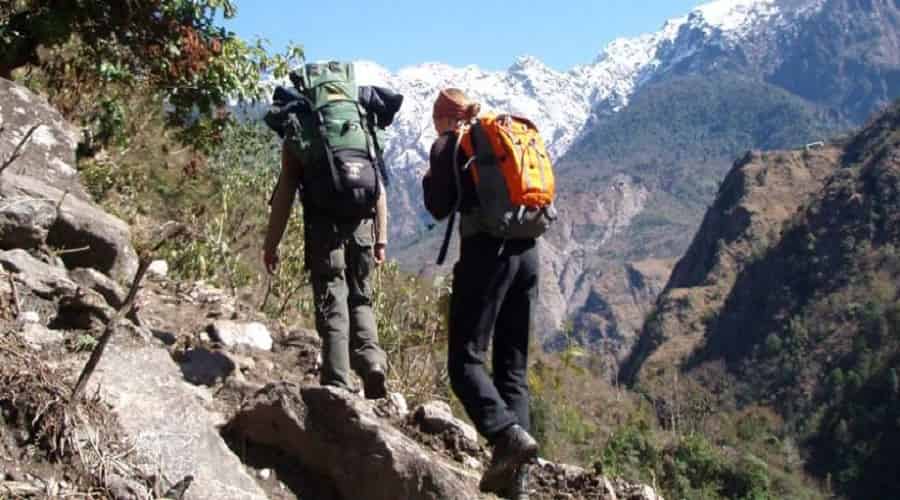 This particular trekking route lasts for 3 whole days and remains open throughout the year, although if you wish to have the maximum relaxation and observe peace then go there during the off season. Considered to be one of the easiest trails it takes the explorer through evergreen forests of hard wood and lush mesmerizing valleys. If you have 3 days for spare while in Kathmandu then you must answer the call of the mountain and make your way to this place for a refreshing walk. It will come as a pleasant surprise if you are a nature lover and likes to spend your holiday amidst the stunning natural beauty of nature.
Ghandruk Trek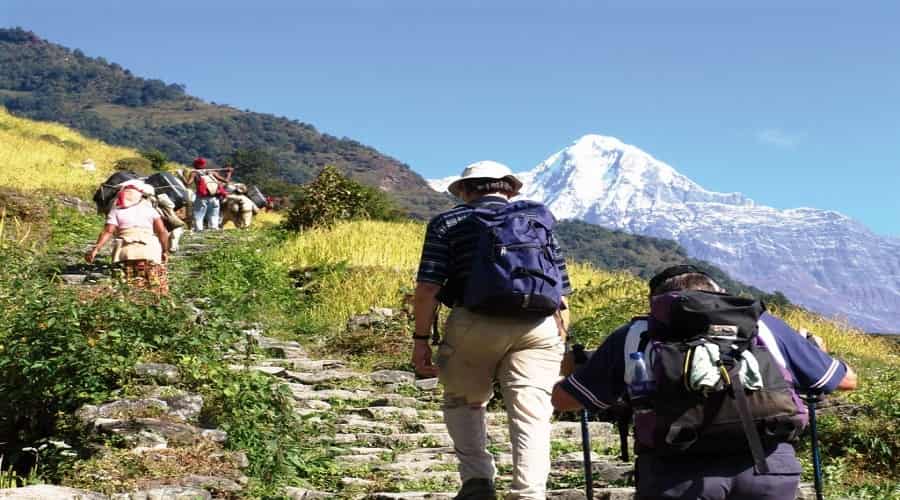 This 5 days of easy trekking journey which takes you up to a comfortable height of around 2,000 metres above sea level Ghandruk is probably another one of the most famous trails undertaken by the adventure travelers from all over the world. Generally the trip is done during the months of September to May this trek not only makes you witness the grand natural beauty of the hills of Nepal but will also allow you to know more about the culture and traditions of the gurungs villages that dot this region. Categorized as an easy and a very short trekking expedition you will enjoy the colorful rhododendron forests and peaceful surroundings.
Dhampus Trek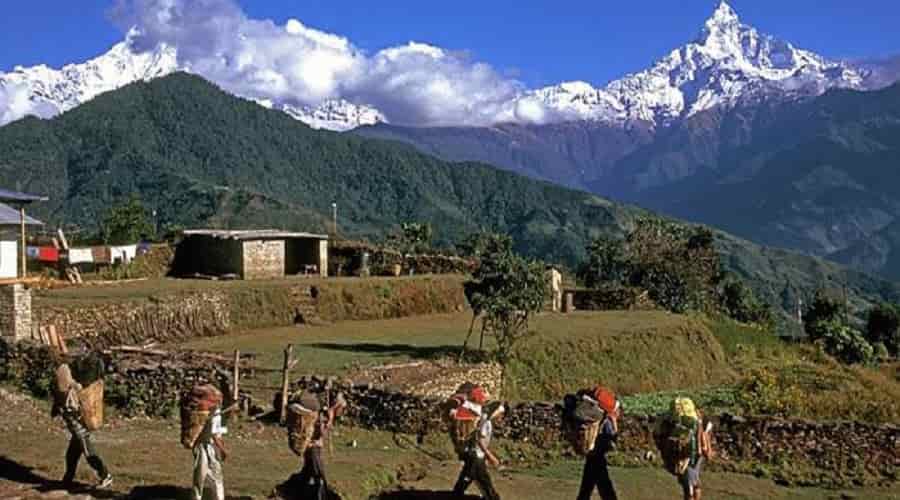 If you love taking rejuvenating holidays on the hill sides and foothills of the stunning mountain ranges, Dhampups is one of the most availed easy and short treks that take place in Nepal. The maximum elevation that one will reach while following the trail will be as high as around 2,000 metres above sea level from where one can observe the remarkable surrounding beauty of the Annapurna ranges. The 5 days of this trekking expedition will also make you view the amazing and breathtaking valley of Pokhara along with various glimmering lakes and stupas that makes it not only adventurous but also filled with interesting sightseeing options as well.
Short / Easy Treks
Ghorepani Poon Hill Trek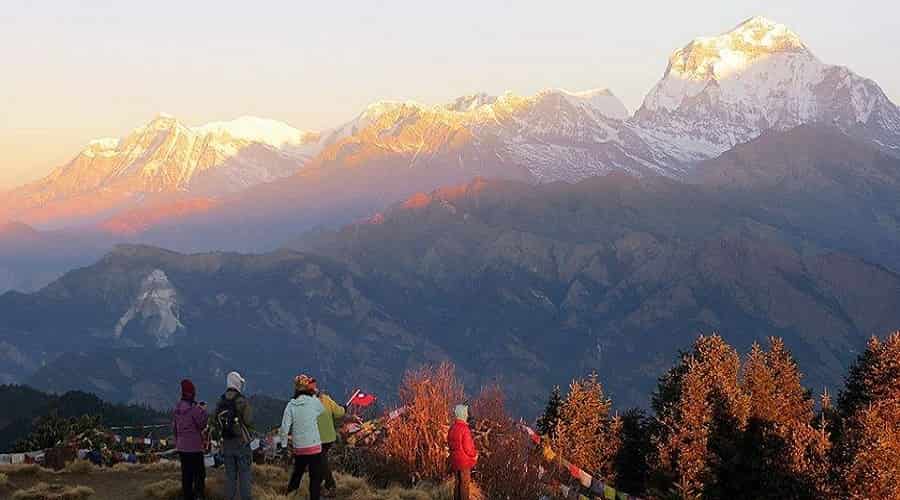 Taking you up to a height of around 3,210 metres above sea level this easy trek takes place for a limited duration from March to May and from October to November. This trail represents a typical and classical Himalayan trek feature complete with pastures, green meadows and forests. Nayapaul is where the trekking fun begins which is situated at a distance of 45 minutes from the stunning hill city of Pokhara. The region is inhabited by the tribes of Magar and Gurung and en route you shall see the oasis of rhododendron blossoms and remarkable sceneries. One must look at the amazing sunrise and the Annapurna ranges so close to you that you will feel like you can touch it.
Panchase Trek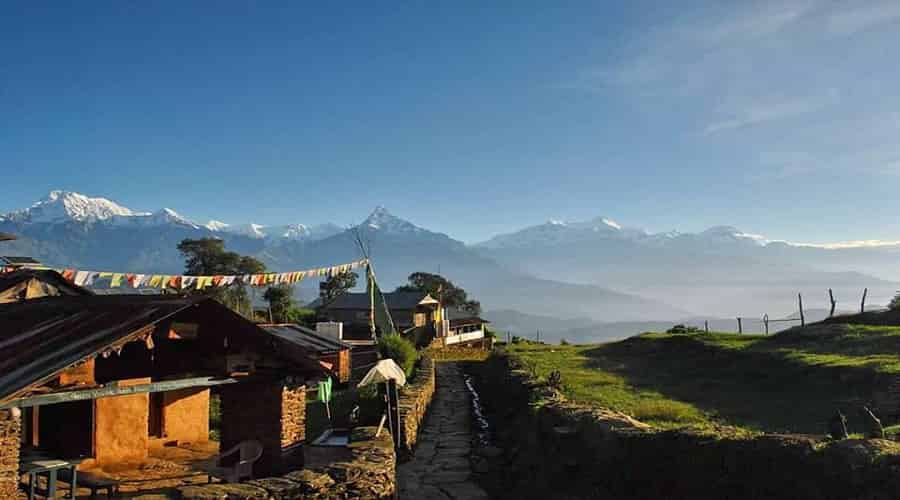 If you wish to spend some time in peace, nature and solitude then a short 3 to 4 days trek to the hillock of Panchase within the Annapurna region is perfect for you. An amazing way to spend your vacation with the family in this quaint hill village is the best place to visit during the autumn and spring season. One of the most defining feature of this trail is the panoramic and spectacular views of the Annapurna mountain ranges serving as an ideal vantage point. The natural beauty here seems like you are witnessing a dream unfold in front of your eyes. From the terraced fields of rice, alpine green meadows and stunning vegetation every inch and corner of this place is beautiful.
Royal Trek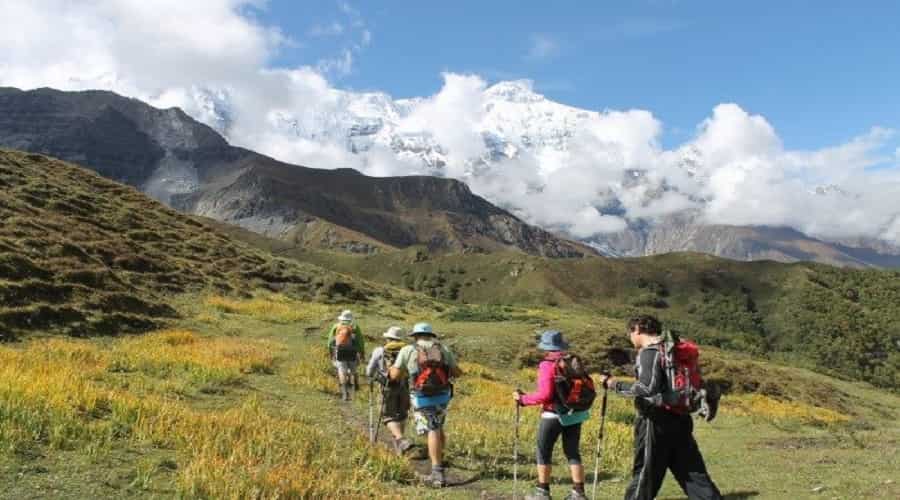 If you have some more time to indulge in some interesting experiences in Nepal then this 7 days of trekking trail is something that will definitely be worth it. You will make your way through the remarkable, rustic and extremely quaint foothills of the grand towering Annapurna hills. The lake side stunning hill city of Pokhara is the starting point for this trekking expedition and gradually takes you through the wonderful villages and offbeat tracks that gives you a glimpse into the life of these local inhabitants. It represents the perfect blend of adventure, fun, tradition and culture which is truly an experience worth having in a lifetime. Observe the scenic surroundings and take a look at the incredible wonderment that beholds.
Mardi Himal Trek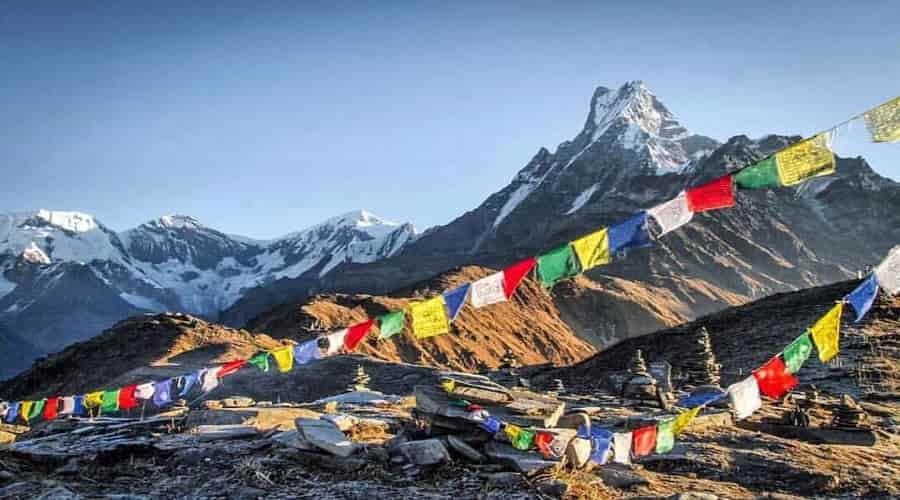 This particular trekking route will cover 7 days of journey and is considered to be one of the most refreshing trekking trails in Nepal. It is a very easy trail that traverses through the remarkable surrounding of the Annapurna region. Making your way through the quaint and traditional villages and never before seen natural beauty, going here during the spring summer season will make you witness the colorful side of Nepal in its full glory. The locals here are especially known for being warm, welcoming and very accommodating in case you need their service. Everything about the trek is very unique and quirky and the Foothills of Mardi Himal is something that you may never have imagined.
Offbeat Treks
Manaslu Circuit Trek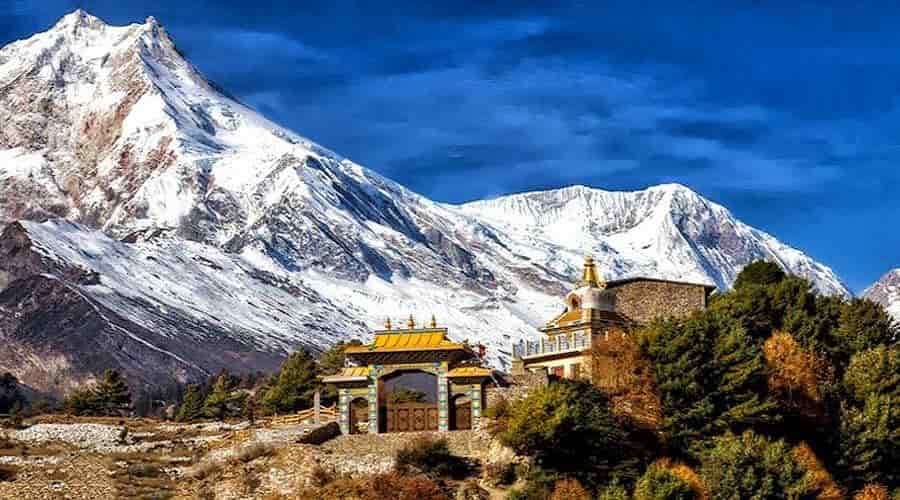 On first look this place would seem too beautiful to be true. With expansive lush green landscape and gently undulating hills all set against the backdrop of snow bound jagged mountain ranges, this is not only one of the least explored but it is also quiet difficult. In all, it will take you around 15 days in the autumn spring season to cover this journey. According to the name this trail takes you around the whimsical natural beauty around the 8th highest peak of Nepal known as mount Manaslu. The diverse destination also represents the Tibetan influenced culture and traditions here which only adds to its beauty. Being an offbeat trekking route this journey is also very less crowded.
Upper Mustang Trek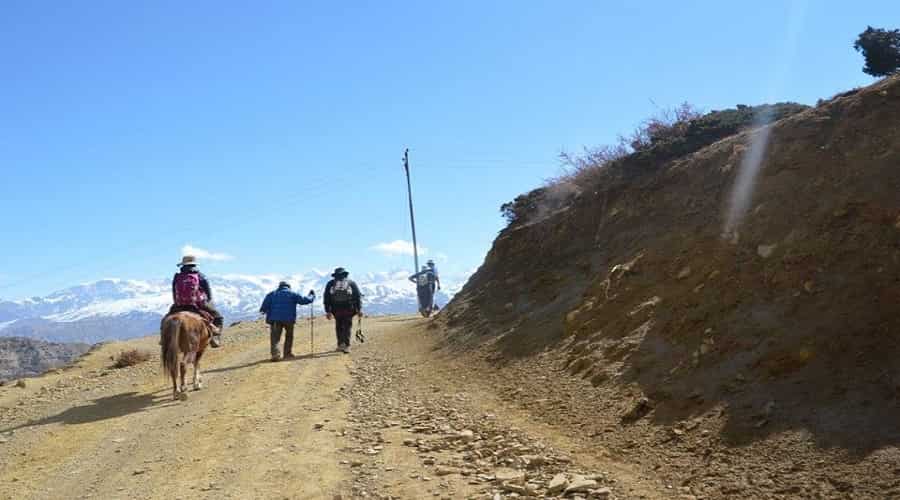 It is definite that the moment you enter the region of Mustang valley you will feel like you are in Ladakh or Sptit Valley due to its barren landscape. The brown mountains and zero presence of greenery makes this 15 days of trekking plan a lifetime's experience. People generally go up here as a part of their Muktinath Dham Darshan however it is also undertaken by explorers and adventure seekers from all over the world. This rugged and uneven terrain of the trans Himalayan region in Nepal will give you amazing views of the surrounding hill ranges of Nilgiri, Dhaulagiri, Annapurna among others. The trail is situated within the rain shadow region of Nepal and is dotted with various stupas, Chortens, Gompas and fields.
Upper Dolpo Trek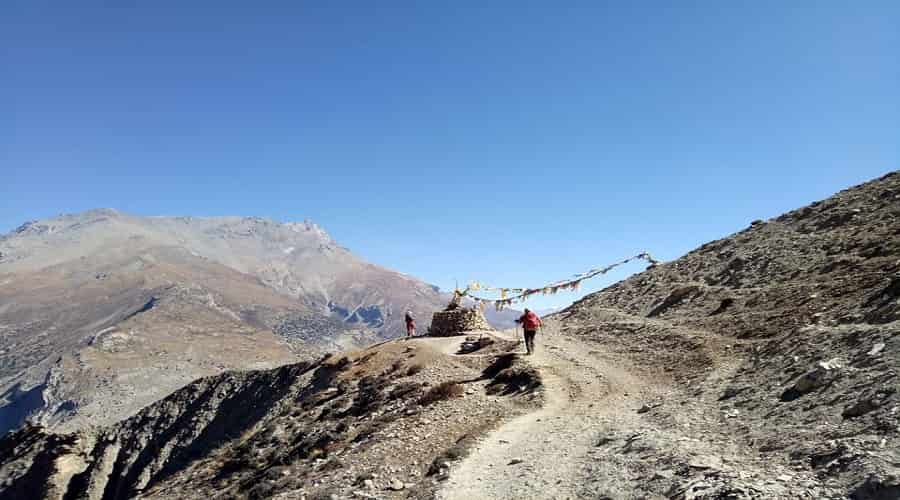 Considered to be the trekking trail preferred by ardent travelers and explorers this trip is for 25 whole days and is moderate in nature. The only major hurdle is its high altitude location which can go as high as more than 5,000 metres above sea level. One can admire the natural beauty of the far western parts of Nepal and being located on the rain shadow region its landscape also mimics the upper mustang region. One can explore the hidden valleys and indulge in adventurous escapades while on this trek. Passing through massive peaks and observing the incredibly expansive landscape will be unlike any adventure you have been on. The spring months of march to may and the autumn months of October and November are considered to be the most ideal time for undertaking this trekking expedition.
Kanchenjunga Circuit Trek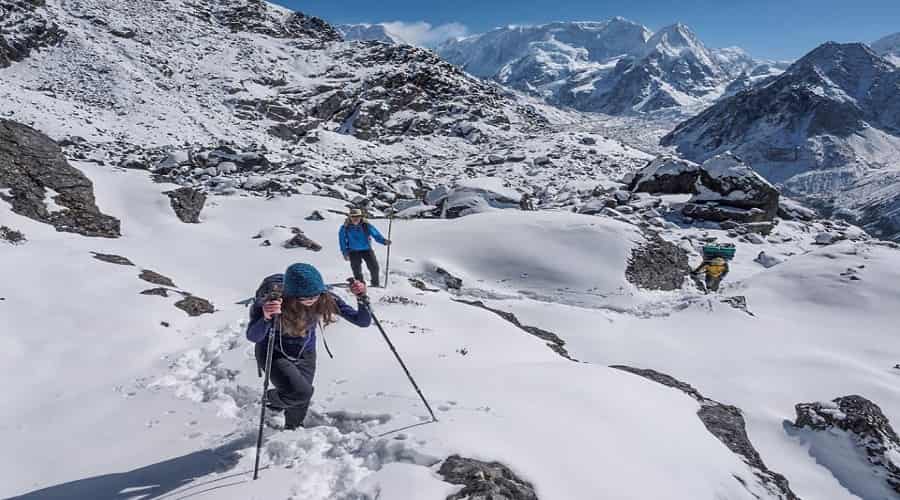 Lasting for a duration of around 20 days and taking you to an elevation as high as 5,000 metres above sea level, this is a rather difficult trek as compared to the other trekking destinations in Nepal. Camping under the million bright stars and waking up to the clear blue skies and traversing through the charming terrain this trek will make you feel closer to the famous Kanchenjunga mountain ranges that remain snow bound throughout the year. From quaint, charming settlements of the hill folks here to the unbelievably lush forests for rhododendrons and picturesque views of the panoramic surrounding, this trek is an experience of a lifetime. The trek begins from the village of Suketar and opens avenues for endless possibilities.
Gokyo Valley Trek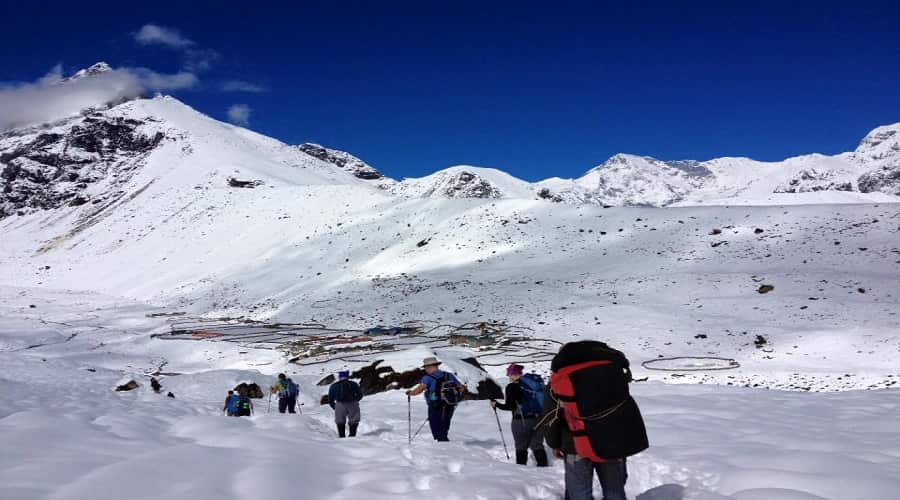 This 12 days of moderate to difficult grade of trek is probably one of the most availed expeditions in Nepal. It is a high altitude scenic valley of naturally occurring icy glaciers and clear blue lake which makes it challenging in nature. The trail will take you through forests of oaks, rhododendrons and a plethora of range of flora and fauna collection. If lucky then you will also encounter a number of frozen waterfall which will be breathtaking to look at and you will feel extremely lucky to be a part of this trail. If cold and chilly weather conditions are not a problem for you then this is one unmissable thing to do.