Trekking in India is surely a treat for adventure and nature lovers alike. The varied terrain here allows a curious explorer to go from one place to another and is welcomed with awe inspiring serendipity. Increasingly trekking has become one of the fastest and the most convenient ways of exploring the beauty that this land consists. No longer is trekking only limited to the summer months when the weather is clear and pleasant.
Imagine sitting by a campfire, walking in deep snow and feeling the crisp fresh air on your face, winters are a glorious time to travel, contrary to popular belief. Waking up among the snow to the site of the glorious peaks and walking amidst the beautiful sceneries is something one should experience at least once in a lifetime.
Winter treks in India is probably one of the most off beat and rewarding ways to seeing what beauty beholds here. Check out the following destinations for a perfect and soulful winter trek in India.
Brahmatal Trek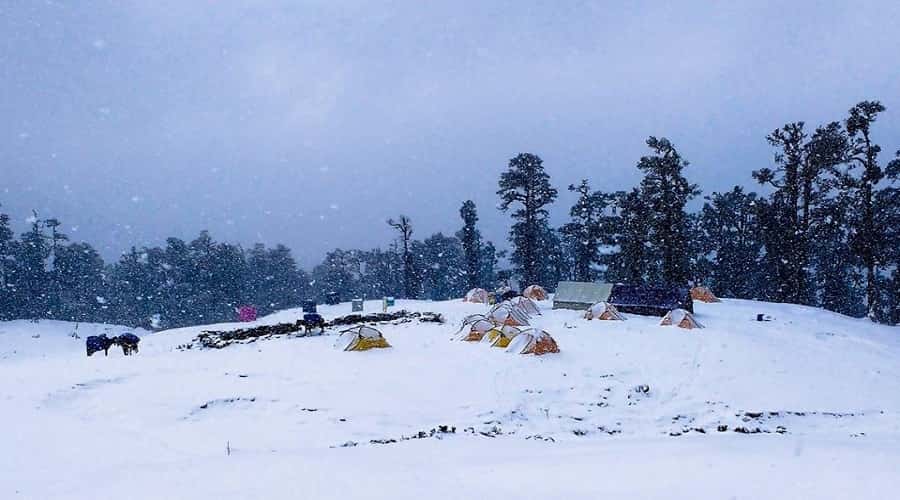 Perfect for beginners as well as experienced trekkers and open for exploration during the winter months of December, January, February and March this trek on the Himalayas is among one of the most alluring treks to undertake. The entire trekking route is surely a treat for nature lovers and takes you through the thriving forests of rhododendrons and oak trees and snow bound peaks of Mt. Nanda Ghunti and Mt. Trishul etc. With every step of the way you will ascend your way up from Kathgodam, Bhimtal and then Almora then proceed on to Kausani, Gwaldam, Dwal and Lohajung.
Who Can Go – Physically fit individuals who are able to carry around 10 kg of backpack while walking. Perfect for beginners who have stamina and strength and have the capacity to cover a distance of 5 km within around 45 minutes without stressing yourself out or causing too much of exertion.
Kedarkantha Trek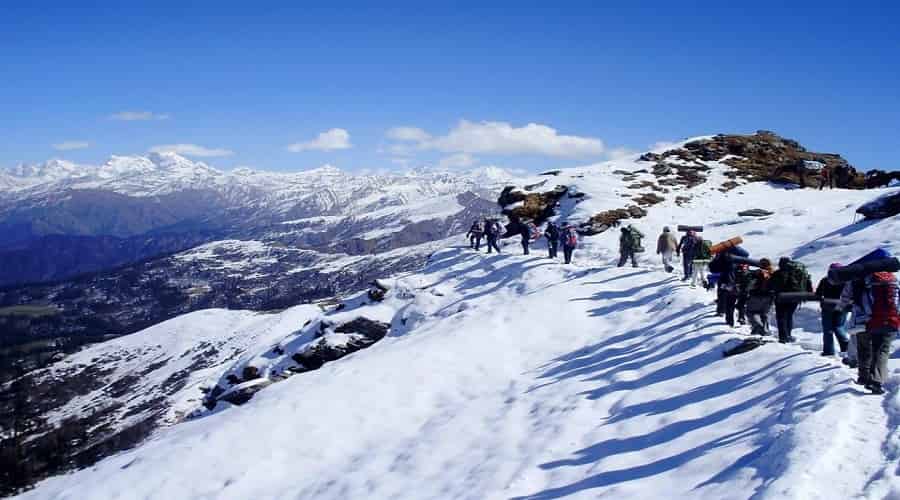 Deemed for being one of the best choices of treks for beginners looking to go on their first summit climb, Kedarkantha trek is like a breath of fresh air. The journey is so beautiful that you will feel like you have walked into a winter fairy-tale wonderland straight out of a book. Everything is covered in fresh white snow and the trail opens up and widens your view. As you gradually make your way up everything and the world appears to be far below you and in no time you can stand face to face with the snow covered mountains. It truly is an exhilarating thing to do which commences from Dehradun and takes you through the quaint off beat villages of Kotgaon, Khujey, Bhuja Dhadi, Munaila and Sankri.
Who Can Go – Beginners keen on exploring a moderate level of winter Himalayan trek. People who are physically fit and can bear the chilling cold at 12,500 feet above sea level.
Kuari Pass Trek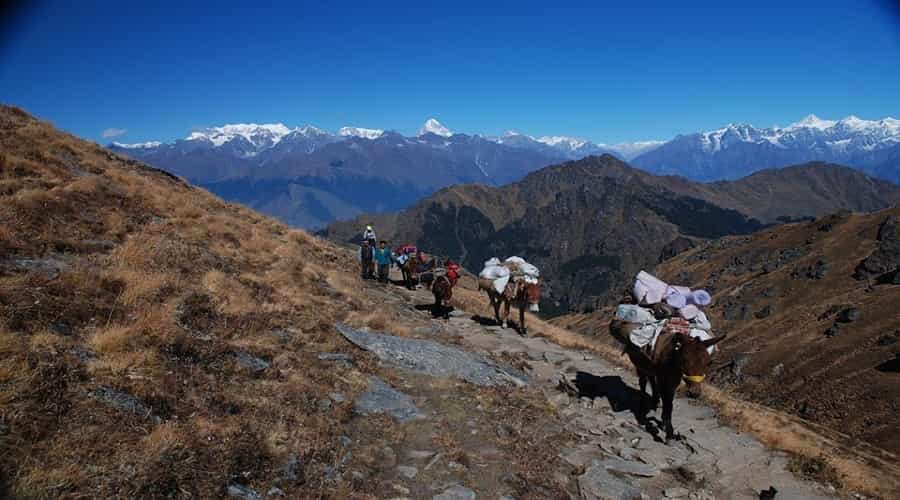 This is one trekking experience which is going to stay with you for a lifetime and people have also come back for a second time. One of the most defining feature about this winter trek of India are the ancient forests mostly made out of rhododendrons and oak which gets completely covered in snow. The spectacular and panoramic views of the surrounding snow covered meadows, quirky campsites set against the majestic backdrop of Mt. Dronagiri, this trek is truly a magical one. As you gradually make your way up the beautiful landscape you shall be greeted with even wider and deeply moving views of the grand mountain ranges which seems to encircle the region from all sides.
Who Can Go – Explorers looking to step into the Himalayan region for winter exploration and especially nature lovers. Physically fit people who are not suffering from high blood pressure problems or heart related and asthma problems.
Har Ki Dun Trek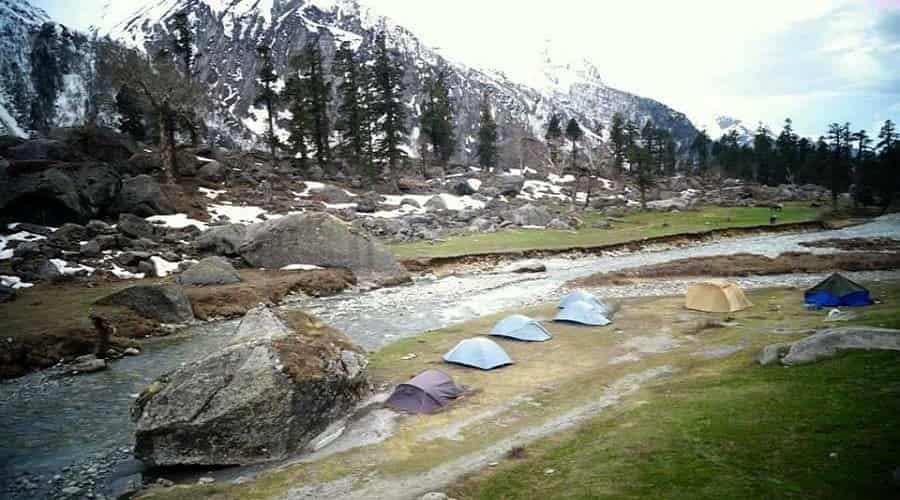 Since winter is not the best time for trekking in most parts of India, however this is the perfect time for people to indulge in a fun trekking to the Har Ki Dun region. This trek is situated within the surreally beautiful hanging valley of Har Ki Dun and from here you will be experiencing the enchanting Himalayas in close quarters, so close that you will feel like you can even touch it. People generally got o Har Ki dun to spend their new years away from the boring commercialised New Year parties and under the million stars and amidst untouched natural beauty. If you happen to visit there during the month of January then you will also be blessed with frequent snowfalls almost on a daily basis.
Who Can Go – people interested in exploring the wilderness and have the ability to bear the cold season. Anybody looking to spend their new year in a different manner and being a relatively easier trek it is perfect for college students.
Nag Tibba Trek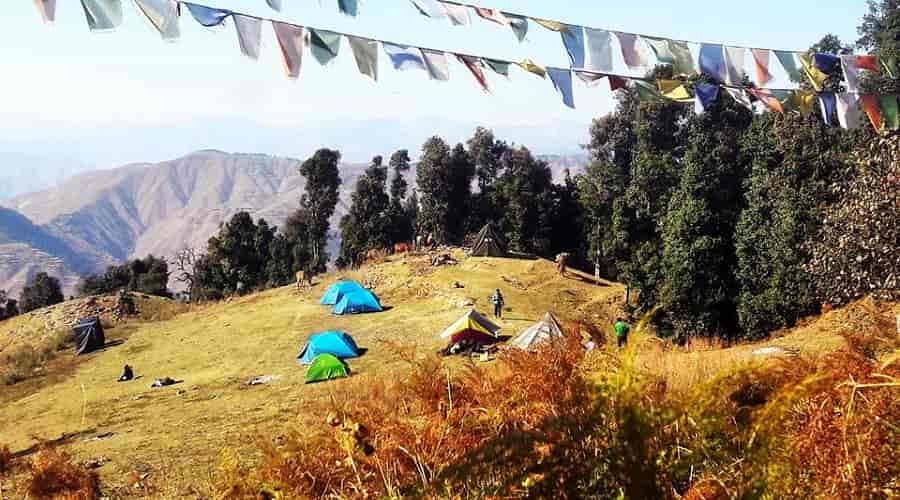 This has to be one of the most popular treks in Dehradun and an ideal getaway for a weekend trek in the winter season. Although this particular trek can be undertaken throughout the year but for anybody looking to have an offbeat trekking experience then going there during the winter season holds a charm of its own. It is the perfect option since from Delhi it's just an affair of 3 days and you can witness the majestically towering Himalayas very closely. Apart from the trekking journey the camping sites through the trail are very scenic and allow you to have a look at the surrounding peaks of Swargarohini, Bandarpunch, Srikanth, black peak among other iconic ranges.
Who Can Go – Trekking enthusiasts and people who have a long weekend of holiday from Delhi or other nearby areas. Anybody looking for an adventure or a refresher from the dreary routine life this trek is the perfect choice for them.
Dayara Bugyal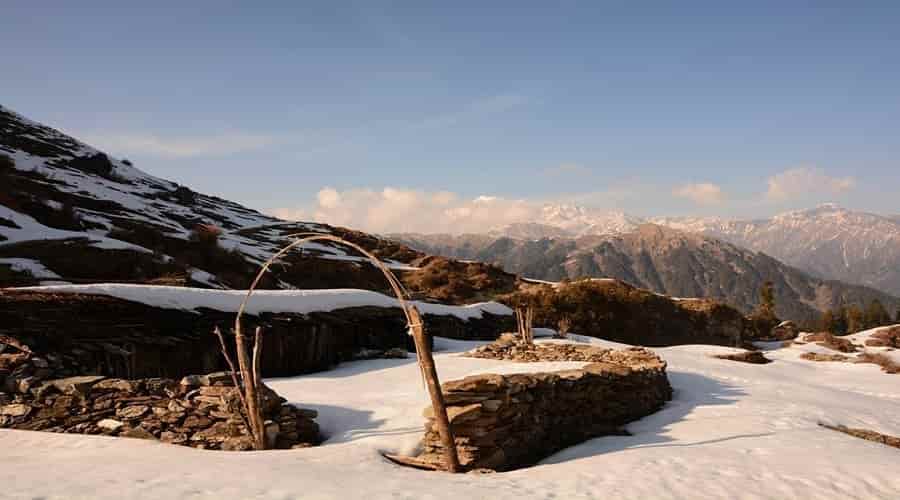 This has to be perhaps one of the most popular trekking destinations in India so popular that nowadays people have to get permits to camp there. When on one hand summer season makes this place thriving and lush green on the other hand winter season welcomes amazing white and fresh snow cover which seems to stretch as far as your eyes can see. The natural beauty here is elevated during these times and leaves a lasting impression in your heart along with a lifetime worth of memories. Placed on an elevation of around 3,750 metres above sea level and famous for its never ending natural beauty this extremely scenic winter trek seems like a stairway to heaven.
Who Can Go – Due to its relatively easy route and lower elevation this trek is perfect for people looking to spend some time on their own and just get away from the chaotic crowd since it just takes 4 days to cover.
Panwali Kantha Trek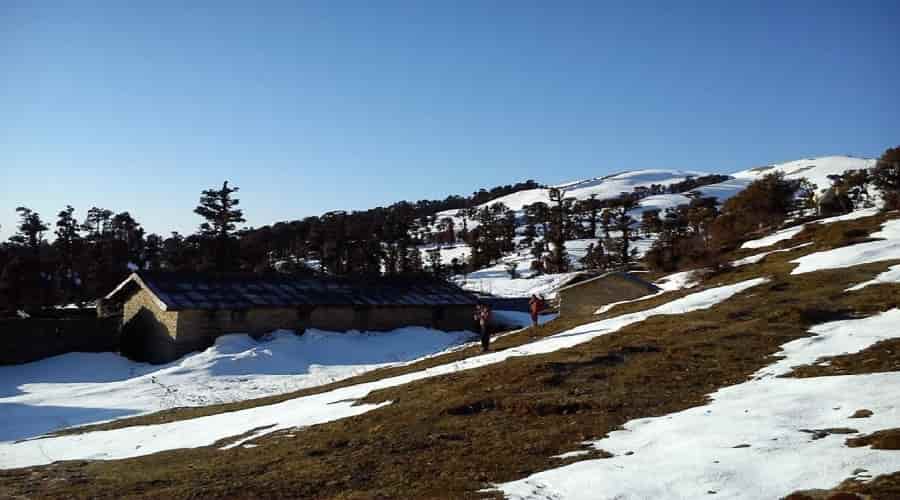 This particular trek will take you up the snow clad mountain peaks and up to a height of around 3,500 metres above sea level. One of the many defining features of the trek is that you shall be getting to witness one of the most rare views of all the Char Dham mountain ranges of Kedarnath, Badrinath, Gangotri and Yamunotri on your way to the top. Another interesting fact about this particular trekking expedition is that you will be a part of some of the most exhilarating and scenic surroundings consisting of snow bound Bugyals and trees. The trail kick starts from Dehradun and Ghuttu and makes its way through Pobhagi and up to the top of Panwali. No matter what time of the year you choose to embark on this beautiful journey it sure is going to be a treat for your mind, body and soul.
Who Can Go – Due to the moderate nature of the trek and some challenging points in between people who have been on the Himalayas and are not new to its terrain should go on this journey.
Goecha La Trek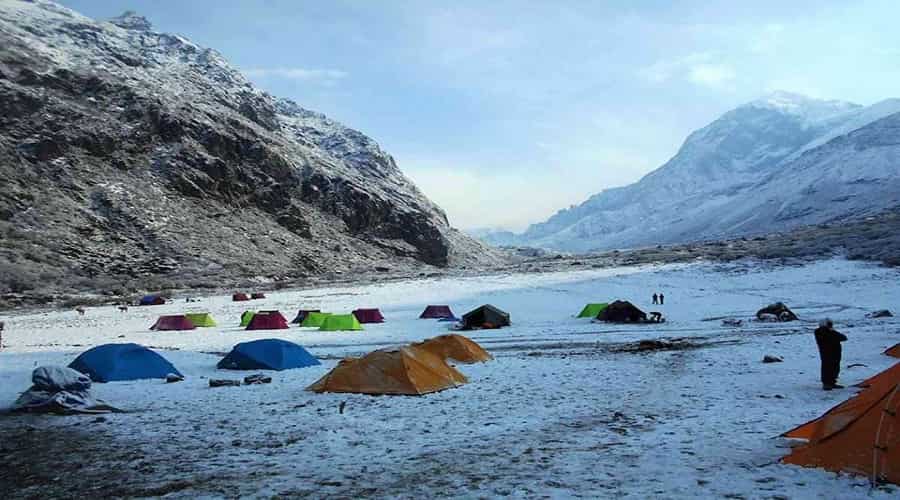 North east India displays the trekkers, explorers and adventure seekers with a whole new set of experiences when it comes to trekking in winter. Blessed with incredibly scenic and panoramic vistas as far as one can comprehend, the beauty here never seizes to amaze no matter what time of the year. Considered to be one of the most exhilarating treks in Sikkim, this is surely a one of a kind. The terrain ranges from lush green forests to campsites where everything is covered in snow and will definitely feel like you are in a dream land of some sort. Sleeping under the blanket of sky under the million stars and checking out the varied collection of flora and fauna this winter trek will not fail to baffle your senses.
Who Can Go – Due to its extremely high altitude only experienced trekkers and mountaineers are suggested to embark on this trek. It takes 9 days to cover the entire journey so people on long winter vacations for whom the elevation and stress of trekking is not an issue can go on this trip.