Bangalore or Bengaluru is the capital of the beautiful state of Karnataka. Bangalore is the third most populous city. Bangalore is the silicon valley of India or the IT hub. It ranks 1 among the top 10 entrepreneurial locations throughout the world. Numerous technology companies, industries, aerospace, Defense organizations are situated in Bangalore. It is also called as "The silicon valley of India" and "Garden city of India".
The top 5 attractions of Bangalore city are listed below.
01. Lalbagh Botanical Garden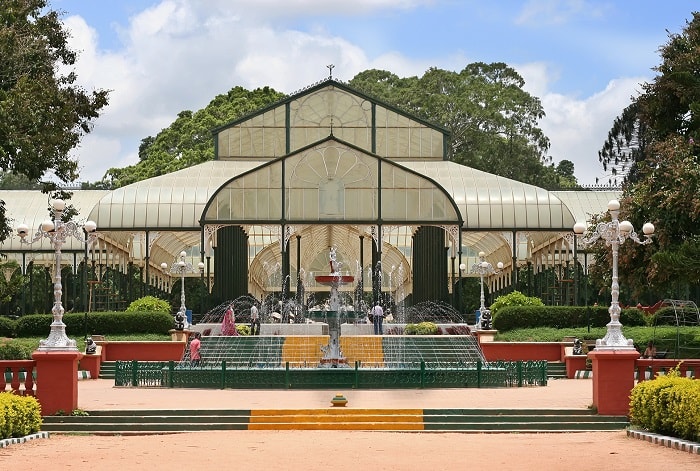 Lalbagh is called as red garden in English. The garden was originally originated by Hyder Ali, the ruler of Mysore. Later it was finished by his son Tipu Sultan. It consists of Glass house, where flower show is conducted every year. Lalbagh contains the large collection of tropical plants, an aquarium and a lake. Lalbagh remains open daily from 6.00am to 7.00pm. Every year flower shows are conducted during republic day, Independence Day. Flower shows are conducted to tell people about the variety of Flora.
02. Snow City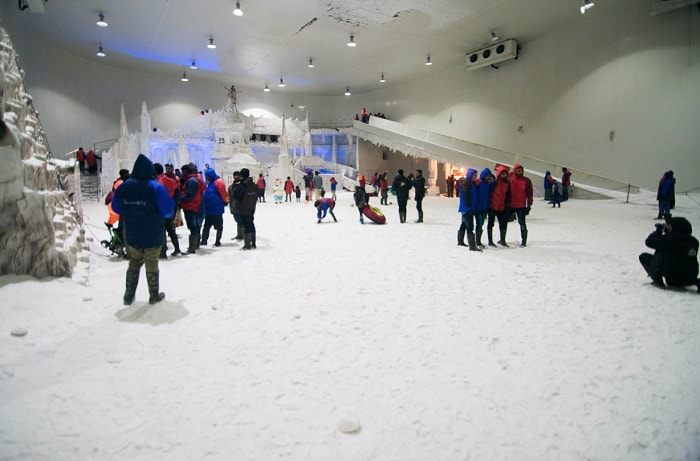 Snow city is located in a complex called Fun world in JC Nagar. Snow city is considered to be the first indoor snow theme park in Bangalore. It is one of the largest indoor Snow Park in Bangalore, which is a good entertainment for all age group people. The indoor area of snow city covers almost 1200sq ft. The snow is made artificially from ice and water. Variety of fun events like ice sliding, snow dance, snow balling, ice mountain climbing, are conducted to entertain the people. People can easily reach Snow Park through bus, car, and auto rickshaw. Jackets, gloves and boots, are also provided to keep the visitors warm.
03. Aquarium Bangalore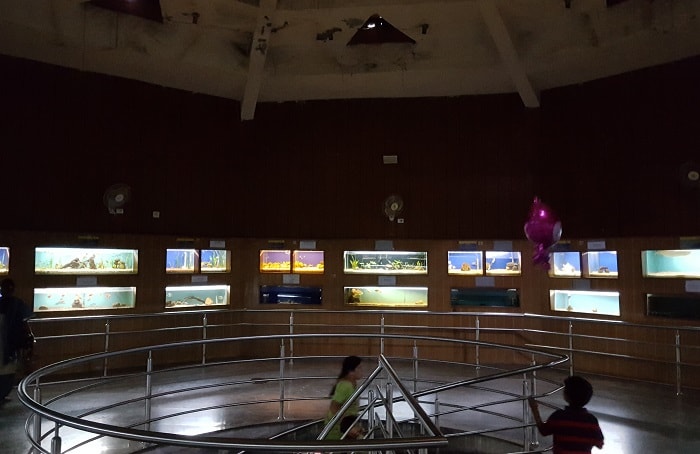 Aquarium Bangalore is a home for several marine species. It is located at the entrance of Cubbon Park, in an octal shaped building. Aquarium Bangalore was inaugurated in the year 1983. It has three floors which contains a large number of fish breeds. First floor contains 14big tanks, where cultivable fish varieties are kept. Species like angel fish, freshwater prawns, Catla, Blue Gourami, gold-fish, and multi Colored fish are very special here. The Aquarium is controlled by The State government's department of fisheries. Besides the aquarium, there is a fun park for kids. It is a magical world, which will make us to think as if we are inside sea. This is a very beautiful and entertaining place for all people, especially kids. In other words, visit to Bangalore is in complete, without visiting this aquarium.
04. ISKCON Temple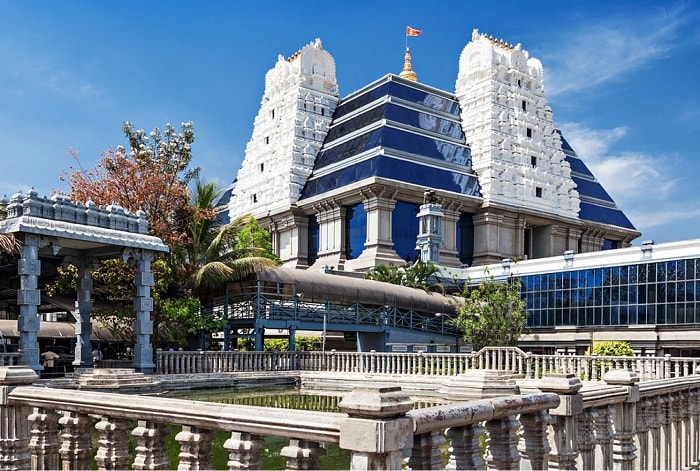 ISKCON temple is called as Sri Radha Krishna Chandra Temple. It has Delities of Lord Krishna and Radha. The temple is meant for the culture and was built by Shankar Dayal Sharma. The two main attraction of this temple is given Below, there is a gold-plated Dwajasthambam whose height is 17m, and gold-plated Kalasa Shikara which is 8.5m. Main festivals that are celebrated in ISKCON temple are, Rama Navami, Ratha Yatra, Vyasa Puja, Vaikuntha Ekadashi and Govardhan Puja.
The initiative of ISKCON Bangalore is "The Akshaya Patra Foundation", which is involved in implementing The Mid-Day meal programme to the government school children and government aided school children, which is a great task to be encouraged.
05. Tipu Sultan's Summer Palace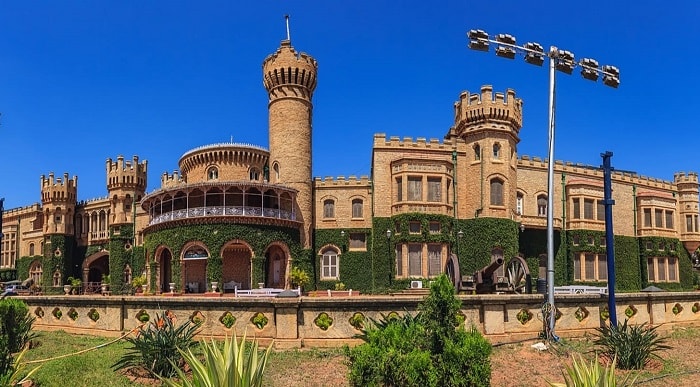 Tipu Sultan palace is similar to Daria Daulat Palace, which is another palace for Tipu Sultan. Tipu Sultan palace was built in the year 1781 and 1791. Now the palace has been converted to the museum and it is maintained by the Archaeological Survey of India. This palace was the summer residence of Tipu Sultan till his death in the year 1799. This palace was entirely built with French Rose Wood, and it stands with big pillars, arches, and balconies.
The clothes, the crown of Tipu sultan made up of silver and gold pedestals are preserved there carefully. The summer place is an extra ordinary, attractive place for tourists and Archeologists. The palace also contains the weapons that the ancient people used during wars. The sculptors and paintings in the palace also tell about the culture and the way of living of our ancient people. The palace is one of the top historical Sights in Bangalore to be visited. Many foreigners visit this palace and they are attracted by the architecture and the history of ancient people.