Also known as 'hill of many wonders', Chitrakoot is primarily known for its religious and spiritual significance but it offers more than just that. Chitrakoot has a number of interesting and unique destinations that will never fail to fascinate you. Little is known about these places since they remain overshadowed by the more popular and religious destinations here. However once you go through this list you will be surprised to know that there is so much more that this place has to offer which will make your trip extremely fruitful and memorable.
Here are some places that you should definitely visit if you are looking for a trip to Chitrakoot that will fascinate you:
01. Gupt Godavari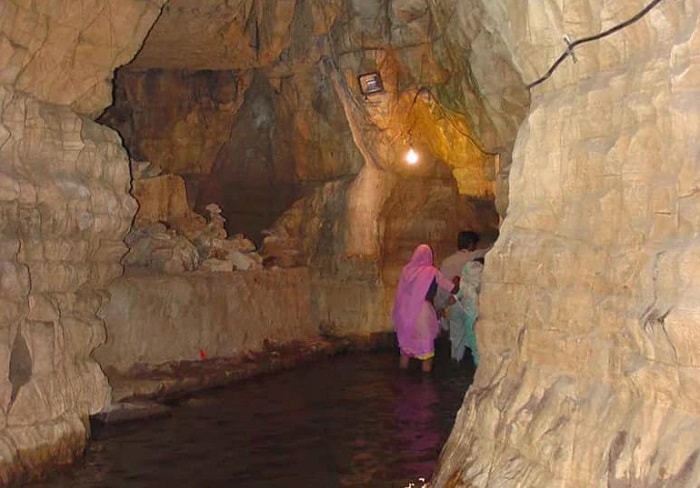 Out of all the numerous religious places in Chitrakoot this place holds a special significance in the hearts of devout Hindus. Pilgrims visiting this place will make their way through an extremely narrow route in between two massive mountain rocks which opens up downwards into a large hall like area which is believed to be the place where Ramji and Laxman used to hold their meetings in utmost secrecy die to the presence of a natural throne-like structure inside. Another important legend of this place is that from one side of the twin cave, Godavari River emerges and goes on before disappearing under the depths of the second cave. It never fails to evoke a sense of intrigue for the visitor.
Timings: 7 am – 6 pm
Entry Fees: No entry fee
Location: Tendhee Patmaniya, Madhya Pradesh
02. Sati Anusuya Temple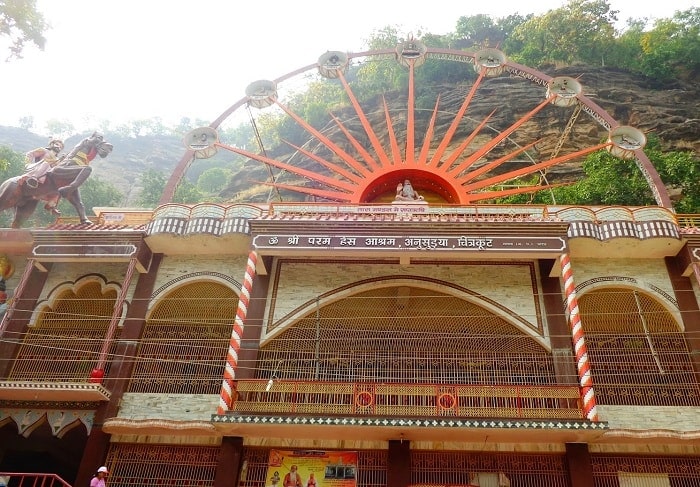 This holy temple which, as the name suggests is dedicated to Sati Anusuya where she had stayed with her husband and three sons (incarnations of Brahma, Vishnu and Mahesh). This spacious temple is located on the banks of the holy river of Mandakini and due to this scenic location it not only attracts a throng of pilgrims but a large number of curious Travellers as well. This palace offers you the opportunity to experience serenity and spirituality at the same time. It is said that the prayers and devotion of Anusuya had led to the creation of the holy river of Mandakini which had put an end to the famine in town.
Timings: Open 24 hours
Entry Fees: No entry fee
Location: Sati Anusuya, Chitrakoot, Madhya Pradesh
03. Ram Ghat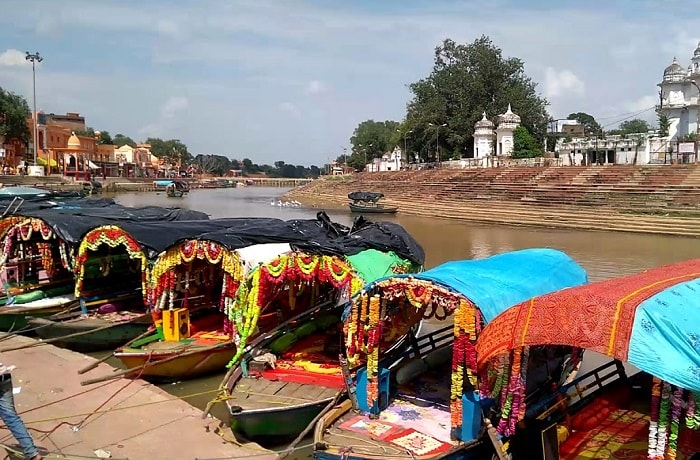 If you want to experience the truth of the beauty of the holy river of Mandakini then this sacred Ghat which attracts a number of devotees is a must. Here you will be able to take a peaceful ride on the boats while taking in the beauty of the surroundings. You should definitely visit this place to attend the evening aarti where you will have one of the most spiritual experiences. The relevance of this ghat is immense since this is the place where it is believed that Tulsidas Ji had stayed and even Ram, Laxman and Sita had taken a bath here as well, which further increases its prominence.
Timings: Open 24 hours
Entry Fee: No entry fee
Location: Ratna Wali Marg, Chitrakoot
04. Hanuman Dhara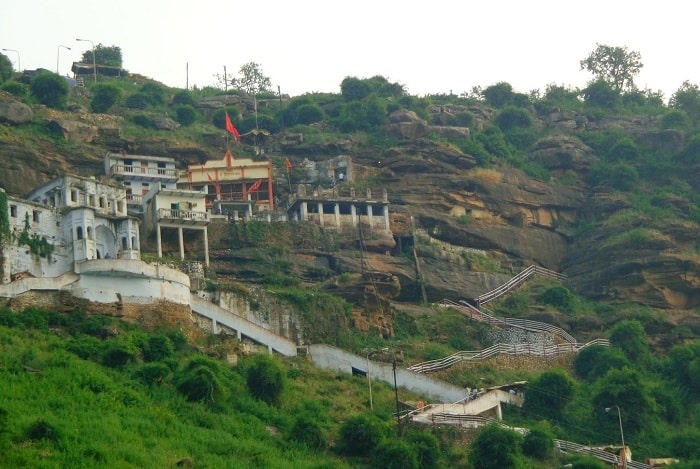 This charming holy place consisting of a collection of small temples is perched next to a mountain which attracts a huge throng of tourists to witness it beauty. People climb 600 steps in order to finally reach the temple and experience its serenity. A Kund located in its vicinity helps in increasing its beauty. It is named so since it has been believed that after setting fire in Lanka Humanji had come here to cool off his body in the soothing waters of this holy Kund which is located in close vanity of the temple. If you are a lover of nature, religion and are looking to have some fun and thrilling time with your family then you should definitely visit this temple.
Timings: 12 pm to 5 pm
Entry Fee: No entry fee
Location: Kashavgarh, Kila Bagh, Chitrakoot
05. Bharat Milap Temple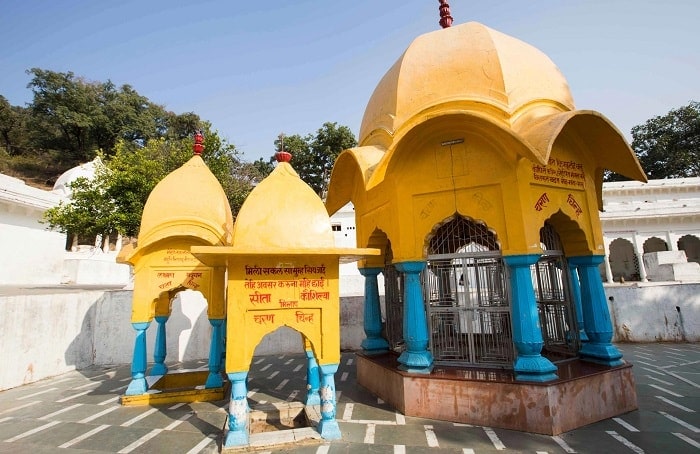 This magnificent and historical temple is located on top of the Kamdagiri hills which should be circumambulated by every pilgrim visiting it in order to liberate themselves from all the sins. You must know by the name that this is the exact place where the historic Bharat Milap had taken place between Bharat and Ram which is etched in the hearts of every devout Hindu. This traditionally constructed temple is located against the backdrop of the holy Kamadgiri hills and if you want to have an even more spiritual experience then you should visit during the months of festivals. This moment has been made so popular that is has been mentioned and re-enacted numerous time in pop culture.
Timing: 5 am to 9 pm
Entry Fees: free entry
Location: Kamadgiri hills, Chitrakoot
06. Panna National Park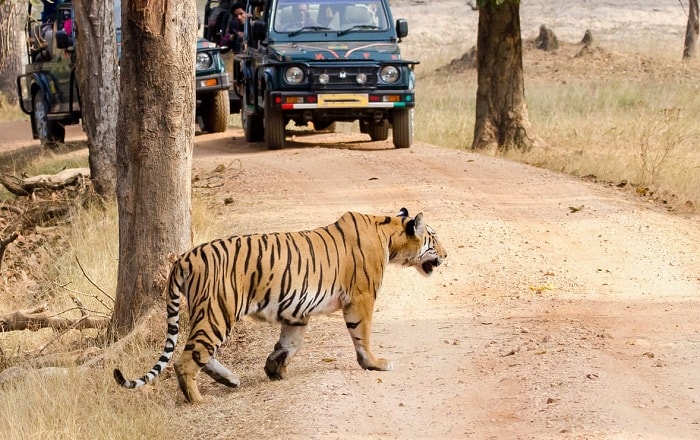 Explore the thriving collection of flora and fauna by paying a visit to one of the most widely known national parks in India. This place offers you to witness some of the most exotic selection of wildlife that includes leopards and tigers. Going on a jeep safari of this national park is advised if you want to have a thrilling holiday experience in Chitrakoot with your family. Apart from this you will also be able to witness some rare collection of birds as well as fishes here. Established in the year 1994 this is one of the several tiger reserves in Madhya Pradesh which has garnered a lot of tourist attention. A safari ride here will allow you to take a deeper look into the natural wildlife of Madhya Pradesh.
Timing: 6 am to 5:30 pm
Entry Fee: Depends on your choice of safari
Location: Chhatarpur, Madhya Pradesh
07. Kalinjar Fort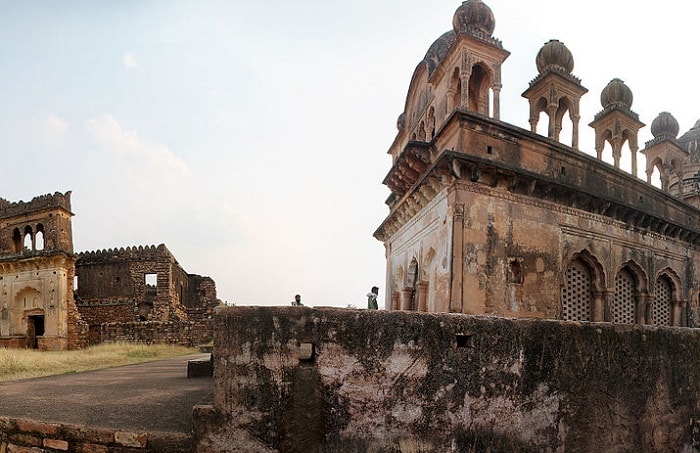 This is inarguably one of the most historical sites in India located close to the main town of Chitrakoot on top of a charming hillock which gives some of the most picturesque views of the valley below. This stunning fort was built during the 10th century inside the Banda district and it tells some of the most glorious tales of the past regarding the Bundelkhand region. Due to its strategic location the fort has always been a place of importance which was result in ensuring some of the major wars in this place. This fort displays some of the most stunning and finely detailed carvings on the walls and arches along with some of the most brilliant architectural features.
Timings: 8 am to 6 pm
Entry Fees: Rs. 25 /-
Location: Kalinjar, Madhya Pradesh
08. Ganesh Bagh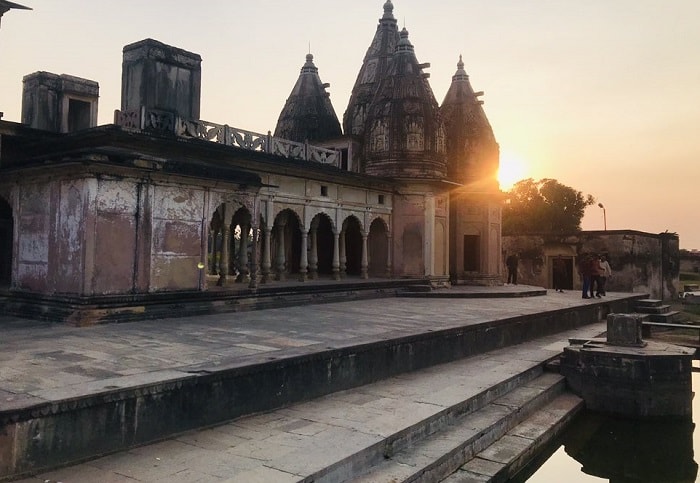 Built by the 19th century Peshwa Vinayak Raj Peshwa this place is popular for its spiritual and suspicious prominence and is extremely famous for its temples which showcase an unbelievable resemblance to the architecture of the temples located in Khajuraho which is situated in extremely close proximity to Chitrakoot. Along with this there is also a baoli which rises up to a height of almost 7 stories and is covered entirely in fine and intricate carvings as well as engravings which will definitely appeal to the visitors. You will be having a uniquely peaceful time which coupled up with the spiritual vibe here is an experience to remember.
Timings: 6 am to 6 pm
Entry Fees: No entry fee
Location: Karvi – Devangana Road, Chitrakoot
09. Bharat Koop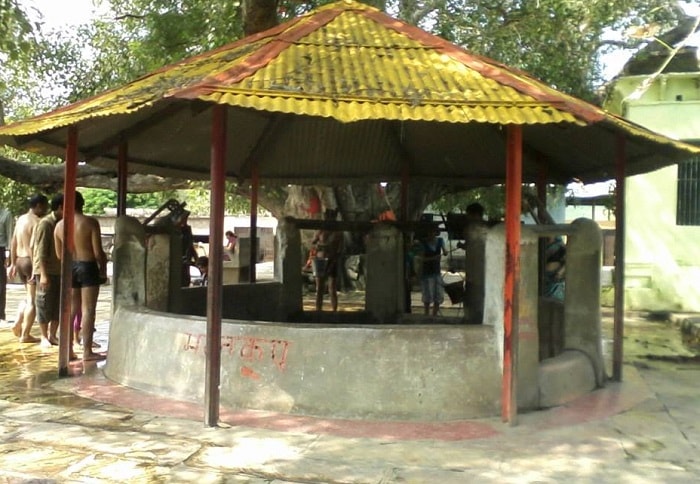 Situated on the outskirts of the main town of Chitrakoot you should pay a visit to Bharat Koop which is one of the most interesting and unique places to visit. This place holds incredible significance due to the fact that Bharat had once brought and poured the holy water from all the holy places in India into a well here making it extremely sacred till the end of time. This is one of the best options if you are looking to have an offbeat experience in Chitrakoot. People visiting make it a point to take baths in this holy well which is marked as 'Bharat Koop Theertham', with an aim or washing away all their sins. This place is also really peaceful and calm due to the presence of some greenery and its location.
Timing: open 24 hours
Entry Fees: no entry fees
Location: Bharatpur, Chitrakoot
10. Valmiki Ashram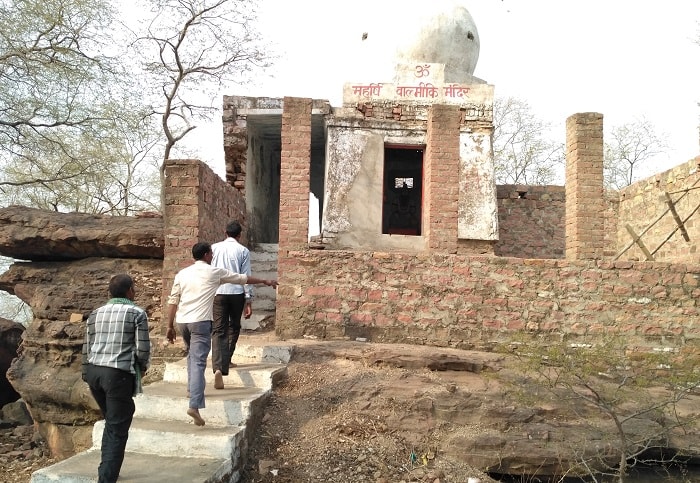 As the name suggests this ashram is believed to be the place which is said to have been inhabited by the great sage Valmiki. This fact makes it one of the most prominent tourist destinations in Chitrakoot. The place has found its mention in various Hindu epics and it sits perched on top of a charming and lush green hill. People that are enthusiastic about having a vacation filled with thrill, spirituality, peace, serenity as well as history then you should definitely pay this place a visit. According to the popular belief this ashram was visited by Ram, Laxman and Sita while they were on their way to Chitrakoot along with being the place of birth for Luv Kush.
Timing: 9 am to 7 pm
Entry Fees: no entry fee
Location: National highway road, Karwi, near Uttar Pradesh