Trekking in Sikkim is the best way to explore the rich natural beauty of the region. These excursions offer travellers a close encounter with the diverse terrain and all it has in store. Lush forest cover, vast expanses of rugged land interspersed with bursts of Rhododendron blooms, cloud-kissed snow clad peaks, glaciers and moving ice, fresh mountain air, pristine blue sky, still and clear lakes, stunning waterfalls and gurgling springs en-route not only make trekking in Sikkim a memorable experience, but also tempt trekkers to keep coming back for more!
Here are 5 best treks that beat all expectations
01. Goechala Trek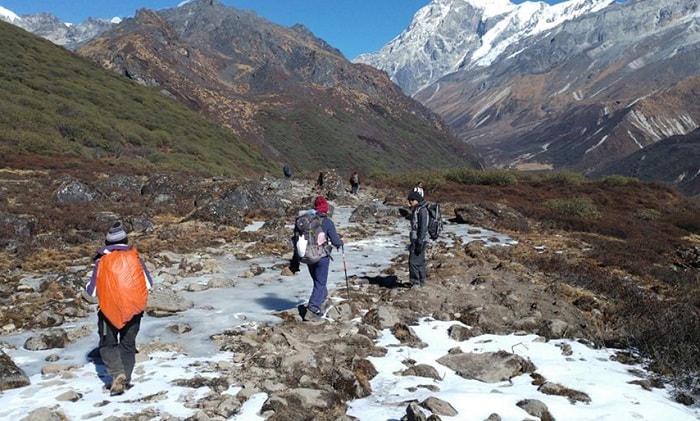 Supposedly an exciting and picturesque 10-day journey, this trek flagged off from the lush forested Yuksom traverses through Bakhim, Sachen, Tshoka, Dzongri, Thangsing and Lake Samiti to reach Goecha La at 16,000 ft practically at the foot of the famed Mt. Kangchenjunga. Rhododendron Blooms, sprawling greens, stunning views of Mt. Kangchenjunga and Mt. Pandim from Dzongri are but a few specialities of this trail. Goecha La serves as a base camp for mountaineers planning to scale Kangchenjunga from the south-east.
02. Dzongri Trek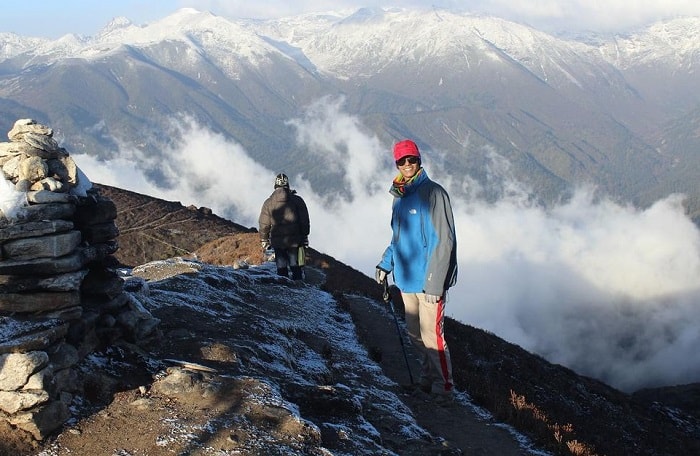 Dzongri by itself qualifies as a great destination for trekking in Sikkim. This relatively shorter trip of 4-5 days along the Goechla trail ends at Dzongri, where trekkers can catch a spectacular sunrise and the play of light on Mt. Pandim and Kanchenjunga after a short hike. The trail covers Bakhim, Phedang, and Thangsing.  Forests, home to large Oaks, Maple and Pine seem ablaze when Rhododendrons are in full bloom usually in early May. The Thangsing River adds to the visual treat. This trek is open to enthusiasts across different age groups and is not as demanding.
03. Green Lake Trek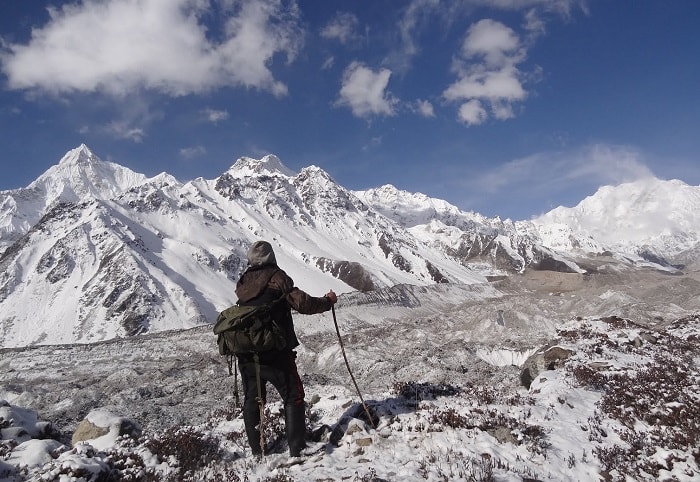 True to its name the destination of this trek is the Green Lake Base Camp located at 16,600 ft right at base of the Kanchenjunga. Starting off from Lanchen, the route meanders via Zema to Tallem, Jakthang, and Yabuk before reaching the Lake.  An 8-day trek along some of the most enchanting trails in Sikkim is bound to be awesome and demanding. Trekkers take time to rest and get acclimatized to the settings to prevent mountain sickness. Spectacular natural flora including alpine trees, native flowers including Rhododendrons, quaint tribal villages, several species of birds and camping on the Green Lake are likely to make this trek eventful.
04. Singalila Trek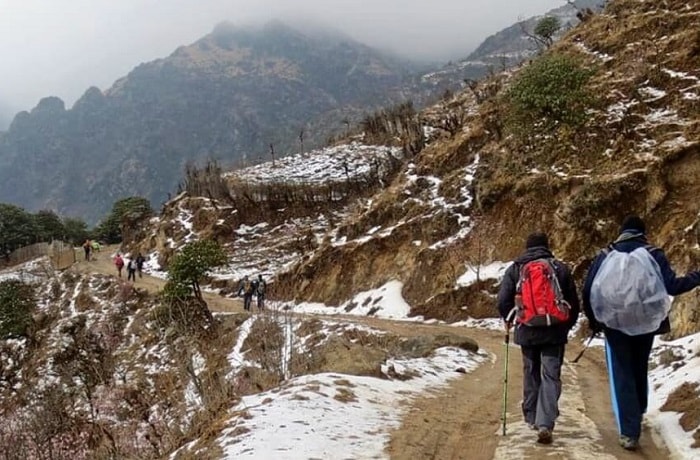 Let's start by making it clear that the rewards of this 14-day ordeal are worth all the effort. It is a treat for adventure seekers, wildlife aficionados and nature lovers as this trail starting from Uttarey, cuts through Chewabhanjyang, Gomathang, Dzongri and Thangshing apart from covering Parey Megu, Dhor and Lampokhari, as well as a part of the Singalila National Park. Trekkers will have the rare privilege of viewing four famed peaks – Kangchenjunga, Everest, Lhotse and Makalu on this journey, apart from several other peaks in neighbouring Bhutan and Tibet as well as the high-altitude lakes.
It is also possible to trek across the Singalila Ridge from Darjeeling and scale the Sandakphu in 4 days.
05. Rhododendron Trails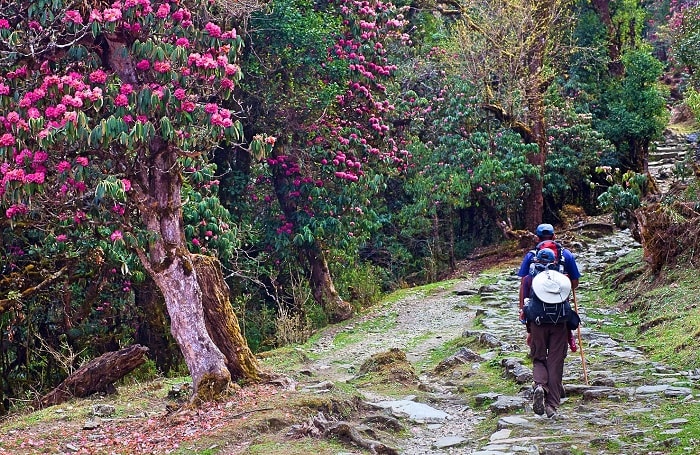 Rhododendrons are an integral part of Sikkim's landscape and there's no escape from them. However for those who are not interested in serious trekking there are several Rhododendron Trails that course through scenic routes dotted with colourful and fragrant flowers of several shapes and also include wildlife reserves at Barsay and Maenam.
One trail from Yuksom to Barsay covers Uttarey Valley, Kalijhar, Deoningali Dhap and couple of other locations en-route. Yumthang, Lachung and Borong are also most likely to figure in other such trails.
When in Sikkim, make sure to go on at least one trek that suits your fitness level! While most treks can be attempted from March to November, weather conditions are bound to vary.  There may be several trails leading to the same destination, depending on which the travel conditions and challenges are likely to vary.
Trekking in Sikkim is often an integral part of the tour itinerary. Irrespective of the trek chosen, travellers will be able to experience the essence of this breathtakingly beautiful and serene destination to the fullest. Don't miss visiting the monasteries along the way!